The Preservatives Pouch: My quest to bring REAL food to London - Check your organic labels for excess salt and sugar

I was delighted to find the Bulgarian Charity Ball serving some organic food for their delicious buffet. It was a fun evening, introducing some of their culture, singing and lively entertainment. Set in the wonderful Carlton House Terrace, we disco danced until late. I was also able to talk to Prince Kyril of Bulgaria about healthy food, he explained his country is very supportive of growing organic food. I may have to buy a home there to be able to eat out.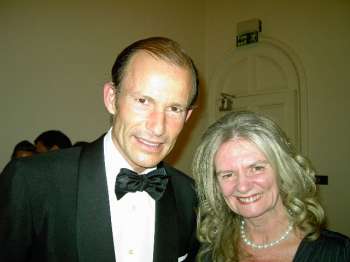 Valerie Austin with Prince Kyril of Bulgaria



A newspapers front page story reported recently that the junk food giants are "poisoning our kids" with salt. The false food is beginning to show signs in almost all of us from hyperactive children to obesity. Not forgetting heart attacks, diabetes and arthritis, which are now an epidemic. But watch out for your body trying to warn you with tell tale signs, and try to do something about it before it is too late.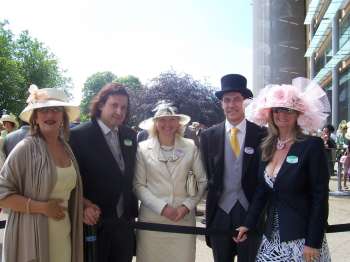 Bulgarian Ball Party



Preservative Pouch

New research from Norway has found unhealthy eating can be as dangerous as smoking! Could it be because of the increased chemicals in the food?

Do you have a preservative pouch? A sure sign that things are not right! If you eat chemical food you probably do - or probably will have eventually. It's almost impossible to escape it. However, there does seem to be a difference in the genders: men tend to have what looks like a pregnant tummy whereas women are stuck with a midriff role, tummy thickness or pouch they cannot get rid of even with dieting. Only a few weeks of real food that is not chemically enhanced could get rid of it completely, not just false confidence with the, "I eat as much as possible organic food", but a complete diet without chemicals or excel salt or sugar (read the labels on organic also). It takes a few years for the chemicals to react but when they do, your stuck with it and that, I can assure you, is a nightmare. If you're still not sold how dangerous it is, compare the old style home made cake ingredients to the artificial cakes then you can begin to see what I mean.

The difference between an old style cake and a chemical cake:
Home made: Flour, unsalted butter, sugar, free-range eggs, grated lemon rind.
Shop Bought: Wheat, flour, egg white, sugar, vegetable margarine (hydrogenated vegetable oil, water, salt, emulsifier (E475) colours (E100, E106b flavourings), glucose-fructose syrup, humectant, vegetable glycerine, vegetable and hydrogenated vegetable oil, emulsifiers: E471, E475, egg, baking powder (raising agents E450, E500) colour (E170) colour (E170), salt, invert sugar syrup, skimmed milk powder, preservatives: E202, E200, flavourings, soya, flour, stabiliser: E415, dried egg white, colours E104, E124

No wonder people are suffering from multiple chemical sensitivities (MCS). It's the new illness on the block. I was at a charity ball at the foreign office in London last month and the person next to me had something similar, complaining of multiple allergies. From never having any allergies she was now subject to being allergic to all sorts of foods. She told me that she had bit into an apple, knowing it was not organic, "But it looked so nice", she said. As the apple touched her cheek her mouth swelled to such a proportion she thought she would have no room for her tongue. "If I had swallowed some of the apple my throat may have swelled and I could have died, I told my specialist how frightened I was and he said he would have been frightened too" she told me.

Another lady I was lunching with in Florida had even more severe allergies. She told me that she had a farm and horses but because of the pesticides used on her farm she became allergic to all chemicals. She had to have an eye transplant operation but no hospital would take the responsibility of a possible toxic shock. She eventually found one in Dallas, the hospital was chemical free even down to the sheets. MCS is very serious and more people are being affected.

Good News
The sophisticated way to be slim and healthy

I attended the three day allergy exhibition at the Olympia where one hundred stands had set up shop to cater for this new market. It was a maze of interesting gadgets and ways to help you with your allergies from chemical free cloths, washing powder (half the price of traditional) and even paint that smelled wonderful. Not surprising it was busy since there are 12 million sufferers in the UK but less than a hundred specialists. However, after looking at the Internet I couldn't help thinking this new market had created an industry of sophisticated 'quacks'. If you just use common sense, take care of your eating and exercise, you could start to see a positive turn-around.

It looks like our food is the main offender for the massive increase in allergies. However, I have found some very interesting and elegant ways to help you loose weight and be healthy by eating chemical free food with absolutely no effort.

I talked to Jennifer Irving about her very stylish fresh food gourmet delivery service. She said the idea came to her one morning as she was prparing her husband's packed luches. He wanted to eat healthy food so she would pack his daily meals for the office. It occurred to her that there must be a market for a special service for people that didn't like to cook or didn't have someone at home to prepare their food. "Each day, we will deliver to your door three meals and two delicious and healthy snacks that can be tailored to your specific goals. The food is delivered at 6.a.m so you can wake up and find all your healthy meals sitting on your doorstep, freshly prepared by her four chef's. It comes in a smart shoulder cooling bag so you can carry it to work." She explained that she buys in fresh food from Covent gardens the day before and she tailor makes if to your dietry requirements, she assured me that fully organic would not be a problem. The service is called 'The Pure Package'. Her team get together and work out what The Pure Package can do for you, whether you want to stabilise your weight, eat healthier or simply don't have time to cook for yourself. The service works out about £30 per meal at a minimum of 10 meals. However you don't have to have the meals every day just when you would like them. A very stylish way to stay slim. www.purepackage.com

Author Liz Tucker had just finished her lecture when we talked about her book 'Understanding Food Intolerance'. "Food seems to be our number one suspect for ill health today" she added that after her health started to decline rapidly the penny finally dropped and she decided to look at what was in her food. I am very suspicious if the label has more than three ingredients. I go for the ones that have only one like fruit and vegetables.

Here are some places to eat out that I found literally a life saver when I am in London. It's worth a trip to South Kensington tube to be able to eat fully organic food in the tastefully designed restaurant Organic Pizza. Situated directly across from the tube station the food is not only delicious but the price is very reasonable even comparing with conventional food.

A terrific organic café has opened up in Wardour Street, Soho with food to die for. Catering for you personality as well as your taste, it includes a large variety of the very trendy 'raw food' which mimics traditional food but is full of health and nutrition.

I have a specially designed website to carry more detailed information on what you are eating and where to eat. I will be adding to it each month www.organicfoodforhealth.com

Thank you for reading my page. You can e-mail me at:

[email protected]




Eds Note: VALERIE AUSTIN is an author of six successful self-help books including SELF HYPNOSIS (Thorsons), journalist and trainer with an international reputation in the field of hypnosis. Her best-selling books and training help people achieve their full potential. She founded the Austin Corporate Stress Management Company focusing on reducing stress and anxiety amongst executives and CEO's. She is also founder of UKRAH (1992) The UK Register of Advanced Hypnotherapy. Valerie has also worked as a consultant in hypnosis at the Priory Hospital, the UK's equivalent to The Betty Ford Clinic, which specialises in food addiction and alcohol abuse. Her work in the film industry (Hollywood) interviewing movers and shakers, producing TV news segments and publishing celebrity magazines in London gave her invaluable experience for her current Harley Street practice.