SAGA RUBY "French Interlude" CRUISE crossed the Channel to St. Peter Port Guernsey, then to Brest and St. Malo before returning to Dover.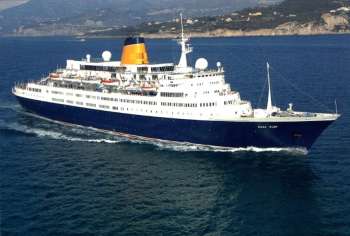 Cruise Ship



A 4-night, 3-day Cruise was just a taster of what a longer Saga Cruise might be like. Saga is associated with holidays for the over Fifties, would I be too young? This was not a problem. I felt like a film star when the Chauffer driven Mercedes picked me up from my Mayfair residence and drove me to Southampton, in idyllic comfort. You don 't have to be a Celeb, you just have to live within 75 miles of the Port to get this service.

My port window double cabin gave me a choice of 2 beds, ample space to spread out. I didn't stay long in the cabin, as Champagne Receptions on the Upper Deck and Ballroom, hosted by the Captain and Crew, encouraged me to don an "off the shoulder" dress and smile bewitchingly at the officers and guests. (Bewitching smiles stimulate the facial muscles and keep one eternally youthful).

There was so much entertainment on Board that I didn't go on any of the Shore Excursions to Guernsey, Brest and St. Malo. The Entertainment ranged from pre-show time ballroom dancing to late night Jazz. The 10 o'clock Shows were great, singers, dancers, cabaret, comediennes, classical music, something to please everyone. During the Day, Fitness Session s such as, Body Composition Analysis, is it Water, Bone or Fat. (In my case – Champagne).

Your choice of Restaurants allows you to eat at any time you like, with whoever you choose, Dining is the highlight of the Day, when up to 6 Courses are served. I dined at the Captain's Table.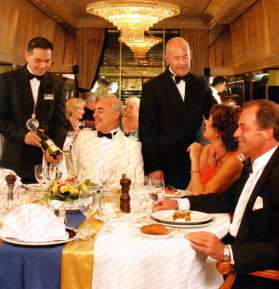 Captain's Table



Sumptuous Cuisine – mouth watering Appetizers, Soup from the tureen, the main course was a highlight with options ranging from Fillet Steak to Grilled Sea bass served with perfectly cooked Vegetables. A refreshing Sorbet between courses and then, a delicious Dessert, and if you have space, French Cheeses, coffee and petit fours.

When you order WINE, it is top rate quality, and Duty Free, a glass costs £1.55.

I plan another Cruise – longer this time – Perhaps around the World, or a far-flung part of it.
To find out more about SAGA CRUISES – call Free on 0800 50 50 30.
For Brochure Request – 0800 300 456.

HAPPY CRUISES – JOAN – The Slender Gourmet.


[email protected]