I'm no different to most women who juggle family life and work. Business meetings being interrupted by the all important "Mummy, where is my gym kit" and coordinating clients in between school runs and activities. I have been guilty of feeling a pang of envy when I see other school mums going off to have a coffee when I'm rushing to catch the next train to Victoria! Not to mention the GUILT when my kids kiss me goodbye and say "see you tomorrow" because they know mummy won't make it home before bedtime.

The fact is that my life is representative of the modern family and the luxuries that living in the 21st century affords us. One of these being that I am a divorced mother and that my present husband is not the biological father of my children; this new family is a luxury because when I realised that my marriage was toxic, I "detoxified" without the fear of stigma and with the benefit of a legal system that protected our children. My new and, dare I say IMPROVED husband, shares in all aspects of our family and business life; we are equals and live our life free of the constraints of gender roles. In our house, if it needs doing it gets done!


Professional News

My pride and joy is my scar and stretch marks treatment which I called DermaEraze. We have an unprecedented success rate of 30% to 70% improvement with one treatment and with over 2000 procedures performed in both our Harley Street and Caterham clinics, the medical community no longer dismisses us. In fact, the highlight of my professional year thus far is our recent partnership with Dr. Aamer Khan and Lesley Reynolds of Sky Living show Harley Street fame. I shall be working from their renowned clinic at 48 Harley Street as well as their newly opened Reigate clinic performing DermaEraze, Tattoo Removal and Semi Permanent Makeup Application and Correction. I am absolutely humbled to be part of such a prestigious team and it brings home that the only thing that stands in the way of one's dreams is hard work and perseverance.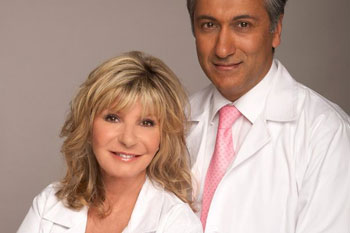 Product Review

Very rarely do I come across a product developed in the skincare and beauty industry that has impressed me so much that I think EVERYONE should be using it. We have recently taken on a new clinical skincare range in our clinic which comes from America, it is called DMK (Danne Montague-King). I could go on for ever raving about the skincare range but I'll leave that for another time because right now I want to share the secret about their foundation and camouflage range.

I have honestly never seen anything like it!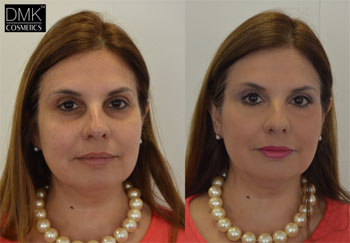 For one thing, it has antiseptic qualities which means that anyone suffering from acne should be using it. Not only does this foundation cover uneven skin tone but it is non-comedogenic (will not clog pores) and the antiseptic properties will help to control spots. There is also a range of correctors that works wonderfully to conceal red skin and dark blue patches on dark skin tones.

When used properly, this foundation will cover uneven skin tone without feeling thick or greasy as only the tiniest amount is used. In fact, the cover is so good that it can be used to cover scars. It will also stay on all day and even in the sun or under hot lights. When I first used it, my skin looked air brushed and it didn't come off on my phone or the people I greeted, so no need for air kissing!

I love the fact that they stock the entire range of colours, including Asian and African skin tones which so many brands neglect. Finding this product was a "where have you been all my life" moment!


Going Social

It was my dear friend Steven Smith's birthday and he had a wonderful party in his London flat. Steven is a celebrity hairdresser, writer and PR guru so he always has the most varied and eclectic bunch of people at his parties. My husband Stefan and I were lucky enough to have our parents in town that day so we left the kids with them and went off to enjoy some adult time. My husband got to meet a lot of my friends including Sally Farmiloe and Nicole Gibson and it was really sweet how all my single friends wanted to clone him.


Lorena Oberg is CEO of Lorena Oberg Skin Clinics and inventor of DermaEraze treatment for stretch marks and scars. Lorena has regularly featured in the national press for her work with scars, stretch marks, tattoo removal and permanent makeup removal and correction. She lives in Surrey with her husband and two children.

www.lorenaoberg.co.uk