Our cover story this issue is JEFFREY ARCHER's new book, the Number One Best Seller BE CAREFUL WHAT YOU WISH FOR (MACMILLAN).

ARCHER is currently writing THE CLIFTON CHRONICLES and this is Volume 4, definitely the best so far. Each chapter is written by a different character and the thriller moves along at a cracking pace. The ending is shocking and I cannot wait to see What Happens Next so HG contributor VALERIE AUSTIN and I were relieved to bump into the author at a do in the City and learn that he is working on the sequel. Bring it on! Great book, this one.

My 'Lady In Red' sparkly dress is by GILL HARVEY, btw and the image is by VAL herself.

(Our cover shot of JEFFREY and VALERIE is by NICOLE KIDMAN look - alike VAL BLONDEAU, btw.)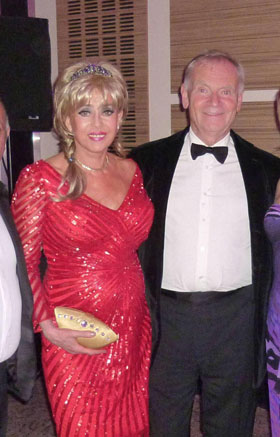 SAL and JEFFREY ARCHER. cr:VALERIE AUSTIN.





A great big HOT GOSSIP welcome to our new contributor, LORENA OBERG who has 2 fab clinics in Harley Street and Caterham in Surrey.

The hugely talented and very beautiful LORENA specialises in Semi Permanent Make Up, especially for cancer patients and including nipple replacement which is extremely tricky.

I am very honoured to have been chosen to be LORENA's 'Face' of her wonderful SPMU and hope to take up my duties promoting this very clever treatment from approximately July 9th, after which I will be having SPMU on my brows, eyes and mouth. I know LORENA is going to make me look superb and I cannot wait to report on this, dear readers.

LORENA has come up with a wonderful erasing and nourishing product called MIRACLE OIL by DERMAERAZE. This rich oil works on:

• post treatment after care
• after sun
• dry skin (apply to damp skin)
• bumps and bruises
• dry hair.

The oil is completely safe and paraben free with very pure ingredients - Olea Europaea, Prunus Dulcis Oil, Prunis American Oil and Aniba Rosaeaodora Oil. It is particularly good for dry skin and hair.

LORENA also recently found an extraordinary treatment for stretch marks which will make her a fortune! Watch this space.

www.lorenaoberg.co.uk



The image of LORENA, myself and my book is by GRAHAM MARTIN.


SAL with book and LORENA. cr: GRAHAM MARTIN.



The good news about my book, MY LEFT BOOB: A CANCER DIARY is that it is currently up for THE PEOPLE'S BOOK PRIZE - do vote for it if you liked it. Here's the link: www.peoplesbookprize.com



Another very decent person who is helping out cancer and alopecia patients is celeb crimper TREVOR SORBIE who created a gorg style on moi from 'Felicity' at TRENDCO, NOTTING HILL GATE - 229, Kensington Church St., W.8. 7LX / 020 7 221 26 46.

The world famous TREVOR frou froued the long blonde TRENDCO wig and we renamed the glam wiggly 'Dolly' after You Know Who whom I am seeing at the O2 later this week with one of my best friends, ADELE. My 'Dolly' wiggly can now be spotted all the way thru this column - check her out!

What a 'Knight In Shining Armani ' (quote KATHY LETTE unquote) Trevor is!



CETUEM , the brilliant skincare company for whom JADE and I are the 'faces' of their Mother and Daughter range and lovely Ukrainian model LANA HOLLOWAY is their latest 'face', also produce a fab line of nail polishes, particularly divine sparkly ones. It is a well known fact that you cannot wear nail polish if you have cancer but CETUEM have got round this problem by manufacturing a Calcium Nail Builder basecoat which protects the nails and allows you to wear even the darkest and sparkliest colours over the top. CETUEM is a family business with chemist JOHN VASSILIOU at the helm of manufacture and this new basecoat is a simply brilliant new find.

CETUEM's fans include SOPHIE ANDERTON, AMANDA HOLDEN, NANCY DELL'OLIO and, on the male side, pop and TV star PETER ANDRE and suave MP MARK FIELD.

CETUEM's CEO is ANDRIA VASSILIOU who at 60 has perfect skin, especially in the tricky decollete area which trips up so many women after a certain age and she is definitely the best possible advert for her company.

CETUEM are based at RACHEL COUTURE at 65, Knightsbridge, SWI where you can have a stimulating facial and / or relaxing massage as well as buy their excellent GOLD range of facial and body creams. Personally I use both their face and body serums and am soon hoping to have a decollete as smooth as the lovely ANDRIA.

RACHEL COUTURE gowns are exquisite - check out one of my faves later in this column at the CETUEM MOTHER AND DAUGHTER RANGE Launch.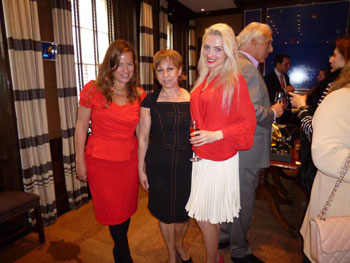 ANDRIA VASSILIOU with JADE JAGGER.



I have also been using CETUEM's Calcium Nail Builder for a couple of months now and it is the only product that has made my nails grow and kept them healthy so that I can wear ANDRIA's own fave sparkly pink CETUEM colour, Number 258, a colour which goes with absolutely everything.



One of the most important ingredients to avoid for health reasons are parabens and you should always look out for 'paraben free' products if you want to remain healthy and cancer free.

When searching for a safe fake tan recently I came across a company called GREEN PEOPLE, who are completely 'green', specialising in paraben free products . I had recently had 'cellulitis', a condition where the top layer of your skin on your lower legs bubbles up and it had made my skin perfect for fake tan and so my GREEN PEOPLE tan was super smooth.

www.greenpeople.co.uk



CONGRATS

To the great racing driver MICHAEL SCHUMACHER who is finally out of his coma to the relief and delight of the whole world who have been watching his progress in suspense. Here's the report:

www.bbc.co.uk



To the extraordinary MICHAEL FLATLEY who has suffered from 'burn out'.

And to the brilliant energy healer who has been credited with getting the talented dancer back touring again, MICHAEL O 'DOHERTY. O'DOHERTY runs a clinic in Ireland, near Shannon, where he specialises in treating children and cancer patients and he certainly has healing hands which he runs over patients without actually touching them. I can vouch for him as I recently had a couple of sessions with him myself which left me completely pain free after being in a lot of pain from putting my back out (it is one thing after another with me at the moment!) Another Knight In Shining Armani, I reckon!


THE MICHAELS - FLATLEY and O'DOHERTY.



www.michaelodoherty.com



SALAR - Congrats to SALAR, handsome son of the fabulous SALLY of AGELESS ANGELS fame (she owns the beautiful salon next door to SALAR's new office) where you can have my absolute fave treatment - the Hot Stone Massage. SALAR has opened PRIME REALTY, a top end property agency for the more salubrious areas of Central London, including Mayfair and Kensington and recently had a fulsome Launch Party.

PRIME REALTY LTD, 288 Kensington High Street, W 14 8 NZ / 020 7148 1109.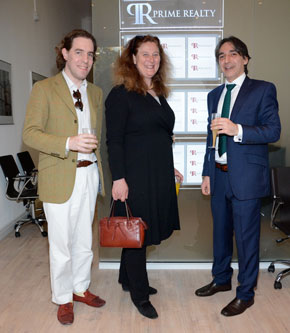 MOBI - SALAR with HRH PRINCESS KATARINA OF YUGOSLAVIA, cousin of HRH PRINCE PHILIP and MATTHEW STEEPLES, Proprietor of THE STEEPLES TIMES followed by model LANA HOLLOWAY, PR Suprema CHARLOTTE ELLIS and CITY WEALTH CEO KAREN JONES.





Also to beautiful sisters SIOBHAN AND ELLIE who have been much featured in the Press recently for their interesting story. SIOBHAN had cervical cancer and was unable to carry more children but her little daughter SAIORSE wanted a baby brother or sister so her 'Auntie ELLIE' stepped in and became a surrogate mum to a new little brother for SAIORSE. A heartwarming tale.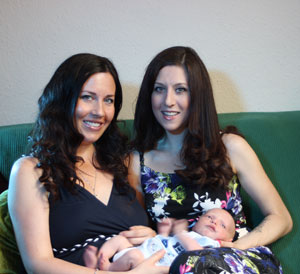 SIOBHAN AND ELLIE AND BABY.





The BEST PARTY I have attended recently was DOGGIE PADDLE, a benefit cruise down the River Thames in aid of MEDICAL DETECTION DOGS organised by DOWNTON ABBEY actress LESLEY NICOL (the kind character, cook MRS PATMORE) along with actress and 'Face' of FABYOULESS Beauty Discount Card, DEBBIE ARNOLD. Guests included lots of DOWNTON actors including JIM CARTER and PHYLLIS LOGAN, with VICKI MICHELLE, JULIE PEASGOOD, MATTHEW KELLY and ROBERT AND BABS POWELL. It was a warm and wonderful night and the Medical Doggies MAGIC and LUCY demonstrated how they could sniff out cancer and diabetes - absolutely brilliant!

www.medicaldetectiondogs.com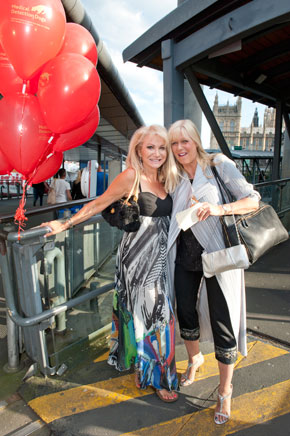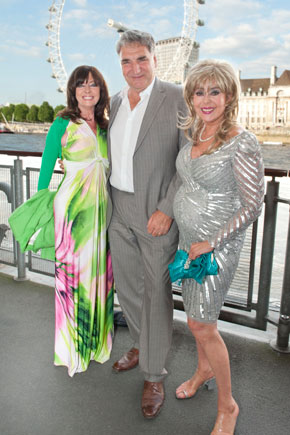 IMAGES 9, 10 and 11: DOGGIE PADDLE CRUISE. cr: DIANNA BONNER.





Another great frolic was DR ANNA, LADY BROCKLEBANK's fun lunch at the gorg house she shares in Surrey with her husband JOHN MCMILLAN where they had jamming bands, a swimming pool full of thrashing young boys and the talented designer CHARLES SVINGHOLM doing a photo shoot for his latest collection of glam jewelled kaftans. Models included the gorgeous VICTORIA AITKEN lounging in stunning CHARLIE kaftans.



BEST RESTAURANT, reviewd by our Fashion Foodie , JADE.

In the late 1800's an artist called Toulouse Lautrec was greatly known for his artistic skills and produced some of the most iconic posters and well known paintings of that era. Two centuries on and his name still graces our thoughts. Brasserie Toulouse Lautrec, situated in Kennington right next to it's sister restaurant, the famous Lobster Pot, is a brasserie and wine bar with live music and entertainment.

Florent, the head chef greeted my guest and I and we were seated at an intimate table amongst the quaint and rustic surroundings. We enjoyed the Chateau Lestrille, a lovely wine from Cap-Martin along with an assortment of starters to share; grilled prawns marinated in chilli and rose harissa sauce, warm goats cheese and snails from Burgundy in a beautiful homemade garlic butter. All were a lovely introduction to our experience here, the snails being the recommended dish - very fresh escargots with a very flavoursome sauce. We then followed with some cod in a sauce vierge and some steak tartare. Our lovely waiter Valentin was sure to season the tartare how we wanted it, with plenty of mustard mayonnaise, cornichons, tabasco, capers and more. The high quality ingredients made this a melt in your mouth dish and was enjoyed greatly. Toulouse Lautrec boasts an impressive selection of live music in the evenings throughout the week as well as the weekends. After our meal we headed upstairs to The Loft where we were lucky enough to listen to Juliana Yazbeck, a wonderful jazz and soul artist and her band. A splendid way to end a meal with live music, enjoying a macchiato .This Brasserie seems to be growing in popularity all the time: whether it is a date on the weekend or a family dinner during the week, Toulouse Lautrec will be sure to entertain and feed you well.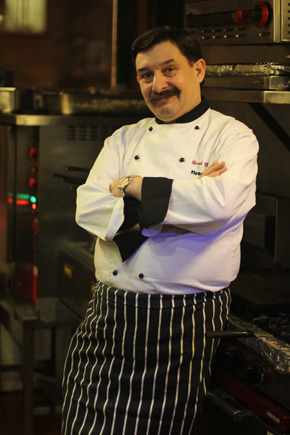 HERVE REGENT, Proprietor of both BTL and THE LOBSTER POT.





11 THE TRUDI LITE SHOW. I was honoured to appear on THE TRUDI LITE SHOW on YOUTUBE. What a gal that TRUDI is - she dressed in a HOWARD'S WAY cozzi in my honour, God bless her. Once she gets on to her pet subject, the iconic Radio Show THE ARCHERS, it's hard to get her off but I finally managed to get her talking about my book, MY LEFT BOOB: A CANCER DIARY which we discussed at some length and in some depth and here we are signing off after said discussion:

ROB GROVES shows TRUDI and moi signing off in our own inimitable fashion: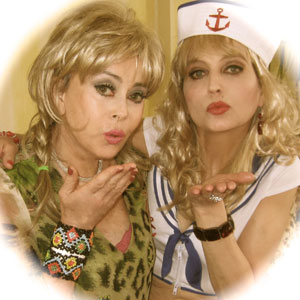 OBITUARIES:

RIK MAYALL:

The showbiz world was totally shocked when the hilarious RIK MAYALL departed to the Big TV In The Sky at a relatively young age (56). MR MAYALL, our 'New Statesman', not to mention 'Flashman', was an extremely funny man and much loved by colleagues and the public alike . Our image shows him on stage with his good friend and fellow thesp the Big Blue Eyed and Totally Talented HELEN LEDERER.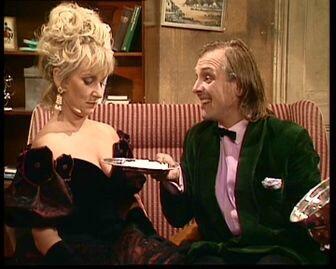 RIK MAYALL with HELEN LEDERER.





GABOR SCOTT, the celeb photographer who covered all the social events, tragically passed away in June, aged 65, from cancer of the sacrum. The sacrum is made of bony tissue and sadly his cancer was inoperable. I spoke to GABOR a lot about the cancer, intro'd him to the wonderful PATRICIA at CANCER OPTIONS who then intro'd him to the brill PROF VOGL in Germany but unfortunately nothing could be done for him and he just clinically deteriorated, to the great sadness of his dear wife IRINA and her family.

GABOR was a great character who we all knew for yonks and he knew JADE since she was a wee baba - the poor girl was very upset to hear about him.

His funeral at GOLDER'S GREEN CREMATORIUM, where many of my own family are cremated, was a lovely service with lots of old friends attending and a fun vid of his life, complete with lively Hungarian music.

Here are some of my fave GABOR images: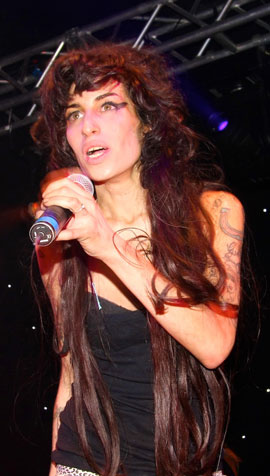 AMY WINEHOUSE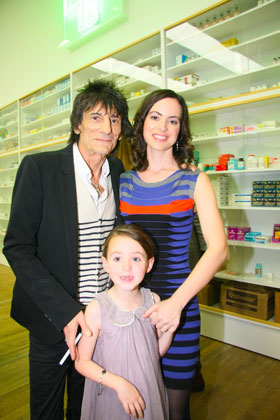 RONNIE WOOD and family at the DAMIEN HIRST SHOW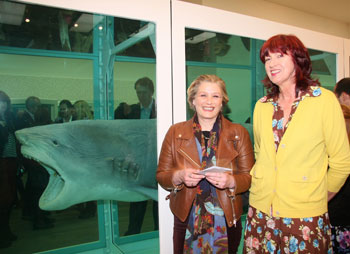 JANET STREET PORTER and friend at the show
JADE and I at the CETUEM MOTHER AND DAUGHTER RANGE LAUNCH at AVISTA: my cute dress is by RACHEL COUTURE of Knightsbridge, btw.





ROYAL ASCOT was great this year. I went on the Opening Day which was completely sold out and a blast, especially to be snapped by THE AMERICAN FASHION COMPANY, amongst others who were completely entranced by my splendid orange titfer created by THE QUEEN'S MILLINER, the charming and talented JOHN BOYD who has just been awarded the MBE - and not before time - Best Congrats, JOHN and thanks for topping off DOLLY, my TRENDCO / TREVOR SORBIE wiggly which has proved so popular - you made me feel a million dollars in that amazing hat. Here is pic of me sporting it with my brother and sister in law, CROCK and CAROLINE - plus a pic of the dynamic VAL AUSTIN wearing another cute and unusual American titfer with my bro.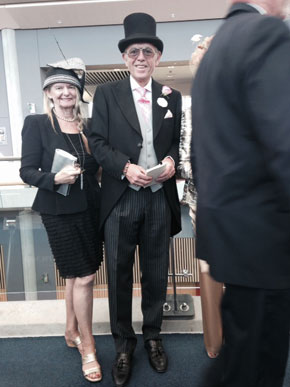 SAL in JOHN BOYD hat with CROCK and CAROLINE and VAL AUSTIN with CROCK. cr: VAL BLONDEAU.



Thank you for reading my column. Please check out my other websites:

www.sallyfarmiloe.com

www.kazzyandsally.tv