What is it with the BAFTAS and rain? This year's TV BAFTAS -England's TV 'OSCARS' - held at the Grosvenor House Hotel in  London was once again rain soaked. Well, the red carpet arrivals were. So Britain's TV glitterati had to walk in the rain once again with a wet foamy red carpet holding umbrellas. The flame retardant 'foam' in the carpet comes off with water and stars had to walk through this mini mire and ruin their Jimmy Choos. Celebs with brollies are a pain in the rectum to photograph at the best of times and with rain all over the lens it is too much hassle. Thankfully dear readers, this year I attended the BAFTAS as a guest as I don't 'do' rain anymore. It was a change being on the red carpet as opposed to 'shooting' people on it and thus didn't have to worry about photographing anyone or my camera gear getting soaked. The hardest thing I had to do was find my table -very difficult when there are waiters following me around topping me up with more Taittenger-... Guests included: BILL NIGHY, -who won best actor- RICKY GERVAIS -whose comedy show 'The Office' won yet again, and rightly so- cast from The Bill, Coronation Street, Eastenders, -though thankfully for once this ridiculous soap wasn't nominated for anything- ZOE LUCKER, ESTHER er RANTZEN and just about every soap/comedy/drama actors in the country. 

Though for international glitz the main event for me was the premiere of KILL BILL 2 at London's Empire, Leicester Square . This premiere completely overshadowed the whole of the BAFTAS as far as I'm concerned with the sole presence of the ridiculously gorgeous UMA THURMAN. The press was out in force with more than 50 accredited photographers, one of which had its own TV crew..moi. Its for a four part series on showbiz to be shown on BBC later this year and yes I'll keep you posted don't despair! KILL BILL 2 is the follow up of er KILL BILL, QUENTIN TARANTINO's last flick though he shot so much film they decided to put it out as a 2 part movie. Celebrity guests included the cast DARYL HANNAH, -who was finally rescued by TARANTINO from the barren desert of work offers the poor girl had to endure for so many years- DAVID CARRADINE, -same rescue effort- MICHAEL MADSEN and other d celebs including: starlet KATIE HILL, tartlet REBECCA LOOS -only famous for bedding BECKHAM- TRACY EMMIN, BRYAN FERRY, models JAQUETTA WHEELER, my chum CATHERINE MCQUEEN, Bond girl ROSAMUND PYKE, and of course the star of the film and goddess UMA THURMAN. I'm sure the clouds parted to reveal glorious sunshine as soon as ETHAN HAWKE's ex stepped out of her limo...Then it er.. rained. -How could Ethan cheat on Uma?!!!! The crowd went mad then we went mad trying to get the best picture of the beautiful blue-eyed actress. There was no sign of her new beau hotelier 46 year old ANDRE BALAZS. Thankfully I think she remembered me from last year's 'escapades' in the Caribbean -can't say anymore- and she posed for me first ignoring the shouts of my baying colleagues. Cheers, UMA.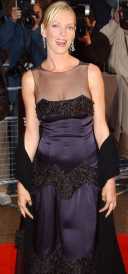 UMA THURMAN Copyright: Joe Alvarez 2004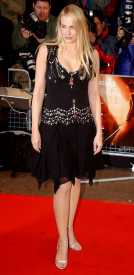 DARYL HANNAH Copyright: Joe Alvarez 2004



LOADED magazine celebrated their 10th anniversary with a massive bash at ROUGE. The raunchy mag attracted a whole host of celebs and models including the over-inflated JORDAN. Other names present were: MICHELLE MARSH, LUCY PINDER -both girls more commonly found on page 3 of The Sun- RACHEL GRANT, SARAH CAWOOD, ALEX BEST, NICOLA MCLEAN, Big Brother's TANIA DO-NACIMENTO, ALEX SIBLY, and even the raunchy ABI TITMUS  -JOHN LESLIE's ex- famous for their 3/4 in a bed cocaine fuelled romps with strangers as reported in all the papers. The party itself looked like a page 3 sweet shop, eye candy for all and candy for some -tee hee- with the customary free bar to boot. ALEX BEST again looked fantastic in a long purple dress with a very low cut to show cleavage, or in Alex's case to show where the cleavage should have been...Padded bras come to mind. Not so for JORDAN which kept popping out all over the place as her low cut pink number gave up the mammoth task of holding her 38FF bossom in place...And that's before the drinking started!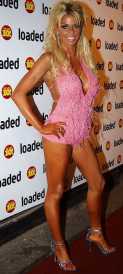 JORDAN Copyright: Joe Alvarez 2004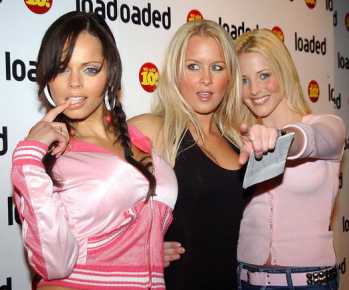 PAGE 3 KITTENS at the LOADED Party: Copyright: Joe Alvarez 2004



Sadly folks, once again too much to say, too many parties and too little space....

Over and out.

See ya next month.

JOE ALVAREZ



[email protected]



(Copyright: Joe Alvarez 2004)

 ALL PICS COPYRIGHT JOE ALVAREZ