BAFTA report:

The 55th ORANGE BAFTA Film Awards was a truly spectacular event this year. From the moment my JIMMY CHOOS made contact with the reassuringly squidgy red carpet and I spotted a super-elegant JENNIE BOND on nominee interviewing duty in the sensibly covered grandstand, I knew it was going to be a good evening.

Gliding down the red carpet immediately in front of JEREMY and myself and our charming friends, film producer PETER ELLIOTT-HUGHES and his gorgeous girlfriend RACHEL, was the small but perfectly formed HOLLY HUNTER who was nominated for her wonderful role  in THIRTEEN. MISS HUNTER, as the autograph hunters politely called her, looked stunning in a slinky, slash-fronted LBD with her trademark curls bouncing around her shoulders and down her back.
Fashion wise it was a more black and white rather than glorious technicolor event this year with many of the stars opting for black, like RENEE ZELLWEGER and HELENA BONHAM CARTER, cream or champagne like LISA B and EMMA THOMPSON or silver like Best Actress SCARLETT JOHANNSON and JODIE KIDD. There were one or two brilliant flashes of colour, however, including JOELY RICHARDSON in bold orange and JERRY HALL and ALICIA SILVERSTONE  in deep red.
Happily for moi I was wearing the perfect BAFTA dress this year, a slinky bright red number with a luxurious toning organza shawl , both trimmed with ZWAROVSKI crystals designed by the truly brilliant ROUBI L'ROUBI. Now here is the divine creation, helpfully photographed before the event in ROUBI's elegant atelier so as to avoid any clashing red carpet or frisky film stars in the background: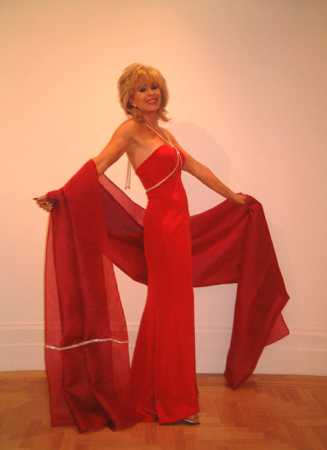 SALLY wearing ROUBI L'ROUBI red evening dress

C.r.: GABOR SCOTT



Thanks to my elegant outfit I was mentioned as one of the MAIL's 10  best dressed  "BAFTAS", along with SCARLETT JOHANNSON, RENEE ZELLWEGER, HOLLY HUNTER, JOELY RICHARDSON, EMMA THOMPSON, JERRY HALL, ALICIA SILVERSTONE , JODIE KIDD and LISA B.  I won't tell you who was on the opposing "NAFFTAS" page but let's just hope I never get onto that list or I will definitely be sacked as Fashion Ed of HGUK! As long as I continue to be dressed by ROUBI I reckon I am completely safe.

The elegant and exotic ROUBI was previously in partnership with TOMASZ STARZEWSKI, one of PRINCESS DIANA's favourite designers and has recently started his own atelier to the delight of his many fans, who include film heads and their wives as well as superstars. ROUBI designs not only the most beautiful evening dresses in the business but also the most elegant and wearable daywear; in fact his pinstripe trouser suit is quite the sharpest I have seen. His prices are reasonable and he designs for both ladies and gentlemen of all shapes and sizes; phone for an appointment on 020 7602 9867 or check out his website at: www.roubi.co.uk

I must say I was glad I had invested in a glorious, glowing, golden  MYSTIC TAN at THE TANNING SHOP (1, Campden Hill Road, Kensington, tel; 020 7938 1932) before slipping into my ROUBI frock. It takes under a minute to be sprayed all over, top to toe, back and front with MYSTIC TAN and it makes all the difference to the way you look and feel in our current less than sunny weather.What's more, it's not very expensive and ROBBIE WILLIAMS goes there too, allegedly!

Back to the BAFTAS where I bumped into all sorts of old friends including intrepid explorer NEVILLE SHULMAN and celebrity crimper NICKY CLARKE and met new ones such as gorgeous CROSSROADS babe CINDY MARSHALL-DAY who was with her charming hubby TONY, cuddly "uncle" RON and  beautiful agent CAROLINE.

The ceremony went off without a hitch this year with no swearing, political speeches or poetry reading. As I predicted last month the main contenders were THE LORD OF THE RINGS: THE REURN OF THE KING which won Best Film and MASTER AND COMMANDER: THE FAR SIDE OF THE WORLD for which PETER WEIR won Best Director. This prompted genial BAFTA host STEPHEN FRY to announce that this was the year of the Colon and that next year there would probably be an award for Best Colon with, if he was available, COLON FIRTH presenting it. All the ladies thought this was a jolly good idea, particularly if COLON was dressed in his MR DARCY breeches! Lovely CINDY confided in me that she was a bit of a horsewoman herself so let's all hope ITV film a new version of JILLY COOPER's marvellous RIDERS very soon with all of us horsey gals in  skintight breeches.

Best congratulations to all the BAFTA winners and indeed nominees, particularly to Best Actor and Actrress BILL MURRAY and SCARLETT JOHANNSON for LOST IN TRANSLATION (which won Best Original Screenplay) and Best Supporting Actor and Actress BILL NIGHY and RENEE ZELLWEGER for the delightful LOVE ACTUALLY and epic COLD MOUNTAIN respectively.
You will no doubt be thrilled to learn, film and beauty fans, that Best Actress SCARLETT JOHANNSON is quite breathtaking in the flesh and not just because she was sporting £2,000,000 worth of diamonds on the night. MISS JOHANNSON may be only 19 but she has perfect, translucent skin and that marvellous (and apparently completely natural) mouth is bound to spawn a million new "trout pouts" on the lower lips. Here's SCARLETT showing off a little skin and a lot of lip: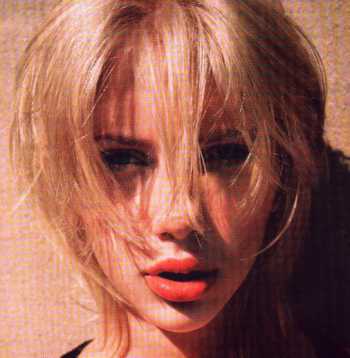 SCARLETT JOHANNSON

C.r.: VARIETY



If you want your skin to look as flawless as the Best Actress's, try L'OREAL's fantastic new liquid foundation CASHMERE PERFECT which glides on like foundation and sets like powder to give a velvety soft and glowing look. CASHMERE PERFECT is available from BOOTS and good chemists for just £8.99 but gets sold out very quickly; I know this for a fact because I use it myself.

Whether you are a teenager or not you may suffer from acne or the odd spot from time to time, as do lots of celebs including CAMERON DIAZ and JODIE KIDD. Don't despair because ALMAY have brought out the most wonderful new products called CLEAR COMPLEXION Blemish Treatment Make-up and Blemish Treatment Concealer which really do heal as they conceal, as proved by HGUK's resident teenager MAGGIE who tested it for us. Most of us get the odd zit from time to time but these products will get rid of them pronto, whilst still hiding the fact that you have them at all. Miraculous! The makeup is £8.99 and the concealer £5.99: very competitive prices and also available at BOOTS, etc. I will certainly be snapping CLEAR COMPLEXION up for the teen and pre-teen members of my household, KAT and JADE.

And now, for my new best friend from across the pond, TRIXIE, who thinks he's "real cute", here's a photo of this year's Best Supporting Actor BILL NIGHY who is, I agree, a bit tasty.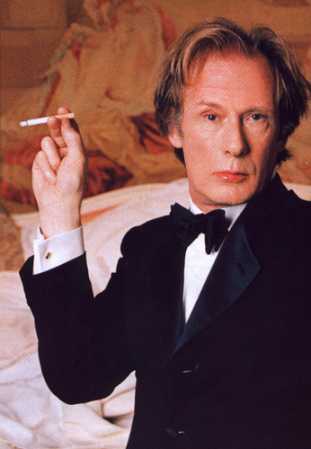 BILL NIGHY

. C.r.: NIGHT AND DAY



I  apologise for publishing a pic of his cuteness flashing a ciggie in a Fashion, FITNESS And Beauty column but it is rather a decadent sort of pose and the P.R. assured me that MR NIGHY doesn't smoke actually, only in LOVE ACTUALLY.  

After the BAFTA ceremony at the ODEON, Leicester Square it was off to the GROSVENOR HOUSE for a delicious, fattening dins. JEREMY sat next to the divine SIR TIM RICE and his son TOM who is truly scrumptious, young ladies, and I might just have his phone number! Our mates PETER and RACHEL socialised till 5am at the  beautiful JERRY HALL's  BAFTA party but I must admit I left the fabulous festivities in good time as I was rising early the next morning for my tennis coaching session with AL at HOLMES' PLACE. AL is simply the best coach in the business and is now known to my tennis partner CHERIE and moi as "Mr Midnight" due to our on court dissertations about a line in JACK NICHOLSON's  hilarious new film SOMETHING'S GOTTA GIVE, for which both the great JACK and his equally great onscreen partner DIANE KEATON will no doubt be BAFTA nominated next year. (KEANU REEVES was pretty cute in it too.) Tennis is a great game, both socially and as the ultimate aerobic workout and muscle toner but you will enjoy it much more if you have lessons and become a good player. If you live in London, give AL a ring on 07973 213091.

AL teaches at various courts in the West London area and is guaranteed to improve your game whatever your level: see you on court!

Sadly it is not always possible to play tennis out of doors due to the vagaries of The Great British Weather. In fact The GBW is responsible for a lot of irritation on the FFB front: for instance why is it always a Bad Hair Day when one has just emerged from the hair "saloon"? Never mind, just do what famous Brit actresses JOAN COLLINS and BARBARA WINDSOR do and invest in a "wiggly" from the UK's top wig and hairpiece shop TRENDCO (Kensington Church Street; phone 020 7221 26 46 for an appointment or catalogue; you can buy an acrylic wig for under £100 and a real hair one for under £200.) TRENDCO's charming manager VICKY and her efficient staff will find you the perfect wig or piece. All my hairpieces for HOW TO MARRY A MILLIONAIRE came from TRENDCO and I found them amazingly versatile; sadly I can't find them now and think that JADE and her mates must all be busy using them to dress up as KERRY MCFADDEN at school.

By the way, weren't all the I'M A CELEBRITY contestants brave this time? What a lot of horrible tortures, sorry trials, they were set by the sadistic Gestapo, sorry inventive producers! I thought all the celebs were quite brilliant; I started off quietly rooting for KERRY and CHARLIE BROCKET, as they were the only contestants I had actually met. However I must say JORDAN looked jolly good without any make-up  and JENNIE BOND was seriously impressive and jolly well deserves to be on the red carpet interviewing the most famous "fillum" stars in the world: I hope she gets to go to the OSCARS too (full report on that ceremony next month, dear readers.) Let's get back onto the subject of I'M A CELEBRITY: GET ME OUT OF HERE: is there a  Colon in that title?  Can we expect MR COLON FIRTH to be awarding a prize at the BAFTA TV awards at the GROSVENOR HOUSE on April 18th in the Best Colon category?)

My fave driver ROBERT from LONDON TRAFFIC CARS (020 7371 5000) tells me that loads of gents who've travelled in his elegant Merc over the last few weeks have said "what on earth use is a lipstick to JENNIE BOND in the jungle?") Foolish, foolish fellows. Both the dashing ROBERT and we ladies all know that if a woman looks good, she feels good. That's why, gents, you should always compliment ladies when you arrive to take them out (or, indeed, they walk downstairs if you are married to or living with them.) Who knows how long they may have spent closeted with their friends CHRISTIAN DIOR, ESTEE LAUDER and HELENA RUBINSTEIN, not to mention NICKY CLARKE, et al preparing for their date. Writing as your fave FFB Ed, I would say a lipstick is absolutely essential in the jungle, if only to write "help" on the nearest dieffenbacher arvina or whatever trees they have in the jungle.

One true gent who does know how to appreciate a lady is the author of this month's celeb book, the elegant and handsome ROY MILES. One of the most famous art dealers in the world, the affable ROY has just published his autobiography, PRICELESS: The Memoirs And Mysteries of Britain's No.1 Art Dealer (METRO £16.99.) (Was there a Colon in there? We must keep our running gag going but, to be perfectly truthful, the PRICELESS cover design is too classy for anything more than a full stop, as befits the story of our aesthete hero, ROY.) PRICELESS is absolutely fascinating because, apart from the artistic element which is a learning curve for most people, the adventurous ROY  has been everywhere, done everything and met everyone. The great and the good abound in the pages of PRICELESS: ROY's friends and colleagues include not just superstars but Royalty, and real Royalty at that. His style is chatty and extremely easy to read and I devoured the book in just a couple of nights: unputdownable . (Oops, I did it again: more Colons!)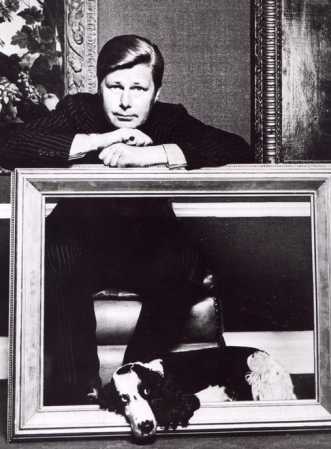 ROY MILES



If you want to see more of ROY there's a delightful piccy of him and moi in my own personal website gallery; do check it and my site out at: www.sallyfarmiloe.co.uk

Thank you for reading my page and don't forget to order my LOO TIME video for all those harassed mum friends of yours.
You can e-mail me at

[email protected]

LOO TIME VIDEO available from:

[email protected] and:

http://www.121music.com/pages/video_01/home.html