THE UNIVERSITY WOMEN'S CLUB, 2 Audley Square, London. Tel: 020 7499 2268

THE MAYFAIR SPOTLIGHT this month falls on The University Women's Club which is situated in a delightfully elegant Georgian-Victorian Townhouse, just around the corner from The Dorchester Hotel on Park Lane.

Apart from University graduates, members include professional, academics, artists and interesting personna from all walks of life. Gentlemen are admitted when accompanied by a lady member.

Lots of Club events – Concerts. Library Talks, Play Reading, Food and Wine Discussions take place every month.

One event not to be missed starts on February 2nd and thenceforth on the first Monday of every month. The Mayfair Society is holding Concerts in the elegant Victorian Library followed by Conversation and Wine in the Georgian Drawing Room.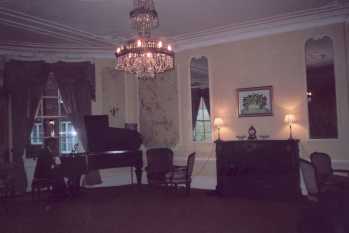 The University Women's Club



100 or so guests are expected and at £8.00 a ticket this promises to be a sell out. For further information and tickets Tel: Mayfair Concerts on 01737 236196.

Tom Garbett, Operations Manager invited myself and a friend to dine with him in the spacious Club Restaurant. Their Chef is creative, very original; everything freshly prepared using the best organic produce available. Each course a Slender Gourmet delight, (in other words, non-fattening). From a choice of 5 starters, Sautéed Chicken Livers with baby Spinach, croutons and bacon lardons dressed with Sherry Vinegar, was delicious. As a main course, char-grilled Scotch Rib-eye Steak with Sauce au Poivre and chunky Home-made Chips. I have never eaten a Chunky Chip before, I am not a potato fancier, but these were perfection, as was the selection of fresh Vegetables. To finale, Iced Cranberry and Orange Parfait with caramelised Orange Salad was succulent and refreshing. Cocktails in the Bar include Tom's Special Creation, Garbett's Delight.

A two-course Lunch is £15.00 A two-course Dinner £17.00
A 2-course Dinner is £18.00 A 3-course Dinner £22.00

THE CHESTERFIELD HOTEL, 35 Charles Street, Mayfair
Tel: 020 7514 5706.

It is Leap Year, so be prepared, expect the unexpected on VALENTINES DAY, Saturday 14th February, and your dreams may come true.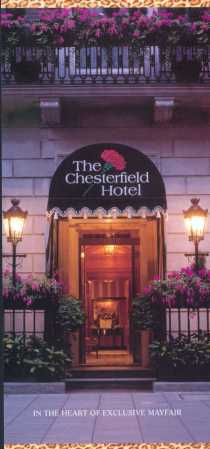 The Chesterfield Hotel



I suggest a romantic Dinner in a charming Dining Room in an exclusive Mayfair Hotel. 3-Courses with a choice of 9 Valentine Delights and a Bombe Surprise, 60 pounds per person, created by 2 Rosette Star Chef, Stephen Henderson.

David Arcusi who I knew as Restaurant Manager in the famous Grill Room at the Café Royal, is now Restaurant Manager at The Chesterfield. He is charming and efficient.

HOT GOSSIP OFFER: Mention Joan, HOT GOSSIP, and receive a glass of Champagne, courtesy of the RED CARNATION HOTEL COLLECTION

WAGAMAMA Haymarket, London.

Translated, the name of this Restaurant Group is Naughty Child. A life-size picture of a child with his face eclipsed by a gigantic soup bowl, sums up the nature of these eateries.

Rice or noodles flavoured with bits of fish, chicken and tokens of greenery seem to constitute this style of cooking. Definitely not Slender Gourmet, The only Gourmet Rice is Wild and on the dark side, I'll tell you more in my next.


HAPPY BUBBLES

Joan