Having seen through a relatively quiet January, February exploded with a myriad of parties and shows to satisfy the most ardent ligger. Who could that be? The Mad Hatter's Tea Party at the Grosvenor House Hotel in Park Lane, in aid of  - wait for it - The London Taxi drivers Fund for Underprivileged Children, went into full swing with the CHEEKY GIRLS and 'stars' from Eastenders in attendance. Though I must say the only Eastenders I saw there where cabbies.  Just as well as it was one of these that dropped me off at the Boxfresh party in Covent Garden, where the clothing label were opening a new gigantic store. At the afterparty at Rouge I spotted the Cheeky Girls again in the VIP lounge who seemed to be following me around, and a merry PHIL TUFNELL amorously entangled with his girlfriend in a corner. The CHEEKY GIRLS where dancing very suggestively all around me 'till I could take no more and shot them. No don't cheer, I shot them with my camera. As this is what the twins desperately wanted. Having fired around fifty frames on them alone I was left in peace to finish my champers. Phew. 

At the De Beers and La Perla fashion show in ILL Bottaccio it was great to see what SOPHIE ANDERTON can look and behave like when she's not coked up, drunk, and fighting anyone that looks at her. She was also at her best at the Aussie Party a few weeks ago. Good recovery babe. Keep it up.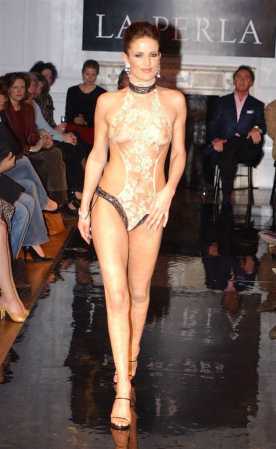 Sophie Anderton

(Copyright: Joe Alvarez 2004)



February? Cold? Wet? It's Bafta time! The British Academy Film Awards took place once again at the Odeon Leicester Square. The poor relation of the Oscars decided to stuff 60 photographers in two press 'pens'. These areas where so dangerously full of snappers and equipment that I could barely move and to 'wire' my pics once I'd taken them was nigh on impossible. OK, OK, so I didn't help by bringing along an assistant to hold my champers. How was I supposed to know that our usual three press pens where chopped to two? The Stars turned up en masse, amongst them: EMMA THOMPSON, RENEE ZELLWEGGER wearing a black dress AGAIN! like last year! -insecure play-safe queen,- The gorgeous SCARLET JOHANSSON, ALICIA SILVERSTONE, NAOMI WATTS, JOELY RICHARDSON,-in bright orange- JOHN VOIGHT, the now unrecognisably fat, bearded and podgy VAL KILMER, MACKENZIE CROOK, HELENA BONHAM-CARTER, MARTINE 'Mawh-'een' McCUTCHEON et al. The starlit procession ended up with SCARLET JOHANSSON picking up a well earned Bafta award for her role in 'Lost in Translation'. Her co-star BILL MURRAY doing the same for best actor. RENEE ZELLWEGGER picked her Bafta for best supporting actress or whatever, -sorry I'd fallen asleep by then- for her role in the desperately hyped 'Cold Mountain', to the bemusement of all and sundry. When I was informed of this on my return from the bar I nearly choke on my Laurent Perrier. Don't get me wrong, I like the girl -apart from her dress sense- but her performance in Cold Mountain was not her best. Lifetime achievement gong went to the great JOHN VOIGHT, ANGELINA JOLIE'S daddy.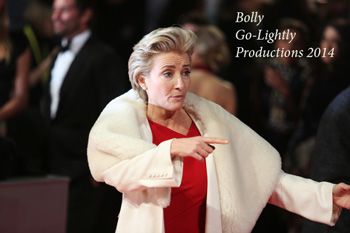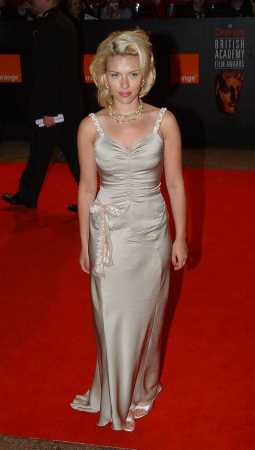 Emma Thompson & Scarlet Johansson

 

As well as the Bafta's, London Fashion Week was in full swing with a variety of shows on offer from the great and the good including Julien MacDonald, Arkadius, Ronit Zilkha, Paul Smith, Boyd, Ben de Lisi etc. I must say I agree with the rant Julien MacDonald gave on TV saying he would quit showing in London if the Government via The British Fashion Council didn't invest in the shows. The London shows are a poor version of the Paris and Milan Shows. In London the venues are small, difficult to get to, scruffy -the Robert Carey-Williams show at the ASTORIA would you believe!- and organised by a blind-folded donkey. PAUL SMITH take note! The provision for camera crews and photographers was pathetic. At the PAUL SMITH show there was barely any space whatever to take photos, and NO CHAMPERS!!!!! Are we supposed to work like this?! 

And last but not least, the Viva Glam V launch party at the Hempel Hotel in west London in aid of yet ANOTHER AIDS charity. This one called the M.A.C AIDS Fund. Guests included 'moi' of course, as well as the beautiful LNDA EVANGELISTA, CHLOE SEVIGNY, MISSY ELLIOTT -with a ghastly 3 sizes too big pin stripe suit to hide her excessive girth with matching hat- DAVID FURNISH and NICK RHODES. The Perrier Jouet Champagne and three course Thai dinner did its trick and a great evening was had by all. With luck there will be a couple of pounds left over for the charity.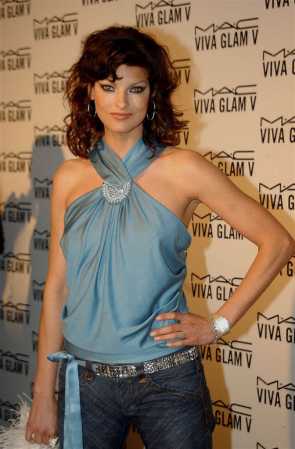 Linda Evangelista



See ya next month.
JOE ALVAREZ


[email protected]



(Copyright: Joe Alvarez 2004)
ALL PICTURES COPYRIGHT JOE ALVAREZ