CHAMPNEYS at TRING, HERTFORDSHIRE.
Tel: 01442 291000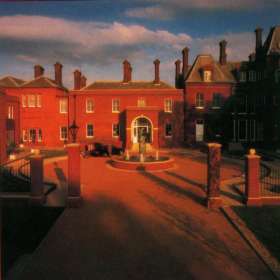 Champneys



This Health Resort is set in a magnificent Mansion surrounded by woodland grounds. The trees, plants and flowers will be beautiful at this time of year, so take a break, now that Spring has sprung, relax. Be pampered, have some wonderful health treatments and enjoy de luxe Cuisine.

Start the day with a tasty, high fibre, gluten free Buffet Breakfast. Try Champneys own Soaked Muesli with fresh fruit and yoghurt.

During the morning – I swam in the warm indoor pool but because windows and country views surrounded it, I felt I was outdoors. A Jacuzzi in the garden, which was chilly in Marc h, but once in, gorgeous with he hot bubbles massaging tired muscles and the fresh air wafting up City weary nostrils.

Treatments - Many and varied, Alexander technique, Reflexology, Indian Head Massage, Tai Chi, Hatha Yoga, Intro to Spinning, and the most fantastic Gym including a new State of the Art, Vibrogym offering maximum results in the minimum of time.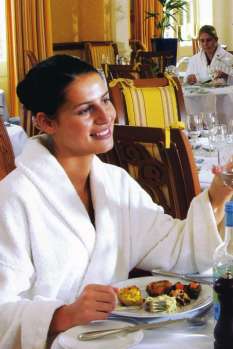 Treatments



Healthy and delicious - the Restaurant offers intriguing dishes like – Seared Sea Bass on Spinach with Salsa Verde. Salad of Artichokes, Sun –dried Tomatoes, Polenta Croutons and Mixed Leaves served with a Pesto Dressing. Poached Sea Trout on lemon and herb Risotto, Spinach and Asparagus with roast Pepper Coulis. I get hungry just visualizing these dishes.

Pre and Après Dinner Talks, Classes and Events. I recommend: DANCING YOUR FLABBY CARES AWAY - Salsa – Cuban style – lively and lots of fun. Merengue – a vibrant Latin dance – energetic and full of joy, Belly Dance – twirl your tummy around, good for tightening slack belly muscles. What I go along with 100% is a session they are holding called "Laugh Your Way to Better Health".

CHI NESE GOURMET BUFFET Eat as much as you like – plates piled high – tummy getting bigger - I recommend a SLENDER GOURMET EXERCISE –
Hand on curvy tummy – pull in, 2,3,4 and out. Repeat 6 times. Speed it up. In, out, in, out. In, hold tummy IN for the rest of the day.

POST SC RIPT - I have found a slender cut brown Loaf, courtesy of HOVIS, at Marks & Spencer.

HAPPY BUBBLES
Joan - The Slender Gourmet.


[email protected]