Big Brother is finally over! I get my Friday nights back! Pete Bennett wins and he proves that the nation loves swearing. Tourette's syndrome is the new by word for the masses and its sufferers are happy that their condition has gained public attention and recognition. I don't really know what the big deal is as I've suffered with the condition for a long time. I can have quiet periods but the slightest trigger - council tax bills, parking tickets, five rises in one year on our gas bills, noisy neighbours, litter louts, grey tracksuit clad chavs, Muslim extremists/terrorists morons, inept B.A.A. security checks at our airports, open door policy in this country where even terrorist plane hijackers can get asylum AND benefits in our country thanks to the thoroughly abused human rights act, Haringey Council, Haringey Council leaflets and information printed in 24 languages that no-one has EVER heard of, KEN LIVINGSTONE, Scottish MP's in OUR Parliament ruling on English matters when Scotland has its OWN Parliament with NO English MP's ruling on their matters- sends me into a frenzied swearing fest that would silence ALL Tourette's syndrome sufferers. Feel a bit better now thanks. -Wan--r!- Sorry, It came back again, I just thought of Bob Geldof's ego. Pete was so happy - and shocked - to have won Big Brother that he rolled down the stairs of the Big Brother house and ran across the runway where we - the Press - were waiting to photograph him. He cart wheeled and smacked his knee on the runway and limped off to meet up with Davina. What a laugh. He gave us lots of good pictures. Now we know that Nikki was a vice girl the story is even more hilarious. Though I'm not a huge Big Brother fan, the finale was very entertaining.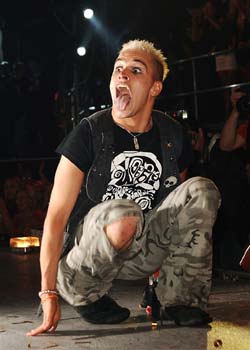 Pete Bennett copyright Joe Alvarez



Hey, its the V Festival once again! OK so the line up this year wasn't really - apart from PAUL WELLER - my cup of coffee. But, there were lots of well known bands like RAZORLIGHT, PAUL WELLER, RADIOHEAD, FATBOY SLIM, uber hyped - and questionable talent - LILY ALLEN, GIRLS ALOUD, SUGABABES, KEANE - Tom Chaplin the lead singer took a break from re-hab to come and sing. I have a solution for Tom; sing less BORING songs and you won't need to get smashed as often- FAITHLESS, MORRISEY, GROOVE ARMADA, STARSAILOR, GOMEZ, HARD FI, THE DANDY WARHOLS and loads more. Thankfully we had all the tools we needed to cover the big festival in Hylands Park, Chelmsford as we had a fridge full of cold -free- beers in the press room. Oh yes and cameras. Bands are OK to shoot but really a bit boring. Its more fun shooting celebs sliding on the mud. Yep, the V fest on the Saturday was wet and muddy. I shot COLEEN MACLOUGHLIN, SARAH CAWOOD, ANNA FRIEL, SOPHIE ELLIS-BEXTOR, JADE GOODY, BILLY PIPER, and some Eastenders lot -whoever they maybe as I don't watch that misery fest- slip sliding on the mud. I guess I was lucky because I covered the Chelmsford end of the festival. All the big celebs always go to this end of the V as the alternating festival in Staffordshire is attended mainly by farmers and their cattle, the poor, northerners, -same thing- and the great unwashed. (Except by rain water)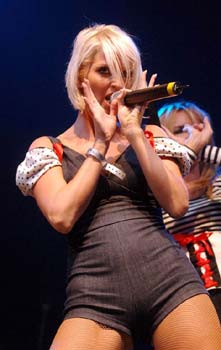 Girls Aloud copyright Joe Alvarez



The biggest premiere of the month was YOU ME & DUPREE held at the ODEON Leicester Square, London. Starring the gorgeous KATE HUDSON, with OWEN WILSON, MICHAEL DOUGLAS and MATT DILLON. Directed by Anthony and Joe Russo, the story tells of a newly wed couple -Kate Hudson, Matt Dillon- whose relationship problems come to a head when the groom's best man Dupree -Owen Wilson- moves in with them for a short while but seems to have no intention of leaving. The premiere itself was quite good apart from the fact that the main attraction -27 year old KATE HUDSON- never showed up. Bummer. The reason for the no show was because of her recent split from her rocker husband CHRIS -Black Crowes- ROBINSON. MICHEAL DOUGLAS and OWEN WILSON did show however, as well as the main characters of the last Big Brother -apart from the winner Pete-. That's in case you had not had enough of them. I managed to wire all the pics OK despite holding my mini-Moet at all times....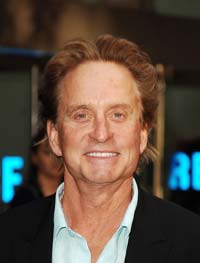 Michael Douglas copyright Joe Alvarez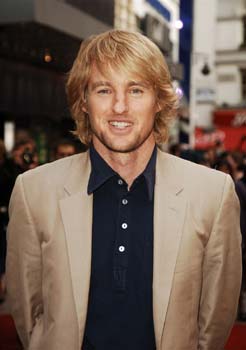 Owen Wilson copyright Joe Alvarez



The Cartier Polo final at Windsor Great Park was a great match and is one of the UK's leading social and sporting scenes. Royalty and celebs mingle and provide us with a great photo opportunity. Once again, both Princes - Harry and William - took part. In the evening the CHINA WHITE 'tent' provided us with a full blown party until early morning. My picture below shows Prince Harry in full battle cry as he leads his team to victory. Needless to say there was a champagne glut and I shamelessly over indulged in my favourite tipple.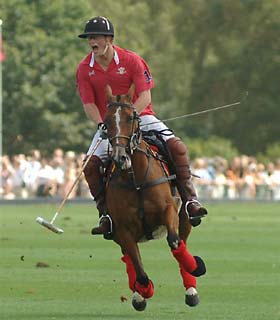 Prince Harry copyright Joe Alvarez



And lastly, the Brasil Brasileiro premiere at Sadler's Wells was entertaining as we had Samba played throughout the arrivals. Celebs attending included SADIE FROST, THANDIE NEWTON, SIR IAN McKELLEN, DAMIEN LEWIS, BEVERLY KNIGHT and KYLIE MINOGUE though the latter back doored it to avoid the waiting press. Very disappointing. The performance itself was good but not great. Too much solo singing -there were at least 7 slow songs back to back in the first interval alone- and not enough Samba. I went expecting to see full blown Samba but got very little of it. Perhaps having seen so much of it in South America raised my expectations. This version was more Samba 'lite'.

Next month dear peeps I will bring you a full report of the wonderful Venice Film Festival 2006.

Over and out, see ya next month.

JOE ALVAREZ



[email protected]



Words and all pictures copyright Joe Alvarez 2006.