This month dear loyal readers the Loaded magazine Laftas Awards took place in Sketch London. I was a bit a worried when I went to cover this 'job' as it started at 12pm. You see awards normally start in the evening 6pm onwards, as there is normally plenty of drink. But 12pm? As I arrived at Sketch my suspicions were reinforced as I sat down and I was offered coffee. I had never really heard of the Loaded Laftas Awards but hey, here I was hoping for free plonk and a smattering of celebs. I needn't have worried. Though Gemini's are born worriers, luckily, as the - minor - celebs started arriving and the Champagne corks started flying I realised that these awards might not be THAT bad after all. Holding a cold glass of bubbly - if there's no condensation on the outside of the flute don't drink it its not cold enough - I got in the mood to take pics. The guests included: RUSSEL BRAND - who won Funniest Man Award - ABI TITMUSS, ABIGAIL CLANCY, JUSTIN LEE COLLINS, ALAN CARR -Friday night Project TV series - and comedian JIMMY CARR who won best Stand Up. - Oh shut up giggling at the back and grow up! Not exactly 'A' listers or anything but hey, I had a job to cover and we were looked after well.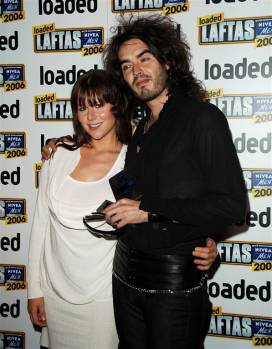 Abi Titmuss and Russell Brand



When the weather starts going grey and cold I tend to head south. So what better way to warm up than to head to southern Spain and shoot a calendar? My business partner - and Sunday Times photographer - Chris Bourchier and I booked four models to fly out and stay in our villa. I've always known the risks of working with models as they nearly always run late. Well, I was not going to be proved wrong on this occasion. As the airport screens showed our flight was boarding and only ONE model had arrived I began to worry. I started to mentally compose a letter to my insurers being very careful with the wording to see if I could claim back the travel expenses. I called one of the models Hannah, who said she had left her phone in her car at the Stanstead Airport car park, and went back to get it but had forgotten where she'd parked her car!


Hannah



One of the other models was with her and they were being driven around the many car parks by an airport's security guard to try and retrieve her mobile phone. How the hell did they pull that one off? Even muslim terrorists don't get that over generous treatment in misguided hippy/leftie Blighty! I'm sure they soon will though. As we boarded we informed the check in staff that the two girls were in fact in the airport and were making their way to the plane ASAP. We sat in the aircraft waiting for around twenty minutes and I was praying they'd make it. The plane doors closed and I thought the worst. I text them saying 'Get the next flight!' Upon arrival in Spain whilst collecting our luggage I felt a tap on my shoulder and it was Hannah and Jakki! "Bloody hell" I said, "You made it". Yes, I was very relieved to say the least, ditto Chris. We headed to our villa after one of the girls had finished her 'smoke' and an hour later we finally found it. As we got out the luggage of the 'people carrier' one of the models asked me "What part of Gran Canaria is this?" I was dying to laugh but just contained it, explaining patiently that we were in southern Spain, and that the Canaries were a group of islands way further south.....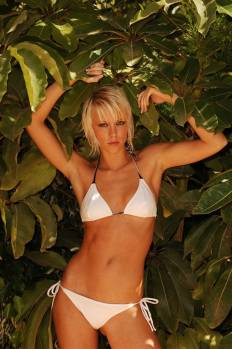 Katkin



Doing these shoots can be a lot fun but tiring at the same time and to make matters worse it was overcast! Travelling all the way to Spain for the sunshine and not getting it was annoying. It was big news in Spain and the TV channels were headlining with the fact that it was raining! We saw TV reporting from all over the country saying that it was raining! Not torrential rain but just rain. The downpour had not reached us but the light was a bit dodgy for a shoot. So we went shopping to stock up to make sure the girls had enough to eat. You know, one's vegetarian, one's lactose intolerant, one only eats cheese and one eats more meat than I do. So a bit of a mixed bag to say the least. We spent one evening telling the vegetarian model how animals were killed, so she could go to bed early.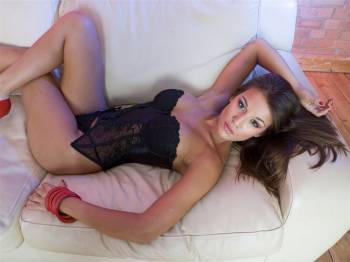 Hannah



You hear all these stories about models not eating much but let me tell you its complete baloney. They eat like starving hyenas. They eat more than me! The Villa soon looked like a clothes bomb had hit it with items strewn everywhere. We went to do the first shoot by the pool and things went well despite the low light. The models still looked a bit tense so it was time to open the champers -for me in the end, 'cos they prefer Vodka! ewwwgh. The alcohol relaxed them -and me- a bit and they were able to pose for the photos much better. Its fantastic and I get a high when the photos look like I want them to look. The first pool set I got looked OK but not brilliant. So we had to try again in the morning. My colleague Chris went to pick up our fourth model from the airport as she arrived almost two hours later than scheduled because she missed her flight due to having gone to the wrong airport....How difficult can this be. I send all the correct info to all the models and its pot luck who gets it right. Nevertheless in the end the shoots went well once we found good locations. The weird thing was that arguably one of the best shoots I did was when it was raining and the light had gone as it was almost seven in the evening.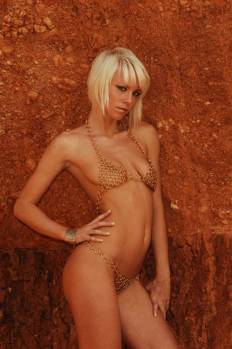 Katkin



The model was in the middle of a river up to her waist freezing with a waterfall behind her. With no tripod or deluxe lighting I was lucky -nah, uber skills - enough to get the shot I wanted. All in all, the models were very professional, endured all the elements and even ended up with cuts and bruises -on their buttocks and knees and it was nothing to do with me, tee hee- due to the extreme weather conditions at times. On one beach shoot one of the models was severely battered by a large incoming wave and almost drowned. When we stopped laughing we helped her out of the water and gave her the next bikini to wear. The pictures you are seeing here are not the final 'cut' for the calendar, but are in the running. We shall see. The overall shoot is not finished yet. We have another location to go to and re-shoot a couple of shoots that were not quite right. I'll keep you posted.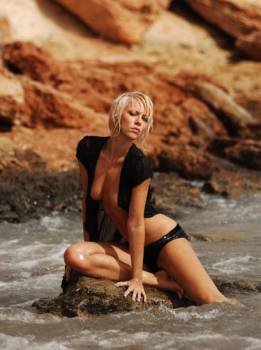 Katkin on the rock by the sea.



Well peeps, I'm outa time again. Next month I shall bring you a full report from the MTV awards 2006 in Copenhagen plus the usual showbiz goss-smut from London.

Over and out, see ya next month.

JOE ALVAREZ



[email protected]



You can now look me up in MYSPACE at: www.myspace.com/redcarpetspecialist or search for me in Myspace with my email address.

Words and pictures copyright Joe Alvarez 2006.