Wow, peeps! This month has been extremely busy for me. I give you a small snippet of my monthly pick of the jobs. Girls Aloud kicked off the month with their new deal with Sunsilk. What better way to wind down the 'band' - as they are breaking up later this year - to concentrate on their solo projects. The girls had their press launch party at 24 in Kingly Street, London and fans gathered round to watch the girls arrive. Comedian Dom Joly was outside as we were going into the venue for the press call, as he was pretending to be a paparazzo for the ITV B list program called........sorry, it's gone (Editor's note: the programme is called Deadline.) Nonetheless it was funny to see him linger outside and try to get shots of the action. I'm happy to say that he was totally clueless as to what to do. He eventually got onto a first floor window ledge on the building next door to the club the girls were in, on the same side of the street, but sadly the angle was not quite right and he wasn't able to take decent pics. But it looked good for his film crew and the Girls Aloud fans were thoroughly amused. The girls - I must say - looked fabulous: curvy, colourful and very sexy - apart from the 'ugly' one, you know the one. Just look at my picture! Shut up at the back, I can't say that! You can't say "ginger minger - is your mi--e the same colour as your hair?" anymore!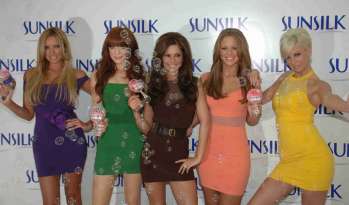 GIRLS ALOUD. Copyright: Joe Alvarez.



"Dayevits! Dayevits!" "Yeeeeesss Victoria, I've got your shopping." Bless them both. THE BECKHAMS were in London at the Sport Industry Awards. They gave me plenty of time to take good pics and were very amiable. Jeez, I'm going soft. What the hell, I like them. Oh yes, David also won the Outstanding Contribution to British Sport award. Excellent. Well done mate.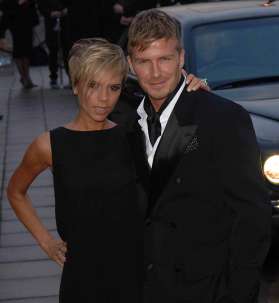 DAVID AND VICTORIA BECKHAM. Copyright: Joe Alvarez.



Spiderman 3 came to London town. The European premiere was held at the ODEON, Leicester Square. The new installment of the Spiderman trilogy, directed by SAM RAIMI, is reputedly the most expensive film ever made. Some estimates are close to $500 million. The makers insist it hasn't cost more than $270 million. So it probably IS the most expensive film ever made. The gist of the film is that suddenly Spiderman turns black. No, you silly peeps. He's not walking around with his trousers round his knees, with a fabricated limp and an Anglicized patois accent. He's not a bruvver, blahd. His suit turns black, giving him more powers. So thus, a darker - obvious I know - more sinister and vengeful Spiderman emerges. He fights hard to control this extreme because he's a good do-gooder at heart and he reads the Guardian. The premiere itself was OK. Guests included the cast - KIRSTEN DUNST, TOBY MAGUIRE, THOMAS HADEN CHURCH - plus model CAPRICE, CLAUDIA SCHIFFER, JAMES FRANCO, TOPHER GRACE, violinist LINZIE STOPPARD - who castigated me politely as I said in this column that I didn't know who she was - SUGABABES, camp fatty ALAN CARR, FEARNE COTTON and erm, PEACHES GELDOF.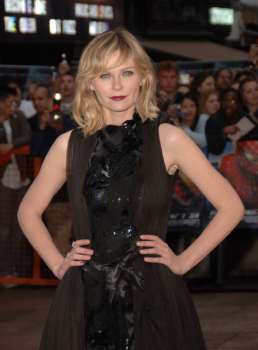 KIRSTEN DUNST. Copyright: Joe Alvarez.



The photo session went very well, with most people giving me plenty of time and eyeline. I was very disappointed in MS DUNST's dress. It was alright but a bit boring. CAPRICE did the right thing with a flamboyant silver number by SCOTT HENSHALL. Similar story with fashion bypass TOBY MAGUIRE. He's a nice guy but, crikey, every premiere he seems to wear everything grey. No mate, I don't want to buy life insurance from you. Then again..............Thankfully security has improved loads and now the likelihood of my equipment getting stolen again is very small.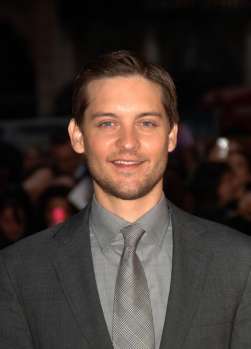 Man in the grey suit - TOBY MAGUIRE. Copyright: Joe Alvarez.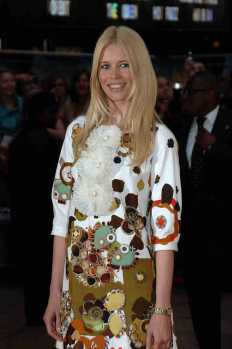 CLAUDIA SCHIFFER. Copyright: Joe Alvarez.



CLAUDIA SCHIFFER showed everyone else how to dress without looking like a manic attention - seeking slapper. The German supermodel looked superb and was more than happy to pose for pics. Yummy mummy indeed. Go Claudia.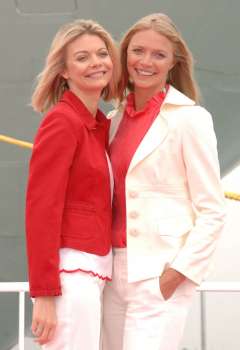 GEMMA AND JODIE KIDD. Copyright: Joe Alvarez.



The lovely KIDD sisters were in Southampton docks to launch the new liner, Ocean Village Two - It's a huge cruise ship. I was there to sample the free pink Champagne on board and visit the big Harley Davidson shop nearby - after taking the pics of course. The photocall went well after the girls eventually turned up 40 minutes late. Apparently one of them got lost and couldn't find this huge - seven story high - ocean liner! When the girls finally pushed the button thingy to make the Champagne bottle smash against the ship's hull, the bottle just bounced. Nothing. I was quietly wishing it wouldn't break so I could have it and, after the second attempt to break it failed, I thought I was in luck. Some guy helper came and broke it with some force - it nearly holed the vessel. Oh well. I had guzzled enough.

Next month, dear readers, I will give you a run down on the Cannes film festival - my version - and any other shenanigans I get up to. Be safe but don't be square.
Over and out, see ya next month.

JOE ALVAREZ



[email protected]


check out my website at www.myspace.com/redcarpetspecialist

WORDS AND ALL PICTURES COPYRIGHT JOE ALVAREZ 2007.