Hi my little celebrity obsessed peeps! This month has once again been very busy with a host of various celebrity events including the TV BAFTAS, the Virgin Radio re-launch party the Nicole Kidman premiere of The Interpreter, oh yes, Sean Penn also starred but he didn't turn up for the premiere so what the heck. Various other do's that frankly leave me exhausted. The NICOLE KIDMAN premiere went very well as I got very good shots of the flat chested beauty and various c-celebs. Ahhh if only she had a full chest...She is very talented we all know that, but it always upsets me that there will never be ANY cleavage to photograph whatsoever. No bra could ever manufacture that. I just prefer her with a rounder fuller shape a la RACHEL HUNTER. No pics of Nicole this month as I've shown you enough pics of her already, and is someone else's turn. Of the studio shoots I did recently, the best for me was with my old chum HELEN LATHAM. Helen plays Lucy Milligan in FOOTBALLERS WIVES on ITV. Having started in theatre doing various plays, she also played Dinah in Starlight Express. Fab to see her in a cool role though she gets a few slaps here and there in the series. Can't win them all eh Helen.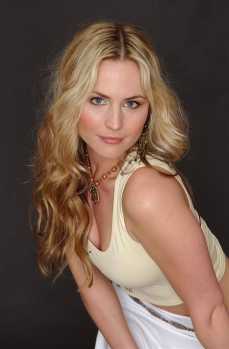 Helen Latham Copyright Joe Alvarez



We have started filming the second series of 'Paparazzi', for those of you who may not have seen it, its were a BBC TV crew follow me around filming me doing my job. As you'll see later this year and early next it isn't all loose women and champagne you know. -I'd say its 50/50.

One of the worst parties to cover this month was the MAC Viva La Glam do at Home House in London. It was bad as the PR's -you know them - told us that the celebs would start arriving at 8.30pm. PAMELA ANDERSON is the face of Mac and naturally she was the main draw. DANNII MINOGUE made an appearance as did LISA B, fatty DAWN FRENCH, LISA BUTCHER, ISABELLA HERVEY, SOPHIE ANDERTON and eventually, two hours late, PAMELA ANDERSON.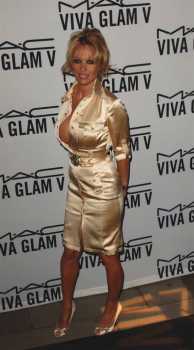 Pamela Anderson Copyright Joe Alvarez



The night-Paparazzi went mad as she arrived all desperate to get any shots whilst the accredited media -yours truly and other colleagues- waited patiently for the feeding frenzie to finish. We got very good shots and I was pleased on the whole apart from having to wait so long once again. Funniest picture this month was of DAWN FRENCH arriving at the same party in a big flowery frock/coat/catering tent. The woman really needs to lose weight!! She's as tall lying down as she is standing up. If you look at my pic of her she looks like her legs were chopped off and she 's walking on her knees. Maybe she ate her own legs because she felt peckish? If there was an olympic pizza eating competition our Dawn would be on the winner's podium everytime. Dawn, you are very talented and very fat. Lose the weight and reach your full potential before you have a coronary sweetie. I worry about you. -Unlike DAVINA McCALL who has lost so much weight after giving birth, that at the TV BAFTAS, I could not believe how her boobs had shrunk. She has nothing left!! No need to wear a bra, nothing. Dawn, give McCALL a call.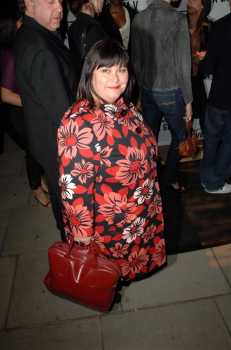 Dawn French Copyright Joe Alvarez



DANNII MINOGUE looked fabulous, and what a contrast to Ms Blobby. Shame Dannii is not as talented as she looks. She's even my favourite Minogue but she will always be in the perennial shadow of her far more successful sister. Come to papa Dannii I'll look after you. -As you may well see I'm not concentrating on artistic merit this month....-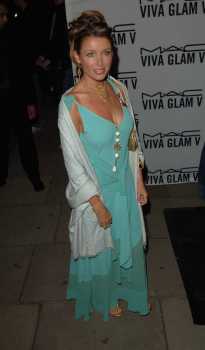 Dannii Minogue Copyright Joe Alvarez



Over and out.

See ya next month


JOE ALVAREZ



[email protected]


or


[email protected]



(Copyright Joe Alvarez 2005/
All pics copyright Joe Alvarez)