It's the middle of the festival season and I have been/will be busy covering all of them just for you dear readers. Already I've been to T4 Festival on the Beach, Homelands and Isle of Wight, and will be covering Glastonbury, The V fest, Reading and the Venice film festival. Homelands in Hampshire was fun but devoid of celebs so for photo opportunities it was a bit dire. The Nokia Isle of Wight festival had a better band line up which included Razorlight, Feeder, R.E.M., The Magic Numbers, Babyshambles etc. This three day festival is smaller more chilled out version of Glastonbury/V festival though a lot less fun. Less fun 'cos you can cover it all in 20 minutes and its a little bit 'off piste' so a lot of celebs don't always turn up. I must say though that the hospitality was fantastic -otherwise I would not have stayed that long- Nokia had a fab hospitality area for VIP's and we were treated like kings with fantastic food and all the alcohol -and grub- was free for the duration of the fest. Needless to say you know where I was holed up that weekend. Virgin Radio also had their hospitality area for invited guests and it was all free there too. Luckily, they were next door to each other so I didn't have far to walk. (sometimes 10 yards can seem an eternity when one is thirsty don't you find?) The only celebs at the fest apart from the bands were erm; was just KATE MOSS. Kate turned up to keep her drug addict boyfriend/PR stunt PETE DOHERTY company. The lead singer with BABYSHAMBLES had a Saturday afternoon slot with them -not a very good time to play as there is sod all atmosphere - but hey, the sun was out and drinks were free. Rumours that la MOSS is pregnant does not come as a shock, though baby feeding time will be an interesting affair, as, if the rumours are correct, the kid will be born drug addicted allegedly. Needless to say needles all round!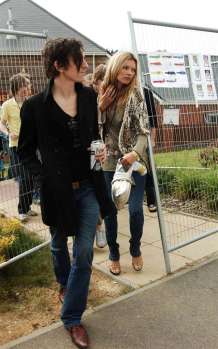 Kate Moss sneaking backstage: copyright Joe Alvarez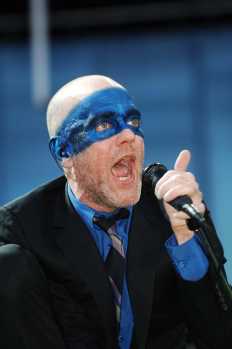 Michael Stipe REM: copyright Joe Alvarez



There is another well meaning festival - though up its own ar-e - coming soon to Hyde Park and is the LIVE 8. This festival full of mainly mediocre and past it bands has been organized by BOB GELDOF and his yes men. Its part of the unbelievably titled 'Make Poverty History' campaign. This uber naive campaign -bordering on incredibly retarded stupidity- aims to er, make poverty history. Bless them. They hope to do this by canceling the debt of very poor -African countries-. Why not other countries? Please stop giggling. This is sort of serious. There are millions of people dying of hunger around the world but these LIVE 8 folk only think it's in Africa. The capital of corruption A.K.A Africa will have its debts wiped out. Well, the dictators will. The people who are 100% to blame for the plight of their own people will have their debts canceled!!!!!! The poor people will carry on being as poor as mud and now the corrupt scum that made it all happen will be able to have 50 Swiss bank accounts instead of the 25 or so they normally have. Africa has had billions in aid already in every form and it has all been wasted, stolen, laundered and misused. They always tell us that every second 4 kids die in Africa of starvation. What they NEVER tell you is that around 90 are born every second. So you can see why they have the highest birth rate in the world at the moment. Please can someone explain to me -not Bob Geldof what he knows about Africa can be written in big letters on one of my toe nails- who will administer the new found funds theses countries will supposedly have? Most of these countries are so far behind in debt re-payments that these have ceased altogether, thus there won't be extra cash for the poor. Criminals like MUGABE must be dancing with joy -once again- at the criminal stupidity of the un-elected Bob Geldof and his cronies. Bob seems to hide his monumental ignorance of the subject by pretending to be angry all the time and at the recent press conference nothing vaguely plausible came out from him or the pratt MP sat next to him. Look at Ethiopia. They're still starving. No one will talk about it anymore. Not even Sir Bob. What changed since the first Live Aid? Nothing. Why doesn't Bob visit each corrupt African state -he'll be away a while- and start a campaign to depose each un-elected regime? With his own funds, as he is very rich? Without new governments overseen by international monitors and auditors nothing will change and washed up mediocre musicians like him will have to focus on another pet project designed purely -in my opinion- to boost his ego and his addiction to fame.

Meanwhile at the Intercontinental Hotel the Silver Clef Awards celebrated 30 years. These music awards attracted names like Geldof's cronies U2, -at least they have talent- DIDO, NATASHA BEDDINGFIELD, MYLEENE KLASS, MARTIN FREEMAN, JAY KAY, Mc FLY, et al. U2 used the opportunity to hijack the event to promote -yes you guessed it- make poverty history.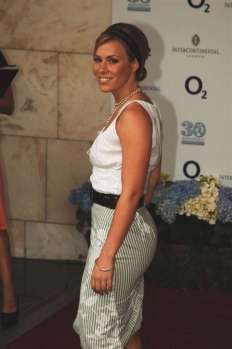 Natasha Beddingfield: copyright Joe Alvarez



And finally just to keep you Big Brother fans amused here's my pic of saucy SAM as she got the boot from Big Bro.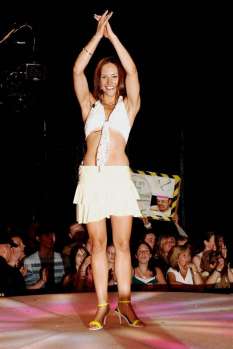 Sam/ Big Brother eviction: copyright Joe Alvarez



Next month dear readers a full report of Glastonbury festival! and more showbiz shenanigans. Don't cry back soon.

Over and out, see ya next month.

JOE ALVAREZ



[email protected]



Copyright Joe Alvarez 2005
All pics copyright Joe Alvarez