Happy New Year peeps! It was 'welcome' back to a typically dreary January in blighty for me, having spent Christmas hols in the sun. Those of you who aren't blind will already have seen my shots of Page 3 stunner Nicola McLean and Big Brother sister Tania Do-Nacimento cavorting on the Canary Islands - my sniper snaps turned up in a two page spread in the Daily Star amongst a variety of my beach pics, on the cover of the Sport with a two page spread and a further two page spread IPC's new glossy weekly Nuts. "Smug git!" I hear you cry. Well, if you guys think it's so easy sipping champagne and sangria, though best not mix them- when shooting beautiful girls in the sun then, yes, apart from the odd spillage I'm afraid it is. What the fuchsia, someone's still gotta do it. Be grateful dear readers it just shows how caring and sharing I am with you. Besides, I loathe Christmas pudding.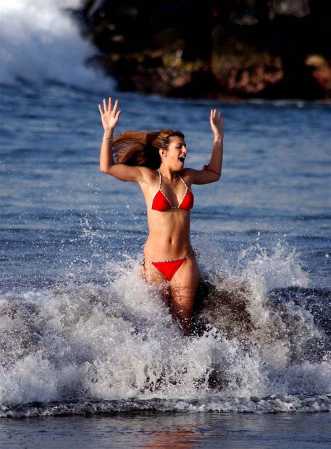 Tania Do-Nacimento (Big Brother) copyright JOE ALVAREZ



Tom Cruise and Penelope Cruz themselves were very much in evidence at the premiere of the latest blockbuster by Edward Zwick, 'The Last Samurai'. Despite Tom signing autographs for over 90 minutes, yawn! Well, it was boring for us to have to wait for the man to shoot him, er, photograph him. It was Ms Cruz though who stole the show in a fetching red outfit that got splashed all over the next day's front pages. Penelope then gave me that special look she always gives me -drop dead - no she's very sweet really, and some of my colleagues standing near me benefited greatly as they snapped furiously away. -They're getting there-.

But that, I'm afraid, was the evening's highlight since the only other guests were a couple of D-list celebs who just overstayed their welcome in front of our lenses 'till I told them to move along. In erm, different words but it worked a treat.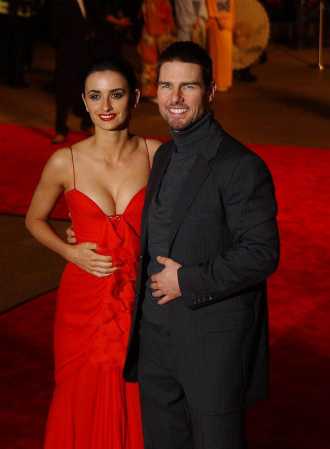 Tom Cruise & Penelope Cruz copyright JOE ALVAREZ



Perhaps the nation's models weren't there because they were saving themselves for the 'Scary Movie 3' prem - almost every babe in the land was there including 'Cast' star Anna Faris, pneumatic model Jordan, Lucy Clarkson, Jo Guest, the Cheeky Girls, page 3 gal Michelle, plus my chums Nicola McLean and Tania Do-Nacimento - oh, and a couple of Eastenders (and their wives, which was really sweet though the cynic might reach for the phrase coals-to-Newcastle).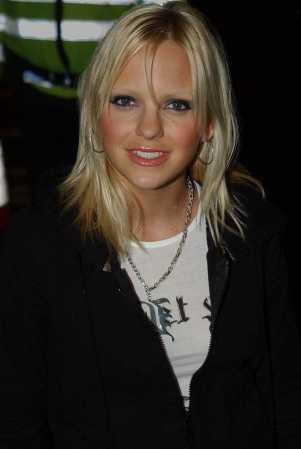 Anna Faris copyright JOE ALVAREZ



Speaking of cynicism, my prophecy of a few months ago in - made in this very column - has finally come to pass. Yes, J-Lo has split with young Ben Affleck, blaming his all night partying antics whilst la Lopez wanted to settle down and have lots of babies. We all know the REAL reason. I knew this would happen the night she gave me "gobble gobble" glances that were "come hither" and gave him looks that said "go wither". If only the poor star-crossed fools - who's associates do, I know, read these august pages- had consulted a relationship consultant the minute they'd seen my prediction. Don't they know that I am never wrong? Erm, indeed... Of course, some relationship experts recommend getting a pet as the short-cut to harmony and celeb animal-lovers - and celeb animals - were expected in their droves at the Royal Academy's Exclusive Celebrity Dogs Photography Exhibition. Tamara Beckwith, Annette Crosbie, Lisa B, Tracy Emmin, Trinny Woodall, designer Bruce Oldfield, chef Jean-Christophe Novelli and quality snapper Ben Westwood all turned up - but they all took their time arriving - almost all of them without their pets, I might add - so I had to use all my star lensman status to make sure I got my usual ration of Moet whilst I waited to take pics. -Thanks John-




Trinny Woodall copyright JOE ALVAREZ



When oh when will people have my usual bottle and ice bucket ready in advance...? At the luxurious Mandarin Hotel in Knightsbridge of course! Last Saturday's Renaissance fashion show where various minor celebs including Julianne Davies, Lisa Scott-Lee, Ben Westwood, Lisa Fuller, John Fashanu, Amanda Kiss et al turned out to quaff MY supply of the bubbly stuff. Though some bright spark barman also decided to mix some of the bubbly with raspberry juice? the result being gooey cough syrup...yuk! Luckily, I promptly ordered a bottle of champers as God intended it to be, and shared it with my gorgeous companion Sammie Fugill, showbiz TV presenter&model. I do all this just for YOU dear readers. Chin chin!


See ya next month.

JOE ALVAREZ


[email protected]



Edited by Phil Strongman
(Copyright Alvarez/Strongman 2004)
ALL PICS COPYRIGHT JOE ALVAREZ