Here we are with our bumper Christmas and New Year issue once again. Isn't there good telly on at the mo, just when we want to go out and party: typical! This season's I'M A CELEB looks set to be explosive with all those female egos on the loose. Personally, I reckon "the butler did it"! JACQUI STEPHEN in THE MAIL thinks PAUL BURRELL looks hunky when he gets dirty. What do you think, dear readers? Talking of butlers, C4's new show on Thursdays at 10pm, WHAT THE BUTLER SAW is also great fun. I'm betting on SINEM, the tall lissom blonde with the acting training for this one: not necessarily to win the show (she's too pretty) but to get the jobs afterwards. You bet SINEM will be popping up on our telly screens a lot in the future: you read it here first, telly fans.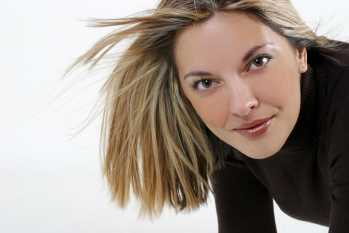 SINEM from WHAT THE BUTLER SAW.



We didn't have a butler at JADE's recent 13th birthday party cruising down the river on board THE EDWARDIAN (welcome to teenagerhood, JP) but we did have the best cake anyone's ever seen. Made by the delightful VICKY at MY KIND OF CAKE (020 8749 7022 / 07958 73 08 35) the beautiful chocolate cake was in the shape of a LOUIS VUITTON handbag, just the right symbol for today's designer-mad young gels. The cake looked so perfect we didn't want to eat it but when we tasted it, it was definitely the best tasting cake too = a double whammy!
Best congrats to JADE and best to VICKY at MY KIND OF CAKE, who also makes divine Christmas, birthday and wedding cakes in all shapes and sizes. Get on the blower now, you sweet toothers and book up something yummy for crimble.
Now here's that cake: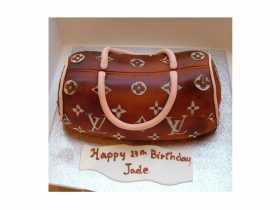 JADE's b'day cake by MY KIND OF CAKE. C.r: KAT LAMBERT.



Btw this fab pic was taken by lovely KATHARINE who celebrated her 20th just a few days later and has a real talent for photography: watch out, Celebrity Snaps Ed., JOE!

Talking of sweet stuff, which we are for Chrissie and NY, we also had an excellent selection of yummy chox in pretty little boxes for party favours at JADE's b'day this year. They were made by celeb "chocolatier" PIERRE MARCOLINI of Kensington (020 7795 66 11), were also delish and would make ideal little Xmas presies.

The ROYAL FILM PREMIERE this year was LADIES IN LAVENDER, CHARLES DANCE's directorial debut starring DAMES MAGGIE SMITH and JUDI DENCH, DANIEL BRUHL, MIRIAM MARGOLIES, NATASHA MCELHONE and DAVID WARNER. The film is brilliant, gentle and adorable and everybody dressed to the nines at the prem to honour THE QUEEN, patron of the benefiting charity, THE CINEMA AND TELEVISION BENEVOLENT FUND. HER MAJ wore a strong citrus green evening dress which was rivalled in brightness only by MYLEEN KLASS's dayglo orange PARVEEN bustier frock. LADIES IN LAVENDER's stunning female love interest NATASHA MCELHONE plumped for elegant ivory, as did voluptuous NELL MCANDREW and little black dresses were everywhere. I was no slouch in the fashion stakes myself, sporting one of the most stunning frox I have ever had the pleasure of wearing, a divine irridescent 2 tone red and silver lurex creation by talented new young designer SAINT-HILL. The dress was gossamer- fine and moulded to the body but floated light as a feather behind me when I moved. But a picture is worth a thousand words, so here is that dress, sparkling irresistably in the dim, religious light of THE CAFE DE PARIS who hosted what, in my humble opinion, was the best of the 3 after prem parties that evening.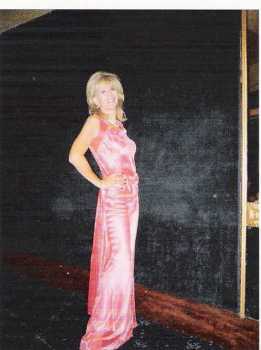 Sally in SAINT-HILL at THE LADIES IN LAVENDER party. C.r.: BILLY CARTER.



SAINT and his lovely partner BRITTA produce gorgeous off the peg and made to measure dresses for day and evening wear and are based at 20 Kinnerton St.(020 7245 6778) in chi- chi Belgravia, but don't worry, ladies, their prices are not too outrageous! SAINT-HILL are also sensible enough to make delicately embroidered chiffon ponchos to match or tone with their evening dresses and stave off the worst of the Brit weather. Pay them a visit soon.

Getting back to the previous pic, my fake tan was, as usual, by the gorg LAURA FERRALL-PEEVEY (07867 61 00 45) who is quite the best and quickest spray tanner in the biz and will come to your home which is half the battle really, if you don't want to go streaky on the way back from the salon! I think we all feel much fitter and healthier when sporting a glorious, golden tan, do we not, boys and girls? It's an instant and cheap pick-me-up.
My hair in the pic was sprayed with KMS's great new prod, HAIR STAY which gives you max hold along with high shine, a perfect combination for foiling a high wind in Leicester Square: we must get KMS to recommend it to HER MAJ and all other premiere goers who brave the elements on these occasions. If you need extra shine (which we all do from time to time) try my fave GOLDWELL prod, TRENDLINE SHINE SPRAY which really does the business when your hair is feeling a bit under par.

KMS and GOLDWELL are 2 of the top manufacturers in the hair biz and they recently sponsored the fab CHESTER BONHAM (020 8874 7330) fashion show at ASTON MARTIN in Park Lane. SUE CHESTER is renowned for her slinky evening gowns and the daywear was sensational too, not to mention her menswear range which looked super on her hunky male models (all pix next issue, fashion fans.)

Another great show which I attended last month was hosted by exotic fashion entrepreneur ESSAM GUENEDY at his cool shop BEYOND on "The Beach" in Fulham Road, Chelsea (020 7351 21 21.) ESSAM has a great eye and BEYOND is a real treasure trove of gorg gear, from best ever tight jeans to "backless evening straps" to funky brooches. For all sizes and ages: check it out.

One of the best parties I have been to recently was PAUL KILLICK's launch of his fab new dance school, DANCE SPORT which is at 57 Pont St. in Knightsbridge. Hunky PAUL is the Ballroom Dancing World Champion and star of STRICTLY COME DANCING. All the SCD stars were out in force for PAUL's launch, including the ebullient BRUCIE, stunning NATASHA and the strictest judge, CLIVE, not to mention PAUL's own recent SCD partner, lovely CAROL VORDERMAN. It was also good to see the divine JULIAN CLARY mingling with the dancers.

DANCE SPORT (020 7589 3071) offers all sorts of classes and packages and prices start at just £10 for one lesson. So what's stopping you, dancers of the future? Dancing is a social and enjoyable way of keeping fit whilst using your brain at the same time and it's great fun for all ages. Thanks to PAUL and SCD ballroom dancing is now cool so go for it. Remember: ballroom dancing is the new black!
Now here's a photo of that top dancing couple PAUL and CAROL at the DANCE SPORT launch. You may wonder what the bushy blonde blob nestling nest to PAUL's left cheek is: that's moi! I decided to cut myself out as I felt there is enough of me in this column this month (well, there will be later: wait for it!) but our hapless house photographer hasn't quite got the hang of the old cropping business yet!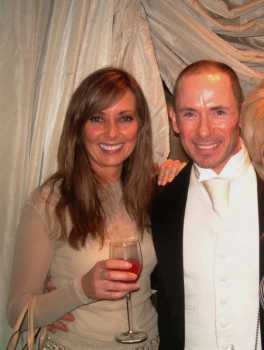 PAUL KILLICK and CAROL VORDERMAN at the DANCE SPORT launch. C.r: GABOR SCOTT.



If you prefer to do your shopping in comfort in a congenial atmosphere with a glass of champagne in one hand and a delish choccy in the other, you must join THE CHELSEA CLUB. The Club's dynamic founder CHELSEA FISHER recently launched the CC here in London with a little help from her delightful friend TIFFANY. The launch took place at sexy nightclub AURA on St. James' and shoppers were able to snap up sensational clothes and accessories as well as trying all GUERLAIN's new products and perfumes whilst lounging against the bar, making new friends and influencing people! Phone lovely CHELSEA on 020 8882 65 47 for details of the CC's next shopping experience.

My celeb books for this issue are the amazing RUSSELL GRANT's latest, RUSSELL GRANT's ASTRO-TAROT PACK (VIRGIN, £16.99) and his ILLUSTRATED DREAM DICTIONARY (VIRGIN, £9.99.) The ASTRO-TAROT PACK is the first book I have seen combining the surprises of tarot card reading with the more scientific astrological forecasts and it's absolutely fascinating.
The DREAM DICTIONARY is seriously enlightening as well as a lot of fun. If, like me, you experience glorious technicolour dreams, keep RUSSELL's book by your bed and look up their meanings as soon as you wake up: I guarantee you'll be gobsmacked ! Now here's the man himself: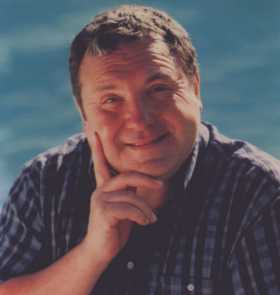 RUSSELL GRANT.



Perfume (or "scent" as we posh types call it!) is the perfect Xmas presy. We at HGUK have tried countless fragrances in this office in the past few weeks and can now bring our Top 5 to you, dear shoppers.
LANCOME currently have 3 stunning perfumes on their counters which, between them, will take care of all your female friends:
MIRACLE is supremely sensual and feminine and smells totally different on different skins; it could suit all ages.
MIRACLE SO MAGIC, MIRACLE's baby sister, is sweet but fresh and is ideal for young women and teenagers.
ATTRACTION is greener and more sophisticated and could be worn by older women and tomboys.
LANCOME perfumes are also reasonably priced which is important when you have a lengthy list of friends and relations to buy for.

ESTEE LAUDER's latest perfume, BEYOND PARADISE is another very sensual fragrance with tropical, floral tones which is both young yet sophisticated and could also be worn by women of all ages . BEYOND PARADISE MEN, the masculine version of BEYOND PARADISE, is a really sexy men's smelly which could also be worn by boyish gals. The 2 fragrances together would make an ideal Xmas gift for couples: "we are fragrantly co-ordinated, dwahleengs!" Something I have noticed about LAUDER scents is that they are all particularly long lasting: the legendary MISS LAUDER must have known a thing or two.

Happy shopping..........all year round!


Thank you for reading my page.
Do check out my personal website at:
www.sallyfarmiloe.co.uk

I hope you all have a truly wonderful Holiday Season and New Year and that 2005 will fulfil all your dreams (if not, consult RUSSELL GRANT!) Now here's my special message for you all: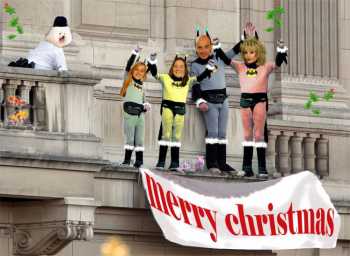 CHRISTMAS CARD.



Sally and family's Christmas card was designed by PETER DALE and printed by PRINTEK.

LOO TIME VIDEO available from:

[email protected] and:

http://www.121music.com/pages/video_01/home.html