Now that the world can finally sleep soundly in the knowledge that RICKY MARTIN has 'come out', as if we hadn't known for years that he was as bent as a coat hanger, he can now 'get on with his life' at last. As if anyone had been stopping him before. Yes, dear peeps, celebrities really think they are oh so important, and are so far removed from reality, that even aliens would find them alien. That they think the world would give a stuff as to what they think about politics, world hunger, wars et al. Because someone sings and, or, plays a guitar, or has been cast in a film, being paid to pretend to be someone else, it doesn't mean that they are a world authority on anything! Look at BONO, bless him. He alone is responsible for half of the world's CO2 emissions -and methane- with the hypocritical claptrap he spews at both ends. This pious -well meaning- buffoon and his 'cling-ons' -BOB GELDOF, and the ever more ridiculous mummy's boy CHRIS MARTIN- really think they know ANYTHING about the world's problems. Demanding free AIDS vaccines for those who contracted the decease already, -Bono- but failing to get African men to PREVENT the infection in the first place. African men will not wear condoms. They simply will not and don't care. BONO doesn't see this, because it won't get him on another jet to Copenhagen, or Tokyo for another fruitless waste-of-money conference. These cocooned, self absorbed, egomaniacs have fooled the great unwashed simpletons -public?- by thinking that they lead a just cause and want to do 'what's right'. For them, that is. They do this purely for self gratification, the worship of the illiterate masses, including the 'rent-a-cause' mobs and the perennial misguided students who are fooled by a few good tunes. Yes, some were, and are great musicians and singers -apart from BOB GELDOF- but that's as far as they go.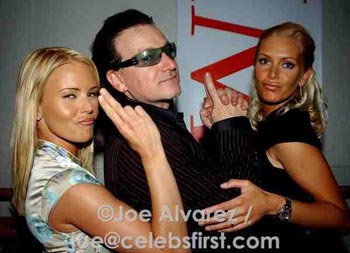 Yes, by all means have an opinion, then shut up. Help all you want, but do not dare to 'preach' when your millions are never put to the good use on the people you profess to care about. It's always someone else's money these 'stars' -puke- seem to use to 'help' the godforsaken. They all then return to their mansions -via private jet- and carry on enjoying the shallow fame they have achieved by pretending they care. If they really do care THAT much, why don't they quit the limelight, and dedicate their lives to helping the hapless millions and making their lives better? With the interest alone from their burgeoning millions, they can live happily and comfortably. Ah yes, but not ONE of them will do that. Because they don't care enough. They just care 'a little bit'. 'Care-light'. Or care a lot -full fat- when they are plugging a new DVD release or concert. Or like BOB GELDOF, whose career then was as dead as a recently dug up Egyptian mummy from the innards of a 2000 year old pyramid, only to be run over repeatedly by a hijacked aid convoy on its way to Ethiopia.

He meant well I think. But his naivety bordered on stupidity. And it still does. When the BBC recently -at last- reported what many of us knew about what happens to much of the 'aid' for the starving, and that it had proof that in Ethiopia most of the aid was stolen and used to feed the army, -story of Africa's life- our Bob was incandescent with rage. He said: ...'that if he thought that those new revelations were true, that he would sue the Ethiopian government'. Ha ha ha ha! How I laughed. What a clown. Geldof really thinks he is going to sue the Ethiopian government and that they will even acknowledge his existence! Will he pay his legal fees? Of course NOT! He won't do any of it. Because he can't. Its all methane, come from his real mouth. Even TIME magazine reported the Ethiopian scandal at the time. We know many trucks were stolen. Charities don't tell you because generally they don't care. They get paid whether people live or die. They -Ethiopian customs- even made us pay $100 per tonne import tax for the aid we gave to them! They are starving more than ever now! Bob, where are you?! Sue them, because the information is 100% true. Put your money where your methane is. Yes, I make a living from photographing celebrities. I don't, however, pretend to be a pious prick. -disinterested prick maybe- BOB GELDOF made millions by pretending? that he gave a hoot about the starving. Why doesn't he care now?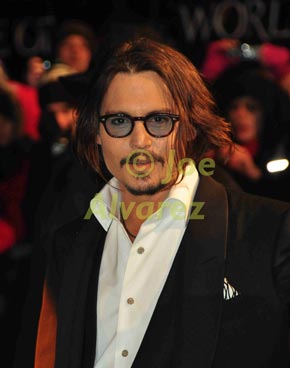 Johnny Depp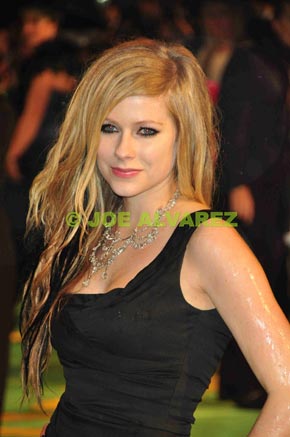 Avril Lavigne



Ok enough about 'serious' guff. The celebrity production line shows no sign of abating, and I shall give you a digest of the best events of the month.
Starting with the premiere of Alice in Wonderland, directed by TIM BURTON which saw Leicester square nicely adorned with a bright green carpet. Despite the customary downpour in London's Leicester Square, all cast were present. Tim's 'usual suspects', his wife HELENA BONHAM CARTER -Red Queen- and JOHNNY DEPP -Mad Hatter- were joined by ANNE HATHAWAY -White Queen- and MIA WASIKOWSKA -as Alice- in the lead roles. TIM BURTON works his magic once again as the film managed to top the global box office for the fourth consecutive week. The Disney fantasy grossed £30.7 million ($46 million) taking its total global gross to £437 million. ($656 million) I must admit that I enjoyed the film with HELENA BONHAM CARTER in particular playing the Red Queen brilliantly. JOHNNY DEPP plays the Mad Hatter as off beat as only Johnny can. AVRIL LAVIGNE was the bravest of them all at the premiere in the pouring rain as she didn't ask for an umbrella. She posed for us for quite a while despite the soaking. Round of applause for her.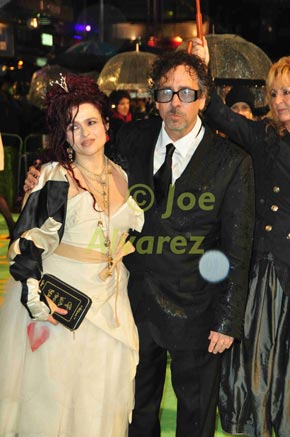 Helena Bonham Carter and Tim Burton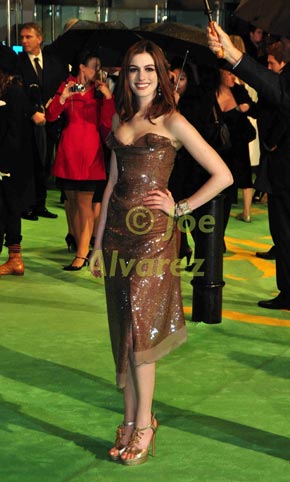 Anne Hathaway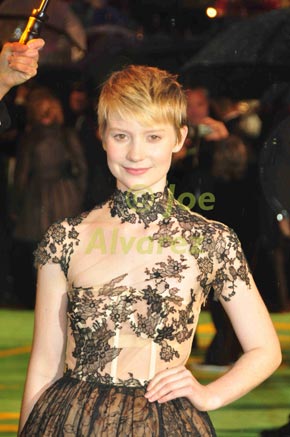 Mia Wasikowska



The best event for me this month was the Noble Gift Gala. Hosted by EVA LONGORIA at the Dorchester Hotel in London, which saw celebrities glam up for the red carpet.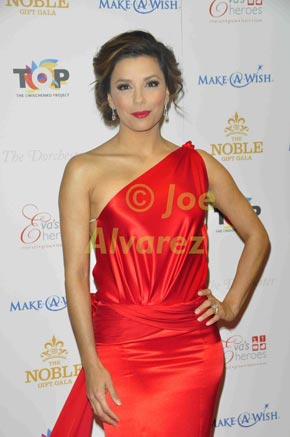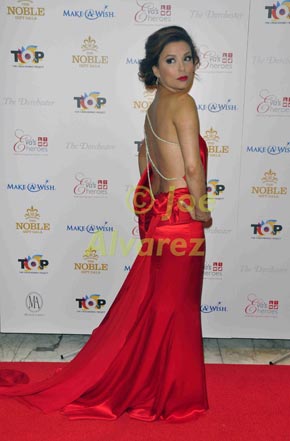 Eva Longoria



JERRY HALL, SARAH HARDING, DUNCAN BANNATYNE -who?- CAPRICE BOURET and ZOE SALMON amongst others. Prince Azim of Brunei was in attendance, and I mistakenly asked him for a glass of champagne as I thought he was the waiter. Oops! Well he did look like one. When the real waiter turned up, I was relieved as I'd been waiting 5 minutes already for the cold bubbly stuff.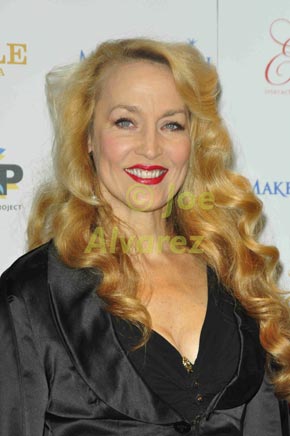 Jerry Hall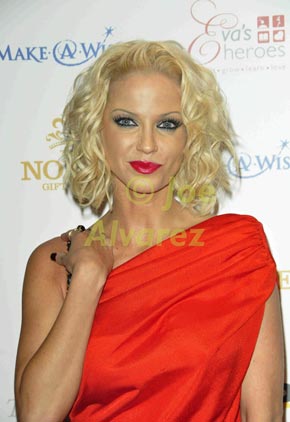 Sarah Harding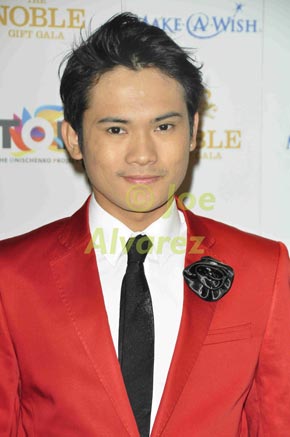 Prince Azim of Brunei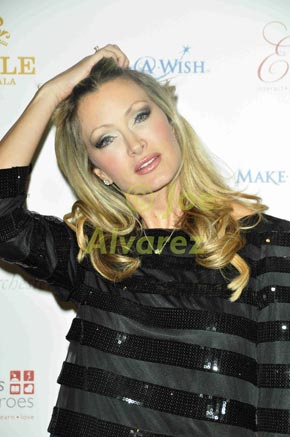 Caprice Bouret



I caught up with the lovely model and my dear friend CATHERINE McQUEEN who I had not seen for ages! The cutie brought me another glass of champagne as I had asked her via text. Better than finding someone in the crowd. Or getting up. Technology good for something at last. Eva was so sweet. I complimented her on her dress in Spanish -she speaks it- and she gave me a kiss on the cheek. Bless her.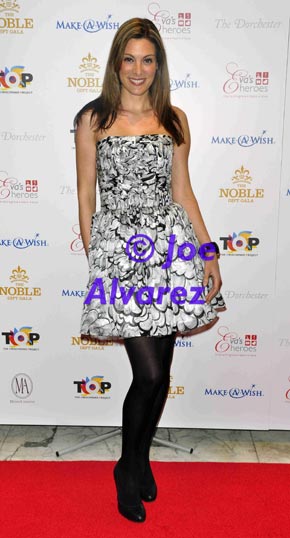 Catherine McQueen



Premieres galore peeps. JENNIFER ANISTON was in London trying to find a man, maybe. No, really she was in London's Leicester Square for the premiere of Bounty Hunter where she co-star's with GERARD BUTLER. Milo Boyd, -Butler- a down on his luck bounty hunter, gets his dream job when he is assigned to track down his bail jumping ex-wife, reporter Nicole Hurly. -Aniston-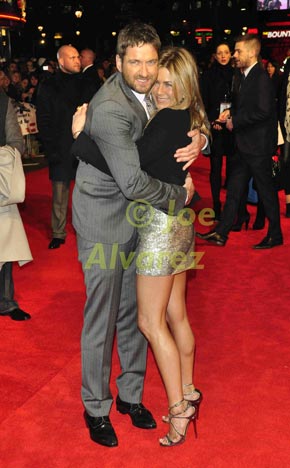 Gerard Butler and Jennifer Aniston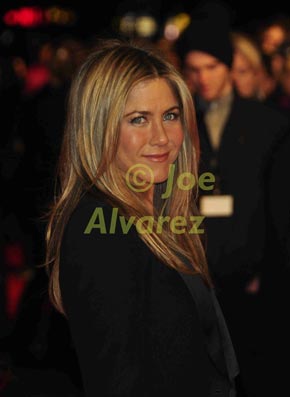 Jennifer Aniston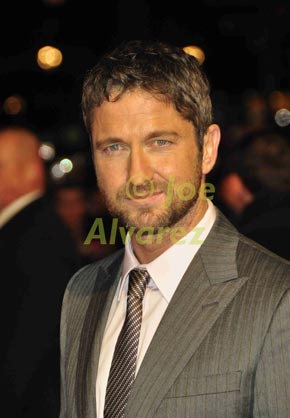 Gerard Butler



He thinks all that's ahead is an easy pay-day, but when Nicole gives him the slip so she can chase a lead in a murder cover-up, Milo realises that nothing ever goes simply with him and Nicole. They end up on the run together. I have to say that Jennifer and Gerard looked really at ease with each other giving me great pictures at the premiere.

BRAD PITT was in town briefly to attend the premiere of Kick Ass. The kiddies film has had good reviews thus far, but the talk of the town was the state of BRAD PITT. I like the guy a lot, but what the hell did he look like! He looked like a hobo. Shave it off mate. Maybe its for a film role. Angie will get itchy legs for sure!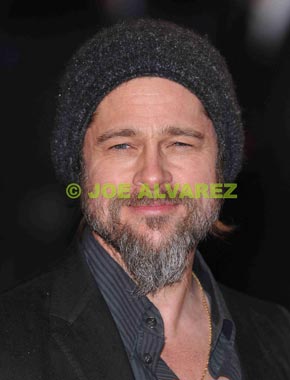 Brad Pitt



Another popular actor to visit our over-crowded city was ROBERT PATTINSON. He was in London for yet another film premiere called Remember Me.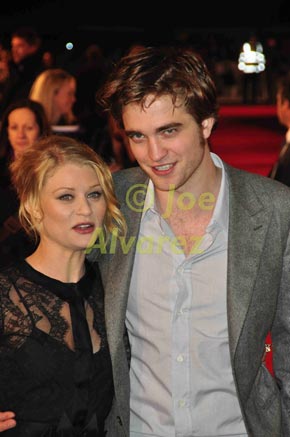 Robert Pattinson and Emllie de Ravin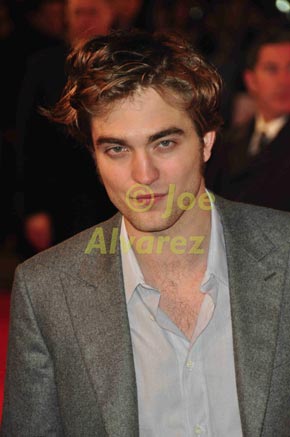 Robert Pattinson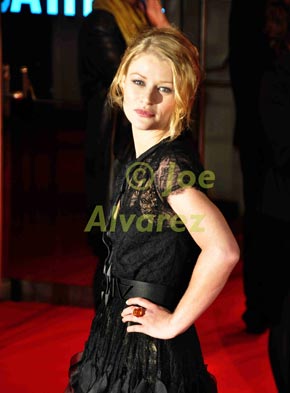 Emllie de Ravin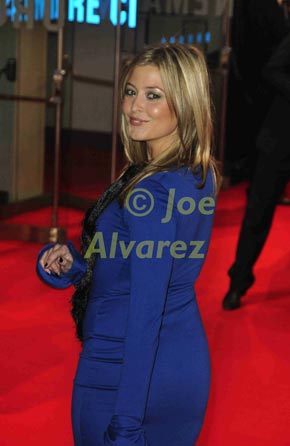 Holly Valance



He attended the premiere and spent half an hour alone signing autographs to the great detriment of the press and our news paper deadlines. No matter, pretty EMLLIE DE RAVIN made up for it looking as lovely as ever. Not seen the film as yet, as I have a life and can't spend a whole month in the cinema. But it looks alright in the posters though a bit schmaltzy.

And lastly dear readers, Clash of the Titans premiered in Leicester Square, London. The premiere was big and lavish with Roman centurions walking up and down the red carpet. SAM WORTHINGTON -AVATAR fame- and GEMMA ARTERTON attended the premiere.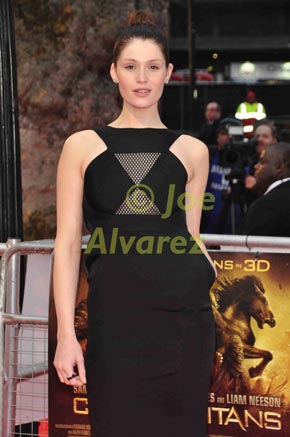 Gemma Arterton



GUY RITCHIE also attended to our mild surprise. Directed by Louis Leterrier, it relates to the mortal son of the god Zeus who embarks on a perilous journey to stop the underworld and its minions from spreading their evil to Earth as well as the heavens. Standard plot in so many films. But there you have it folks.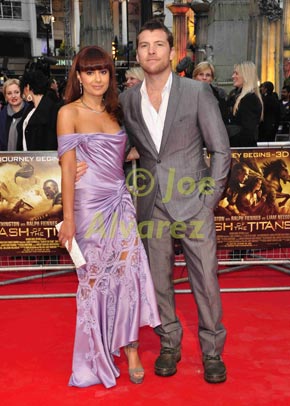 Sam Worthington and partner



Over and out, see ya next month.


JOE ALVAREZ



[email protected]



website: www.myspace.com/redcarpetspecialist

WORDS AND ALL PICTURES COPYRIGHT JOE ALVAREZ 2010