Thank you for all your nice condolence emails about my dear friend and Ed in Chief at HG, GEORGINA, whom we all miss very much. I have written about her funeral in the EDITOR'S LETTER column. 'GEORGIE' will live on through this magazine which she founded 13 years ago and was justifiably very proud of, especially when we won the PURE Award.


On a happy note I am delighted to tell you, dear readers, that I have recently been appointed the Public Face and Spokesperson for FANNIANN, a fab new designer label which specialise in making glam, unusual but reasonably priced day and evening outfits for sophisticated 'real women.' The FANNIANN (0870 874 877 / www.fanniann.co.uk) team comprises fabulously talented and innovative designer JANE HENDERSON and her dynamic co - director and stylist MICHELLE BYRNE and, trust me, this new label is going to make its mark on British fashion very quickly.
My job endorsing the label is delightful: I get to wear lots of gorg FANNIANN outfits at amazing events and fun parties, have pix taken and talk about the frox. My first serious outing sporting a FANNIANN creation was at the recent BAFTA FILM AWARDS where I tottered down the red carpet with the rest of the BAFTA Voting Members, the nominees and most of the Industry in a beautiful peacock coloured puffball, as seen on the cover of HG this month, photographed by DAVE HOGAN / GETTY IMAGES. Now here is a full length photo of this amazing, fun frockette, photographed by ALAN DAVIDSON and featured in the DAILY MAIL.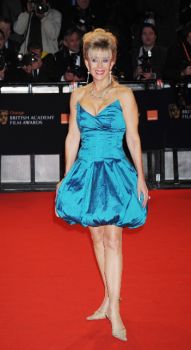 SALLY in FANNIANN. C.r.: ALAN DAVIDSON / DAILY MAIL.



The dress was made of raw silk and had a beautiful sheen to it. I am so glad that puffballs are back in fashion as they are such fun to wear and this FANNIANN puffball made me feel Frisky, Flirtatious and Feminine. When the puffball inevitably goes out of fashion again, you can just release the hem and it becomes a normal full skirt - very practical! Plus I got loads of compliments from ladies and gents alike wearing such a daring and unusual dress.
The very special diamond and precious stone drop earrings, necklace and 'knuckleduster' ring were all by FLAWLESS of Bond Street (020 7491 8105 / www.flawlessandco.co.uk), whose clients include the rich and famous from all over the world. FLAWLESS is by far the most fun jewellers to visit on Bond Street, not least because owners DINO and CHRIS, jeweller NIK and publicist RICHARD are themselves every bit as sparkling as their jewels (get in line, please, laydeeeez!) FLAWLESS also has a fab downstairs space, decorated with BANKSIE pictures, which you can book for parties and events.
On the hair front, up do.s usually look best with 'good' jewellery but you will need enough length for this. Since my recent MAIL ON SUNDAY article, I have had a lot of letters about my new and exciting hair growth spurt (!) which has enabled me to wear my hair every which way. The long and glam real hair extensions were actually provided by the world famous HAIRAISERS (020 8965 2500 / www.hairaisers.com), the UK's number one purveyors of extensions, wigs and hairpieces, whose stock is simply the best in this country. The extensions are maintained and styled by the divine JACKIE from HEBE (84, Strand / 020 7836 7248) who is the best gal in town for styling super - long hair, natural or otherwise. HEBE also do all the usual beauty treatments, including facials and waxes and I have totally fallen in love with their back massage bed - a special treat when you are having your hair washed.
Having extensions has changed my life and I am eternally grateful to HAIRAISERS for the beautiful, perfectly colour matched, highlighted real hair. Not to mention JACKIE for attaching it so quickly and whipping it into all sorts of amazing styles for me. Extensions make hair much more versatile, whether you want to wear it up, down or half and half and my new length hair is easy to style myself when the wondrous JACKIE is unavailable.
The BAFTA paps noticed my 'new body' on the red carpet this time and asked if I had 'been working out'. Well, yes indeedy, I most certainly have - with the amazing, ex - HOLLYWOOD personal trainer REED DOMINGO (07957 801 395). Hunky REED will come over to your home and give you the sculpted bod you always wanted - just 45 minutes twice a week will do it in a couple of months - highly recommended. Now here's a pic of REED himself to inspire you, guys!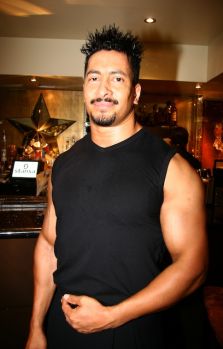 REED DOMINGO. C.r.: GABOR SCOTT.




So what were the BAFTAS like this year? Fantastic! And so were the frox. White with silver sparkles was the theme for both MARION COTILLARD (CHANEL) - who deservedly won the Best Actress Award for her absolutely extraordinary performance as EDITH PIAF in LA VIE EN ROSE - and fellow Best Actress nominee KEIRA KNIGHTLEY (VALENTINO). Now here is our very own KEIRA looking slimmer than ever on the red carpet.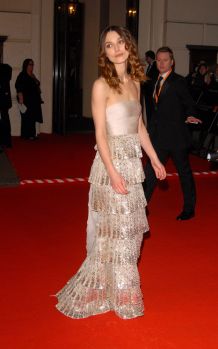 KEIRA KNIGHTLEY. C.r.: JOE ALVAREZ.




Still on the sparkly front, GOLDIE HAWN's actress daughter KATE HUDSON went for gold, EMILY BLUNT chose turquoise and there were a few silver sparklies around too.
The most fantastic outfit of the evening, a gold green long tight - skirted dress with matching jacket trimmed with jet 'sea urchins' by GALLIANO was worn by Best Supporting Actress TILDA SWINTON who sat behind us on the BAFTA coach to the After Party and was genuinely thrilled to have won a well deserved BAFTA for her role in the GEORGE CLOONEY film, MICHAEL CLAYTON.
Black was much in evidence, of course, as seen on the gorg bods of presenters THANDIE NEWTON and EVA GREEN but the best black dress award went to Rising Star nominee SIENNA MILLER in a stunning sheer black CHANEL number, accessorised with chic CARTIER jewellery. Beautiful SIENNA's boyfriend RHYS IFANS won funniest presenter award, whilst her mother JO MILLER definitely ran away with the yummy mummy award, wearing midnight blue with acres of BOODLES jewellery. Ok, guys, here is the moment you have all been waiting for........a pic of SIENNA: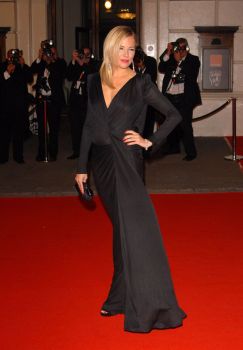 SIENNA MILLER. C.r: JOE ALVAREZ.



At the OSCARS a couple of weeks later the same actors won the Awards: DANIEL DAY - LEWIS, and TILDA SWINTON (for little old England!) and JAVIER BARDEM and MARION COTILLARD - all wonderful performances. The best OSCAR frox were red, redder and reddest with lots of white and black. Sadly our JOE wasn't there to snap them but I tell you what, dear readers, let's all go next year!


If you want to look like a film star you will need a glamorous smile. But that's not so tricky nowadays with the advent of TOOTHPLACE (18 – 20 Cullum Street, EC3 / 020 7929 1462), the first walk-in dental hygiene bar in London. Try the High Gloss Diamond Polish which is quick and painless and will have your little toothy pegs looking super - white and sparkling in just one treatment. I tried this myself and was thrilled - check it out and you too could have a smile like a BAFTA winner!


'Guys don't make passes at girls wearing glasses'.............. or so we hear. Well, that's simply not true any more with specs being so flattering in the 21st century. The best commercial out at the moment is SPECSAVERS' EDITH PIAF skit (very topical with MARION COTILLARD just having won Best Actress for her role as 'The Little Sparrow' = see above.)
So....... SPECSAVERS make the best specs, but what about frames? Enter the divine JASPER CONRAN who has just started designing glasses for SPECSAVERS = a marriage made in heaven. The new JASPER CONRAN / SPECSAVERS collection is to die for - glasses that actually make your face look better than contact lenses. The collection is for men and women and I must admit I am totally hooked and am bombing off to SPECSAVERS' Victoria branch to order a few pairs tomorrow. So I don't wear glasses? So what?!


The best celeb book out this month is the lovely - and skinny - CELEBRITY FIT CLUB's MARISA PEER's 'YOU CAN BE THIN' (SPHERE / £9.99). Psychotherapist and hypnotherapist MARISA has devised ways of mentally controlling food intake and attitudes towards food for everybody - and that includes YOU! It's all in the mind, not the diet, according to clever MARISA. MARISA said she spent twenty years' dieting before working out the techniques in her book. I believe her because we recently attended a BURNS' NIGHT evening at trendy gastropub, THE IDLE HOUR, in Barnes (020 8878 5555) together and, whilst I tucked into a delicious 3 course meal with champagne, MARISA just nibbled on nuts and drank water. What a girl - and a cheap date too, guys!
You can win your own copy of YOU CAN BE THIN by emailing me super pronto at:
Sally@hotgossip.co.uk
First one in's the winner - otherwise you'll just have to buy a copy, would - be skinnies.

Now heeeeeeeeeeeeeeeeere's MARISA on the cover of the new book.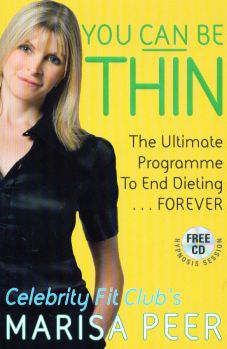 MARISA PEER. C.r.: SPHERE / JENNY LEWIS.




Hypnotherapy is more popular than ever these days and not just for 'food control.' HG's resident hypnotherapist VALERIE AUSTIN, who writes the MODERN NUTRITION AND HEALTHY LIVING page in this mag, is currently enjoying huge success with her Stop Smoking (through hypno) treatment. I myself go to VAL to control my insomnia and tendency to drink too much and she is fab. You can reach her on: 020 7702 4900 / valerieaustinhyp@aol.com


If you do succeed in losing a lot of weight, don't forget to keep your skin tightened and supple, especially if you are 'over 29'!
If you have the dosh, try the miraculous TITAN skin tightening treatment, beloved of DEMI MOORE (allegedly!) from respected therapist, DR ELISABETH DANCEY in London's Pimlico (020 7821 8257).
And if you're not too flush, try our HG PALM SPRINGS correspondent, ANNABEL CURTIS' cheap and cheerful home method for preventing saggy, baggy skin. Lovely ANNABEL who recently lost loads of weight (congrats, girl!) has relaxing baths full of Johnson's Baby Oil. She then adds Sea Salt and loofahs her skin like mad. She swears blind that it's this treatment which keeps her skin satiny smooth, even on the knees and tum. All that loofahing also helps the circulation and combats the dreaded cellulite.


On the facial skincare front, the best products my guinea pigs have tried this month are CLARINS' HydraQuench range: HydraQuench Lotion and HydraQuench Intensive Serum Bi - Phase. Says GLORIA, my most loyal - and mature - guinea pig:
"I have been using these products for 4 weeks and am very pleased with the results. I use the Lotion in the day time as it has an SPF of 15, which is very handy with spring now here and a bit of sun, we hope. The lotion glides on smoothly and sinks straight in. It smells really nice, like summer - or at least like Ambre Solaire. Apparently it contains pomegranates which may account for the lovely smell. I use the Serum, which is also nicely scented, at night and again it sinks right in. The products are really good for dehydrated skin which mine was but now it is starting to glow and feel much softer and younger looking."


Thank you for all your letters about perfume. There are some sensational fragrances around at present. Here are the best ones 'me and me gals' tried in the office:

THIERRY MUGLER's new Innocent Rock is flowery, fruity, sexy and spicy all at once: good enough to eat! It's beautifully packaged, as you would expect from the divine MUGLER who brought us that extraordinary woman's body shaped bottle and has great staying power. Innocent Rock is one of those unusual fragrances which seems to suit women and girls of all ages.
Beautiful award winning actress SCARLETT JOHANSSON allegedly wears Innocent Rock and here she is photographed by HG's very own JOE ALVAREZ at THE ROYAL FILM PERFORMANCE of her new film, THE OTHER BOLEYN GIRL wearing a stunning 'Greek Goddess' dress.


SCARLETT JOHANSSON. C.r.: JOE ALVAREZ.



The ROYAL FILM PERFORMANCE was attended this year by PRINCE CHARLES and THE DUCHESS OF CORNWALL, btw. I wonder what they made of this - wonderfully filmed and acted - tale of a King of England (HENRY 8TH ) and his various wives and mistresses!

And talking of mistresses, JASPER CONRAN's latest fragrance, Mistress really lives up to its name, being a very sophisticated, rather musky and sexy fragrance. Fab for the evenings.

If you are economising you must discover the wonderful ULRIC DE VARENS (formerly of LANCOME) fragrances. UDV has produced 2 delightful new young perfumes, Love and Love It which are both sweet, light and superbly priced for such excellent and long lasting scents. Both Love and Love It are absolutely perfect for young girls and those who are young at heart and are available from SUPERDRUG.

Happy spraying.........................


Thank you for reading my page. You can contact me at:
sally@hotgossip.co.uk

and do check out my personal web site at:
www.sallyfamiloe.com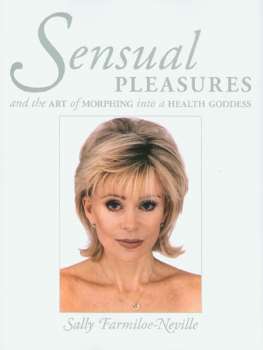 SENSUAL PLEASURES AND THE ART OF MORPHING INTO A HEALTH GODDESS (£16.99) is available from the following outlets:

Delancey Press - orders@centralbooks.com or 0845 4589911
ISBN: 0780953911998

LOO TIME VIDEO available from:

farminghamprods@aol.com and:

http://www.121music.com/pages/video_01/home.html