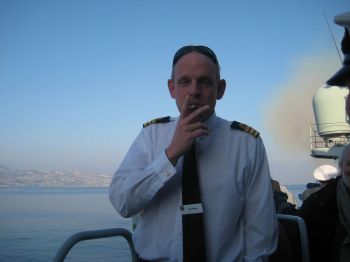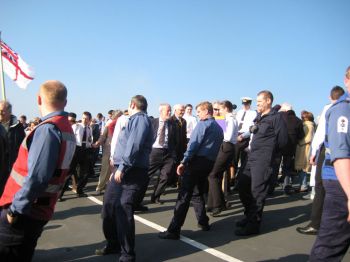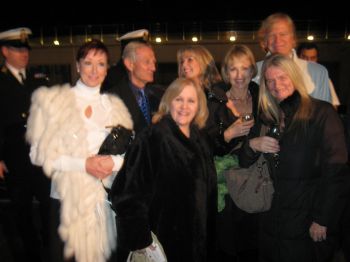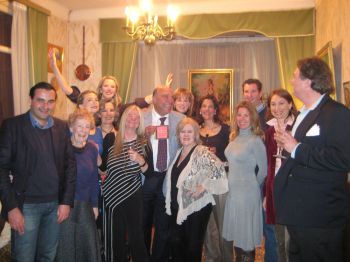 Photo captions:
1). Destroyer Captain enjoying a smoke... out on deck, of course!
2). Listing to Port! Haven't been drinking, honest!
3). Sailing in style, military fashion.
4). VIP guests on board including Justin Haywood (Moody Blues).
5). Kristina Lynn's cocktail party with her extraordinary friends and contacts.


Proud of our Navy

I am writing my column at Nice airport this month. My plane has been delayed so I am taking this opportunity to reflect over this last trip to Monaco. I winter in Florida and come back for a few weeks to train one of my hypnotherapy courses for self development and to see some clients.

There were a lot of firsts in Monaco where I have been staying, parties galore and the social life is always fantastic.To put the icing on the cake the majestic Metropole Hotel's main restaurant has become organic!

I was invited to a rehearsal of Don Giovanni at the famed Opera House, a wonderful opera with exceptionally good-looking chaps with incredible voices performing in a most spectacular building in the centre of Monte Carlo. Each performance was full and received lots of media coverage. If you get a chance, it really is worth going to the opera to see the Opera House resplendent in gold leaf and luxury - you could easily feel like Royalty.

Next was a trip on the Royal Navy destroyer HMS Exeter, a wonderful ship now 27 years old. It was docked about 4 miles east of Nice at Villefranche-sur-Mer, which has one of the deepest bays in the Mediterranean. I was invited with some special guests to tour the great ship, one of the last that served in the Falklands and had the great privilege of sailing on her to Monte Carlo. No ordinary cruise though - we did special manoeuvres at full speed, 30 knots. We were told they were going to "throw it about a bit" and the ship listed at a 45-degree angle as it turned. It was a great experience and as we approached Monaco's spectacular harbour, I said to an elegant VIP, "you can't top this!" She casually said "oh! I bought one of these"- it turned out that she had bought HMS Beagle, another destroyer and converted it into a private luxury cruiser. That is serious shopping.

Just before I left my friend Kristina Lynn, a terrific PR lady, had a cocktail party to introduce me to even more of the Monte Carlo scene. She has amazing friends and contacts. One of the ladies I met sells castles and she said there is a fantastic one going in the Loire region. She said it is quite extraordinary and the owner is leaving it ready to walk into. So if you've a spare 4 million euros go to: www.hermitageestates.com

I also met a private art dealer with access to Picasso's and Monet's works, so if you're investing in such masterpieces, I can help you. I think I should set up a business called 'miscellaneous' with all the people I am meeting.


There have been some unusual headlines this year. "First disease-free babies could be born in three years" was one. The day that scientists can make drugs that work without worse side-effects, I may start to believe this. Another was "How two takeaways a day can be a disaster for livers". True, fast food won't just put weight on, it can seriously damage your health. It can even damage your liver in the space of one month. The study was published in the medical journal 'Gut' and performed by a team of Swedish scientists from Linkoping University.
"A second glass of red wine is bad for your heart" was anothe headline. Sorry to tell you this but it is only one glass a day that can help your heart by relaxing the blood vessels; any more counteracts the good effect.


A Floating Nightmare:

It was also reported that there are two rubbish dumps floating in the Pacific Ocean twice the size of the United States. Two areas full of plastic junk kept together by swirling currents, each one a trash vortex; a plastic soup of carrier bags, bottles and plastic garbage. Charles Moore, the oceanographer calls them the Eastern and Western "Great Pacific Garbage Patches" (apparently they are situated east and west of Hawaii.) Due to the plastic being translucent and just below the surface, it cannot be seen by satellite photographs. This may be a reason why many New Yorkers are not carrying plastic water bottles about now as plastic bottles are increasingly seen as a crime against the environment. The amount of money being spent on bottled water is increasingly looked upon as 'obscene' - a triumph of marketing over common sense.


Mountains out of Mole Hills

"Anti-wrinkle Drugs can cause permanent damage", warn cosmetic surgeons. French surgeon Dr Daniel Marche said that as many as one in twenty of those who have "filler" injections may end up with irreversible damage to facial tissue. So beware! He said the permanent "fillers" were the worst, causing bumps and deformities. Dr Sherrell Aston, chairman of the Plastics Surgery at Manhattan Eye, Ear and Throat Hospital, New York said, "Botox is ok, but I have concerns about the other (sic) fillers." She said that she is concerned that in 15 years we will see a lot of people with lumps and bumps and no good way to treat them.


Sweeteners make you fat! ... and unwell

Yes, it seems that sweeteners make your body think it is getting sugar and, when it doesn't, it makes you seriously yearn for sugary food. The result is you are more likely to eat more, or want more than the person who doesn't have sweeteners. It's not just in diet food but when you see 'low in sugar' or 'no sugar' it's more than likely that the sugar has been replaced by dangerous sweeteners.

More proof of this is emerging and American doctor, Dr. H. J. Roberts stated in his lectures that, once free of the "diet" products and with no significant increase in exercise; his patients lost an average of 19 pounds over a trial period.


The Doggy Diet Drug:

Manufacturers Pfizer say they could help tackle the growing weight problem among Britains' pets. They say that giving your pets the food that you eat is also changing their (the pets') shape - so you can see what is happening to you when you eat it. I can only say again that you should watch what you eat.I believe that conventional food at our supermarkets should now be thought of as "junk food". If a food product has a long shelf-life, you should think carefully about whether you really want all those chemicals in your body. Buy organic: it will be cheaper in the long run. (Food was never meant to be cheap anyway.) Even if a food product looks fresh and healthy, if it isn't stamped as "organic" it's likely to contain pesticides and other chemical junk.


Smoking harms future generations of children

A pesticide used on tobacco is now evidently causing kidney and prostate problems that affect several generations of offspring. This, combined with other toxic chemicals in cigarettes which cause DNA changes and are linked to birth defects like spina bifida and cleft palate, are increasingly a growing concern.

The pesticide in question is the commonly used Vinclozolia, used on tobacco, oilseed rape, grapes, fruit and vegetables. It means that even the drinker's sperm are prone to genetic damage. Higher levels of drinking (alcohol) also increase the effects, especially when combined with smoking. It also reaffirms the wisdom of buying organic whenever possible.

I became famous by having a high success rate in stopping people smoking but I only dealt with the people who wanted to stop. People tend to get a "sign" that their body wants them to stop. It might be a strong urge that they didn't have before or just a feeling. If you are a smoker and experiencing this, I will be booking clients in May myself or I can advise you to see specialists I have trained. My next hypnosis training course, which includes Stop Smoking is on 31st May- 6th June on my yacht in London. If you feel like a new and rewarding career as a hypnotherapist, please contact me at the number below.




Eds Note: VALERIE AUSTIN is an author of six successful self-help books including SELF HYPNOSIS (Thorsons), journalist and trainer with an international reputation in the field of hypnosis. Her best-selling books and training help people achieve their full potential. She founded the Austin Corporate Stress Management Company focusing on reducing stress and anxiety amongst executives and CEO's. She is also founder of UKRAH (1992) The UK Register of Advanced Hypnotherapy. Valerie has also worked as a consultant in hypnosis at the Priory Hospital, the UK's equivalent to The Betty Ford Clinic, which specialises in food addiction and alcohol abuse. Her work in the film industry (Hollywood) interviewing movers and shakers, producing TV news segments and publishing celebrity magazines in London gave her invaluable experience for her current Harley Street practice.