THE LANDAU, LANGHAM HOTEL, Portland Place, London, W.1. Tel: 020 7 965 0165

A stunning new Restaurant has just opened at The Langham Hotel called The Landau and here it is:




As you can see, it is beautiful and has spacious picture windows offering views of Portland Place, the BBC studios opposite and All Souls' Church.

Firstly we visited the Hotel's Artesian Bar - described as a source of Indulgence - offering sumptuous Cocktails made from their signature Spirit - Rum. It was buzzy and glamorous and prepared us for entering the beautiful Restaurant, where we were shown to a delightful centre table.

For the Entrée I chose the Seared Orkney Scallops with cauliflower puree and adornments, which was delicious.

My friend chose Tournedos Rossini with Spinach. As she is largely Vegetarian it was an eye opener to watch the tender delight that flickered across her face with each mouthful.

And then we saw a real EYE OPENER - or should I say a MOUTH OPENER? I opened the Menu further and Guess What I Found?

TASTING MENUS:

5 Courses £55
6 Courses £60
7 Courses £65..............

Shall I continue ?

8 Courses £70.

To tantalize your taste buds, the 3rd dish on the 8 course Menu is Pressed Landesfoie gras and smoked duck, passion fruit and vanilla.
And the 1st dish on the 6 course Menu is French rabbit veloute, frog's leg, onion and bacon.

I was bewitched and definitely plan to return. BUT, as I am THE SLENDER GOURMET, would I put on a few plump lbs?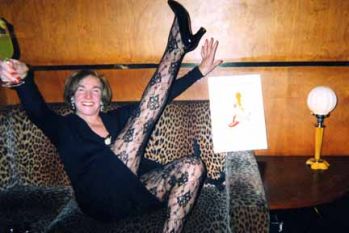 Well, I have been the same weight all my adult life and my motto is:

EAT IT ON; EXERCISE IT OFF.

The answer is, do it the fun way, with my book, 'CHAMPAGNE EXERCISES'.

I had a Book Signing last week at a smart neighbouring Pub that has recently opened called THE MARKET TAVERN in Shepherd Street, Mayfair. Everyone enjoyed the evening, the owners were delighted and the Champagne flowed.

I will do another Book Signing in March. If you are in Shepherds' Market look in their window, where you will see my book and I'll give Signing Dates.


HAPPY BUBBLES - Joan.


PS. The Private Collection of 32 books by world-famous 1920's artist, Ami Karina will take place at Bloomsbury Auctions on the 10th APRIL. Tel: 020 7495 9493.


Now here is some more Restaurant News from my esteemed Editor, Sally Farmiloe - Neville:

Like Lady Joan, I eat out most days or evenings and it takes a lot to impress me. However this month my taste buds have had two particularly delightful ticklings!

Firstly I revisited JULIE'S (135 Portland Road, W.11 4LW / 020 7229 8331), one of my all time fave London restaurants.

JULIE'S was already a fixture on the social scene when I first hit the capital 30 years ago and it's as good as ever. JULIE'S made Notting Hill fashionable long before the film and it's still awash with celebs and Royalty, including PRINCE WILLIAM and KATE MIDDLETON. The fact that the decor is unashamedly romantic with cute little 'caves' to sit in for aperitifs doesn't hinder the ambience. Plus the staff are extremely solicitous which makes any meal at JULIE'S a joy. I went along with 4 other socialite blondes, including JULIE''S' delightful PR, CHARLIE SPRY who will shortly be publicising the new and exciting LUXURY CHANNEL on a TV near you!

Between the five of us, we managed to eat our way through the menu and I have to say, the food is to die for. For starters we had: chicken and duck liver pate with comichons, kumquat and raisin relish = smooth and piquant, sauteed king prawns with red onion salad and harissa dressing = a divine combination and seared scallops with wild mushrooms, ginger and thyme veloute = best ever!

For mains we had 3 beautifully presented and entirely different dishes: JULIE'S fish pie with monkfish, halibut, mussels and prawns = succulent fish and just the right amount of spices, seared calves' liver with crispy bacon, braised red cabbage and juniper berry sauce = tender and delicious and entrecote grilled with steak au poivre = the perfect steak with the perfect sauce.

How do I know what all these dishes tasted like? Because I tried them all - naturally all in the course of restaurant duties for HOT GOSSIP!

To finish we ladies all went for the dark chocolate mousse cups which one gal described, perfectly, as 'sexual'! We washed it all down with delicious champagne and JULIE'S excellent house white wine and an excellent time was had by all. I can't wait to return.


Talking of champagne and wine, as I often am, it is not often that I can be persuaded to eat at a restaurant that serves neither! However KARAVAN (The Courtyard, 74 Church Road, Barnes, SW13 / 020 8748 2266) is an amazing home interiors shop which captivated me and, when I stayed to sample the delights of the - all organic - attached cafe, I was even more captivated. I was with the effervescent SALLY MORGAN and we met KARAVAN's charming owner PAUL BARKER and had an extremely jolly time on nothing more alcoholic than elderflower presse! The shop has the most divine dining room furniture, grand lamps and even a children's rocking horse. And Sally and I really enjoyed the yummy cheese platter with marmalade and mixed salad and naughty but nice choccy cake. KARAVAN must be Barnes' best kept secret, I thought. But no, it is already extremely popular with all sorts of celebs visiting regularly, including LAWRENCE D'ALLAGLIO, JON SNOW, ALUN JONES, PATRICIA HODGE and GABY LOGAN. Check it out.


Thank you for reading this page. Please keep your restaurant review ideas coming in!