Dear Readers,

I'm Hillie Marshall and I'm delighted and excited to be joining the Hot Gossip team. To give you a little background history about myself, I started my working career as a radiographer, then deviated into show business as a singer and actress until 1989 when I started 'Dinner Dates' the social events and holiday club for single people. In response to popular demand I recently started a similar sister company 'Dinner with Friends' the dining and social events club for Couples only. I was one of the first Global Agony Aunts and have been an Agony Aunt in magazines, on TV and radio; I've written three books on relationships and was Dr Date on LBC. I have two children Nicola (27) and Jamie (24) and live in Chiswick with my husband Angus and our cat 'Rufus'.

Each month I will feature a particular subject and also host a question and answer section. If there are any topics you would particularly like me to write about or if you have a relationship/dating question you would like me to answer, please write to me at hillie@enterprise.net

I do hope you enjoy my new column,
Best wishes

Hillie Marshall


STARTING ALL OVER AGAIN
You're older, wiser and possibly wealthier so theoretically life should be a lot easier, but whether through divorce, separation, bereavement or re-location you find yourself on your own and needing to build a new social life. Well don't imagine you are too rusty to start the cogs spinning smoothly again: all you need is a plan of action to start that phone ringing.

PLAN OF ACTION

Build your confidence

Get to know yourself

Change your attitudes

Get into shape

Throw yourself into life ASAP

Confidence building
A person's appeal comes from an optimistic, youthful enquiring mind and a happy, carefree disposition. You deserve to be loved and treated well and you should never settle for anything less. List your plus points and you will be surprised how impressive it is. Always try to think and say positive things about yourself and others. Put on a brave face, look happy and act out a confident role. You will find in no time at all that your act soon becomes a reality.

Getting to know yourself
You might have been so wrapped up in thinking about other people's needs that you have forgotten your own. Learn to be your own person again - this is an exciting time for you - a voyage of re-discovery! Make a list of everything you have enjoyed - hobbies, activities, places. Then list everything you'd like to do.

Changing your attitudes
You can change yourself. Don't be world weary and think I can't go through all this again. You can! Life is an adventure to be embraced, setbacks and all. Have the courage to do or say what you like and don't be afraid of what others may think of you. Love and respect yourself and others will mirror your opinion. Forget mental checklists about a dream mate and be more open minded.

Getting yourself into shape
It's important to be healthy and to have a body that you feel comfortable with. Ideally exercise three times a week, eat fresh foods, reduce alcohol, stop smoking and get enough sleep. A new hairstyle or wardrobe will do wonders for your self-image and confidence.

Throw yourself into life ASAP
Now you're ready to embark on a new social life, go to places where single people frequent. However, clubs, pubs and wine bars are usually frequented by people wanting a fun night out, not looking for a relationship. Most people participate in some leisure activity - physical or mental. The local leisure centre is a good place to meet other singles, and you will get trim, fit and healthy in the process.

Men can meet plenty of women when they join aerobics classes and women can meet plenty of eligible men when they join shooting clubs!

Many sports and health clubs arrange activities for their members. Visit a Health Farm, which also provides social and sports activities as well as licking you into shape.

Classes and Societies
Learning a new skill or language at an evening class is another way of meeting like-minded people. Societies, such as amateur dramatic societies, can be great sources of fun and to make new friends.

For hobbies enquire at your local library or look in the local paper. Men might do well joining a cooking class, and women - a car maintenance class. Dance classes are popular for all ages.

Holidays
People on holiday are much more at ease and open to suggestions than they might normally be. Ask your local travel agent or surf the internet for singles package holidays both at home and abroad.
Have a look at the upcoming Dinner Dates trips:
Ski in Chamonix
May Bank Holiday in Cork
Otranto, Italy with Club Med
August Bank Holiday in Rome

Agencies/Adverts
Consider enlisting the help of a Dating Agency or a Social Events Club provided they are well established and reputable. See Dinner Dates calendar of events at: www.dinnerdates.com
You could place a newspaper or magazine advert in personal columns using a box number. A word of warning though, no-one will have vetted your Date so always meet in a public place, make sure a friend knows your whereabouts and listen to your inner instincts.

Conclusion
There are many plus sides to starting all over again. You may well have been locked into an unhappy relationship but as a free agent you have a chance to find real happiness. Make your wish list - if you only achieve half of it you will be 100% better off than before.


ASK HILLIE
When you suspect a friend is jealous of you, what's the best way to handle this situation?
Put yourself in your friend's shoes and try to understand the reasons behind his or her feelings. As jealousy usually comes from insecurity offer encouragement and praise when something goes right for your friend. However bear in mind that a true friend supports at all times and should be happy for your accomplishments so don't hide your happiness for what is going right in your life. Jealous people will try to bring you down to their level. Don't let them. Remember you've got a lot going for you and maybe remind your friend what they've got going for them.

We all experience envy at some point in our lives, what is the best way to overcome these feelings?
Everyone experiences envy; it's a normal human emotion. It's the way you deal with it that matters. There's always going to be someone who is better or worse than you in some form or other, so accept yourself for who you are and make the most of what you have. You'll be surprised how much you have to be proud of. Make a list of your best qualities and the successes you have achieved. Focus on what you have, not on what you haven't.

I've been married to my husband for 10 years, ever since my son was 2. He's been like a real dad to my son, who has not had any contact with his real dad. Now he wants to adopt my son, but my son says he doesn't want to be adopted and I don't know why - they've always been really close, what's changed?
Your son has spent 10 happy years enjoying a very good relationship with your husband who he knows is not his real Dad. Suddenly your husband wants to alter that situation; to adopt your son and become his 'Dad'. You son is still very young and he's frightened that any change in circumstances could affect their closeness; he's happy and content with the way thing's are at present. So my advice to your husband would be why try to fix something that's not broken? I suggest you leave the ball in your son's court and let him make the decision to ask your husband to adopt.

Recently divorced myself, I have been dating a divorced man and have fallen in love with him. The trouble is that I dislike children and never intended to have any, but he has made it clear that he wants a large family as soon as possible. Also the reason he split up with his ex-wife was that she couldn't have children. I love him and would do anything within reason to keep him so what do you advise me to do?
Any relationship is a non starter if you don't share the same dreams and ultimate goals. Seek professional counseling to try to find out why you find children objectionable and whether or not you might think differently if the children were your own. Many parents dote on their own children but have little time for other people's. If after counseling you still dislike them and can't contemplate having any of your own you must tell your friend. Better to part now than deceive him and suffer another divorce later.

I am in a sticky situation. My close friend has just split up with her boyfriend. They have been together on and off for 2 years. She still loves him but he doesn't love her. Recently he confessed his feelings towards me and told me how much he wants me. I don't know what to do. I have feelings for him too but I don't want to hurt my friend. I've told him that I don't want to go out with him because of my friend but he phoned me last night and suggested that we meet up again to discuss things further. I don't want to hurt my friend but I do like him a lot. Please advise me.
Friends are forever however boyfriends may not be and you should never risk losing a close friend under any circumstance. Your friend really needs all the help and support you can give her at the moment and if this boy has real feelings for you he'll understand and wait for you. Your friend needs time to really get over the break up before you and her ex could even discuss going out with each other. At present it would be far too soon and cruel for you, her best friend to step into her old shoes.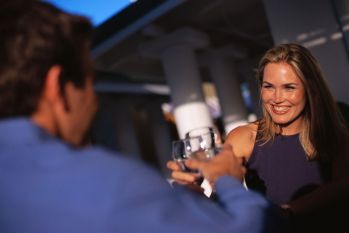 Hillie Marshall
Hillie began her working career as a radiographer and then started in show business as a singer and actress, eventually being theatre producer for her company Edwardians Unlimited. Following her divorce in 1989 and with two young children to bring up, she founded Dinner Dates, the social events and holiday Company for single people. Today Dinner Dates is the UK's longest established company of its kind with over 17,000 members nationwide. The phenomenal success of Dinner Dates for singles gave Hillie the idea of a social events company for couples, so in 2007, she set up Dinner With Friends, the UK's first couples only dining club. In July 2011 she sold both companies.

Not only is Hillie a successful business entrepreneur, her experience with people has been put to good use and, as both an Agony Aunt through the internet and in magazines, she offers advice and a sympathetic ear to thousands, making sense of personal and relationship problems.

Hillie is an accomplished author and has written three successful books on relationships. She has given relationship advice on numerous TV and Radio shows such as GMTV, Richard and Judy, The Big Breakfast, Esther Rantzen, Kilroy, The Vanessa Show, The Time The Place, Carlton's After 5 and was 'Dr Date' for LBC.

She has two children Nicola (32) and Jamie (29) and lives in Chiswick with her husband Angus.

You can e-mail Hillie at: hillie@enterprise.net
Her books: 'The Good Dating Guide', 'Hillie Marshall's Guide to Successful Relationships' and 'Agonise with Hillie' can be bought on line at: www.hillie.com

Words copyright: Hillie Marshall 2013