The award season is upon us and I'm resigned to the fact that If get any sleep during this period I will be very lucky indeed. The BAFTAS kicked off in style at the Royal Opera House in London. The UK's premiere film awards are often slated for being a second rate Oscars - erm, didn't disappoint! OK, for Europe - well alright, for the UK - it's a great event. I was just a bit disappointed that we didn't get BIGGER names. Yes, we had SIENNA MILLER, EVA GREEN, KEIRA KNIGHTLEY, JAMES MCAVOY, JESSICA BIEL, KEVIN SPACEY, JEFF GOLDBLOOM, DANIEL DAY LEWIS, MARION COTILLARD (!) and you begin to see what I mean. Not great heavyweight hitters are they? OK, so let's look at the talent. DANIEL DAY LEWIS rightly walked away with the Best Actor Bafta, though I don't think MARION COTILLARD deserved hers for Best Actress. She was ok in La Vie En Rose but I did not think she was good enough for the award. Jeez, politically correct or what? Of course, we don't all think the same and that's the great and terribly bad thing about the planet. When a film like Atonement -starring JAMES MCAVOY and KEIRA KNIGHTLEY- wins 'Best Film' -and also at the Golden Globes- then, there's something wrong in showbizland. It is the most BORING film in LIVING MEMORY. Beautifully shot -wish I had been- but suicidally dull. I contemplated poking my eyes out with a fork watching this film. It would've been far more enjoyable. What made me laugh, then cry, was Keira's dress on the red carpet. Awful. She is flat as an ironing board, and the dress didn't hide the fact.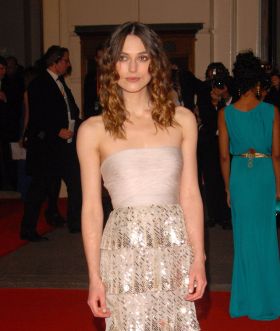 KEIRA KNIGHTLEY.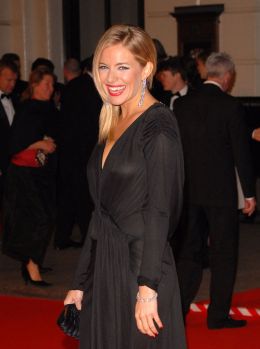 SIENNA MILLER.



The Elle Style awards kicked off this year in the most bizarre of locations, under the M40 motorway.Yes, motorway. It was under the M40 flyover in Notting Hill. Well, the poor W10 end. What the venue lacked in style it made up for in talent though. The guest list eclipsed the Baftas totally. The red carpet arrivals included: KATE HUDSON, NAOMI CAMPBELL, STELLA MCCARTNEY, LILY ALLEN, KEIRA KNIGHTLEY -in a much better dress as I couldn't see her body-, AMANDA HOLDEN, KELLY BROOK, KYLIE MINOGUE, GELDOF'S daughters -I can never remember their names, is it Pixie, Trashy and Dixie?- JAMES McAVOY, GEMMA and JODIE KIDD. Ok, here we go again, Best Actor went to JAMES McAVOY and Best Actress -kid you not- went to KEIRA KNIGHTLEY for their combined efforts in the MOST BORING film of all time. Not a lot of good films out at the moment, sadly. KYLIE MINOGUE won Woman of the Year, KATE HUDSON rightly won Fashion Icon of the year and the fab AGNESS DEYN won Best Model. The other awards are not worth mentioning or else I'll lose the will to live.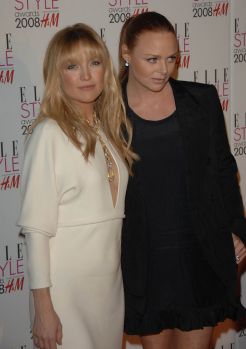 KATE HUDSON with STELLA McCARTNEY.



London Fashion Week was also in full swing and the best shows by far - and the ones to be seen at - were VIVIENNE WESTWOOD and JULIEN McDONALD. Out of the two I preferred the Vivienne Westwood show, the fashion was more 'edgy'. Pic of VIVIENNE WESTWOOD MODEL.Celebs in attendance at the Westwood show were: LILY ALLEN, KIMBERLEY STEWART, KELLY OSBOURNE, DAVID WALLIAMS, ERIN O'CONNOR, the KIDD sisters, CUBA GOODING JR and Geldof's daughters. At the JULIEN MCDONALD show in the Hilton Park Lane celebs included: ANASTASIA, ERIN O'CONNOR and LEAH WOOD. Biggest disappointment of the London Fashion Week was the lack of famous names on the catwalk. None of the supermodels or any celebs made appearances on the catwalk. Perhaps the British Fashion Council didn't have the budget for them this year. It just means the shows get less media coverage. C'est la vie.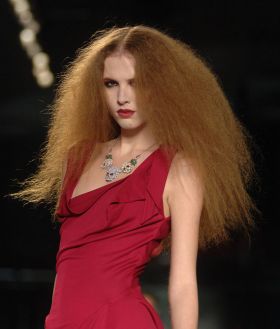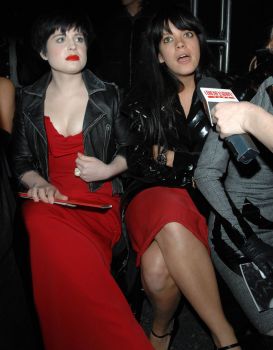 LILY ALLEN with KELLY OSBOURNE.



SCARLET JOHANSSON and NATALIE PORTMAN were in London to promote the Royal premiere of The Other Boleyn Girl in London's Leicester Square. The film, directed by Justin Chadwick, tells the story of sisters Mary and Anne Boleyn who 'are driven by their ambitious Father and Uncle to advance the power and status of their family by courting the affections of the King of England'. In essence, the sisters fall out and begin a ruthless fight for the attention of King Henry VIII. He was already married to the desperately ugly -his words- Queen Katharine of Aragon. Though Mary did love the King and had two (?) 'illegitimate' children by him, it was Anne who persevered and won the attention of the King. He later married her -I'm bored with this. Are you?- got sick of her and had her beheaded. So, of course, who better to invite to this premiere than our own Prince Charles! His life is not that dissimilar to King Henry's. SCARLET JOHANSSON looked lovely, but NATALIE PORTMAN outshone her in the dress department. The two girls posed for me without any hassle on that freezing night. Prince Charles arrived with his 'Queen of Aragon' and, unusually, slowed down for pictures which rarely happens.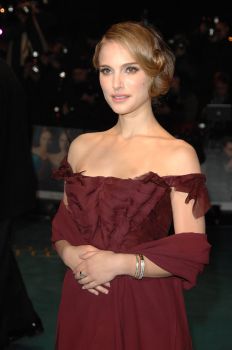 NATALIE PORTMAN.
SCARLET JOHANSSON.



The Brit Awards were once again held in Earl's Court, London. The red carpet as always was full of the great and not so great. Normally bands will do better at the awards if a member of the band is in rehab. If ALL the band is in rehab they -I assure you- will win all the nominations even if they were not nominated for any of them. To my surprise, this year wasn't like that as AMY WINEHOUSE wasn't nominated because her album 'Back to Black' was a few months out of the qualifying time frame. So the main winners were: Sir PAUL McCARTNEY won 'Outstanding Contribution To Music', ARCTIC MONKEYS won Best Album and Best Group, TAKE THAT won Best Single and Best Live Act, FOO FIGHTERS won Best International Album and Group, and KYLIE MINOGUE won Best International Solo Artist. For the rest of the winners, go to their website! Jeez, I can't do it all. GIRLS ALOUDdidn't win anything and people say: 'why should they?' Oh well. SARAH HARDING lost her boyfriend TOM CRANE who was DJ-ing at the fab Music Box Brit after-party at 24 in Kingly Street, London. They had a massive bust-up, though Tom turned up for work at 24 and played a great set. I didn't see him fussed at all by the big row. I had a lot of fun fuelled by the free VIP bar.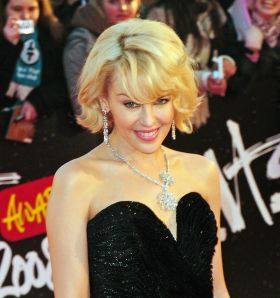 KYLIE MINOGUE




Over and out, see ya next month.

JOE ALVAREZ.

joealvarez@verycool.co.uk

Website: www.myspace.com/redcarpetspecialist

WORDS AND ALL PICTURES COPYRIGHT JOE ALVAREZ 2008.