Thank you for your kind emails about GEORGINA, our esteemed deceased Editor in Chief, dear readers. We at HOT GOSSIP all feel that she is still here with us and always will be. GEORGINA's funeral, attended by our Publisher JAMES, Editors NICK POPE and JACKIE DAVIS and myself was a sad day for us all and particularly for GEORGIE's dear mum JOAN and all her family. But her devoted brother, BBC producer JOHN gave his 'big sis' a magnificent tribute and I managed to get through my reading without crying so it was a fitting send off for an amazing lady. For more tributes to GEORGINA and details of her funeral, please read NICK POPE'S WEIRD WORLD and JACKIE DAVIS' CRIME, SAFETY AND PROTECTION.
Now here is a lovely photo of GEORGINA taken by JOHN.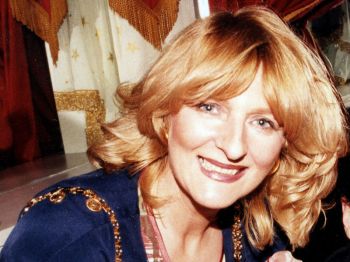 GEORGINA. C.r.: JOHN NAYLOR.




We hope you like this month's cover featuring Yours Truly at this year's BAFTA FILM AWARDS' After Party. I am proud to say that this is my third HG cover (it wasn't so easy to get on before I was Editor!) so I am now rivalling the great ELIZABETH HURLEY and my teenage model daughter JADE who have both graced our cover three times now. My divine peacock coloured dress is by new designer label FANIANN (www.faniann.co.uk), the jewellery is by FLAWLESS of Bond Street (www.flawlessandco.co.uk) and my HAIRAISERS' (www.hairaisers.com) hair was styled by JACKIE at HEBE (www.hebe.co.uk).

For the full scoop on the dress, which won a 'Fashion Award' and all the other amazing BAFTA frockettes, including full length pix, go to my CELEBRITY FASHION, FITNESS, HEALTH AND BEAUTY page. Do also check out JOE ALVAREZ' CELEBRITY column to see all his fab BAFTA images as well as full coverage of the rest of last month's red carpet events.

LADY JOAN OLIPHANT - FRASER has been eating her way around the capital - with a little help from a friend - in TRAVEL, HOTELS AND RESTAURANTS and VALERIE AUSTIN tells us what not to eat in MODERN NUTRITION AND HEALTHY LIVING.

And a double helping of good news this month!

Firstly HG is delighted to welcome back well known agony aunt and author HILLIE MARSHALL. Vivacious HILLIE founded the famous DINNER DATES' (for singles) and has recently launched DINNER WITH FRIENDS (for couples.) She will be writing her fascinating ASK HILLIE - Relationship And Dating Advice column for HG on a regular basis.

Secondly we have another new and exciting page launching this month. The dynamic ANEELA ROSE who runs a highly successful London based PR company will be writing A WOMAN IN BUSINESS - Asian Style!, an inspirational monthly column about women in business, with the emphasis on Asian women. ANEELA is very well connected and you will find pix of her with both TARA P - T and previous HG cover boy DUNCAN JAMES from BLUE on her page - so something for both the ladies and the gents!

Now here is a great pic of our 2 lovely new editors HILLIE and ANEELA together at TARA's recent launch party for her new website:
3sacrowd.com
in the Penthouse at The Mayfair Hotel.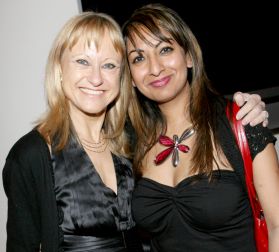 HILLIE and ANEELA. C.r.: private collection.



Now I have news of our last month's cover girl, lovely former MISS UK and CHANNEL 5 presenter, LIZ FULLER. The conscientious and caring Welsh girl spent her birthday in January visiting an orphanage in India, taking presents to all the children. LIZ had raised £10,000 for the HOPE FOUNDATION's ASHARAN ORPHANAGE and has now heard that they have named the Nursery after her. Our best congrats to LIZ - a beauty with a heart. Here she is looking gorg as ever sporting a DEIDA ACERO titfer in The Royal Enclosure at Ascot last year.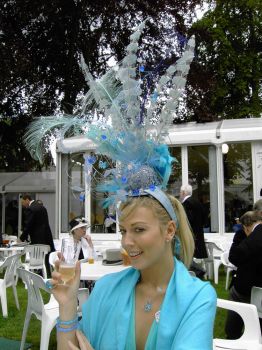 LIZ FULLER. C.r.: CHARLOTTE ELLIS.




Those brilliant chaps, JAMES and our Web Designer GRAHAM from THE MEDIA TANK join me in wishing all our readers a wonderful March. If you would like to contact us and / or are interested in sponsorship of or advertising in HG, please write to:
sally@hotgossip.co.uk


SALLY FARMILOE - NEVILLE.
EDITOR / HOT GOSSIP.