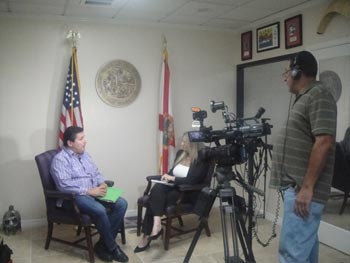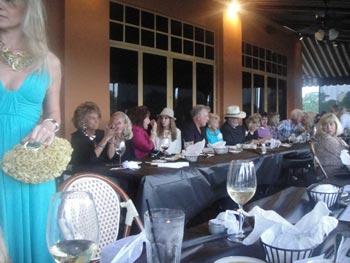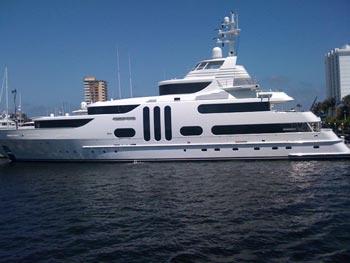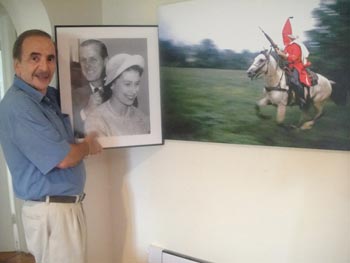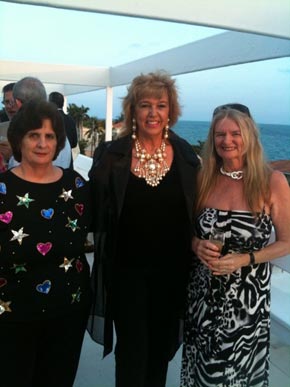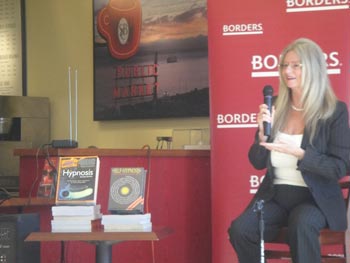 Photo Credits:
1. My interview with Julio Robanina State Representative of Miami on his fight for changing the condo laws, a hero for the home owner.
2. Typical party in South Florida
3. This is what a $63 million yacht looks like docked in Fort Lauderdale
4. Ron Laytner with his famous picture of the Klue Klux Klan and one of Queen Elizabeth's favorite photos taken on her trip to Canada.
5. Maria Gagliardo, my co-writer on the Joe Cool film, Victoria London, granddaughter to Queen Marie of Rumania and myself at Victoria's birthday party at her lovely home in Miami
6. I was selected to be the first author to begin a series of weekly lectures starting at Borders book shop in Fort Lauderdale


It has been an eventful month with both good news and bad. The good news is that both the films I have been working on have moved forward significantly. Joe Cool, about the recent multiple murders on the high sea outside Miami, has had the gag order lifted so we can now go proceed. It has all the potential of a Hollywood blockbuster.

I have been working with the grandfather of some of the victims and his partner Maria Gagiiardo who wanted to make sure that they get a very important point across. It is crucial that however young parents may be (even teenagers) they should make it clear, legally, who they would like to look after their children if anything happened to them. Otherwise it could have disastrous repercussions and cause families to break up after terrible legal battles.

My other film, about the victims of condo abuse and based on the horrific true stories of people buying apartments in Florida and losing everything and having to go home broke, is now further along. I was provided with a film crew for a few days, and very late nights, to do back-to-back interviews with the real victims so that their story gets aired. It was very sad to see what a nightmare these people had been through when all they did was to come to Florida to buy their dream home and retire. Since I am one of those victims it was terribly distressing for me to interview people with much, much worse nightmares than I had encountered. Extortion, kickbacks and intimidation are the name of the game in this new financial scam. Watch this space for more information.


Fighting for my land on both sides of the Atlantic

Unfortunately it is not just in the US but here in the UK I am also having to fight for my land. The Port of London Authority (PLA) have taken it upon themselves to be land owners instead of just navigating the Thames and making sure the moorings are safe. Now their dealings have enraged the 500 or so houseboat owners who may lose their homes if the PLA get their way. A bit like when people bought a home in Spain and the law changed and suddenly they no longer owned it. So battle is about to commence and it is going to be a very unpleasant one. The boat owners say that if the PLA make these changes it will give the them a "license to steal". Letters have been personally handed to Prince Charles to alert him so I hope he will intervene, since he cares for architecture and I am sure he doesn't want all the house boats to be removed in order to build soulless new developments.


One of our very brave heroes of the press

I met with one of Fort Lauderdale's wonderful characters Ron Laytner, who was exhibiting his paintings and I was delighted we could get together for an interview. You can see his extraordinary award winning photos on his website and Wikipedia. He founded Edit International in 1969 a writer/photographer who is one of the most widely syndicated photo journalists of modern times. He has covered many of the world's major stories such as infiltrating and breaking the story of the Klux Klutz Klan and has fed magazines and newspapers around the world with his fascinating scoops due to his 'no fear' attitude to danger. Ron would later make history as the photographer who 'stepped on the Queen's foot.' This photo by Ron Laytner received the honor of being featured in THE SUNDAY TIMES magazine, as one of "The World's Greatest Photographs"


So you don't think you are being poisoned?

The new propaganda is that organic food is no better than conventional food. Quite right. There is no more goodness or vitamins in organic food but the propaganda is that it doesn't tell you why 'we' (the ones looking after our health) eat it. We eat it not because it has more nutrition or vitamins but it doesn't have the poisonous chemicals that are added for shelf life or the dangerous pesticides. We eat it so we won't be poisoned. It is common sense that food will be healthier if it isn't tampered with. In fact all you need to do is look at the change in body shapes in the society around you and also all around the world, all of whom are eating the processed and extended shelf-life food, and put two and two together. It has happened so quickly in the last eight years where shapes have changed and obese is normal. It is easy then to point the finger at the food producers for causing bodies to go into chaos and the victims are left wondering what is happening to them. It isn't a case of just being disciplined. Once those chemicals have caused such chaos the mind is its slave to more unhealthy food.


A handful of pistachios could destroy Cholesterol

A handful of pistachio nuts a day can help destroy bad cholesterol, ward off heart disease and prevent cancer, say scientists.

The findings published in the Journal of Nutrition is a second research from the same team showing positive results.

Professor Penny Kris-Etherton, of Pennsylvania State University, said: "Our previous study showed the benefits of pistachios in lowering lipids and lipoproteins, which are a risk factor for heart disease.
"This new study shows an additional effect of pistachios so now there are multiple health benefits of eating pistachios."

The research found pistachios are much richer in the main dietary antioxidants lutein, beta- carotene and gamma-tocopherol than other nuts.
Beta-carotene turns into vitamin A which prevents cancer and gamma-tocopherol is a common form of vitamin E that wards off heart disease. Lutein is found in dark green leafy vegetables and is found in dark green leafy vegetables, important in vision and healthy skin.
It is believed antioxidants also prevent cholesterol from moving into the blood vessel walls and causing inflammation.

The effects of pistachios on antioxidant levels were tested and they found the subjects in the study had much more antioxidants in their blood and lower cholesterol concentrations when they ate the nuts.


Simple mind exercises to help learning

New studies in teaching students the art of learning are now being used in Canada and the US. For example teachers are starting classes with meditation techniques after teaching the pupils some basic information how the brain works. For example they learn about the prefrontal cortex and that stressful emotions are processed by amygdala and lead to the fight or flight response while the hippocampus is essential to long-term memory. The research shows that relieving stress before learning is essential.

It started with 12 teachers in Vancouver a couple of years ago and has now expanded to over a thousand. One of the teachers interviewed believed that the program has grown so rapidly as they see improvements in their students immediately.

This program teaches students to become in touch with their own moods so they can take a look at themselves when they are bored or stressed. It is an important skill in awareness. "Once you can identify your emotions you can teach yourself to change that emotion so that your learning ability increases", explained one of the teachers

Teachers are excited about it as it also makes it easier to teach children. The students say things like "I want to relax because I want my prefrontal cortex to be working so I can read better".

The practice of focus awareness builds mental muscle, which increases the capacity to learn. Like physical exercises that strengthen the muscles, mental manipulation strengthens the brains wiring in the circuits that you exercised. These exercises can be as simple as visualizing all you can recall about an enjoyable past experience, savoring flavors from your favorite meal or thinking about a lingering note from a piano or instrument.


Tips:

And now to sleep, perchance to dream:

Pillows Expiration:

It is just two years. Did you know that the average pillow has over a pound of dust mites and dead bug particles inside? And after a while, bumps and lumps start to appear, making your sleep less sound.


Interesting quote – unfortunately -- true:

"If every inefficient act is a failure, and if you spend your life in doing inefficient acts, your whole life will be a failure".

"The more things you do, the worse for you, if all your acts are inefficient ones".

Something to think about, I wonder if you can tell me the author?




Eds Note: VALERIE AUSTIN is an author of six successful self-help books including SELF HYPNOSIS (Thorsons), journalist and trainer with an international reputation in the field of hypnosis. Her best-selling books and training help people achieve their full potential. She founded the Austin Corporate Stress Management Company focusing on reducing stress and anxiety amongst executives and CEO's. She is also founder of UKRAH (1992) The UK Register of Advanced Hypnotherapy. Valerie has also worked as a consultant in hypnosis at the Priory Hospital, the UK's equivalent to The Betty Ford Clinic, which specialises in food addiction and alcohol abuse. Her work in the film industry (Hollywood) interviewing movers and shakers, producing TV news segments and publishing celebrity magazines in London gave her invaluable experience for her current Harley Street practice.