Waddesdon Manor in Buckinghamshire was the suitably impressive setting for the 150th birthday party of fashion house LOUIS VUITTON. This month's most luxurious bash drew a good crowd of celebs which included JAY KAY, YASMIN LE BON, KELIS, JODIE KIDD, LIONEL RITCHIE, AMANDA DONOHOE, CHARLOTTE CHURCH, CALUM BEST, SIMON COWELL, PENNY LANCASTER, LAURA BAILEY, ROSAMUND PYKE and er, yours truly.

Many favoured guests were taken to this famous classic car gathering by helicopter - it was out in the sticks to be fair- to a reception of Veuve Clicquot and canapés. JAY KAY was in a surprisingly good mood for a change and did not fight, abuse or spit at photographers!! OK, it was a bit disappointing as I would've sold ten times more pics had he misbehaved. Still, the champers was good -though Veuve Clicquot is just a tad sweet for me- and the sun was out. LAURA BAILEY looked superb though more stuck-up than normal. It was such a draaaag for her to pose for photos. It also beggars belief why she was chosen as one the judges! What does she know about classic racing cars? ROSAMUND PYKE, also a judge, was far more amiable -perhaps because she needs the publicity more? I can't remember anything she's done in the past year, or two- happily posing for pics whenever she was asked. You see Laura, like you what Rosamund knows about classic racing/sports cars you could write in the back of a non-commemorative postage stamp but she is so pleasant to work with. Kelis was so taken back by the magnificent Waddesdon Manor - Lord ROTHSCHILD's pad - that its rumoured she may even hold her wedding there later in the year. Lets hope KELIS sorts her teeth out by then as at the moment when she smiles she reminds me of a classic car grill.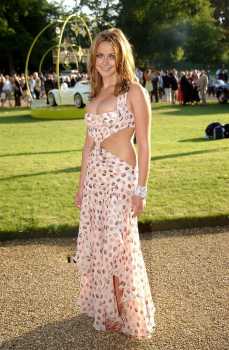 Charlotte Church (Copyright Joe Alvarez 2004)



Berkeley Square was the surprise venue for GLAMOUR magazine's very own 'Oscars'. The event held on the hottest day of the year so far attracted a good celeb turn out which saw the likes of JOELY RICHARDSON -voted UK TV actress of the year- CAT DEELEY -voted TV personality of the year- DAVID SCHWIMMER - voted man of the year by Glamour readers- GIRLS ALOUD -voted best band!!!!!!!?? I jest not. Other celebs gracing the red carpet included JORDAN, PETER ANDRE, LAURA BAILEY -again-cupboard lover BORIS BECKER, TARA PALMER-TOMKINSON, DENISE VAN OUTEN, LISA B, RONNI ANCONA, SADIE FROST -in an unflattering gold dress didn't do much for her bosom, and RACHEL STEVENS. Shame KEIRA KNIGHTLEY -voted best film actress - and KIM CATTRALL -best US TV actress - could not attend. Oh well, more drink for us then.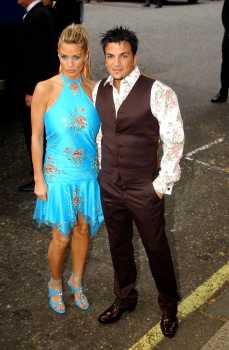 Jordan and Peter Andre (Copyright Joe Alvarez 2004)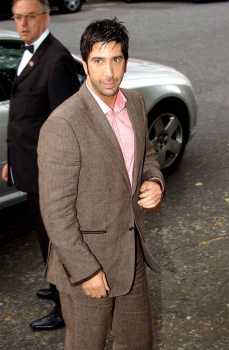 David Schwimmer (Copyright Joe Alvarez 2004)



Ascot this year was once again blessed by the sun. The yearly week long horse racing fest famous for the flamboyant hats and dresses women wear to it was not particularly well attended by celebs considering the sheer size of it. Those who made the effort were IVANA TRUMP - poor diet me thinks - BRUCE FORSYTH - I was shocked too dear readers - TES DALEY, GARY LUCY, LIZ HURLEY - to present a trophy, jockey FRANKIE DETTORI, TV presenter SUZY PERRY, ex PR and now Royal-ete SOPHIE WESSEX and some members of the EASTENDERS cast who arrived by bus.....

I do think Ascot is losing its fizz, especially when you see the sight of the EASTENDERS rabble pouring out of their bus in shoddy attire. It also seems to be in parts like a cattle market with the public herded from place to place by overzealous security and the dress code seems to be merely a suggestion to much of the 'coach brigade'. At least the Press facilities were excellent as always, and we were fed and watered on demand.

Last but not least - unless you rate American film ratings and critics who have panned this film - funnyman STEVE COOGAN has had some trouble in the past trying to make it big in films - never mind his private life - his latest venture is Around The World in 80 Days were he co-stars with the legendary JACKIE CHAN. Plenty of action in this film as you'd expect from a JACKIE CHAN flick and on the whole a reasonably good experience but perhaps not enough to stop this film going to DVD ASAP. Though it was hilarious to see Steve look so uncomfortable as JACKIE CHAN kept holding hands with him during the arrivals at the premiere whilst they were posing for pics. Ahh.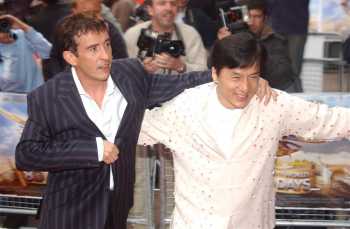 Steve Coogan and Jackie Chan (Copyright Joe Alvarez 2004)



I'm off to cover Glastonbury right now so expect the usual shenanigans and gossip from Europe's premier music festival in my next Celebrity instalment. See ya next month.

JOE ALVAREZ
joealvarez@verycool.co.uk
(Copyright Joe Alvarez 2004)