Have you tried a DUCK TOUR yet? You really should. THE LONDON DUCK TOUR (London's Amphibious Adventure) can be booked on: 020 7928 31 32 or check out the site at: www.londonducktours.com This tour is quite the best in London and I should know because I took JADE and her 7 squealing 12 year old friends on it for her birthday last month. The "ducks" are amazing amphibious vehicles which were used in the war and have now been converted to take passengers round on a spectacular sight seeing tour of our capital, including Buck House, The Houses Of Parliament, Westminster Abbey, The London Eye, etc. before splashing down near the MI6 building and chugging along the river and back in boating mode. I have to say that "splashdown" was a wonderful moment for kids and adults alike on our trip, just like something out of a BOND film. Our "duck" was called CLEOPATRA and the fascinating commentary was given by lovely SEAN who mentioned all sorts of local landmarks including, yes, wait for it, JEFFREY ARCHOLE's little eyrie above the Thames! We all had a wonderful time and can highly recommend DUCK TOURS. Loads of celebs have done the tour, including SEAN CONNERY, MICHAEL GRECO, ROLF HARRIS, NICKY CHAPMAN, NIGEL PLANER and even the debonair EARL SPENCER. Give a Duck a whirl sometime: it's not cold even in winter due to their superb under floor heating blasting away inside..

Her are JADE and "crew" on the CLEOPATRA.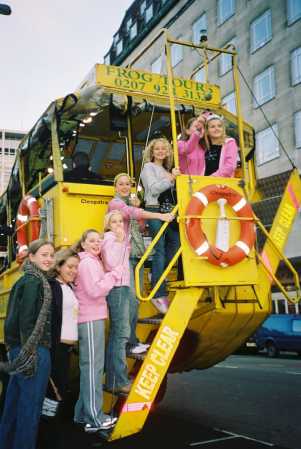 JADE and friends taking a LONDON DUCK TOUR. C.r.: SIMON DUNSTAN.



Another good time was had by all at GOODLIFE MAGAZINE's fab fashion show at THE COLLECTION last month GOODLIFE dynamic editor EILEEN SPENCE-MONCRIEFF was lucky enough to procure my services as compere and the gorg celeb models included popstar PLAVKA, CINDY JACKSON, HEATHER BIRD, DENIZE HEWITT, ANNA LADY BROCKLEBANK, "Junior It Girl JADE, of course, and a bevy of stunning TV presenters. The frox were seriously posh including such excellent designers as THE CAVALRY CLUB (whose "horsey trousers" I just had to snap up), ICE BLU, ELAINE KLOSS and EMMA WILLIS. But the real star of the show was new designer MAYA PETERS whose low slung "builders' bum" evening dress caused a complete furore when their very attractive model turned round and revealed her pert posterior to the assembled goggling masses. Sadly I don't have a pic of that magic moment but my delightful "yummy mummy" friend DENIZE HEWITT sported the frock to an event recently and I can promise you one of those riveting photos for next month, bare botty fans! In the meantime here's MAYA PETERS' sensational "mermaid" dress as worn by lucky moi at the show.



SALLY in MAYA PETERS dress. C.r.: SIR HUE.



MAYA PETERS is at 34, Beauchamp Place, tel: 020 7823 8225.

Beauchamp Place is truly an inspirational little street (although the meter maids and men are a bit too hot for my liking) with many of my fave shops and restaurants. The best watering hole on The Street is definitely THE BEAUCHAMP bar and restaurant, a celeb haunt owned by the delightful GEORGE AND PHILIPPA JAMES. As so many of you have written in asking for our popular "celebrity. restaurant reviews" to be reinstated, our esteemed Ed In Chief GEORGINA and I decided to kick off again with THE BEAUCHAMP, especially as GEORGE and PHILIPPA had just hired a brill new chef. We were not disappointed: THE BEAUCHAMP does quite the best cumberland sausages we had ever tasted, their salads are crisp, sandwiches super fresh and their puds delightfully nursery orientated! Along with perfectly frothy cappucinos and a comprehensive wine cellar, what more could a hungry and thirsty Knightsbridge shopper desire? Check out THE BEAUCHAMP at 43 - 44, Beauchamp Place, tel: 020 7581 88 86.

Talking of nutrition, I have just tried PROVIVA, the much feted health drink which sorts out your digestion and found it absolutely delicious. PROVIVA contains friendly bacteria to balance the digestive system and, let's face it, most of our digestions are up the spout these days because we all lead such busy and stressful lifestyles, often with snatched meals on the run. I am feeling so good on 2 glsses (all you need per day) of PROVIVA that I have now got all the family on it, with the exception of our dear friend KATHARINE who has jetted off to sunny OZ for her gap year, the jammy girlie!There are 2 yummy flavours of PROVIVA, strawberry and blackberry and it's available at most supermarkets.

Divine designer ERIC WAY launched his chic new "atelier" at 47 Kendall Street, W.2. (020 7402 3067) in style this autumn That dynamic duo MURRAY HARKIN and LIZ BREWER threw a fab party for ERIC, erecting a marquee over the whole street and it was a very lively bash. I enjoyed bumping into old friends such as ALEXANDER (MARQUESS OF) BATH looking regal in red and meet new ones such as TYRONE, an extremely striking gentleman who owns the hair and beauty salon opposite ERIC. TYRONE(020 7723 48 43) specialises in big hair and fancy nails and I will be reviewing his most excellent "saloon" for next month: watch this space. It was great to bump into the gorgeous CHEEKY GIRLS with their lovely mum MARGRIT again and here are THE CHEEKIES sporting floaty ERIC WAY creations with ERIC's wonderful manager MARTYN.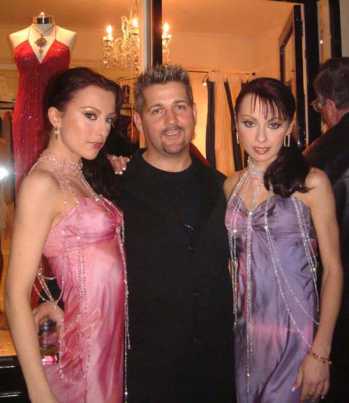 THE CHEEKY GIRLS with MARTYN from ERIC WAY. C.r.: GABOR SCOTT.



My Product Of The Month for December is SKIN DOCTORS' marvellous new "Botox in a jar" cream, RELAXADERM. RELAXADERM works like Botox but without the nasty injection side of things; it's a rich moisturising cream which you apply every day to gradually relax those naughty old wrinkles.I thought that this was such a great idea that I actually bagged this product myself and have been trying it for the past month. My skin feels and looks much smoother and I realised the product had really worked when my own cousin called me a "girl"!RELAXADERM retails at £49.95 for a 50 ml. jar which is an absolute bargain for such a good and fast effect.It's available from FENWICKS and salons and pharmacies nationwide or ring: 0800 298 9600 for your nearest stockist

A HAPPY SEASON AND NEW YEAR TO ALL MY READERS; I do hope you like our Christmas card this year: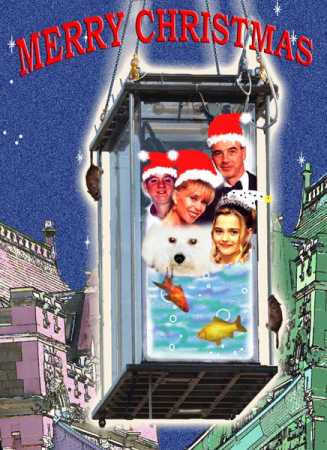 SALLY'S card 2003 Designed by PETER DALE, printed by PRINTEK and with apologies to DAVID BLAINE!



Thank you for reading my page; please e-mail me at: sally@hotgossip.co.uk

Do take a look at my personal website: www.sallyfamiloe.co.uk and don't forget to buy my LOO TIME video for all your harassed mum friends
with toddlers!

Sally

LOO TIME VIDEO available from:

farminghamprods@aol.com and:

http://www.121music.com/pages/video_01/home.html