THIS PAGE IS SPONSORED BY EASTENDERS
www.eastenders-calais.com
THE GRACEFUL ALBATROSS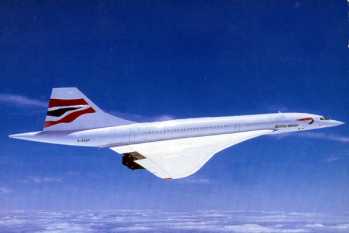 Concorde



I crossed the Atlantic several times on CONCORDE to research the CUISINE of the SKIES for my book THE CHAMPAGNE DIET.

Question 1: Since CONCORDE flew twice as fast as The Speed of Sound would Dinner be over before it had started?
Question 2: When CONCORDE broke The Sound Barrier at 700 plus miles per hour how did the Bubbles in my POL ROGER Cuvee Sir Winston Churchill vintage '82, and myself, react?

Answer to Question 1.Guest Chef ANTON MOSIMANN prepared a 6 course Dinner which I hugely enjoyed cruising at a height of 51,500 feet.

Answer to Question 2. Both the bubbles and myself retained our effervescence when breaking through The Sound Barrier.

According to research conducted by two French doctors, this is due to health giving Oligo elements and important minerals like Zinc, Lithium, Potassium and Magnesian found in Champagne. So drink and enjoy that extra glass has always been my advice to myself.

PLEASE, LORD KING, BRING BACK CONCORDE

THE IMPERIAL HOTEL TORQUAY, DEVON.
Tel: 01803 294301

Torquay, known as the English Riviera because of its abundance of tropical plants and palm trees, is also famous for its 5-star Hotel, THE IMPERIAL.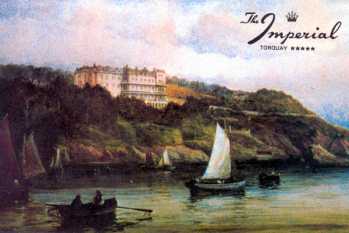 The Imperial Hotel



I dined in their REGATTA Restaurant, which is so beautiful with superb views of twinkling lights around the harbour, that I felt beautific myself. The courteous service included a kiss on the hand from Lazzlo Nydri, the Restaurant Manager. The Menu was bewitching, so many gorgeous sounding dishes. I selected pan fried Scallops with cabbage and leek fondue and red pepper bisque. My compliments to Christopher Chafe, the Chef, for composing such an original tasting dish. It married well with my full flav oured Chablis, confidently dry, ev en a littler flinty. (I first misread it as 'flirty')

Eating, drinking and listening to the pianist playing soft romantic music put me in the mood for Roast loin of Pork with crackling and a glass of classic Fleurie Beaujolais. For dessert, a scrumptious Baked Apple Souffle. Afterwards, I drifted into the Music Lounge where the Big Band and vocalist got our feet tapping and soon quite a few couples were dancing. For a well deserved Break, I suggest you take advantage of their special offer 8o pounds a night, DB&B. As Friday and Saturday are Big Band nights, The Imperial is the place to be.

SANDERSON HOTEL, 50 BERNERS STREET, LONDON.
Tel: 020 7300 1444.

Take time to SPOON at SANDERSON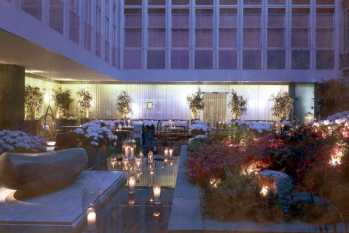 The Spoon



This Courtyard Conservatory Restaurant offers the ultimate in luxurious surroundings; lush vegetation , tropical palm trees, soft cushions on comfortable sofas set the scene for International Gourmet Dining presided over by World famous, Michelin star Chef, Alain Ducasse.

An extensive Wine List ranging inn price from 30-300 pounds was decision boggling. My Companion and myself found the perfect answer, not one, b ut two different Wines with each course, not bottles but glasses. One for him, one for me, this involved constant hand reaching across the tab le. Under the guidance of the Sommelier we mixed and matched perfectly with Top Starters which included Spoon deluxe.

With the main course you can choose from the Menu your own accompanying sauce and garnishment. You are invited to zig-zag through the different columns and create the unthinkable I chose a Beef filet with foie gras, a Rossini Truffle sauce and for garnishment, turnip and vegetable shavings.

The Dinner Menu is a la Carte, but at lunchtime you can enjoy Spoonsum, which includes a variety of Soups, Salads, pasta, fish, meat and some classics like the Ultimate Burger., ranging in price from £8-£12.

Don't forget Afternoon Tea, known as Teaspoon, which is served in the Lounge Bar and Terrace Garden every day.

There is a possibility that I might be signing my book CHAMPAGNE EXERCISES during the lead-up to Xmas. I favour sitting on the pouted red lip, Salvador Dali style, settee, in the Hotel Entrance. So look out for me.

HAPPY BUBBLES Joan


AND NOW A MESSAGE FROM EASTENDERS

EASTENDERS is a NO FRILLS Cash & Carry situated in easy reach of both the Channel Tunnel exit and the Ferry terminals, retailing wine, beer and spirits in the range of budget wines and spirits for everyday drinking thro' to those for the 'Price no Object' afficinado.

Created by Dave West who, in 1989 began his preparation to establish a commanding presence in what was to be a new market resulting from the enactment of the Single Market Treaty. His NO FRILLS approach, allied to the retail philosophy of STACK HIGH AND SELL IT CHEAP is central to the company's culture and has ensured that the store has achieved the objective set in 1989, that of a commanding presence.

Today's store is probably the largest independently owned retail outlet of its type in the world, offering wines, beers and spirits from all major countries, and as a result of the quality of the products allied to their retail price, it enjoys an enviable degree of customers.

In addition to the outlet in Calais, EastEnders also has a retail outlet on the Franco-Belgium border retailing tobacco products, same emphasis on keeping the cost down, and is in easy reach of Calais.

Tel. Direct: +33 321 34 81 87
Fax Direct: +33 321 34 81 70

visit our website: www.eastenders-calais.com