I do hope you are all enjoying the hot summer as much as I am, dear readers. If you come over all hot n bothered in the heat, try getting to your local pool and having a swim. Swimming will cool you down as well as being the best possible exercise, especially if you have any injuries as the water supports and protects your body and limbs. Personally I swim regularly in the summer at the fab HOLMES PLACE / FULHAM POOLS complex (Normand Park, Lillie Road, Sw6 / 020 7471 0450) which I reckon has the best maintained and most attractive pools in South West London (and I have tried them all!)

Don't forget to protect your skin big time in this new, sunnier Great Britain. The best high SPF product I have found this summer is MD FORMULATIONS' Quick Spritz which you just spray on quickly and easily for instant and long lasting 30 SPF protection. Quick Spritz is also very cooling, smells great and can be used on the face as well as the body if you spray it onto your hands first then rub in gently avoiding the eyes. A fantastic new addition to the "sun creams" shelves.
For stockists phone: 0870 850 6655.


In the good ole days ladies just did not get tanned; it simply wasn't done. For instance a screen legend like OLIVIA DE HAVILLAND would always protect her delicate creamy skin. Here is MISS DE H, now over 80 and still with great skin, with the delightful gentleman who played her baby in GONE WITH THE WIND, former actor and film producer PATRICK CURTIS.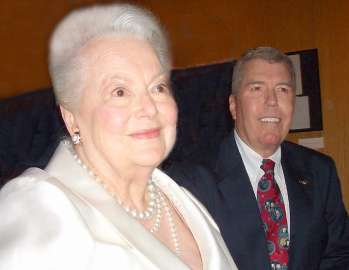 OLIVIA DE HAVILLAND and PATRICK CURTIS. (private collection.)



If we want to have skin like that when we are grandmas we will have to keep up the high SPF, gals and stick with the fake tanning: my fave is the Mystic Tan 1 minute spray which I have at THE TANNING SHOP, Campden Hill Road, Kensington / 020 7938 1932, popular pit stop of various celebs including cheeky ROBBIE WILLIAMS. Check it out.

If, like me, you are more prone to spots in the hot weather, carry around SKIN DOCTORS' Zit Zapper with you. This elegant little wand really does zap the little beauties within hours plus it smells nice and is totally transparent. Stockists: larger BOOTS and department stores.

Some of us don't sleep so well when the nights are lighter and hotter but if you want to avoid that tired look, try BARE ESSENTUALS' fab new Eye Rev-er Upper. It's a lightweight moisturising gel cream which 'brightens and promotes younger looking eyes', reduces puffiness and leaves your eyes feeling really refreshed and ready to go. You can apply it either under or over make up any time of day. Our guinea pig JOANNA reported an improvement to the dark circles under her eyes after just a few days. Stockists: COSMECEUTICALS LTD: 0870 850 6655 (as for MD FORMULATIONS, above.)

If you want your little toothy pegs to look particularly appealing in the bright sunlight, SKIN DOCTORS, the manufacturers of the Zit Zapper, have brought out a brill new one step spray-on tooth whitener called PERFECT SMILE which gives you just that! It is really easy to use: you just spray it on the teeth, leave for 40 seconds then spit out. None of those dreadful overnight whitening treatments which I am convinced lead to divorce! This one does the biz pronto. I know because I tried it myself after DR BOB KHANNA, HGUK's gorg and dynamic consultant cosmetic dentist noticed that my pearly whites were, er, not quite as white as his. Well, now they are, DR BOB = come back, all is forgiven! Stockists: as per for the Zit Zapper: larger BOOTS and department stores.

Our hair and nails grow faster in the summer so don't forget to get your roots and fill-ins done more regularly, laydeez! OPI have the most divine colours for summer and, if you have an OPI manicure or pedicure, the company will donate a percentage to the excellent BREAST CANCER CAMPAIGN. Our guinea pig DEBBIE recently experienced an OPI manicure at THE GROUCHO CLUB (where else?!) and said that her nails had never looked better. Personally I get my OPI manicure and pedicure done by the gorg MARICELA at SELFIDGES OPI NAIL BAR (020 7318 3401). MARICELA is simply the best nail gal I have ever had and my nails dry really quickly and do not chip after she's done the biz with them. OPI make all sorts of excellent nail prods and DEBBIE said she particularly liked their spritz hand spray. What's more OPI have a huge celeb following including such perfectly manicured beauties as HGUK's July cover girl JENNIFER ANNISTON and here she is again, ladies and gents.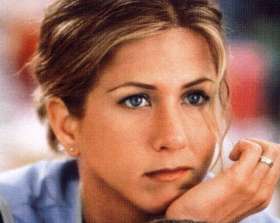 JENNIFER ANNISTON. C.r.: Ajax.



Talking of nails, if yours are weak try taking a calcium supplement ; TESCO have some cheap n cheerful but effective ones and I take 2 daily for my nails and bones. I am also currently taking some brill collagen capsules and Vit C pills (the 2 work in conjunction) for my skin and general health by a new outfit called Simply Healthier.
Ring: 020 7376 8345 for stockists.

If you are looking for a nice PC summer gift, BLUEBELL 33 have just launched Snif, a fab range of Natural Wax organic candles. They don't contain paraffin or any chemicals and are not tested on animals so they burn cleanly and you don't have to feel guilty about using them. Plus they have fab fragrances such as Swiss White Chocolate, Vanilla Cupcake, Pink Grapefruit and Apple And Cinnamon: truly yummy! I like to burn them in the garden while eating outdoors and have just bought a large consignment for presies as well.
Stockists: 08451 26 27 26.

And now for something completely different......................if you want to lose weight, try a weight loss holiday! RENAISSANCE WEIGHT LOSS ACADEMY in Javea on the coast of the Costa Blanca in Spain will help you melt away the inches while enjoying the delightful seaside climate and eating healthy food sensibly. My mate TONY is the Resident Hypnotherapist and Psychologist there (yes, eating for life really is an attitude of mind) and reports great success with the "inmates"!Go to: www.weight-loss-holiday.com

My birthday falls in July and this year I had my best ever thrash at the lovely CRICKETERS' CLUB in Blandford Street, W.1. / 020 7486 2635 run by the charming GRAEME MCCAFFREY. As the theme of the shindig was Caribbean, dynamic entrepreneur MICHAEL WATSON's excellent and sensibly named company, MY CHAUFFEUR ( www.mychauffeur.net) were kind enough to sponsor delicious Caribbean rum punch for all my guests. Being a health goddess I do not of course usually imbibe spirits. However I did feel that a little tasting was in order while the super efficient and meticulous caterers CARIBBEAN CABIN, a division of the famous EXQUISINE catering company were mixing up the punch in The Cricketers' huge kitchens. How a hostess has to suffer for her guests!

Talking of EXQUISINE (based in Essex and covering the whole country: 0845 0092 922), I was thrilled to finally find the perfect catering company whose presentation is as good as their food and whose staff were delightful and hard working. (The times I have had in the past, what with cooks deserting their kitchens to canoodle with film stars in the bushes, et al!) EXQUISINE's lovely directors DIONE, LESLEY and TRICIA turned up themselves, with a team of wonderful gels, erected a stunning centrepiece complete with live fish (I was tempted to kidnap them so that they could join my 6 at home!) and laid on the most delish and authentic Caribbean canapes, including lots of slimline ones for the health and beauty conscious guests plus a choccy dip for those less health conscious! In fact EXQUISINE are also known for their chocolate fountains which are always the hit of every party whether you are chocolating marshmallows, fruit or just your fingers! I cannot recommend this catering company too highly: outstanding. Lots of friends turned up to toast me on my 29th (thank goodness I am keeping up the Botox with the Botox Queen, SISTER MALTI O'MAHONEY: 020 7229 3904 or I would certainly have to admit to being at least 30!) Plus various gorg celebs including actress CHERIE LUNGHI and her dear friend top fashion designer GAIL BERRY (whose divine outfits I will be reviewing next month), round the world yachtswoman TRACY EDWARDS, OBE and her cute 6 year old daughter MACKENNA and frisky crimper RICARDO on top form. There was only one gatecrasher (pretty good for my, usually jam packed, parties!): a certain lady who has been dubbed MASTER BATES by our esteemed Music Ed MARK WINTERS and her pal. We decided not to throw them out as MASTER apparently has a wooden leg and we thought it would blend in with the Caribbean theme: LONG JOHN SILVER n all that. However she declined to wave it around! Seriously, ladies, let us not ever, ever, ever complain about our cellulite, stretchmarks or expensive leg waxing sessions again: we are lucky to have 2 legs, one each side and in working order. Think of poor HEATHER MILLS MCCARTNEY (who is in a spot of other bother now, one way and another.)

Getting away from pirates' legs and onto the subject of their boats, it was lovely to see TRACY EDWARDS looking so gorg. Fresh faced TRACY tells me she is a CLARINS girl, particularly favouring their tinted moisturiser which she says gives her skin a nice glow. She said she also cannot live without blue eye drops (go easy on those, TRACE: bad for the blood vessels!) Anyway here she is looking super glam (and mysterious) in a stunning ISOBEL MARTIN frockette.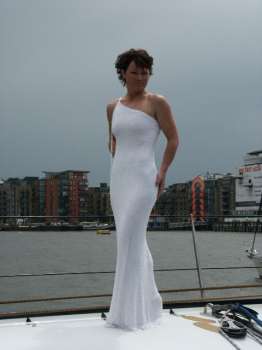 TRACY EDWARDS, OBE. (private photo)



The best outdoor do I went to last month was THE MACMILLAN DOG SHOW in aid of the wonderful MACMILLAN NURSES in Chelsea, organised by the brill ZARA and team from PROVOKE PR. The classes were judged by all sorts of high profile judges including LIZ HURLEY, JADE JAGGER, ANNETTE CROSBIE and designer BEN DE LISI. Lots of dog loving celebs were showing off their beloved pooches and I was thrilled to bump into my long time friend the pulchritudinous JO MILLER who was showing cute and frisky duo PORGY and BESS, owned respectively by her gorg daughter SIENNA and SIENNA's equally gorg on/off boyfriend JUDE LAW. I am delighted to report that our very own film star doggie, PASHA was runner up in the Pedigree Pooch class and lovely QUIZ CALL presenter LIZ FULLER fell madly in love with him and has now decided to get her own Bichon Frise. PASHA came all the way from Marbella to enter the class and here he is posing with LIZ and myself and the charming ADE of the super AIRPORT PLUS chauffeur service (www.airportplus.net), an associate company of the afore mentioned MY CHAUFFEUR. AIRPORT PLUS specialise in airport pick ups and drop offs and ADE transported LIZ, myself, our delightful p.r. CHARLOTTE and my daughter JADE who was showing PASH, to the doggie show after collecting the superdog himself from Heathrow. As you will see in the photo below, the AIRPORT PLUS cars are sleek, shiny and elegant with matching drivers! A great service, highly recommended.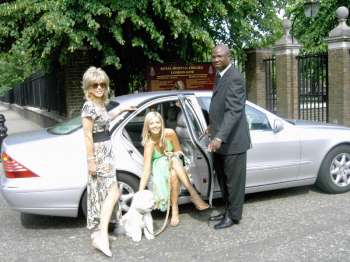 SAL with LIZ FULLER, PASHA and ADE of AIRPORT PLUS. C.r.: CHARLOTTE ELLIS.



Btw gorg TV presenter LIZ FULLER who hosts QUIZ CALL, the late night cult TV call-in show, will soon be seen in another C5 extravaganza. Former MISS GREAT BRITAIN LIZ has just finished filming as a panellist on MAKE ME A TEEN BEAUTY QUEEN which will be aired prime time in September. With a title like that it cannot fail!

Another jolly good bash I attended last month was LA REDOUTE's excellent fashion show at the stunning ROOF GARDENS in Kensington. The current collection is terrif, the food was delish and the champagne flowed; even the weather smiled on us! If you haven't ordered from a catalogue before, give this one a whirl. LA REDOUTE has everything from stretch jeans to classic cardis to cute shoes to sexy underwear, not to mention all the usual sportswear, menswear, kidswear, linen, curtains, et al. Phone: 0870 0500 455 for a catalogue now, then relax and do your shopping over the phone whilst lounging around with a long cool drinky.

Thank you for your letters about psychics. I will be guesting on CELEBRITY PSYCHIC next month so will let you know what they predict for me in our September issue. HGUK's very own consultant psychic VALENTIN BORISSOV recently scored (excuse the pun) a huge hit predicting the WORLD CUP footie results to the very goal! I can't wait to get him going on the geegee racing! If you want to consult the popular VALENTIN (who is from Bulgaria and very spiritual in spite of predicting footie results when pushed), call: 07940 475 305. In the meantime here is a snap of him with the divine PRINCE KYRIL OF BULGARIA and myself at a recent Bulgarian soiree.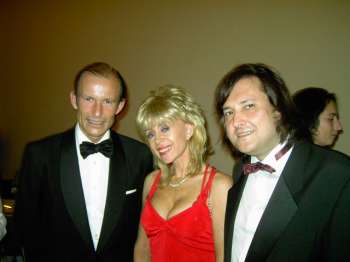 SAL with VALENTIN BORISSOV and PRINCE KYRIL OF BULGARIA. C.r.: CHARLOTTE ELLIS.



Thank you for reading my page. You can write to me at:
sally@hotgossip.co.uk

Do check out my personal website which is now nearly finished at:
www.sallyfarmiloe.com

and don't forget to buy my latest book and classic video (below).
Oh yes, and do travel with WHIZZ AIR, my other advertiser, if you can't hitch a lift with SUPERMAN (the new film SUPERMAN RETURNS is adorable, btw and the STUNNING new actor BRANDON ROUTH is soooooo like CHRISTOPHER REEVE, it's uncanny.)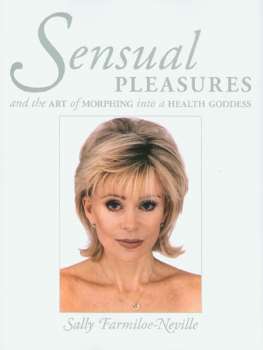 SENSUAL PLEASURES AND THE ART OF MORPHING INTO A HEALTH GODDESS (£16.99) is available from the following outlets:

Delancey Press - orders@centralbooks.com or 0845 4589911
ISBN: 0780953911998

LOO TIME VIDEO available from:

farminghamprods@aol.com and:

http://www.121music.com/pages/video_01/home.html