Are You Eating Yourself into a Lifetime of Illness?

Check out the once slim stars of Coronation Street and see the new shapes of things to come! In the older episodes, the main characters are trim, now the majority of them are somewhat thicker, even the younger ones. In this heat wave I watch skimpily dressed passers by from my yacht in St Katharine's dock, amazed by so many really obese people, much more than last year, and five years ago there were very few. Sizes are increasing yearly. It is extraordinary that the average dress size has increased from size 12 in the 80's, to size 16 now. As a nation we are growing in more ways than one.

New negative reports on our supermarket food are coming out daily. One such report from the US says that if you eat conventional foods contaminated with pesticides, it could increase the chance of getting Parkinson's disease by seventy percent. I meet so many people with M.E. and many mysterious allergies and diseases, only to find that when they go organic, their illnesses subside. However, a new government report ignores these facts and states, "Many illnesses thought to be caused by pesticide exposure were probably all in the mind".

A victim of pesticide illness and a very focused lady, Georgina Downs (called the 'Pesticide Nun'), has spent the last 5 years of her life concentrating on making the government aware of the dangers of pesticides in conventional foods. When she went for tests after feeling unwell it was discovered that parts of her body contained a lethal cocktail of pesticides. Referring to the government report, she said, "I might as well have not bothered." However, despite being disgusted with their report she still resolved to fight on. Her website is well worth a visit at http://www.pesticidescampaign.co.uk

As if we haven't enough to worry about! The Daily Mail recently reported that government ministers have outlined secret sites for growing GM crops across England. The buffer zones are not going to be large enough to protect our organic farmers from their fields being contaminated. GM contamination of gardens and allotments will be legalised with no limitations. The farmers of these biotech crops will only need to tell their immediate neighbours what they are growing, with a maximum penalty of only £5,000 for going over the recommended limits. Even with a stream of scientific proof showing the risk factors, this has not stopped those hungry for GM profits. If scientists can't create drugs without side effects, what chance do they have with GM foods? The introduction of GM, 'Frankenstein food' is set for 2009, so there is still time to speak out.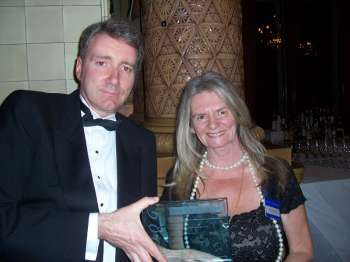 Valerie Austin with Dr Mark Redmond PhD



The result of not watching what you eat can be frightening and very serious. I was invited to the Frost & Sullivan Excellence in Healthcare Award Banquet in Whitehall, honouring companies for their business achievements in a variety of regional and global health care markets. I talked to Dr Mark Redmond PhD, president of Ceapro and one of the award winners for medical achievement. He told me that diabetes is affecting an increasing number of people. The figures are staggering with the number of sufferers tripling in the last ten years. However, the good news is that it is completely reversible, if it is caught in time.

Dr Redmond explained that he had conducted research on 10,000 people and found that 10% of the people already had diabetes without even realising it. Another 30% had pre-diabetes. Alarmingly, that made a total of 40% being affected by the disease. He was concerned that people were not getting tested. But who urgently needs to be tested? Obviously anyone who is seriously overweight, those with a family history of diabetics and those who are eating an excessive amount of refined sugar. Everything from pasta sauce to soft drinks is loaded with chemical sugars. The easiest way to determine if you fit into this category is if you eat conventional pre-packaged food or frequently eat in restaurants, which is almost everyone. "Anyone can test themselves and should do so," he told me. His invention was a test in the form of a meal taken after the general testing that challenges the body and predicts the outset.

He explained that the people in the research study were tested again after 6 months. They had not altered their lifestyle and ignored much of the advice given. But when it was proved that their diabetes had become more serious it shocked them into making radical changes. The real turning point was when they were told of the dangers of amputations. Dr Redmond pointed to his eye and arm: "This is how serious it is if you don't check yourself and let it go unnoticed. You can lose an eye, a limb or have a heart attack." He emphasised that not many of us are aware that heart attacks can be the result of having diabetes and yet it is quite simple to reverse pre-diabetes before it does permanent damage. Exercise and healthy eating, is all that is necessary - it really is that easy!!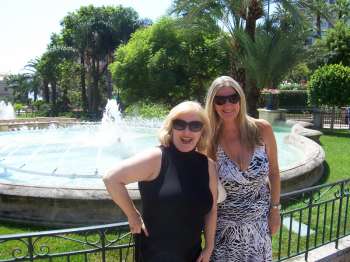 Kristina Lynn and Valerie Austin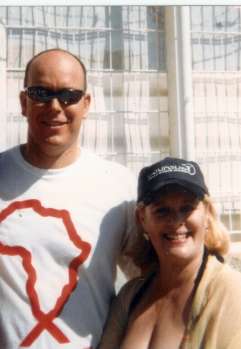 Kristina Lynn & Prince Albert of Monaco



I have just returned from glamorous Monte Carlo. One of my journalist friends living partly in Monte Carlo is an American TV host and PR specialist, spending her time jetting around the world, attending the Oscars, the Emmy's and TV/film festivals. She told me of her experience with diabetes.

Just over two years ago she started to experience tiredness and amongst other things itchy feet - a sign it seems, of diabetes. It got so bad that she was too ill to work. She hadn't been diagnosed correctly and her pre-diabetes was allowed to develop. With a lot of effort and determination she has been able to reverse her condition but she wants to warn people to get tested, even if they feel fit, as she did: "You can get the test from a chemist, so it's very simple. You could catch the pre-stage before it gets too serious to reverse and before it starts attacking your organs so do please tell people," she implored me.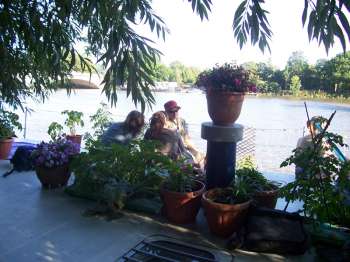 Organic Garden on Boat



Tip for the month: You can easily grow organic food even if you have limited space like the houseboat shown. When I visited my boat in Chiswick (my other one) I noticed the lovely garden display on the next-door neighbours' boat. They had recently moved in and I hadn't realised that the plants were full of organic food. They had lots of pots on board with a variety of flowers and organic food. For their meals, they just help themselves from their garden. It's very easy and a lot cheaper than the shops.

I am having my next workshop at the Sherlock Holmes Hotel; I have found it to be partly organic. It's the first hotel I have come across with this service.

I have a specially designed website to carry more detailed information on what you are eating and where to eat. I will be adding to it each month www.organicfoodforhealth.com

Thank you for reading my page. You can e-mail me at: valerieaustinhyp@aol.com

Eds Note: VALERIE AUSTIN is an author, journalist and trainer with an international reputation in the field of hypnosis. Her best selling books and training help people achieve their full potential. She founded the Austin Corporate Stress Management Company focusing on reducing stress and anxiety amongst executives and CEO's. She also worked as a consultant in hypnosis at the Priory Hospital, the UK's equivalent to The Betty Ford Clinic, which specialises in food addiction and alcohol abuse. Valerie's work in the film industry (Hollywood) interviewing movers and shakers, producing TV news segments and publishing celebrity magazines in London gave her invaluable experience for her current Harley Street practice.

Her books and packages can be bought on line at: www.hypnosisinlove.com
Her website: www.valerieaustin.com