Wishing you all a wonderful summer, dear readers. At the time of writing JADE and I have just returned from the fabulous ATLANTIS THE PALM in DUBAI and brought the sun with us! I will be reporting on ATLANTIS in the next issue.

We hope you like BOLLY's gorg image of THE DUCHESS OF CAMBRIDGE on our cover this month. Best congrats to the lovely KATE and THE DUKE, PRINCE WILLIAM who features in a slightly different way later in this column!


DUCHESS OF CAMBRIDGE. cr: BOLLY GOLIGHTLY.



Do check out BOLLY's amazing column when you have read this one.



BEST PARTIES

My fave recent party was my own one (of course!), brilliantly organised by our lovely PR, CHARLOTTE ELLIS with help and sponsorship from CETUEM SKINCARE and the hotel's fab ANNIE MCKALE to celebrate my appointment as a Patron of the wonderful charity, AGAINST BREAST CANCER (www.againstbreastcancer.org.uk) at THE AVISTA BAR, MILLENNIUM HOTEL, Mayfair. The event was attended by PATRICIA LEATHEM and WENDY TAYLOR-HILL from ABC with several of their staff and other Patrons, DR MIRIAM DWEK from WESTMINSTER UNIVERSITY, BGT's FABIA CERRA who intro'd me to the charity along with BAGS OF DREAMS' STEVE AND DIANE, celibutts ROSE-MARIE, JOHN ALTMAN, LIZ BREWER, JOAN HOOLEY, LANA HOLLOWAY, VANESSA's fiance, BEN, DR ANNA,LADY BROCKLEBANK, JADE of course and even my hubby JEREMY for once!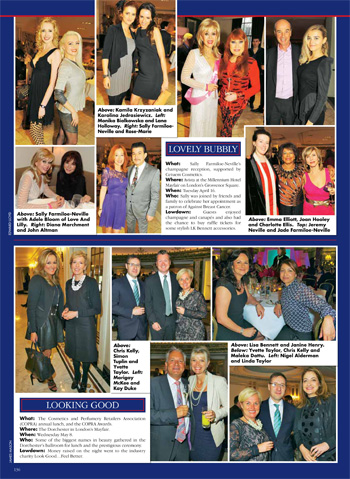 AGAINST BREAST CANCER party spread . cr: EDWARD LLOYD / OK! MAGAZINE.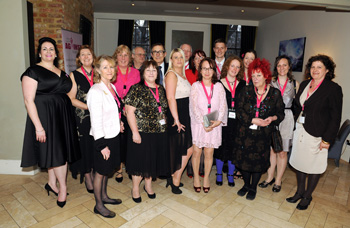 Group shot: the hard working ABC staff and volunteers. cr: EDWARD LLOYD.





TATIANA HAIR EXTENSIONS celebrated their one year anniversary with a fun frolic at their Kensington salon, organised by brill pr LUCY DARTFORD. TATIANA and her staff were all on great form and guests included beauties SOPHIE ANDERTON and IMOGEN THOMAS. I took my dear pal ROSE-MARIE, who has just finished a sell out tour, and here we are with TATIANA's fun 'folies' gels: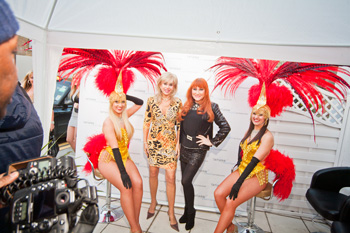 SAL AND R-M at TATIANA party.



My fab dress and jewellery are by ADELE BLOOM and LOVE AND LILLY who will shortly be advertising on HG - watch this space.

www.tatianahairextensions.co.uk / 0297 937 19 89



THE BRAIN OF THE YEAR AWARD party hosted by dynamic duo RAYMOND KEENE, OBE, Chess Grand Master and TONY BUZAN, Mind Mapping genius at SIMPSON'S was fab this year. Last year's winner PRINCE MOHSIN ALI KHAN handed over the award to this year's recipient PROFESSOR MICHAEL CRAWFORD and loadsamoney was raised for their 'charidee', BRAIN TRUST.



TONY BUZAN's BIRTHDAY PARTY AND LAUNCH OF HIS OFFICIAL BIOGRAPHY, 'TONY BUZAN', by RAYMOND KEENE, OBE was also a swell affair at the beautiful PYLLIS COURT in Henley. where we were able to watch all the boats chugging down the Thames as we sipped our drinks. The sun shone, we ate outside, the speeches were inspiring and TONY and RAY were joined by such luminaries as DOMINIC O' BRIEN, 8 times Memory Champ of the World, Mayor of HAMMERSMITH AND FULHAM, FRANCES STAINTON, PRINCE MOHSIN ALI KHAN and talented artist LORAINE GILL. The event was filmed by APEX TV.
Can't wait to read the fascinating TONY's biog - and yes, of course I'm in it, innit?!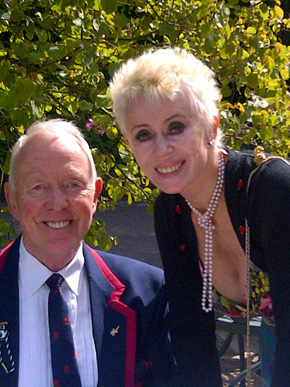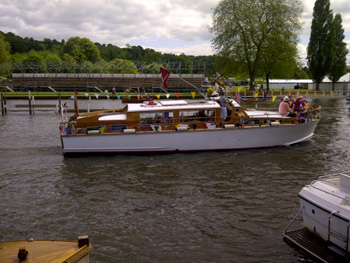 TONY BUZAN's party.



BTW my gorg (real!) pink pearl necklace was generously given to me by my dear pal, DR ANNA, LADY BROCKLEBANK who recently deservedly won an hilarious episode of the brill COME DINE WITH ME - love that show!
My new short hairstyle was cut by STEPHEN SMITH and styled by LATIFA LA DURBIN - more on this later.




BEST TREATMENTS:

FLOATATION THERAPY. Have you tried it yet? You really should. It sounds very MICHAEL JACKSON and in fact lots of celibutts including BOND girls and TOWIE princesses regularly use FLOATWORKS, the best floatation tank centre in London, found by JADE. JADE and I both tried it and loved it. You lie in a pod in a warm bath of Epsom Salted supportive water in a soft light with equally soft music. All your cares drift away and your aches and pains just disappear. You may fall asleep or just doze and an hour's session flies by. We both felt marvellous and totally de-stressed afterwards. The manager PETER is delightful and all the staff are very helpful.


Here's the official bumph:

What is Floatworks? -The World's largest floatation tank centre (with 9 tanks). Floatation therapy is a deeply relaxing therapy where you float weightless in silky warm Epsom salt solution. The tanks are in private rooms and are like large baths with domed roofs. Perfect to escape from it all.

What will the session involve? - you will be floating in a specialist floatation tank/pod in your own private room. There will be light and soft music to start off but then it is best to turn the lights off and float in silence.

Sessions last 1hr (Give 1hr30mins to include showers and relaxation time) / No need to bring swimwear / Towels can be hired for £1

How much? £45 or Special Offer: Buy 2 sessions and get the 3rd free

Booking: Floatworks are open 10am – 10pm 7 days a week

1 Thrale Street, London SE1 9HW / +44 (0) 20 7357 0111 / www.floatworks.com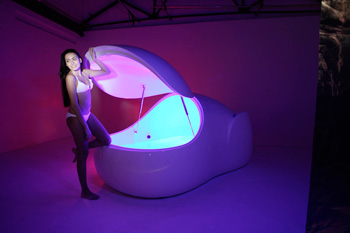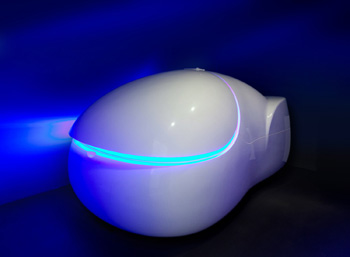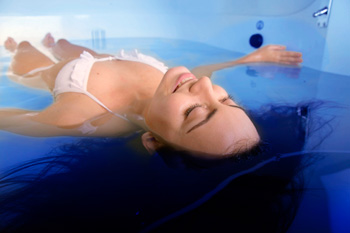 FLOATWORKS - a floatation tank / 'pod' plus a 'floater' laying in!



LASER TEETH WHITENING is all the rage at the moment. But you need to go to a really good clinic for it. I have always been told that my dense teeth will only lift 2 shades. However my pal VIV KING-LAWLESS recently intro'd me to the fab HARLEY LASER SPECIALISTS - 1-7 Harley Street, W.1G 9QD / 0207 307 8770 / www.theharleylaserspecialists.com
and they managed to lift my grubby gnashers by 6 shades! And VIV's came up 8 shades whiter. They can even lift ancient crowns up to their original colour. Check out my 'teef' in the next few pix - defo a great improvement.
One thing - after laser teeth whitening you will need to stick on The White Diet for 48 hours as your teeth will be porous after the treatment and you do not want to stain them! So no smoking, red wine, coffee, beer, bread, coloured food or lippy. This sounds like a bore but is doable - just eat and drink white - white wine and champagne, white fish, cottage cheese, etc. And I wore BOOTS' sparkly pink lipsalve for 2 days which looked nice and saved my lips from dryness as well as from lippy staining the teeth. It was well worth it but if you are worried about sticking to the White Diet whilst working, have the treatment on a Friday afternoon and do it at the weekend.
THE HARLEY LASER SPECIALISTS is run by the beautiful UZMA, all their technicians are excellent and their other treatments include waxing all areas.
SPECIAL OFFER: UZMA is currently offering HOT GOSSIP readers an exclusive deal of just £75 for teeth whitening - usually £350! So what are you waiting for, glamour girls and guys? Get gorg white teeth tomorrow!! Highly recommended.

BEST NEW CETUEM SKINCARE TREATMENTS:
JADE and I endorse CETUEM's Mother and Daughter range and we love all the products and treatments. I recently popped up to CETUEM's HQ in Arnos Grove to try their DE TOXING BODY WRAP and COLLAGEN FACIAL with my friend PRINCESS KATARINA. Both treatments were excellent and I had a nice zizz while wrapped up all warmly for the wrap and with MARIA expertly treating my tired, thirsty facial skin. Afterwards my face and body were pink, smooth and glowing and I felt a million times better and all ready to hit the beach in my bikini at ATLANTIS - brilliant!
www.cetuem.com / 0208 368 0008.
CETUEM NEWS:
Rock star Mick Jagger's daughter, jewellery designer Jade Jagger joined Cetuem Cosmetics to sponsor a fundraising event at Sotheby's, in support of Life Action Trust, a charity that helps struggling musicians to achieve wider recognition of their talents.
The exclusive lunch, also attended by the rock star's first wife and Jade's mother Bianca Jagger, was followed by a private view of Jade's latest jewellery collection and Sotheby's exquisite Diamond Collection.
Our pic shows MS JAGGER with CETUEM CEO, ANDRIA VASSILIOU and model LANA HOLLOWAY, one of CETUEM's gorg 'faces' who include NANCY DELL'OLIO, SOPHIE ANDERTON and PETER ANDRE (yes, CETUEM prods are excellent for guys too - even our local MP. MARK FIELD swears by them!)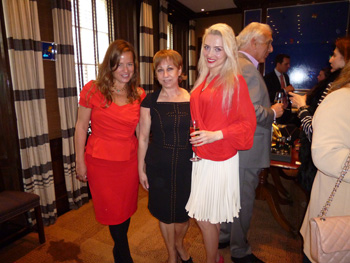 JADE JAGGER, ANDRIA and LANA.




BEST HAIR AND BEAUTY TREATMENTS:
I am totally thrilled that the adorable LATIFA DURBIN's fab new LA DURBIN BOUTIQUE SALON at 339, Fulham Palace Road - 0203 302 3973 / www.ladurbinsalon.co.uk - has really taken off after being featured in the BAFTA award winning MADE IN CHELSEA. This is a salon where you can have everything under one roof - hair, make-up, nails - mani and shellac, toenails - pedi and shellac, spray tan, eyebrow threading, massages, facials, etc - which is so much more convenient than going to 5 different places for all one's beauty maintenance.
I am blessed because LD is just around the corner from me and so I am now a fixture there! LATIFA is an amazingly talented crimper and has managed to magic a fab style for my post-chemo hair which is naturally like a woolly baa lamb (or should that be mutton?!) at the moment. Plus I love having a luxury pedi with milk and rose petals there. I recently tried shellac on my toenails and it has lasted for 2 months! All LATIFA's beauticians are excellent, especially manager CHARDONNAY who gives me regular SIENNA X spray tans which do not streak or splodge and her PR, FIONA is a super smart gal.
Here's a pic of my new hairstyle, 'the LATIFA' when I unveiled it at the BAFTA TV AWARDS this year.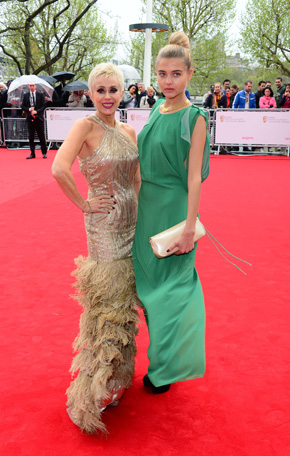 SAL AND JADE / BAFTA TV 2013. cr: OK! MAGAZINE.



Our hair and make-up are of course by LA DURBIN and my totally fabulous dress is by ELIZA JANE POWELL at MEDICI - www.medicigroup.co.uk / 0207 436 28 82.
MEDICI is masterminded by the dynamic GILL HARVEY - check out their fab AFTER SIX label featured in OK!
JADEY's stunning jade green dress is one she recently modelled for MY WARDROBE.

Here's a pic of LATIFA with her EASTENDERS actor son YOUSSEF and 2 fave clients, LUCY WATSON from MADE IN CHELSEA and JADE.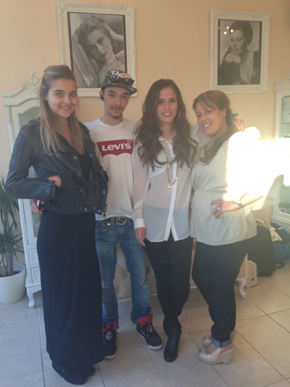 LATIFA, LUCY, YOUSSEF, JADE.



BTW best CONGRATS to YOUSSEF who recently met and fascinated daddy to be PRINCE WILLIAM!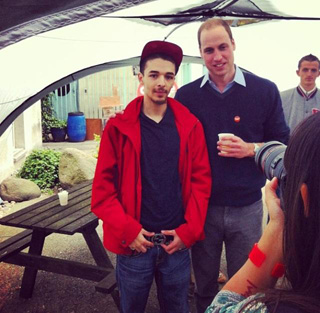 YOUSSEF with PRINCE WILLIAM.




BEST MASSAGE:
I have finally found a type of massage which is really good for my 'helfff'!
Celeb masseur NEIL GEVISSER, whom I mentioned in the last issue, has devised his own particular 'vibration massage' technique and has even developed special muscles in his arms from using the technique.
NEIL uses vibration pressure instead of just pressure (vibration ripples all through the body) and it has been proven scientifically in the U.S. to eliminate fluid and increase bone density.
This was music to my ears as I had recently had a PET / CT scan at the MARSDEN which revealed that my bone density was a bit low to tolerate the Letrazole drug PROFESSOR SMITH had put me on.
NEIL told me that his wondrous technique allows the body to open up muscularly as well and I certainly felt a million times more relaxed and 'softer' in the muscles after just one hour in his Healing Hands. His massage particularly helped my tension areas around the neck and shoulders ('laptop tension'!)
JADE also tried the NEIL SPECIAL and was most impressed.
Highly recommended.
NEIL is also a talented writer and poet - check out his site: www.rhymedisease.com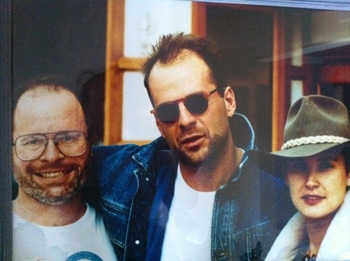 NEIL with Hollywood clients BRUCE N DEMI!




BEST NEW SNAPPER:
The best new portrait photographer I have found is a delightful chap called CONSTANTIN CERDAN. He has his own studio in South London, is very reasonavble and is really easy to work with. Check out his work at: www.constantincerdan.com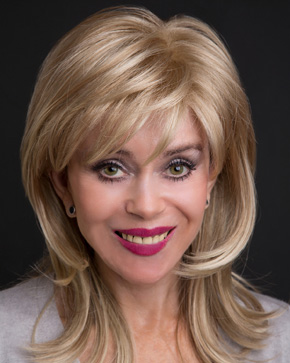 SAL by CONSTANTIN CERDAN .





FAVOURITE JEWELLERY PIECE:
I am loving this chunky blingy LE VIAN ring, sported by SHAKIRA, here looking casual with a JERRY HALL Side Over hairstyle, at the Season 4 prem of THE VOICE.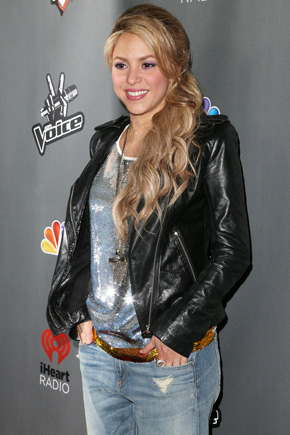 SHAKIRA. cr: LE VIAN JEWELLERY.





CONGRATS!

To the inspiring ANGELINA JOLIE for revealing she has had a double mastectomy after discovering she had a gene which gave her an 87% chance of getting breast cancer.
Good to get this subject out there. A brave lady - good luck, ANGELINA.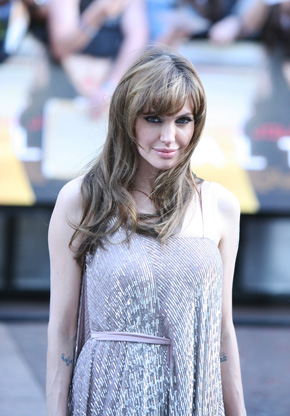 ANGELINA, cr: BOLLY GOLIGHTLY.




To my hypnotherapist, friend and fellow HG columnist VALERIE AUSTIN who is working on helping cancer patients with complementary hypnotherapy and nutrition. As a cancer survivor I understand the importance of complementary treatments and nutrition to supplement orthodox medical treatment and I have written about this subject at length in my new book, MY LEFT BOOB: A CANCER DIARY which will be published by BOOK GUILD PUBLISHING on October 3rd, to coincide with BREAST CANCER AWARENESS MONTH, all Royalties going to THE ROYAL MARSDEN. YES TO LIFE and AGAINST BREAST CANCER.

And to the women who asked VALERIE if I had replaced her with LUCIEN MORGAN as my hypnotherapist - don't be mean to my pal! VAL has always been my hypno - when she is away for half the year in the U.S. LUCIEN, whom she trained, takes over. They are both excellent therapists and I am lucky to have them.

Do check out VALERIE's excellent column when you have finished this one.



BEST BOOK:

TERRY O'NEILL is one of the most talented and legendary photographers of all time and his beautiful hardback of iconic images over the years is Simply The Best photography book I have ever seen. Published by ACC PUBLISHING GROUP, it took 3 years of exhaustive cataloguing of his huge archive to produce this amazing book and there are several previously unseen images of all the greats.
'TERRY O 'NEILL', as the book is simply titled, with a fascinating Foreword by DYLAN JONES, is in alphabetical order starting with AC/DC and MUHAMMED ALI and ending with BILL WYMAN and CATHERINE ZETA-JONES. In between you will find beautiful and interesting images of all the greatest musicians and film stars, Royals and politicians with brilliant shots of HM THE QUEEN and her PMs and BARONESS THATCHER (our last month's Cover Girl!) and her PMs, not to mention THE BEATLES, THE MUPPETS, GOLDIE AND SELLERS, PRINCESS DIANA AND LIVE AID and THE COLLINS SISTERS.
The O' NEILL Girls include BARDOT (on the cover), FAYE DUNAWAY (TERRY's wife), RAQUEL, SHARON, MICHELE, URSULA, JOANNA, LIZA, ELLE, LIZ TAYLOR, DORIS DAY, SINEAD, CHARLOTTE RAMPLING, BRITT, NICOLE, KATE MOSS, AUDREY HEPBURN, MARLENE and JOAN RIVERS. The Boys include REDFORD, NEWMAN, SINATRA, ROD STEWART, LORD ATTENBOROUGH, DAVID NIVEN, RAMSAY, ELVIS, ROGER MOORE, DANIEL CRAIG, TOM JONES, RICHARD GERE, HARRISON FORD, CLINT, CONNERY, CLAPTON, CAINE, BROSNAN ................,the list goes on and on.
This stunning coffee table book is the best ever gift for everyone, something you will be proud to own and display.
I was snapped by TERRY O' NEILL when I was a young thing and have always been the hugest fan. 'TERRY O' NEILL' does him justice. Superb.
www.accpublishinggroup.com
www.amazon.com
and all major book stores.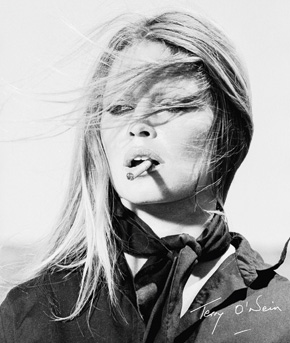 TERRY O' NEILL cover: BARDOT.





BEST NEW PRODUCTS:

The best SCENTED CANDLES I have found recently are from the luxurious SANDY BAY collection founded by SANDY BURNS - 01992 618 015 / www.sandybaylondon.com

The SANDY BAY candles are all beautifully packaged and make excellent gifts. The fragrances are unusual and exquisite - I particularly favour VINTAGE CHAMPAGNE and POMEGRANATE ROUGE. The candles have featured in TATLER, VOGUE, COUNTRY LIFE and OK! Truly fragrant and totally luxurious.


Talking fragrance, I love all the LUSH range of ethical, non animal tested products but my particualr faves at the moment are their adorable 'lollipop' RE-USABLE BUBBLE BARS for washing both hair and body, particularly the lemony 'MUM' bar and the rose pink 'MADAME BUTTERFLY' one.
www.lush.co.uk



BEST INNER SKIN NOURISHING PRODUCT: SKINADE.

My lovely hair and beauty guru LATIFA recently intro'd me to SKINADE, a delicious drink which nourishes the skin from within, where it grows. SKINADE contains Marine Collagen, Vits C, B2, B3 and Biotin, MSM (Organic Sulphur), Omegas (essential Fatty Acids) and L-Lysine (an essential Amino Acid which plumps up skin and really helps dry summer lips.)
I have been drinking my little bottle of SKINADE every day for a month and have found that not only has my skin bloomed but my hair, nails, lashes and brows are also growing more quickly. Fabulous new product - thanks, LATIFA.

Available from: LA DURBIN SALON: 0203 302 3073 and www.bottledscience.com



Thank you for my reading column.

Please write to me at: sally@hotgossip.co.uk

and check out my other websites:

www.sallyfarmiloe.com

www.kazzyandsally.tv