Hi Everyone,

It's been a bit of an eclectic schedule over the past two months.
The last couple of the "majors" in the awards season took place. But apart from these, key diary dates were short on the ground making it more of a breather before the start of a summer of sport and hopefully the arrival of some blistering summer weather after the rain and continuing low seasonal temperatures.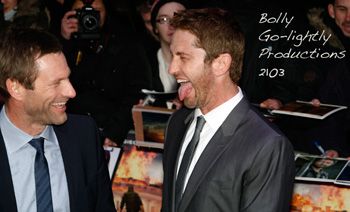 OLYMPUS HAS FALLEN PREMIERE BFI, WATERLOO
I don't really like this venue. It's a cold concrete circle below a roundabout which used to be part of "cardboard city" where the capital's homeless carved out a dry sanctuary from the capital's cruel elements.

Today it is the home to the occasional high profile premiere squeezed into a red carpet area half hidden from view as it wraps around this tubular cinema with its vine-like arms creating a broken canopy over our heads.

GERARD BUTLER seems like a charming and funny man away from the camera. In front of it he has played an array of roles and has avoided being stereotyped. Unfortunately this film has not had great reviews...a sort of rejuvenation of Die Hard, but less believable: Gerard just happens to be in The White House when it gets invaded!
What can I say.





OBLIVION PREMIERE - BFI, WATERLOO
Talking of stereotyping, here we go again.. TOM CRUISE in yet another action role. But having a good supporting cast in the form of OLGA KURYLENKO and ANDREA RISEBOROUGH can't save a bad film from being anything but a bad film. What is good for the fans, but frustrating to the waiting press photographers, is the dedication TOM CRUISE has to spend a lot of time with his fans, regardless of how small the venue is. The value of a TOM CRUISE autograph must be negative by now due to their abundance in global stock.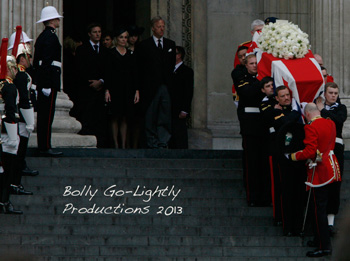 THATCHER FUNERAL - ST PAUL'S CATHEDRAL
This was always going to be a big event when the Conservative party declared that they had mysteriously found £10 million to pay for the ceremonial funeral in a recession. A decision which may come back to haunt them come the next General Election. I think it would have been better to have invited the Royal Family and the World's leaders to pay homage within the Houses of Parliament. Regardless of what you thought of our only female Prime Minister, she did deserve this. Keeping the security bill to a minimum would have been a more popular decision to the overall Electorate during these times of prudence.

BARONESS MARGARET THATCHER was a ground breaking leader...however, she was political marmite in that you either loved or hated her. Her decisive nature caused national division.

I was born and raised in the north and my only direct dealing with her policies came when I was at school and experienced MARGARET THATCHER as the milk snatcher. Those tiny bottles of milk that everyone drank regardless of who they were. We competed with the blue tits and robins in the winter as they pecked to share our daily nutrients. In the summer, the sun's rays beat down on those silver foil tops, creating a pungent smell that we all loathed.

I digress. It is beyond doubt that her policies did change this country into what it is today. You would require a considerable amount of imagination to try and see how our country may have evolved if her hard line policies with the unions had not taken place. I remember The Winter of Discontent, when as a family, we sat at home on those long dark nights ( sometimes days also as school would close if there was no electricity ) in front of an open coal fire to keep warm in a living room lit by flickering candles, playing board games until it was time to boil a pan of water by which to wash before retiring to bed.

Sadly, her policies also encouraged us to start to live beyond our means as we aspired to improve our lives. A situation which has ultimately led to the recession we are still enduring several years in. Ultimately, changed the foundation of our society as her policies led to the death of the extended family and an increasing reliance on the State in times of ill health and old age.

As a woman, I do also feel that she shied away from taking up the mantle to ensure that her historic groundbreaking meteroic rise through the male dominated House of Power could be easily acheived by women in the future.

However much I did not like MARGARET THATCHER'S cabinet policies for the decimation of communities in the north of England and in Wales, it is not right to burn effigies and hold street parties to celebrate her death. Whoever and whatever a person may have done to those in their life, any attacks on their character should always be made whilst they are alive to defend their position. I beleive in freedom of speech, but this right is built on mutual respect for all parties to be as right as each other.

For this reason, as I stood amongst the throngs of those who had come from all over the country to pay their respects to her on her final day, I had no intention of "spoiling" their moment by bringing criticism to their doorstep of homage. Ultimately, we will all be judged by a higher being for what we do, regardless of what the history books say.

This week I went to the matinee performance of THE AUDIENCE at THE GUILDGUD THEATRE starring DAME HELEN MIRREN as THE QUEEN.

It was a fabulously funny and poinyent production. HELEN MIRREN was amazing as she convincingly metamorphised into an older and younger monarch. Changing her gait and her facial mouth droop was amazing. The dress changes on stage were seemless and very clever. The two other portrayals that I loved were of HAROLD WILSON and MARGARET THATCHER.
There was a distinct hush in the theatre as MRS THATCHER resurrected before our eyes. Contrary to HAROLD WILSON's comical reposts, she chastised the QUEEN for becoming political on Commonwealth matters. HAYDN GWYNNE was impressive in the role. If you closed your eyes it was MARGARET THATCHER you heard....every vowel and nuance. The Baroness may be dead, but she continues to have an audience with Her Majesty until June the 15th!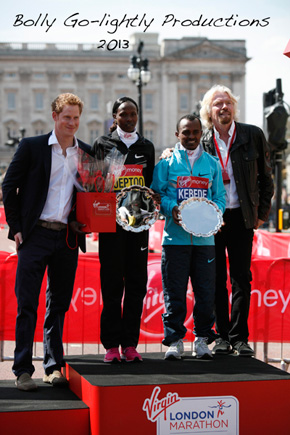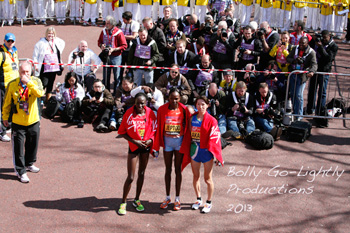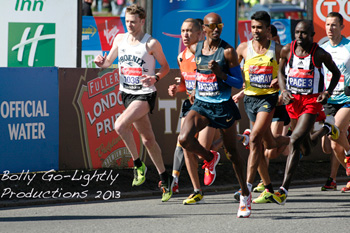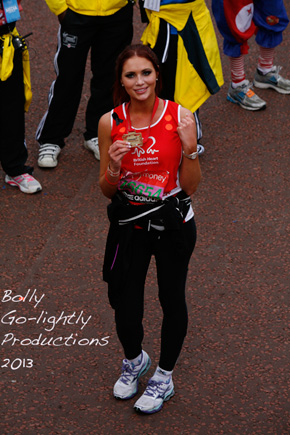 THE 32ND VIRGIN LONDON MARATHON - DULWICH TO THE MALL
All press photographers cringe at the thought of covering this race. Especially, if like me you have to try and photograph the start and yet make it back to The Mall for the finish.
You feel like you have run the marathon by the time you get to the Mall photographer gantry as you have had to get up early, walk to the start with heavy camera equipment and a MAC and then run across Blackheath to catch the Charing Cross bound train to then run along the Mall. This year was worse, as security was considerably tighter in the aftermath of the horrendous BOSTON MARATHON BOMBINGS which took place a few days earlier.

For the second year running, PRINCE HARRY attended to give support and award the winners a stone's throw from BUCKINGHAM PALACE. It was great to see SIR RICHARD BRANSON at the finish personally congratulating tired but happy runners...even the man in a mankini!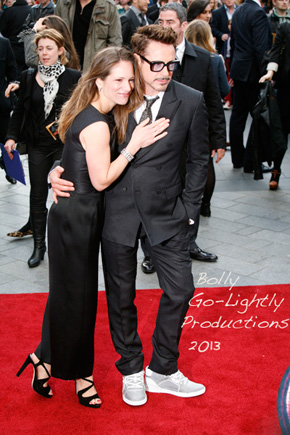 IRON MAN 3 - ODEON, LEICESTER SQUARE
A big premiere as expected with a stellar cast, minus GWYNETH PALTROW who was busy planning her wardrobe malfunction at the US premiere.
ROBERT DOWNEY JNR has to be Hollywood's bet example of how to turn around personal meltdown to become for the second time, a highly rated actor.
I must be one of the few who has not seen any of the popular Iron Man film franchise.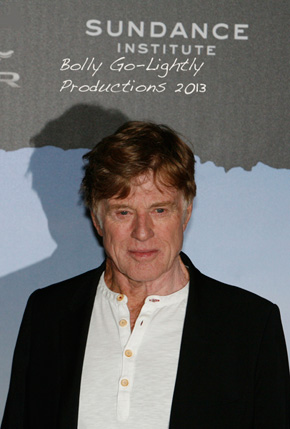 SUNDANCE PHOTOCALL - THE O2
Many stellar stars as they get older prefer to remain a long distance from high resolution cameras. ROBERT REDFORD fits into this category very well.
Last year he spent all of 11 seconds of his life undertaking this arduous task as he opened his SUNDANCE FILM FESTIVAL for the first time in this country.
Regardless of what plans the press make with the PR company, ROBERT REDFORD decides what he will do. He was coerced begrudgingly to get back in front of us after 7 seconds...So in all, the 17 second shoot was an improvement...but it is a false win in the scheme of things.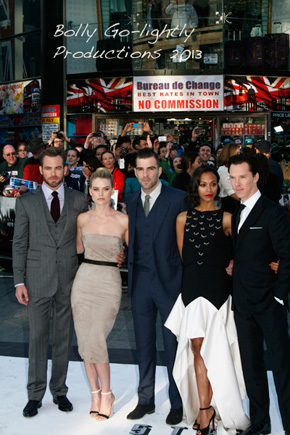 STAR TREK INTO DARKNESS PREMIERE - EMPIRE, LEICESTER SQUARE
As you can imagine, "Premiere Square" was filled with Trekkies in abundance for the latest Star Trek film. Although all the cast attended, including CHRIS PINE, ZACHARY QUINTO ( who looks so much like LEONARD NIMOY'S original SPOCK ), ZOE SALDANA, KARL URBAN and our own SIMON PEGG...the show was totally stolen by the arrival of BENEDICT CUMBERBATCH who's star shines very brightly in whatever he turns his acting hand to these days.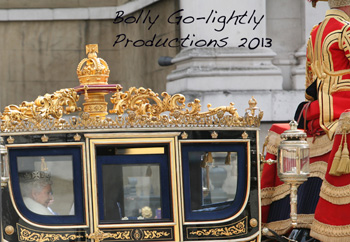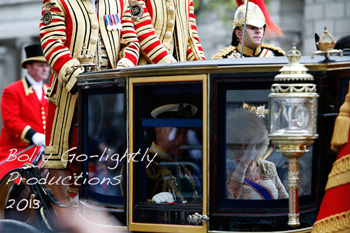 STATE OPENING OF PARLIAMENT - FROM HORSE GUARD'S PARADE, WHITEHALL
I have never covered this annual event of royal pomp and procession.
It's fascinating history reveals a tremendous amount about the historical turbulent relationship between the Royal family and politicians.
Traditions surrounding the State Opening and delivery of a speech by the monarch can be traced back at least to the 16th century, whilst the modern ceremony dates from the opening of the new Palace of Westminster in 1852.

Following the death of PRINCE ALBERT in 1861 QUEEN VICTORIA attended the State Opening of Parliament less frequently, and when she did the Speech was delivered by the Lord Chancellor. The full pomp and pageantry were restored and enhanced by EDWARD VII following his accession in 1901.
THE QUEEN has opened every session of the Westminster Parliament since her accession, except in 1959 and 1963, when she was pregnant with PRINCE ANDREW and PRINCE EDWARD respectively.

Three interesting ceremonial events take place during this ceremonial event:
- The cellars of the Palace of Westminster are searched by the Yeoman of the Guard in order to prevent a modern-day Gunpowder Plot.
- Before the monarch departs Buckingham Palace a member of the House of Commons is delivered up to the royal residence as a ceremonial hostage of the Crown, for the safe return of the monarch, and is well entertained there until the successful conclusion of the ceremony. This is now purely ceremonial, though the MP remains under guard, but originally guaranteed the safety of the Sovereign as they entered a possibly hostile Parliament. This tradition stems from the era of Charles I, who had a contentious relationship with Parliament which eventually led to his beheading in 1649.
- The Imperial State Crown is carried to the Palace of Westminster in its own State Coach ahead of the Monarch.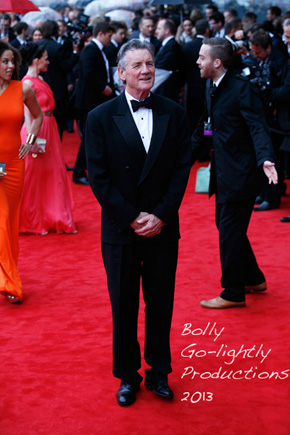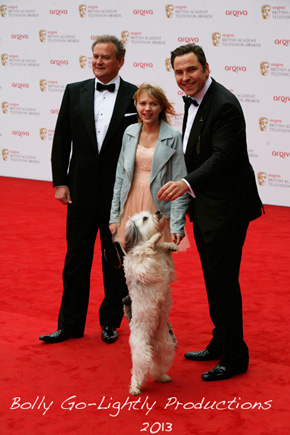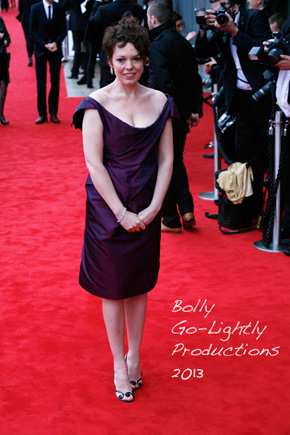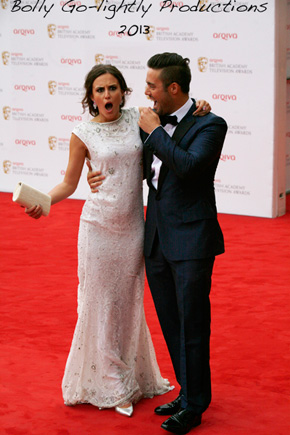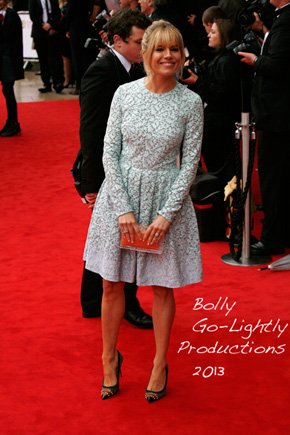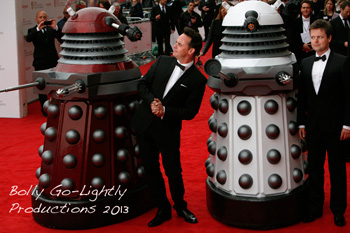 TV BAFTAS - ROYAL FESTIVAL HALL
A massive night of TV stars. I was particularly happy to see OLIVIA COLMAN have such a fantastic time with her husband ED as she picked up gongs for straight and comedy roles with some of the best acceptance speeches I have ever heard.

COLLIE the world is at your feet. I am so pleased that you now have the recognition that you deserve. You have come such a long way since I met you both a few years ago to photograph your wedding on that quintessentially summer day in your parents' beautiful garden.

I enjoyed BROADCHURCH...except the ending. ( which a friend of mine spoilt by sending me the dreaded " I told you it was her husband" email...when I had recorded the lot to watch at a later date! ). Rumour has it that it is coming back to our TV screens in the style of "THE KILLING". I have just ploughed through the first series of the BAFTA winning original Danish production. BROADCHURCH will have to be amazing to be as good. Fingers crossed.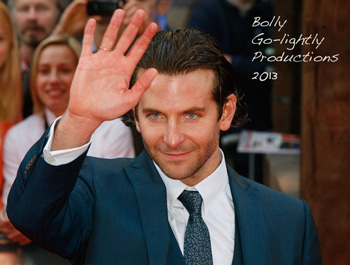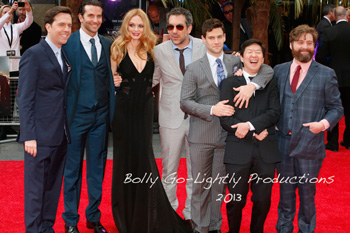 HANGOVER III - EMPIRE, LEICESTER SQUARE
I can't believe that this was always just going to be a triology. I know I have always said that you can have too much of a good thing, and that a series of films in most cases is a studio's poor decision to milk the preverible cash cow dry.

Personally, I can't get enough of this drug induced collective as they bumble from one disaster to another in order to retrace their forgotten steps.
Whoever did the initial casting did a great job.

HEATHER GRAHAM and BRADLEY Cooper looked fab at the premiere. I was a bit surprised to see how short JUSTIN BARTHA is. As a photographer, I can vouch, the camera can lie. Can't wait to see this film.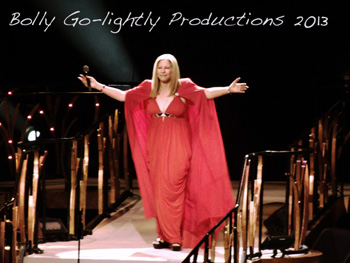 BARBRA STREISAND - O2 ARENA
I don't know about you, but I have a bucket list for singers that I want to see live for at least once in my lifetime.
Sadly some of my wishes will remain unfulfilled: THE BEATLES, ELVIS and ABBA. I still hope that ELO will oblige at some point.
One big tick was LUCIANO PAVAROTTI who really did have a voice of pure crystal...the best voice I have ever heard.
In contrast, another was the priveldge of going on tour with QUEEN. FREDDIE MERCURY not only had a powerful operatic/rock voice, but he was the most amazing showman that I have seen who held stadium crowds in the palm of his hand.

Now, another tick on my list has been acheived as this week I got to see the girl from Brooklyn: BARBRA STREISAND. The warm warble on those high notes is unique, amazing and somehow comforting. Sadly for everyone, MS STREISAND suffers from stage fright that has left an indelliable mark on her ability to tour. During the concert she did refer to this a couple of times: describing how she forgot her words in New York, and to remind everyone that this was her 93rd show in her fifty year career.

Yes, the show was schmultzy, especially when fans kept interrupting her to profess their love for her. It was a family show. BARBRA dueted with both her sister ROSLYN KIND and her son JASON GOULD. All my favourites were there, either in full or in a mini medley. A great night of talent which also included the amazing trumpet player CHRIS BOTTI. In all, an intimate concert in a large arena.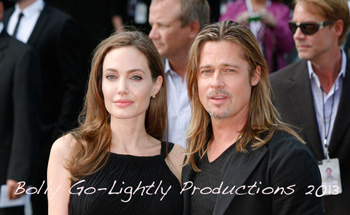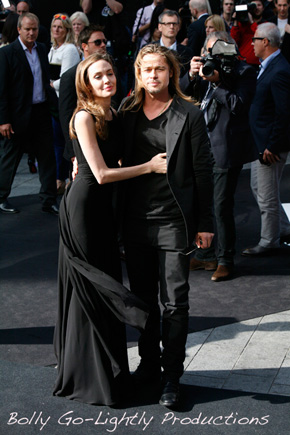 Z PREMIERE - EMPIRE, LEICESTER SQUARE
We all hoped and were rewarded by the sight of ANGELINA JOLIE as she escorted BRAD PITT at the world premiere of his latest film.
This summer blockbuster of how BRAD saves the world from zombies has received mixed reviews. Regardless of this, the popularity of this golden Hollywood couple continues, especially after ANGELINA recently announced that she had undertaken a double mascetomy to avoid the death that her mother MARCHELINE suffered through breast cancer. Hopefully the publicity surrounding this decision will help other women make this difficult life saving decision. I know women feel they have lost their feminity when they lose part or all of their breasts. I think the photos of ANGELINA will now dispell this notion forever enabeling empowerment from now on.

Enjoy the sun which the tennis players pack in their tennis bags when they come to London for the grass court season.

Take care.