I welcome readers' suggestions and feedback. tatianavs@aol.com


AVISTA RESTAURANT 39-44 Grosvenor Square, London W1K 2HP 020 7596 3399
www.avistarestaurant.com

Avista is a happy place to dine. Everybody seemed to be having a good time as it should be and this is due to the attentiveness of the staff and the superb food. Also the tables are positioned in such a way that diners have their own space and are not tightly squeezed into banquettes where one feels closer to a stranger than the person you are dining with.
The beautiful fresh flower centre piece reminded me of the wonderful restaurant at The Carlyle in New York – the perfect setting and I am so glad to have found it now in London too.

Served in large white china, the food prepared by Chef Michele Granziera and his team is of the highest quality. The sigh emanating from the young friend I was dining with "It looks and smells gorgeous!" says it all. Our starters: Angus Beef carpaccio with crispy spring vegetables (£12), Corn-fed chicken liver terrine with Earl Grey tea jelly (£8.50) and Seared tuna with sesame seeds, orange & fennel (£13.50). It was difficult to bi-pass the 'Middle Courses' (Home-made tortellini filled with Mortadella in broth, Linguini, Tagliatelle with crab, courgette and sweet chilli – to name a few ranging from £10.50 to £25), but bi-pass we did. Highly recommended: Pan-roasted sea bass fillet, broccoli, clams and taggliasche olives (£25) and Lobster & scallop fricassee with barigoule artichokes (£31).

The desserts were exceptional: Caribbean hot chocolate foam with raspberries and ginger (£8.50), Mjoito sorbet with mint granatina and pineapple (£6.70) and Pear and chocolate sponge with pistachio ice-cream (£6.70) and 3 spoons to share.

A good selection of wines (from Australia, South Africa, Argentina, Italy) Champagne and Proseco. The Pino Grigio Ruffino (£ 8.25 175 ml glass/ £32) was excellent.

Avista is situated at The Millenium Hotel – one of those hotels in London where you can drop your car with the doorman and disappear through the back door only to re-emerge hoping nobody notices you did not stay.... others: Claridge's and Grosvenor House... Restaurants in hotels are sometimes not taken seriously. It may be because people staying at the hotel prefer to go 'out' but this is changing and they are now becoming destination restaurants.

And Avista Restaurant with its trendy bar should be on top of the list.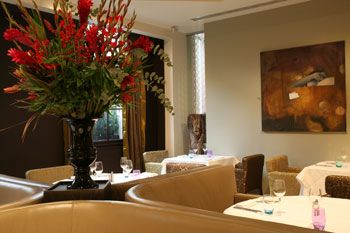 FRANKIE'S 68 Chiswick High Road London W4 1SY 020 8987 9988
www.frankies-chiswick.org

They say marriages are made in Heaven – well this is the partnership of two household names: jockey Frankie Dettori and Chef Marco Pierre White. The result: an establishment well patronised by celebrities which offers very good food describing itself as New York Italian.

A spacious garden type entrance with the most endearing ceramic rooster – you will fall in love with the rooster, I am sure – but it is not for sale: Just holds visiting cards to remind you where you are when you come in and where you want to return to when you leave. I liked round table 14 from where you can observe the activity of the busy bar.

In browns and golds, revolving glittering chandeliers and twinkling lights are reflected in the mirrors around the room giving the feeling that one is in fairy land: A long room with the exhibition kitchen on one side. It is a fun place to be in which puts you in a celebratory mood – you want to party.

Willow, our waitress, was superb with an effervescent personality. The 2 course menu at £ 15.50 (£18.50 for 3 courses) is a bargain. We chose: Fresh Prawn Cocktail and Fresh Asparagus Parmigiana with sage & wild mushrooms; followed by Spaghettini of Lobster Americano (£8 supplement) and Grilled Cod alla Siciliana with saffron potatoes. With 2 glasses of excellent house Rose Wine at £ 6.50 each the bill came to £58.50 including service.

I regretted not trying the New York Cheese Cake, fresh Blueberries, or Frankie's Chocolate Truffle Cake – but if you do, please let me know. Instead on leaving we met the charming Mrs. Marco Pierre White who kindly offered us a night cup or two...?



LA PORTE DES INDES 32 Bryanston Street London W1H 7EG 020 7224 0055
www.LaPorteDesIndes.com

A truly sumptuous place. Near Marble Arch this Indian Restaurant combines delicious food in beautiful surroundings.

As its name indicates this is The Gateaway to India: Antique wooden windows, handmade terracotta vases, a genuine 'ghadra' (huge container to gather rain water), a pond with real pink and white lilies, waterfalls, indigenous decorations.

You can relax at the cosy Jungle bar which sits 35 people and enjoy drinks and the spicy nuts and biscuits whilst going through their extensive menu. Their adventurous cocktails include: Watermelon and Basil Martini (Gin, fresh watermelon, basis and green lime), Rose Lassi (Natural yoghurt and rose preserve) and Karma (fresh coconut juice, vodka, passion fruit, green lime and sweet basil).

When you are ready for dinner, you will be taken to your table by going up the imposing white marble stair case. It is like being in someone's palace with a 40 ft Mogul waterfall, beautiful trees, plants and flowers. The extensive menu includes Pepper Crabs, Ribiyan Jhinga (wild catch tiger prawns), Kebabs, tandoori Grills, Cassoulet de Fruits de Mer ranging from £6.50 to £27.50 per dish.

For a lazier approach to ordering your meal LA PORTE DES INDES offer a selection of their chef's favourite starters, main courses and desserts. (£30, £37 and £42). Highly recommended is their Sunday Brunch from midday to 3.30 pm. A most lavish assortment of a self-service buffet reminiscent of a food bazaar because of the colourful variety of dishes. Manoj looked after us beautifully and our lunch for two with a bottle of excellent house rose wine came to £49.50 including service. My favourite tables: For two: overlooking the waterfall and for 5 or more the round one near the stair case. I found the new jazz 2 person band loud and intrusive.

If you would like to learn about Indian cooking then you may wish to buy their Cookbook (£20) and then add to your knowledge by attending their 'cookery demonstration' on the last Friday of the month where Chef Mehernosh Mody will offer his expert advice.

Lunch menu at £ 8.50 – tasting platter £14. The souvenir shop is well stocked with a wide range of gifts but what caught my eye was the serving dish in the shape of a fish.