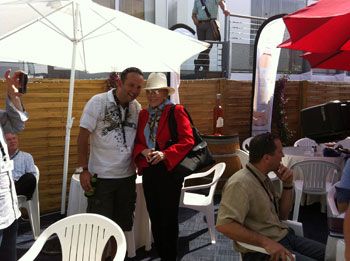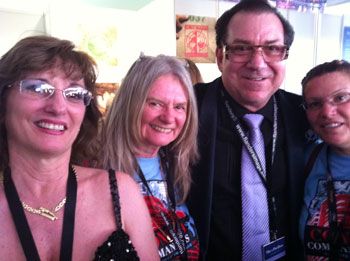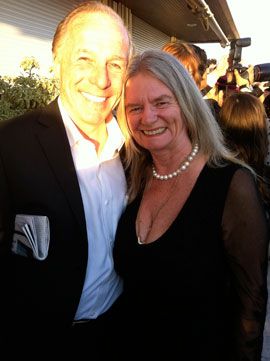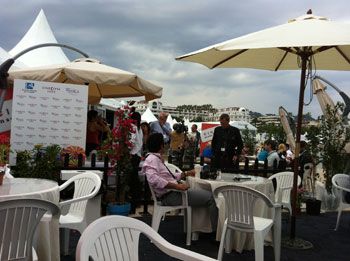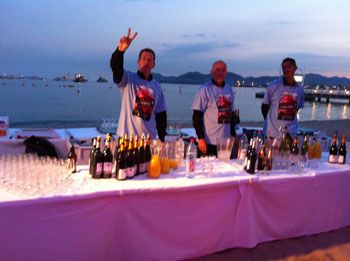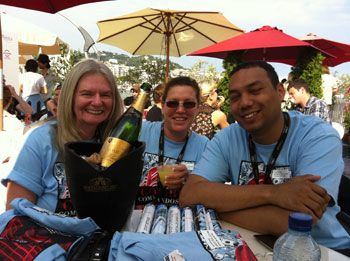 Picture Credits:

1. Faye Dunaway at the beach party, asking the photographers not to come too close! I didn't even recognize her at first.
2. Inger and I with film producer Victor and his wife whose film was in competition. His film is a documentary about his father who was an inventor that had his invention ripped off.
3. With Howard Stern's Jackie 'the Joke man' Martin who has agreed to be in our feature film
4. Partying at the Cannes Film Festival
5. Another film sunset beach party with waiters wearing our sort after T-shirts
6. With Inger Garcia (we co-directed) and producer Peter Ebanks working hard with a champagne perk. Yes, we may not have looked so glam but didn't miss out on the bottles of Champagne. Of course not our usual attire but easy to just slip on a fresh T-shirt every day and not have to think about what to wear. Since we had several hundred to give out we didn't go short.



Sunny days in London

The warmer weather is managing to lift the spirits of Londoners and tourists alike, making life a bit easier to bear with so much chaos around us. The charity functions are making more for their causes and life seems that much more fun with the sun shining.

I was delighted to have returned from the Cannes film festival in time to join my hosts Bryan and Jolanta Lincoln at the beautiful Royal Automobile Club Pall Mall on May 25th for The Dowager Lady Torphichen's annual gala dinner. The RAC is truly one of London's most magnificent private members club, it was founded in 1897 and boasts perhaps the finest swimming pool in London!
The evening was of course an elegant black tie affair, which started with guests being announced on arrival for the champagne reception, where the band of the Corps of the Royal Engineers played. Dinner was served in one of the clubs more spectacular rooms; I had the pleasure of being seated alongside the always elegant Valerie Blondeau, and Dionne and Mark Kaplan who had also just returned from Cannes. Mark was one of the "wise" investors for The Kings Speech, which of course was the surprise academy award winning film with Colin Firth. They said it was a surprise that it did so well they didn't expect it when they first invested.
We made plans to all meet up in September for the Toronto film festival.
Carriages were called for midnight but as Valerie Blondeau and I were in such good spirits we decided to pop into the always elegant Ritz Club to round the perfect evening of with a little more champagne!!!


Cannes Film Festival - Two weeks of hard work and constant parties.

My co-director sent our documentary film about condo corruption in Florida to the Cannes Film Festival. To our incredulous delight the film, called 'Condo Commandos - One Vote Away From Hell', was chosen for the short film corner. We only had a few weeks to find a hotel (everywhere was full of course) and get everything set up.

However, we actually did the impossible and found a small but convenient hotel right in the middle of the film festival only 50 yards from the main promenade. Having now been to film festivals 13 times I knew that this was better than a mansion further out as it is virtually impossible to get a taxis at night or even during the day.

We decided to promote our film with all three of us., Inger Garcia, my co-director, me, and producer Peter Ebanks, all wearing our specially designed T-shirts. So different from other festivals when all I had to do was interview celebrities, go to ridiculously expensive parties and shop. This was work. But I have to say it made life so casual and easy to just slip on a fresh T-shirt every day, and most evenings, and not have to think about what to wear. Since we had several hundred to give away we didn't go short.

There was some glamour though. We did have a few red carpet movie premieres, which was the extent of our dressing up. One of the parties we enjoyed was a wine tasting at a delightful villa by the connoisseur Charlie Arturaola who starred in the movie El Camino del Vino, a fictional documentary based on his life. His site is rather fun http://www.charliewines.com/index.html

We spent time at the elegant American Pavilion situated right on the beach where we all congregated and partied after a hard day. One of the promotional parties was promoting a marvelous documentary on how an inventor was ripped off. He created the first forwarding calls and blocking calls for ATNT but lost everything and ended up dying penniless all because of greed from the company he was loyal to. His son Walter (who we are pictured with) became the biggest jewel thief in Miami and was only caught when he started robbing in his own neighborhood. The film was about his father being ripped off and how he handled it. There was lots of emotion when the film was shown from the family present.

It was at this pavilion that Faye Dunaway slipped in for a few minutes where I got some interesting pictures. Then to the highly expensive Majestic hotel where unfortunately I had my iPad stolen by a set of professional thieves. They seem to be working the hotel and we managed to film them presumably getting ready for another scam a few nights late. We handed the film to the head of security so watch this space. However, it was like a Hollywood movie sting. It was almost worth losing the iPad to find out how these rings of professional thieves work. I feel another movie coming on...


Mmmmmm...I was in food heaven.

I wanted to take my American friend, who had flown in for my hypnosis training course, for dinner but we are both looking for healthy food and when 'natural' is advertised it is a bit suspect as this means that they cannot or do not want to get an organic license, therefore there is very little checking if any. But lo and behold a new restaurant has opened up 11-13 Soho Street called Vantra It had been recommended to me but when I looked on the website it didn't have a picture of the restaurant so I was a bit wary; I didn't want a café type place like most of the organic restaurants seem to be. So I was delighted to find it was modern and looked like a restaurant very tactfully decorated. But more to the point, everything, and I mean everything, was organic. Raw food, cooked food, wine and even cocktails were specially made.

The food was so good that my friend admitted it was the best food she had tasted in many years and she is a chef. It was even reasonably priced. You buy a selection of small portions and you can have the server choose a selection for you if you would like a bit of everything. We did just that and every dish was delicious. The young French man, Alex, that served us knew everything about the food and was extremely considerate and answered all our questions with patience and good information. You should go to eat there if you want a treat of REAL food minus the usual chemicals. I love to promote organic so I will most definitely be a regular. We ate heartily with wine for £20 for the two of us. Brilliant.

Recently the media have been reporting about the E. coli outbreak in Europe Now the Food and Drug Administration (FDA) has announced that low levels of arsenic may be in some products that contain chicken meat. Glad I don't eat it.
Where Credits Due!
I was sold a calor gas heater last December and it started to smoke and set the fire alarms off. The company refused to take it back so I contacted the Trading Standards who worked diligently and have just successfully got my money back. They were so good I thought they deserve a mention.


Tips on organic produce:

Able & Cole has a marvelous selection of organic food delivered to your door and the prices are reasonable. Lots of specials and an incredible list of all the foods you can imagine. www.abelandcole.co.uk

A website with a heart
Rebecca and her sister have a women's website boutique named Lunacy Boutique www.lunacyboutique.co.uk. Their clothes are
fair trade and eco friendly made from 100% bamboo. There shop is in Port Talbot Wales. They say "We mix up our brands to include Local designers, Up and Coming talent with the best independent labels from UK and beyond".

World's Greenest Shower Gel
100 % organic.
They explain that thousands of tones of unused and unwanted packaging go to landfill or back to a reprocessing plant every year. This is at best wasting energy on recycling or at worst sending plastic to slowly rot in the ground for the next 50 years.

At the Beauty Kitchen they have decided to rescue this 'pre-cycled' packaging, "from its earthy grave." 'By pre-cycled' which means using things that others don't want before they have even made it to consumers. One companies trash in another's treasure. www.beautykitchen.co.uk


Self-Help books and iPhone APPS

I have all my books, even with audio, selling as apps for the iPhone so just type in my name in the iTunes store and you should find around 18 to choose from ranging from 'Hypnotize your Bank Manager'. Right after the software developer designed the software (and of course having to listen to the hypnotic recording several times) he got the backing for his company to go public so it worked for him. Also available are 'Grief', 'Fear of Flying', 'Attracting the Right partner' and 'Stop Drinking' which had a good review in the iPad Apps Directory.




Eds Note: VALERIE AUSTIN is an author of six successful self-help books including SELF HYPNOSIS (Thorsons), journalist and trainer with an international reputation in the field of hypnosis. Her best-selling books and training help people achieve their full potential. She founded the Austin Corporate Stress Management Company focusing on reducing stress and anxiety amongst executives and CEO's. She is also founder of UKRAH (1992) The UK Register of Advanced Hypnotherapy. Valerie has also worked as a consultant in hypnosis at the Priory Hospital, the UK's equivalent to The Betty Ford Clinic, which specialises in food addiction and alcohol abuse. Her work in the film industry (Hollywood) interviewing movers and shakers, producing TV news segments and publishing celebrity magazines in London gave her invaluable experience for her current Harley Street practice.