Hi Everyone.

The photographer diary for April, May and June may have been short on quantity, but not on quality events to cover.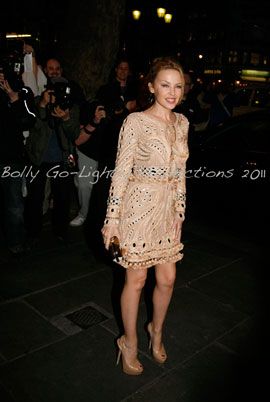 KYLIE MINOGUE ATTENDS HURLY BURLY SHOW

In my last issue I mentioned that KYLIE MINOGUE was in Londinium for her O2 gigs. Not one to put her dainty feet up and watch the TV on her night off, she ventured into the West End to check out her tour choreographer's ( WILLIAM BAKER ) Burlesque production: The Hurly Burly Show, starring MISS POLLY RAE at The Garrick in Charing Cross Road.

It's always difficult to cover these events as there is no privacy...just a London pavement. It's impossible for 20 photographers to wait for up to a couple of hours in one space and try not to draw attention to the situation. If the secret is out, all mayhem breaks out, and the chances are that the planned front "entrance" is swiftly replaced with the back door... and the photo opportunity dissolves into the ether!

These jobs become harder when the Paparazzi arrive, as they have a reputation of rushing in to get close shots ( which means we can't see anything but the backs of their heads and the broad shoulders of body guards as the star speedily topples in their impractical but beautiful stilettos to safety ).

Luckily all went fine, though brief.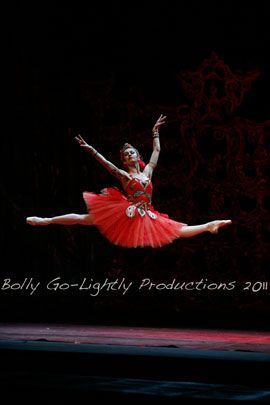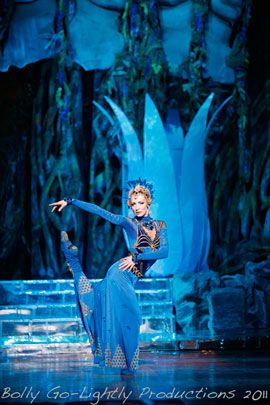 RUSSIAN BALLET - LES BALLETS DU XXIE SIECLE AT THE LONDON COLLISEUM

It' s always a pleasure to watch the best in the world perform in the capital.
When you attend a performance you are immersed in the magic and splendour of the drama: amazing ballet, larger than life costumes and sets with a swirl of orchestrated music thrown in for good measure.
But things don't always work that way at photocalls a day before the first night.

The photocall was put back 2 hours, and then was cancelled as the set was in pieces, one of the principals was stuck at Heathrow...and so on.
But in less than 24 hours, the sets were completed, full costumes and make up on, and ready to go for the opening night....except one hissy principal dancer who insisted on wearing a black leotard and no make up. He didn't care that we had been messed around once already...so he's in none of my photos as no-one wants a shot of an uninspired Blue God.

The Goddess of the Lotus: LIZA LIEPA was amazing as she gracefully slinked around the stage, oblivious to the tantrums from her partner. Like all performers, thankfully you only encounter preciousness occasionally. Another principal worth a mention was the Firebird ( ALEXANDRA TIMOFEYEVA ) who's grand jetes were sublime.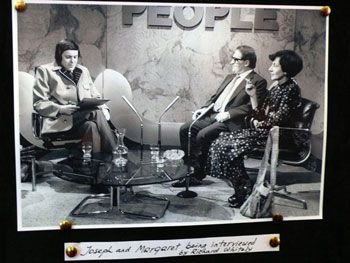 DEATH OF A FRIEND - LADY MARGARET KAGAN

April was a very sad month for me personally, with the death of a much loved family friend from my childhood onwards. Sadly, Margaret died of lung cancer aged 86, after a dignified year long personal fight, without any chemo or radiotherapy. Although it was a long day to make a return trip to Huddersfield on the train, it was the least I could do to pay my respects to such a remarkable woman. The tribute in the Town Hall was filled with personal messages and fond memories of LORD and LADY KAGAN's philanthropic activities from far and wide. Beautiful music and singing from renowned musical friends filled the tearful silences.

The burial took place in a beautiful field at Rose Hill Natural Burial Ground with LORD KAGAN'S ashes at her side. An archive photographic laced reception ended the gloriously sunny day at Cedar Court Hotel. A big helllooo to Mandy who I met and not only kindly chauffeured me back to the railway station afterwards, but taught me how to write our names in sign language. Keep in touch x.

LADY MARAGET KAGAN first came into my life when my father became a fellow Huddersfield Community Relations Officer.
She was a great mother to Michael, Daniel and Jenny and a generous friend who welcomed my family to spend a fun filled fortnight every summer with her family at their Georgian House on the banks of Ullswater. In later life, she became an honest friend and confident, who was an extremely intellectual, active and well travelled woman with a big heart.

Margaret was married to LORD KAGAN ( a very close friend of HAROLD WILSON, and multi-millionaire owner of Elland based Gannex Textiles: the makers of the iconic raincoat worn by both Harold and HRH PRINCE PHILLIP.

I always recall the houses ( their home in Fixby ) and the amazing holiday home in Pooley Bridge as being places of fun and laughter. Their New Year's Eve parties at Barkisland Hall remain unsurpassed to this day. The Kagans seamlessly catered for everyone: a barn disco for the children and teenagers, a room to play chess, another to play games and play records, one to talk politics and put the world to rights...and endless quality food and drink. The only party rule was that the 200 plus guests had to meet in the hall entrance to see in the New Year with a rendition of Auld Lang Syne with a tall dark stranger ( my father ).

These parties personify Margaret's effortless ability to make people comfortable, encourage lasting friendships and generally bring out the best in each other whilst having fun.

Her life was full of ups and downs: being a Jew living in Nazi occupied Lithuania, holed up in a factory attic in the Kaunus ghetto in which they survived for 9 months. After a whirlwind romance Margaret married Joseph and after the war they came to Yorkshire with £8 and set up the export award winning Gannex Textiles.

Their biggest downer during the time I knew them, was when Joseph fled the country when investigated by Customs and Excise and finally, after extradition from Paris, spent a year in Leeds Jail playing chess. It was a time of discovery for the family in finding who your true friends are in times of adversity. The Kagan family still hold a special place in West Yorkshire's heart for what they have survived, grafted for and given to others. Margaret, God bless you.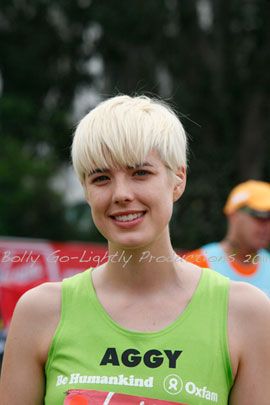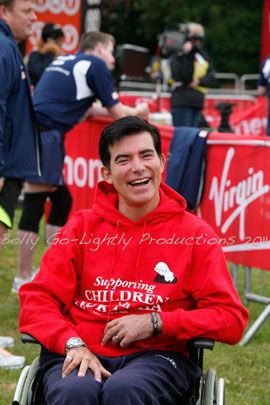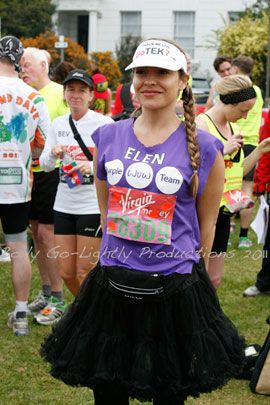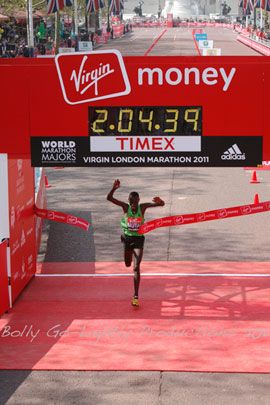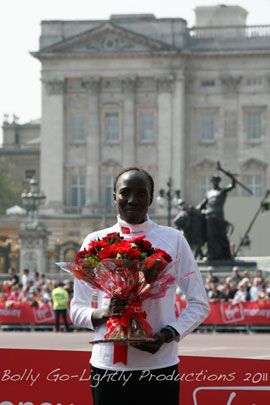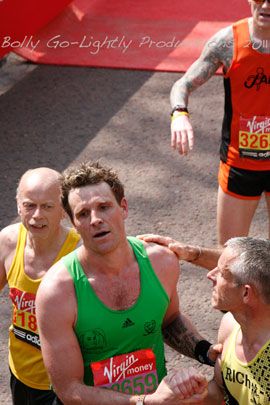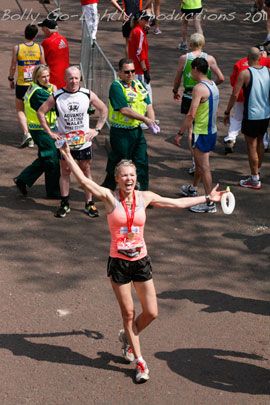 LONDON MARATHON

Talking of grafting, April was also the month of The London Marathon.

This was the first year that I have properly covered this event both at the start and finishing lines. I had been warned that it would be difficult to do this, but being always one for a challenge, I researched the logistics of having my cake and eating it.

Travelling on an early train from Charing Cross proved to be a special build up to this world renowned event. It was a privilege to talk to novice runners sitting alongside marathon medal owners, and their enthusiastic supporters ready to run alongside them.

The train turned out not to be a special and dropped us at the other end of Blackheath ( so plans out of the train window already! ). I walked to the Green Start ( celebs ) with two running supporters who had travelled up from Plymouth.

Covering the start was OK, although not amazing. My favourites were AGYNESS DEYN, WILL YOUNG, EDDIE KIDD, JAMES CRACKNELL, NELL MCANDREW AND ELLEN RIVAS in a tutu.

The celebs running into the distance was my cue to run back to the railway station with all my heavy camera gear and catch a train to Charing Cross station. From there a brief run across Trafalgar Square, and down the Mall to the finishing line.

To witness the Men's Elite time being broken by EMMANUEL MUTAI of Kenya with a time of 2 hours, 4 minutes and 39 seconds was monumental. I have never seen anyone sprint down the mile at the end of a marathon, with no competition on his heels. MARY KEITANY of Kenya was impressive in wining her event, and in so doing becoming the fourth fastest woman in the history of The London Marathon. Congrats to both JAMES CRACKNELL ( after his recent brain surgery ) and NELL McANDREW for their impressive times in the celeb race.

The Marathon encapsulates all that is great about this country: charitable deeds, camaraderie, fun and sweat and tears. I was tired just doing what I did, and needed a long bath when I got home...so hats off to all those who took part and made it to the finishing line in one piece on what turned out to be a hot day.

The Mall was adorned in gigantic Union Jacks and the media village was under construction opposite Buckingham Palace...but more about the Royal Wedding later.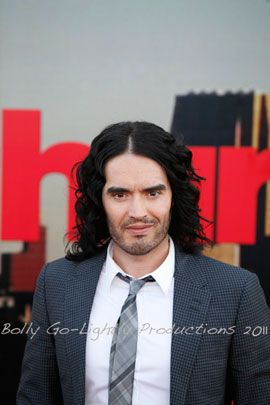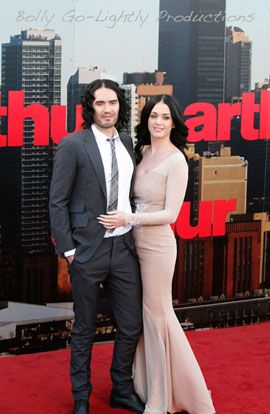 RUSSELL BRAND AND DAME HELEN MIRREN - ARTHUR PREMIERE

With the on-going major works being undertaken at Leicester Square, this was the second major premiere this year to take place at The O2.

Sadly, this film has been panned by the US critics. Whilst we waited for Russell and Co to arrive, we thought about any remakes that had successfully surpassed the original...and couldn't think of any.
The Thomas Crown Affair did OK, but personally the split screen robbery scene, sexy chess game and fab soundtrack of the original are unbeatable. Sorry Pierce.

Mr Brand is "in" at the moment. His sense of humour I have found an acquired taste. However, I was impressed by his impromptu answers during his interview with PIERS MORGAN. This humour is more up my street as it is quick, witty and observational.

DAME HELEN MIRREN, as always, looked younger than the actual. Her sense of style remains tasteful and totally contradicts the general view that older women must dress their age or they are in danger of falling into the category of mutton dressed as lamb. May the queen's perambulations along the red carpet continue to add style and fun.

RUSSELL BRAND appeared with his beautiful wife KATY PERRY on his protective arm.
They are clearly in their honeymoon period, having eyes only for each other. It is interesting to see how Russell seems to have "grown up" where Katy is concerned. Who said that a good woman can't tame their man.
Katy looked stunning.

The job was marred by the Jubilee line going down, so with some friends, I caught the boat and we edited our pictures immersed in the smell of fresh hot coffee whilst London's impressive river skyline gently washed past us.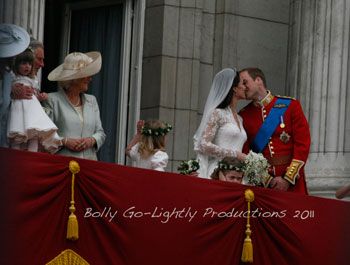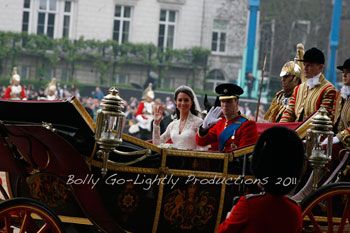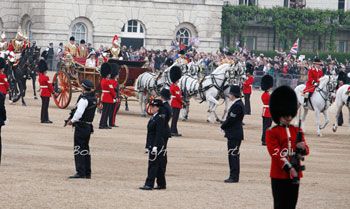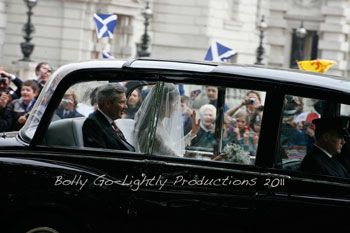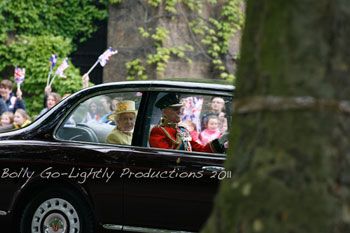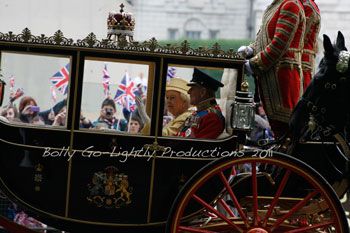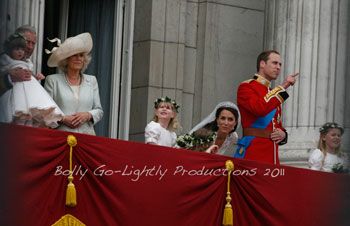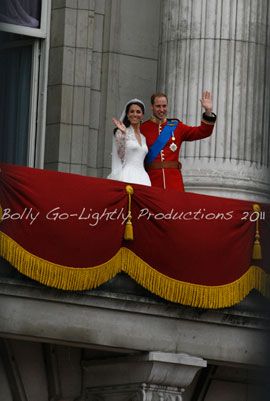 THE ROYAL WEDDING - HRH PRINCE WILLIAM AND MISS CATHERINE MIDDLETON

I don't think anyone is going to forget what they were doing on April 29th 2011. This global event was watched in 180 countries. 24 million of us watched in the UK alone at its peak. Many had street parties which involved the closure of 5,500 roads and according to Tesco they sold 120 miles of bunting which could have been wrapped around Westminster Abbey 100 times. Even the humble sausage roll played its part, with M & S alone selling 2 million of them!

But the stats don't touch the pomp and majesty of this £10 million royal wedding between the DUKE and DUCHESS OF CAMBRIDGE. Events of this magnitude always make even the greatest Royal Sceptic smile. Like all Royal activities, it was run to military precision and seamless in nature.

I was lucky enough ( maybe not lucky as we are talking about trying and failing miserably to sleep in a sleeping bag in a deck chair throughout the night under a thankfully cloudless London sky ) to get a first row position at Horse Guards Parade. My new friends made this part of the process less painful:
Brian and Tony from Bournemouth and Samantha from just outside London.

I arrived at 11.30pm on Thursday night, got my spot and then went for a walk down a buzzing Mall to the Palace and back. It was a two line campsite on both sides. One big party decked in bunting, balloons and candles. Strangers ate and talked through the night to each other underneath the flag strewn street lighting and stars.
Unsurprisingly, the noisiest area was around the Palace where many Aussies partied through the night in their Union Jack wigs and sparkly party hats.

Occasionally something would happen which would attract the attention of the mobile camera crews. I saw them swarm around some very brave(?) young men walking down the mall in nothing but Union Jack boxers. Amusingly, elderly ladies peered out of their cosy tents to catch a glimpse as they passed by in full voice.

Thankfully, Horse Guards was a bit quieter...but no sleep I am afraid when you are sat next to a tent full of Kiwis who didn't seem to draw breath during their all night conversation...and just when you thought you might catch sixty winks...the barriers are moved!

Still it was worth it to watch everyone going to and leaving the Abbey. KATE's dress was amazing. It reminded me of GRACE KELLY's. Such a shame that LEE McQUEEN was not around to see it.

It was amazing to be part of this spectacle, and so close that you really could take in the detail of the coaches, clothes and those smiles of relief and marital bliss.

Although I had a chair, a one step, sleeping bag, monopod, 400mm lens, 70-200mm lens...I decided to try and beat the crowds down the Mall to get as close to the Palace gates as possible. A logistically extremely optimistic idea when you consider that I was at the far end of St James' Park and that there were thousands of people already in the Mall!

After hitting four bottlenecks of people on my heavily laden transect through the park, I reached the lake. I could see the balcony in the distance, but this was not going to be any good for photo opportunities. So in a last ditch effort I ran around the lake, over the bridge and up the hill until I reached the roadside. The countdown was underway for the Royal wedding party opening the famous balcony doors, and I was not going to accept defeat just yet. I ran down the middle of the road, and as the road seemed to end at a barrier opposite Queen Victoria, the barrier was no more and the crowd sprint was on to reach the ornate Palace gates.
Fourth row! Amazing.

Taking out my lens and standing on my step just with a couple of minutes to spare before the two famous kisses I collected pocket cameras from those close by and took pics as a compromise for ruining their view for the big moment.

I missed the vintage car as by then I had walked with heavy legs but a light heart back to Hyde Park and popped on the tube. The meter was running on editing and sending my pictures to the agency from my kitchen table whilst the TV commentary filled me in on the beautiful service that I had heard, but never saw.

Work done, time for a long soak and a cuddle with the warm and fluffy cat.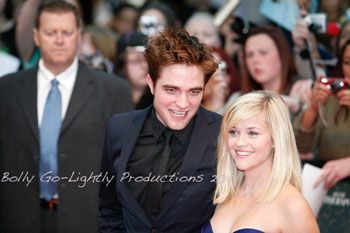 WATER FOR ELEPHANTS

I was shocked to hear that fans had camped out in Westfield since breakfast time to see the dishiest British exported vampire!
This is one of the times when I appreciate rolling up at 5pm for a pen position.
You would think that ROBERT PATTINSON would be used to screaming adoring fans by now...but he continues to blush and look embarrassed, and that was just when he was posing up in front of us!

I guess that he is either shy ( which is unusual for a movie star ), or he just finds it all a bit too much....or both. In a way it makes him more attractive to women as those that don't fancy him will probably want to mother him. Either way, friends have told me that they found the film depressing as it has a very sad ending...so take some tissues with you to the cinema.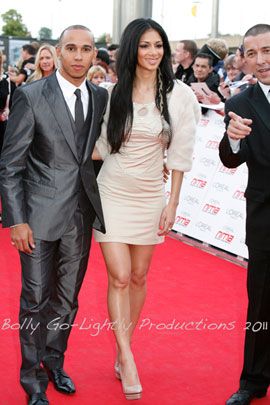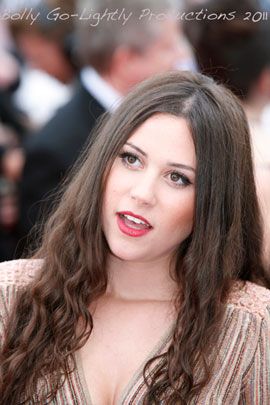 NATIONAL MOVIE AWARDS

Just days before the FA Cup final this big event took place a hair's breath away. This is normally a big event with many A listers strolling down the red carpet. Sadly, this year both TAKE THAT and GWYNETH PALTROW decided to sneak in the back door. They didn't even pose up inside Wembley Arena either.

Still, it was good to see LEWIS HAMILTON with NICOLE SCHERZINGER on his arm, BONNIE WRIGHT and ELIZA DOOLITTLE.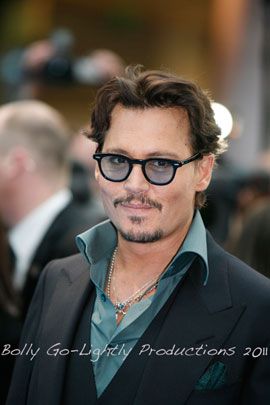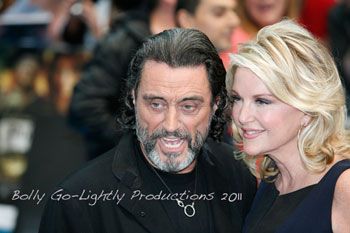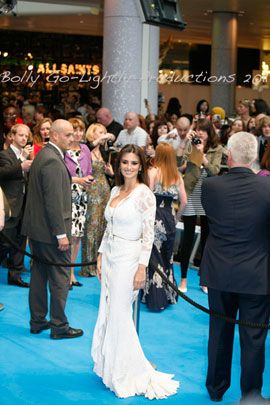 PIRATES OF THE CARIBBEAN - ON STRANGER TIDES

I am unsure how long the female population of London waited at Westfield to get a prime position for this one, but I would not be surprised if it was at least 48 hours. After all, who can resist the chance of having their photo taken with the ultimate Mr Cool: JOHNNY DEPP.

On anyone else, his attire looks awful, but anything that touches his body becomes essentially a "must have". I don't know how he does it.

What I do know is that he a talented actor of chamelion proportion. His characters are larger than life, mesmorising and memorable. Captain Jack Sparrow encapsulates this to a tee. One of the most loveable baddies in celluloid history whose shadow will remain at the top of Mr Depp's CV no doubt for a long time to come.

I have loved watching all of the Pirate films and relish booking my seat at The Electric Cinema at the bottom of Portobello Road for a night of swashbuckling entertainment.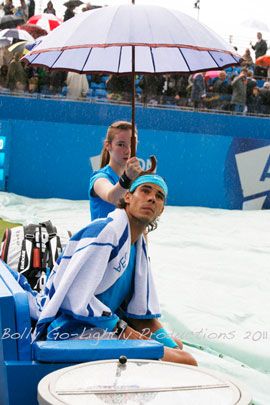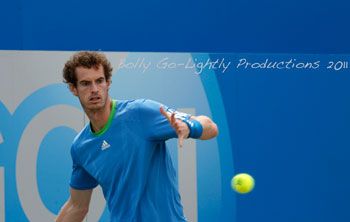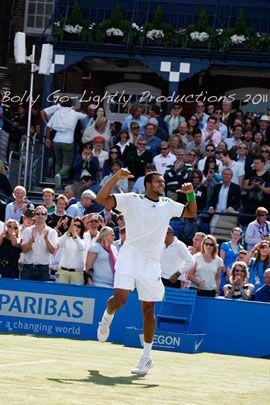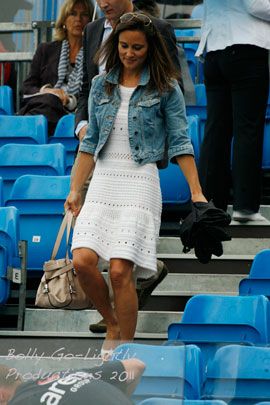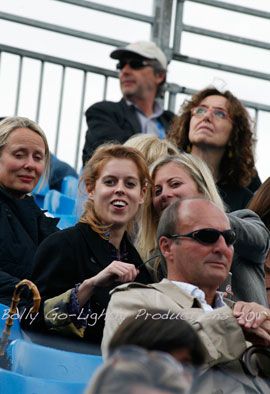 THE AEGON CHAMPIONSHIPS, QUEENS CLUB

I love this tournament. After Roland Garros there is no let up in the build up to our own unique Grand Slam at SW19. If you have never been, I strongly recommend that you venture down to Barons Court to catch the first annual grass tournament in the men's tour. Unlike Wimbledon, this is intimate, easy to navigate from practice courts where you can get close to the "off court graft", to the superior show court overlooked by the quintessentially English club house.

Wimbledon could learn a lesson or two on how to provide superb catering for the masses, as well as amazing silver service to those lucky enough to savour the experience of hospitality. Staff are friendly and helpful...and in most cases, have been doing this for years.

The players are the best in the world, with one exception: no ROGER FEDERER who goes to Halle. This year there have been two notable absentees from grass play after The French Open: ROGER and NOVAK ( who was due to play here ). RAFAEL looked tired by Friday and sadly lost to JO-WILFRED TSONGA. Our own JAMES WARD has been impressive, taking out both WARWINKA and SAM QUERREY ( reigning champion ).

The rain has sadly played a part in this week's event, reminding us that in May it was unusually generous to us all. Even attending celebs suffered the downpours: PIPPA MIDDLETON looked good even under a brolly, and PRINCESS BEATRICE couldn't resist a hot cup of coffee to take the chill off things.

Luckily the schedulers have worked hard to keep everything on track. Modern technology means that the final will be held at midday tomorrow to avoid the rain due at 2pm!

So it's high noon for the show down between ANDY MURRAY and JO-WILFRED TSONGA. My money's on Andy to win it again after his sublime play today. It was textbook tennis with no mistakes, which demolished ANDY RODDICK's chances with effortless ease.

Having said this, I do think it will be a different story at the end of June. Grand slams seem to bring out the best in the big four. Maybe we are in for a repeat of the 2008 final that I certainly will never forget.

My next issue will have something for you on the ladies game, as I will be venturing down to Eastbourne to see the WILLIAMS sisters. .Until then, have a fab couple of months.

All my love Bolly xx





Bolly Go-Lightly
Go-Lightly Productions
Press Photography
London
bollygolightly@gmail.com