James Knight is a human behaviour expert who brings years of successful selling and management experience, along with professional training to the seminar and speaking circuit. James has published Hot Gossip magazine since 1995 http://james-knight.co.uk

During our lives more changes have occurred, more progress has been made that any previous millennium in the development of humankind. It is almost impossible to select the most important idea in recent years. What would you choose? The jet engine, atomic energy, new metals, synthetic fabrics, rockets, satellites, television, plastics, antibiotics, computers, self image psychology, the Internet, mass communications, abstract art, automation, fast food, DNA, digital technology, the list goes on and on.

No one can say for sure, what changes will come in the next five or 10 years, but they will come, and they will be amazing. These changes will start with someone having an idea, on how they can make things better.




................................................................................




Ecademy is a great idea, a business and social networking club that gives people around the world an opportunity to meet one another.

In today's virtual world, with all the emphasis on technical skills, it sometimes easy to forget the most important skills of all the People Skills. When I do my seminars, I ask people," Has this ever happened to you, where you met someone and you were so comfortable, after just a couple of minutes that it seemed like you've known this person for years?" The hands go up. Then I ask another question," Has this ever happened to you, where you met someone and no matter how long you knew them, and how hard you tried, you just couldn't get along with that person?" And again the hands go up! My Potential Unlimited Seminars teach people how to create the chemistry in the first instance, with every person that you meet.

Whereas, I have been working with the senior management and sales staff of corporations over the last several years, I am now starting to offer my seminars to individuals. This is very exciting, and I'm really looking forward to getting the opportunity.
For more information, on the dates, times and locations, click here
http://potential-unlimited.com

Getting back to the first question, where you meet people, and you feel so comfortable. It's like you've known them for years, it's because you share the same behavioural style. You look at and filter the world through the same eyes. When you meet someone that you like instantly, it is because they are just like you! I had a great idea, to use this knowledge, to bring people closer on the Internet.

I have started 4 Clubs

Meet Cool Competitive High Reds


Meet Fun Loving High Yellows
Meet Other Amiable High Blues
Meet Other Analytical High Greens


To qualify as a member of the Club all that is necessary, is to take a couple minutes out, to answer the questions, of a behavioural survey. This is a fast, fun, simple and effective way, to gain greater understanding of yourself and others. Once you have identified, your dominant pattern of behaviour, you are allowed entrée into the appropriate club, to meet like-minded people from all over the world.

The clubs are hosted on Ecademy and there are over 200 members from over 28 countries. Why not join today?




................................................................................




Want to know more??

Attend James Knight's Potential Unlimited Seminar
Date: Saturday 27th September
Jury's Hotel, London
Time: 9:00 AM - 1:00 PM
Enrollment fee: £129.00

For more information and to register http://potential-unlimited.com

Bridge the gap between where you are and where you want to be.
What you are and what you wish to be.





........................................................................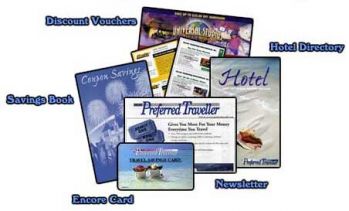 For those traveling to the US, an Encore Hotel discount card is a great idea! Encore is a travel club, with over a million members in the US. The annual subscription fee of $59, proximately £30, members are given up to a 50% discount at hotels throughout the United States.
Check it out. http://virtual-encore.com


........................................................................




For Great Property Investment Ideas

Check out the Property Abroad column in this issue of Hot Gossip


Here's a Great Idea to Help You Connect with Others!

I have developed a personality profiling system that is fast, fun, simple, and inexpensive that leads to a greater understanding of yourself and others, increases self confidence and "the likeability factor."

Having worked with thousands of people in companies throughout the UK we will begin are offering a special introductory sessions open to the public in London beginning in May at the Jury's hotel in South Kensington.

Every day people give you the keys to what makes them tick through their facial expressions, body movements, voice tones and words that they use.

After just one session each participant will learn how to create instant rapport and develop skills that will change his/her for the better.

For more information check out http://potential–unlimited.com

Become the Person You Are Capable of Being. Erase and replace those habits that continually hold you back from being successful through my Positive Self Programming CD's? http://potential-unlimited.com/mypotential.html

James Knight is founder and director of international property sales, marketing and property development company Knight International.

Publisher of Hot Gossip Magazine and Virtual Tower of London. http://tower-of-london.com

James is a member of the Professional Speakers Association. For more information about programs available for your group or organization please go to http://james-knight.co.uk.