CELEBRITY FASHION, FITNESS AND BEAUTY / SEPTEMBER 2005.
Thank you for your letters about JEAN-CHRISTOPHE NOVELLI, laydeez! As
mentioned in my August column, "JC" is indeed charming as well as stunning and a
brilliant chef to boot. Now here, as requested, is a pic of The Smouldering
One for your delectation.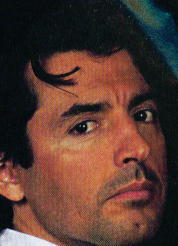 JEAN-CHRISTOPHE NOVELLI.



Thank you also for your letters about facials and the exciting new CARAT
range of products (stockists: HARRODS et al) which I reckon are definitely 18 carat. Facials should be a fact of life for females who (usually!) wear more make up than the males of the species. Ideally you should have one monthly, if not weekly if your skin is particularly difficult, you wear a lot of make up or live in a big, dirty city like London.
JADE and I recently had excellent facials with a wonderful beauty
therapist called JOANNE EVANS who works out of THE SOMA CENTRE in Kensington and PEACH ON THE HILL (140, Campden Hill Road, W8 7AS / 020 7221 9464) in Notting Hill. JOANNE gave JADE The Facial, a wonderful deep cleansing treatment which is ideal for adolescent skin. She steamed, massaged, extracted and masked JADE's young skin until it was as clean as a whistle and considerably more glowing. I had the ENVIRON Anti Ageing Facial with Intense Pulsed Light, one of lovely JOANNE' s specialities at both her salons, which included the application of Vitamin A, anti oxidants and Beta Carotene. I have to say my dry summer skin felt really soft and nourished after the ENVIRON treatment and the effect lasted for the whole month (time to go again now.) JOANNE has superb hands and both JADE and I had a nice zizz during the wonderfully relaxing treatments. The IPL is completely painless and even the dreaded zit squeezing was quite comfortable with such an experienced therapist. PEACH ON THE HILL is a delightful family owned and run salon where you can have all the usual face and body treatments with JOANNE, including the removal of veins, moles and pigmentation and the popular new treatment, Photo Rejuvenation which will make you look young and fresh. The hair salon at PEACH ON THE HILL is run by the dynamic NAHREN SILVA, a highly skilled cutter, stylist and hair colourist. NAHREN is every bit as talented in her field as JOANNE is in hers and it is always nice to get your barnet attended to after a facial. NAHREN is a huge star in her native Lebanon where she looks after the heads of most of the top TV presenters and she spends her time zipping between London and Beirut keeping all her customers satisfied. NAHREN cut and blew dry JADE's
long blonde mane in record time, restyling it with feathering and making it look exceptionally sleek and glossy, ready for the hols. The atmosphere in the salon is really cosy and you can park right outside - a big deal in Central London! NAHREN specialises in colouring, with a huge clientele of celebs including one of our fave HGUK cover girls, TV actress and presenter RANI SINGH . Here's lovely RANI sporting a gorg PEACH ON THE HILL style and colour to die for.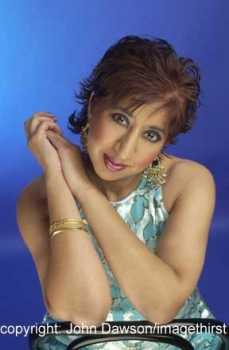 RANI SINGH.



By the way RANI recently visited INIGA, a fave restaurant of HGUK's
esteemed Ed in Chief GEORGINA and myself. Lovely RANI took her 2 handsome young sons JAIRAJ and SUKRAJ and this is what entertainments writer SUKRAJ had to say about INIGA (2a, Pond Place, SW3 / 020 7589 6589);
This chic restaurant located in the heart of Chelsea caters to the needs of all those looking for good food, a relaxing yet vibrant atmosphere and great cocktails. You enter from street level and go down into the reception/bar area, and are immediately hit by the colourful and jazzy décor. The staff led by enthusiastic Manager Vito Seidita are warm and welcoming, and provide you with a sumptuous menu. The starters of Beef Carpaccio and Grilled Vegetables are delicious, while the unusual Endive, pear and gorgonzola salad is exquisite. For the main course, I cannot recommend the Char-grilled Fillet of Beef highly enough, as the chef manages to squeeze every bit of juice and flavour into your dish- amazing! Likewise, the side orders to accompany your main meal are full of flavour yet not too filling or fattening. I was not short of dessert options too. The Vanilla Pannacotta is so succulent and soft, yet, again, doesn't leave you with that uncomfortable bloated feeling. If you're in the mood for some cocktails, there is a huge array of drinks for your selection, and the bar staff are even willing to make a drink of your choice that isn't on the menu- including a Strawberry Daquiri and a Caipi-morango from Brazil. My family and I were really impressed by the food, the intimate atmosphere, and the alert, friendly, staff. INIGA is now our favourite restaurant!
Getting back to facials and the state of our skin (as one does), if you
cannot get to a salon regularly all is not lost. DR DENESE, that marvellous
American company who has brought us so many excellent and unusual products has just brought out the most amazing home peel which you can use by yourself on yourself "in the comfort of your own home". The DR DENESE AHA / BHA Peel with Vitamin C and Retinol is a 2 Step Facial Firming Peel which is very easy to use according to our enthusiastic guinea pig CLAIRE. CLAIRE used the peel once a week, as directed, for a month and reports that her skin now looks and feels as smooth as a baby's bottom! This DR DENESE peel, known as the "fizzing" peel, is particularly recommended for lined and wrinkled skin and is available from 01295 724 583 or:www.drdenese.co.uk

Whether you use a facial peel or not, it is important to exfoliate your
face and body regularly, especially if you wear fake tan. ORANGEBURST's new
unisex Skinfood range includes a wonderful Exfoliating Scrub which will keep your skin soft and fresh, not to mention removing fake tanning products easily. I use this particular exfoliator myself before zipping off for my weekly spray tan at THE TANNING SHOP in Kensington (020 7938 1932.) All of ORANGEBURST's Skinfood products are excellent and can be ordered from 01273 558 112 or:www.lemonburst.net
If you want to look slimmer and more toned for the rest of the summer
(which often goes on until the end of September, does it not?) try MEDI-LIFT, DR DENESE's fab new non- invasive treatment which contours the body and face through multi frequency electric vibrations. Each treatment tightens, tones, firms and reduces size on a combination of 5 body areas at once. A miracle treatment or what? MEDI-LIFT was recently trialled by the DAILY MAIL with great success and our HGUK guinea pig, BILGI was overjoyed with her results. Game BILGI had 12 sessions with MEDI-LIFT therapist UMAY and says " I had the pads on my tum, bum and thighs. It was not painful and I was able to go to sleep during the session. I lost half a stone and my skin has become much firmer. My dreadful cellulite disappeared drastically and my tummy got much smaller and firmer. I was very pleased with the outcome." So now we know. I have to admit BILGI, my tennis partner, is looking extremely svelte on the court these days and is now sporting teeny weeny shorts: good on you, girl! MEDI-LIFT is available at THE WIMPOLE AESTHETIC CENTRE (020 7224 2247 / www.wimpoleaesthetics.com)
Talking of teeny weeny shorts, JADE's and my recent trip to Marbella to
stay with my gorg pal DENISE HEWITT and her lovely daughters CHANTELLE and CHLOE was great fun. As I told you last month, we flew with IBERIA which is a really efficient airline that I highly recommend. IBERIA take off on time, land ahead of time, do not lose your luggage and generally make the whole flying experience so much more pleasurable. Plus their staff are highly organised and dynamic. Great stuff!
Marbella is still a world class holiday destination with some of the best clubs and restaurants in the Med. Anything goes there, fashion wise and I was even able to get away with my transparent white trousers at the heaving OLIVIA V. club. The big titfer news on the Costa Mucha this summer is CROCODILE DUNDEE straw hats which look great on all hair lengths. Here is frisky crimper RICARDO of THE SALON fame sporting one, along with a girl under each arm (an essential accessory in Marbella: in this case the ladies are glamour girls JODIE MARSH and DENISE HEWITT.)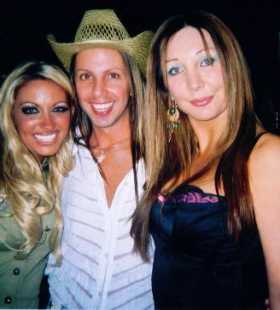 RICARDO with JODIE MARSH and DENISE HEWITT.


Did you know HGUK has its very own statuette? Well, we do: HOT GOSSIP was sculpted by delightful Royal Acadamician RONALD CAMERON, NDD and here she is, just lounging around on the blower in her WOLFORD hold ups: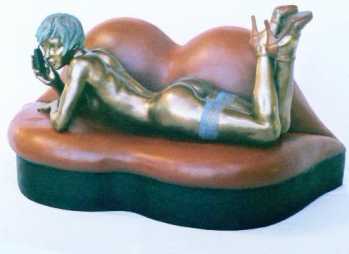 HOT GOSSIP sculpture by RONALD CAMERON.


If you fancy getting yourself immortalised in bronze you can contact the
highly talented RONALD at: dot_cameron@tiscali.co.uk

Finally if you are thinking of buying a new car, you could try the new
FORD FOCUS. My "adoptive daughter" KAT (19) has one, called "Feisty, the Ford Focus" (yes, she is just as alliterative as moi!) and she is delighted with it. What's more, FORD have got together with some of our top UK designers to launch the new FOCUS with various bespoke design pieces which will be auctioned for BREAKTHROUGH BREAST CANCER, a truly worthy cause. The designers include BEN DE LISI, LULU GUINNESS and LAWRENCE LLEWELLYN-BOWEN who have all come up with some whizzy designs to complement the new FOCUS. The suave LAWRENC L-B, for instance, has designed an amazing Trafalgar chair with sabre legs and a Union Jack pattern. Here is MR LLEWELLYN-BOWEN himself lounging around (like HOT GOSSIP, THE SCULPTURE) with ........what else? A FORD FOCUS and his bespoke Trafalgar Union Jack chair.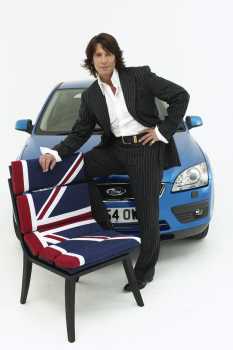 LAWRENCE LLEWELLYN-BOWEN with a FORD FOCUS.



Thank you for reading my page. Do check out my personal website at:
www.sallyfarmiloe.co.uk
and don't forget to buy my LOO TIME vid for your little nippers (or whomever!)

LOO TIME VIDEO available from:

farminghamprods@aol.com and:

http://www.121music.com/pages/video_01/home.html