Its that time of the year again my faithful readers and time for the V Festival at Hylands Park, in er Chelmsford of all places. The V festival which is about the biggest of all the music festivals celebrated their 10th year. Bands present and correct included; OASIS, KAISER CHIEFS, JOSS STONE, THE PRODIGY, THE BRAVERY, MAROON 5, THE STREETS, JET, MAGIC NUMBERS, NATASHA BEDDINGFIELD, DOVES, GOOD CHARLOTTE, CHEMICAL BROTHERS, TEXAS, ROBERT PLANT, ROOSTER, IDLEWILD, FRANZ FERDINAND, SCISSOR SISTERS, THE HIVES and loads more. As always a sprinkling of celebs come along to get in the festival mood and depending on their celeb status, hoping to get photographed to help raise their profile a bit, and of course to get hammered with free booze. They included; TAMZIN OUTHWAITE, MICKEY ROURKE, as always the very naughty ABI TITMUSS, RHYS IFANS, TARA REID, CHARLOTTE CHURCH with her beau GAVIN HANSON, GIRLS ALOUD, Big Brother's SASKIA and MAKOSI, MYLEENE KLASS, JADE GOODY, LEAH WOOD et al. Needless to say I overindulged slightly on the free drinks -it'd be rude to say no and to be honest I can't remember the last time I didn't drink when I was working- as did my colleagues and just about everyone else. ABI TITMUSS was constantly pestered by fans for pictures and she kept darting from the Virgin radio tent to the Virgin mobile tent where the great unwashed could not follow her as you had to be on the 'list'. However, she loved it. She was beaming with smiles and gave the fans lots of time. Not bad for a randy nurse whose claim to fame is to be very sexually active and likes to do it in every way. Mmmh. Cool. MICKEY ROURKE on the other hand, what did he look like!!!! He looks like a relative of the monster from the black lagoon but less attractive. Wearing a bandanna and of course carrying a small dog. Yes, a little dog, going to a rock festival with a tiny ickle dog. What's up with the guy? At least he managed to go with a nice looking girl. There is hope for EVERYONE people!


Mickey Rourke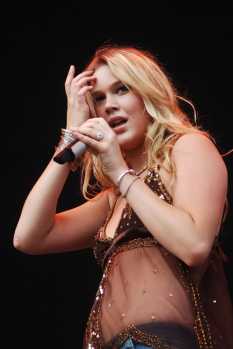 Joss Stone




Of the film premieres this month, the most eye catching was The Dukes Of Hazzard held in Vue, Leicester Square, London. The premiere of this re-make -yes another one- of the popular hit TV series -1979 to 1985- directed by Jay Chandrasekhar, and written by Jonathan Davies with John O'Brien was very lively as it was graced by the presence of the real star of the show GENERAL LEE.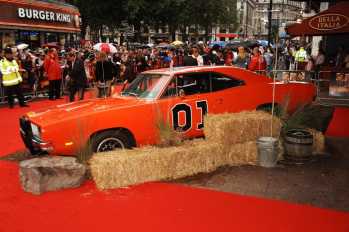 General Lee



Its the CAR people. It drove into Leicester Square tooting its trademark horn, now very popular in Essex I hear.
The rest of the cast was of course the lucious JESSICA SIMPSON, JOHNNY KNOXVILLE and SEANN WILLIAM SCOTT, supported by BURT REYNOLDS and WILLIE NELSON.


Jessica Simpson



Guests included; Big Brother's MAKOSI -yet again- ISABELLA HERVEY, JODIE MARSH, JORDAN and PETER ANDRE, glamour lovelies and my very good friend GERRI BYRNE with LEILANI and others I don't care about. When MAKOSI posed for pics with GENERAL LEE she tried to sit on the bonnet of the car to the horror of the gathered media and the car's owner as she has an enormous butt. Had she not been stopped I fear the General would've been squashed akin to a Rhino treading on a grape. She looked very colourful in bright yellow dress. JESSICA SIMPSON looked good enough to eat -as she always does- but once again JORDAN -AKA Katie Price- undeterred by the rain, stole the show by walking up the red carpet in knickers! Whatever it takes.........But good fun for us as it means we sell pics much quicker.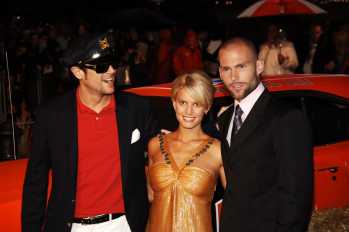 Cast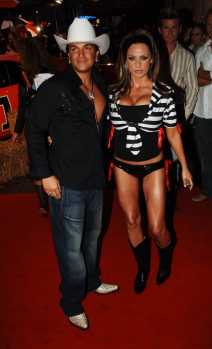 Jordan and Peter Andre






Well dear readers that's it for this month but please, please don't despair as next month you'll have a full report and goss from the Venice Film Festival. See what I do for YOU! Keep the emails coming as it has been quite amusing. And no, I don't hate fat people. I just think they should eat a lot LESS.

Over and out. See ya next month.


JOE ALVAREZ
joealvarez@vercool.co.uk

Copyright Joe Alvarez 2005
All pics Copyright Joe Alvarez