What a treat to have GEORGE CLOONEY on our cover this month! Congrats to Gorgeous George on being an HGUK Cover Boy and to our wonderful Celebrity Editor JOE ALVAREZ for providing the image.

Autumn is here and the summer hols are now sadly long gone. If you found the perfect vacation spot this year, 'book up early (for next year) to avoid disappointment"! I am serious: the top resorts get booked up months in advance these days. My family and I have just returned from the world famous FORTE VILLAGE, by far the best all round resort complex in Europe which gets booked up a whole year ahead! The FV is situated in the south of beautiful Sardinia and is just stunning with something for all ages, from babies to grandparents. The 5 star resort actually comprises 7 separate hotels in various styles, including normal hotel rooms with terraces and bungalows with gardens. Set in a tropical paradise the complex boasts 3 swimming pools, a golf driving range, a magnificent tennis complex, approximately 10 restaurants and bars, an outdoor cabaret 'room" and countless shops with plenty of GUCCI and CARTIER (now I am sounding like an estate agent but I was truly impressed with the FV.) JEREMY and I were able to play tennis twice a day, swim, sail, scuba dive and even join in the aqua aerobics while the teenagers were out every evening at somewhere within the resort called 'Leisureland" where they could visit the disco, go - kart, bowl and whatever else teenagers do, safely without us having to worry about them. We met all sorts of charming peeps at the resort and it was awash with celebs including the pulchritudinous GABY ROSLYN and her lovely daughter. Truly the perfect hols: check out the FORTE VILLAGE at www.lemeridien.com (although the FV still has a 'Lord Forte Street" to remind holiday makers of its dynamic founder, it is now owned by the prestigious French group, MERIDIEN, current proprietors of London's famous GROSVENOR HOUSE where 'may husband and Ay", as our dear QUEEN would say, had our fantastic wedding reception, as featured in HELLO! magazine!)

'May husband and Ay" returned from Sardinia extremely toned and sylph like after our sporting sojourn at the FORTE VILLAGE, in spite of eating like pigs and guzzling loads of the complimentary Italian vino! However if you are not so keen on exercise yourselves, dear readers, slim down and tone up with the amazing MEDI-LIFT procedure at WIMPOLE AESTHETIC CENTRE (020 7224 2247). I reviewed this treatment last month after our 'guinea pig" BILGI's success with it and am delighted to report that BILGI is still keeping the weight and cellulite off and feeling great in her size 10s! (Go to HGUK 'Back Copies" for the full report.) BTW celeb fans of the MEDI-LIFT include LISA SNOWDON and MARIELLA FROSTRUP who are also both looking great these days.

On a serious medical note, if you or a friend or relation has been unlucky enough to suffer from breast cancer and had a partial or total mastectomy, you can now have a complete breast reconstruction. Not only can patients have prostheses implanted by cosmetic surgeons ('boob jobs") to regain the lost flesh, but they can now also have nipple and areola reconstruction with the UK's leading semi-permanent makeup artiste, DEBRA ROBSON-LAWRENCE 0845 230 2021 www.permanent-makeup.com DEBRA's 'micropigmentation" technique is absolutely brilliant and looks completely natural so that a woman can regain her confidence after the trauma of the illness and operation(s). Many top surgeons now refer their mastectomy patients to DEBRA, who generously donates 10% of her fees for her nipple and areola reconstruction work to BREAST CANCER CARE www.breastcancercare.org.uk the leading charity for this kind of cancer. Ladies who have beaten breast cancer are truly inspirational, for instance the stunning GREEN GODDESS herself, DIANA MORAN and here she is, snapped with moi at a recent jolly.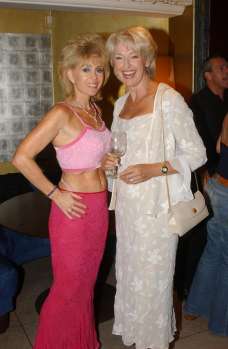 SFN with DIANA MORAN



DEBRA ROBSON-LAWRENCE can 'semi permanently make up" the face as well as the body, both for reconstructive and aesthetic purposes. If you fancy having your lips or eyes outlined or your eyebrows filled in, DEBRA is the one to do it. Her work is extraordinarily natural looking, especially as she mixes her colours to suit you personally. You will need just 2 sessions to attain perfect definition of your mouth and eyes so that you will always look stunning without a scrap of normal makeup. I am just between sessions at the moment myself and will give you my full report next month when I unveil my new, improved DRL lip line!
If, however, you prefer the frankly fake look for the lips, go the PAMELA ANDERSON route with the brown lip liner (LANCOME do a fab soft pencil) and natural lip gloss (all the make up houses do good ones.) Now, just to remind us – especially you, boys – heeeeeeeeeeeere's PAMMY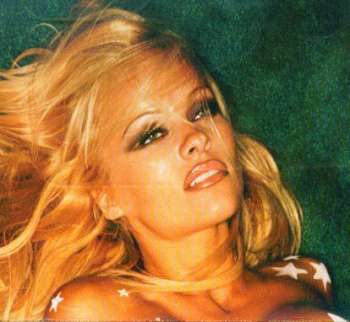 PAMELA ANDERSON



Next month I will be reviewing the sexy MS. ANDERSON's latest book, 'STAR STRUCK" so hold your breath everybody.

I am also currently reading publicity guru MAX CLIFFORD's autobiography, 'READ ALL ABOUT IT" which is absolutely fascinating so I will have a review on that one for you too. Talking of the wonderful MAX, he was kind enough to give me a glowing tribute for MY new book, 'SENSUAL PLEASURES AND THE ART OF MORPHING INTO A HEALTH GODDESS" (catchy little title, what?) along with the equally divine NICKY CLARKE. Our esteemed Ed In Chief GEORGINA will be reviewing my book, which is 'The Ultimate Health And Beauty Directory" (NICKY's quote), to be published by THE BOOK GUILD and DELANCEY PRESS on November 24th, next month. In the meantime scroll down to the bottom of this page to see how YOU can get YOUR advance copy of 'SENSUAL PLEASURES".

And now 'here's a review I prepared earlier"! If you are a horsey gal or guy (or just like anything to do with geegees, betting on them or otherwise) 'WHAT NOT TO WEAR ON A HORSE" by GINNY OAKLEY AND STEPHANIE SOSKIN (Kenilworth Press, £14.95 www.kenilworthpress.co.uk is the book for you. Even if you don't know one end of a horse from the other and only ever see them in pantos this book is terrific fun and makes a great present for Christmas, birthdays or whatevers. The horsey lady authors both have great senses of humour and the book is frankly hilarious, as well as being extremely practical for actual riders. With top tips on what pants to wear under what breeches (or 'horsey trousers" as my JADE calls them when she dons them for her polo lessons), contraception whilst 'horseback riding", what make up to wear if you are a lap dancing rider, 'does my bum look big in these joddhies?" and so on, who could resist this book. A galloping (geddit?)good read.

A little apology is due, I believe, to the charming SUKHRAJ SINGH, who reviewed GEORGINA's and my fave Chelsea restaurant, INIGA (2a Pond Place, SW3. Tel 020 7589 6589) last month. I am so sorry, SUKHRAJ, I spelt your name wrong when crediting you for the review last month and missed out your 'H". Please forgive me, South Asian name spelling is not my particular area of expertise! And whilst on the subject of INIGA, I have to say their 'Linguini with giant prawns in garlic and chilli sauce" is quite the best I have ever eaten. I will now be down there every night pigging out on this fantastic dish: do join me! (Whichever smart DESPERATE HOUSEWIVES / HERBAL ESSENCES copy writer dreamed up the line 'Sally only does it after eating something sweet" was way off with this Sally: give me garlic every time – sorry, boys!)


Sadly crime is on the increase in this country and peeps are always getting burgled, mugged or attacked everywhere we look. Some criminals are extremely violent and much loved comedian BRUCE FORSYTH and his beautiful wife WILNELIA were lucky to be out when their poor housekeeper was savagely attacked during a burglary last year.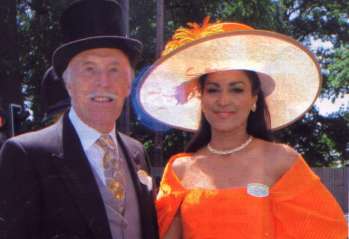 BRUCE AND WILNELIA FORSYTH



Do protect your homes with locks, bolts, chains and burglar alarms and, more importantly, protect yourselves. HOT GOSSIP UK's wonderful crime prevention expert, JACQUIELINE DAVIS, the world's foremost female bodyguard, knows everything there is to know about protecting one's body and possessions. JACQUIELINE's signature mottoes are: 'Stay safe! Don't be a victim! Learn a lifestyle!"

Lovely JACQUIE was recently kind enough to come over and give JADE and 2 young girlfriends a quick 'Stay Safe" course, teaching them how NOT to become a victim of theft or paedopholia, how to protect themselves from attack even when weapons are involved, and all the low- down on date rape drugs, drinks protection, pepper spray and so on. If you are a young girl or boy or the parent of one, these lessons in life are invaluable, especially if you or your children have to walk any distance or travel on public transport by your/themselves, especially in a big city like London. Take a look at JACQUIE's fascinating website: www.femalebodyguard.com and check out her great page on HGUK. In the meantime this is the lady herself.



JACQUIELINE DAVIS



Thank you for your continuing letters about facials. Yes, it is important to have regular facials whenever you can, but equally crucial to keep up the good work in between. For instance since I had my Anti-ageing ENVIRON Facial withtop beuty therapist JOANNE EVANS at PEACH ON THE HILL last month (divine: I fell asleep under JOANNE's magic hands and thank goodness she doesn't witter on like some beauticians!) I have been using all the wonderful ENVIRON products, particularly the Rich Proactive Night Cream and Debut Moisturiser to keep my skin in tip top condition. And since having my sooper-dooper CARAT Caviar Facial at the chic SOHO HOTEL the previous month I have religiously taken the amazing new CARAT skin care supplements, particularly the Collastin, to nourish my skin from the inside as well as the outside. You cannot be too careful with your skin, ladies, and the older you get the more you have to maintain it. I am pleased to see that nowadays lots of guys look after their faces too and have regular facials; after all they may not wear make up but shaving and the environment still take their toll even on tougher, male skin.

Getting back to JOANNE and the ENVIRON facials; I was very impressed with her PEACH ON THE HILL (020 7221 9464) salon, a little gem in trendy Notting Hill. As I told you last month, PEACH ON THE HILL is a delightful family salon run by dynamic NAHREN YALDA and her sister in law KAREN ISMAIL and they give great hair as well as beauty. JADE's haircut and restyle with NAHREN, assisted by enthusiastic junior SILVA, has lasted really well and she is currently Queen of the Scene at her trendy new co-ed school. Another HGUK cover girl who favours POTH for her hair do's is, of course, RANI SINGH, mum of the delightful, and previously misspelled, restaurant critic extraordinaire, SUKHRAJ SINGH.

If your skin is in a seriously bad state and you have no chance of getting to the beauty 'saloon", try DR DENESE's ultimate First Aid Kit for lifeless skin, the aptly named Bring Skin Back to Life Kit. This scientifically developed kit comprises a 3 step skin care system designed to jump-start skin back to life, stimulating the cellular turnover and re-hydrating tired, lifeless, sun-damaged skin: just the job after too many holidays in the sun. The 3 steps are : cleansing and exfoliating with Beta Hydroxy Acid Cleanser and Facial Firming Pads and Microdermabrasion Cream, rejuvenating with Hydroseal Recovery Serum with vitamins, anti-oxidants and Retinol and illuminating with Vitamin C Radiance Cream made from Vitamins A, C and E, ceramides and crushed pearl (yes, really!) Our 'guinea pig", MOLLY, said her peeling, yellowy, holiday skin really perked up within days of starting the treatment and is now looking suitably radiant and glowing to face the autumn season (must be the pearls!)
Fans of the popular DR DENESE range of products allegedly include the creamy skinned (and currently Press stalked) SIENNA MILLER. Talented actress SIENNA is the daughter of one of the greatest beauties of the 70s, JO KEMP and debonair American businessman, ED MILLER who famously lived with chic interior decorator KELLY HOPPEN after divorcing JO (before KELLY moved on to more sun tanned prospects!) SIENNA has a beautiful sister, SAVANNAH and an equally beautiful on-off boyfriend JUDE LAW...........but you knew that, didn't you?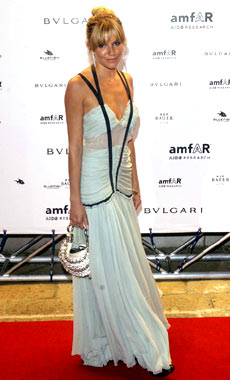 SIENNA MILLER.



Thank you for reading my page. YOU can write to ME at sallyfarmiloe@aol.com
Please check out my personal website at www.sallyfarmiloe.co.uk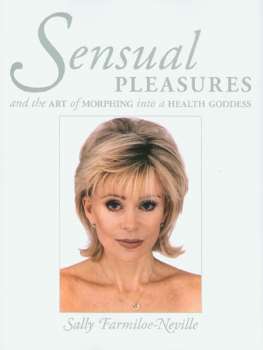 SENSUAL PLEASURES AND THE ART OF MORPHING INTO A HEALTH GODDESS (£16.99) is available from the following outlets:

Delancey Press - orders@centralbooks.com or 0845 4589911
ISBN: 0780953911998

LOO TIME VIDEO available from:

farminghamprods@aol.com and:

http://www.121music.com/pages/video_01/home.html