COVER STORY
Our front cover this month features the absolutely gorgeous star GEORGE CLOONEY. This image was taken by our star photographer JOE ALVAREZ, one of the best in the business. Thanks for another great shot Joe! Joe's CELEBRITY SECTION can be found right here on HOT GOSSIP. See your fave celebs in the webs best images. Don't forget these are copyright.

LETTER FROM THE EDITOR

In this stressful existence we all live in isn't it nice to know that there are times when a little indulgence goes a long way. And peace, tranquillity and de-stressing is the tone of my editor's letter this month.

I am looking forward to reviewing SALLY, my deputy ed's new book, SENSUAL PLEASURES AND THE ART OF MORPHING INTO A HEALTH GODDESS which I understand is a great read and lots of super glossy pics of Sally and her friends. Dying to get my copy! I know there are lots of tips for looking and feeling good which will certainly suit my de-stressing programme. I will be reviewing this lovely coffee table book next month.

FAKING IT WITH INSTANT FIX MAGIC WAND! According to SALLY HANSEN smart girls know how to 'fake it, and we're not talking about you know what! Known for their fabulous nail products, the company now have a selection of super false nails including 'Fast & Flawless French Manicure' which come in different colours, are ultra-thin, ultra-strong and ultra-flexible, and what's more these fab false nails add a touch of glamour to even the nastiest of nails. But the crème d la crème is their very special INSTANT FIX nail repair kit which comes in a small tube (I call it my magic wand) and fits neatly in your handbag. Now you need never worry about that broken nail again! No more stress – and don't we get stressed when that happens? I know I have eternal stress about breaking a nail, which usually happens once I've left the apartment. But now there is help! This magical wand (see image) is truly a miracle! All you do is open one end of the tube and you have a powder application on a brush, just tap some of this on and then open the other end to fix it with the glue. Instant fix! How long have we waited for this to come on the market? If you are a gal like me who wears faux nails then you know how precious this little gem is. For stockists details contact Lornamead on 01276 674 000 or check out their website: www.sallyhansen.co.uk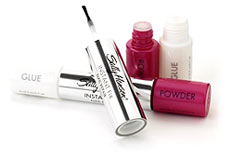 SALLY HANSEN INSTANT FIX



For a tranquil read there is of course DEEPAK CHOPRA, and especially good is his JOURNEY INTO HEALING, Awakening The Wisdom Within You. It may sound rather 'new agey' but it's nevertheless a calming little read and I am a great believer in the idea that 'what we think and feel' can actually change our biology. www.deepakchopra.com

Apparently the new trend is entertaining at home. Don't worry if you don't have a great deal of space, you can just as easily give a perfectly delightful supper party around a large coffee table as you can around an antique dining table. Have fun experimenting with wonderful table decorations and trendy china. And grab yourself a 'menu of the week' from MARTHA STEWART'S website, especially delicious was the meatloaf recipe I found recently. That gal sure can cook! Now all you have to do is invite some nice friends around and enjoy a pleasant evening without the stress of having to get ready to go out and find your way home again...

PEACE IS WHERE THE BATHROOM IS! I have discovered the perfect holistic relaxing agent! It's a whole new experience by FUSHI, and it's right on my doorstep – well almost! FUSHI specialise in four ranges of aromatherapy products, namely PEACE, PURE, POWER & PASSION. I tried their PEACE range because that's the mood I'm in at this time, and it's such a delightful experience. I lit my 'medium bedroom' candle and ran a nice hot bath using their mineral bath oil topped up with their bath salts, which consist of Lavender and Camomile flowers that actually float in the bath – you feel like a fairy princess - and the aroma is fabulously refreshing. The bath oil contains a cocktail of oils and mineral which soothe the senses and ease away the stresses of the day! Pure heaven, I kid you not! And their candle, which is fabulous, lasts a long, long time…and it's only £14.95 and smells sooooo cool! Their beautiful shops are to be found in London, Manchester and Edinburgh check out their website for more details….and you can order these amazing products on-line.www.fushi.co.uk So if you want to feel really good and relaxed you simply must try FUSHI.



FUSHI BATH SALTS



Is it just me or am I right in being paranoid about holding the lavatory door handle of a public loo? After all not everyone washes their hands! I don't usually use public loos for this reason, but today I was shopping with my mother in HARRODS and it was what I call a marathon shop – not that we bought that much, but that she – poor thing - can't get around as quickly as she used to. We used their luxury loo which has no entrance door and it has infra red slides so that when you pass your hand across (without touch) the plate on the wall the loo flushes by itself, and when you wash your hands you do the same with a wall plate at the sink and the water spouts! Wow! That's a really good loo!

I hope you all have a lovely October and I'll be back in November bringing you lots of super ideas for your Christmas shopping spree….


Join me next month
Regards Georgina Bruni
Editor in Chief