Thank you for all your emails about the late and totally great PAUL NEWMAN who sadly died in September. The gorgeous film actor with the startling blue eyes and the huge talent was one of HOLLYWOOD's most popular and best loved stars. As well as being a brilliant actor, known for such iconic films as THE STING and BUTCH CASSIDY AND THE SUNDANCE KID, he was a philanthropist, donating all of the profits from his delicious NEWMAN'S OWN salad dressings to charity. He was also espoused to just one lady all of his married life, the lovely actress JOANNE WOODWARD. He will be sorely missed but will live on forever through all of his brilliant movies.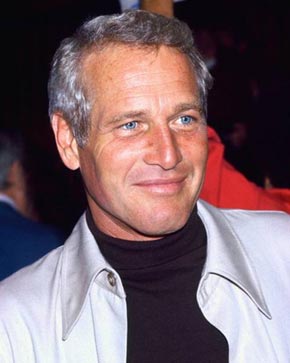 PAUL NEWMAN. C.r.: STAR.


 

Thank you too for your regular notes about our very own sadly departed founder of HOT GOSSIP, GEORGINA BRUNI. She too will live on through her famous UFO book, YOU CAN'T TELL THE PEOPLE, which is to be reprinted shortly and through this, her magazine.
I recently hosted a Memorial Party for 'GEORGIE' with her dear mum, JOAN at THE BEAUCHAMP BAR AND RESTAURANT in Knightsbridge (020 7581 88 86), a fave haunt of GEORGINA's for her famous CLUB 2000 parties. Her legions of friends and colleagues packed the place out, including all of the HG Eds except for JACKIE DAVIS who was sadly working in L.A., her agent ANDREW LOWNIE and various celeb pals including the beautiful PATTI BOULAYE and THE MARQUESS OF BATH (ALEXANDER), attended by no less than 3 of his wifelets! We all felt that GB was herself with us in spirit, enjoying the wonderful party from on high.
Here are some pix of the event, which was a joyous celebration of GEORGINA's full life as well as a sad remembrance of her passing, by the always excellent PAUL FROUD: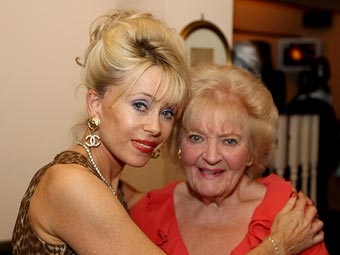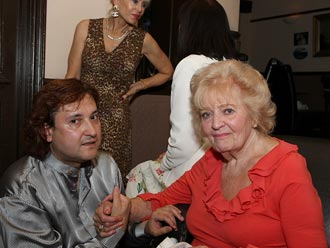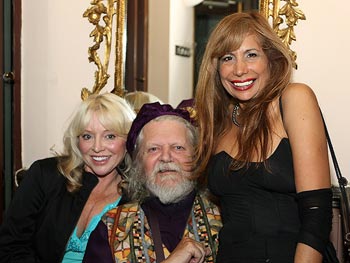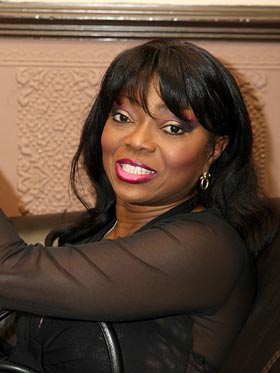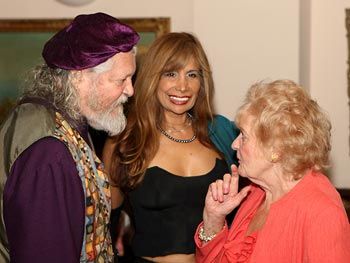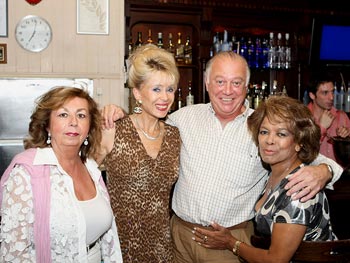 One, happily living, legend who graced our shores recently was the iconic film actor TONY CURTIS who launched his autobiography AMERICAN PRINCE at HARRODS' WATERSTONES. TONY was here in the spring to exhibit his beautiful colourful paintings at a private view at HARRODS and I bought a stunning print for my hubby. This time the book signing was open to the public and a huge crowd besieged the book department for a glimpse of the famous film star and to buy the thick, glossy book containing lots of fab pix from TONY's private collection. My pic shows TONY with his beautiful wife JILL (dutifully carrying one of my own books SENSUAL PLEASURES, also available from HARRODS' WATERSTONES, which my delightful publicist CHARLOTTE ELLIS had kindly presented to her earlier.)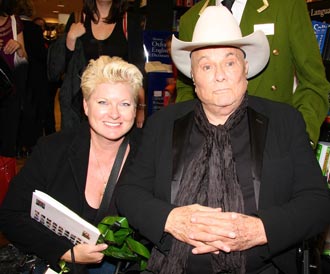 TONY AND JILL CURTIS. C.r. : GABOR SCOTT.


 
CHARLOTTE also presented TONY himself with a copy of our mutual friend STEVE ROWLAND's fab new book, HOLLYWOOD HEAT, also available from HARRODS' WATERSTONES. TONY and STEVE were mates in the golden era of HOLLYWOOD in the 50s. I reviewed HOLLYWOOD HEAT recently and will be reviewing the legendary MR CURTIS's AMERICAN PRINCE next month, dear readers.
Now here's TONY again with the lovely CHARLOTTE and her equally pretty pal WIAM.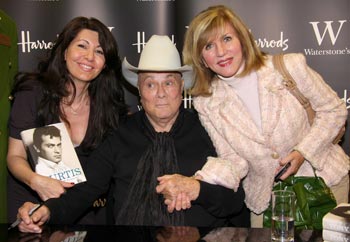 TONY CURTIS with WIAM and CHARLOTTE. C.r.: GABOR SCOTT.


 

Another living film legend who is much loved is the delightfully British LESLIE PHILLIPS, whose CARRY ON and DR films are absolute classics and who was deservedly nominated for a BAFTA for his last film, VENUS. I was thrilled to bump into LESLIE at a recent private view of LYDIA BOWMAN's exotic new paintings organised by GOODLIFE MEDIA in the West End and to note that he still has that famous twinkle in the eye which has made him such a big hit with the ladies over here, just like TONY CURTIS in LA LA LAND.
LESLIE told me he had just been sent an old publicity still of the 2 of us  from an hilarious 70s film called SPANISH FLY where LESLIE played an upmarket lingerie salesman and I played a lingerie model. He has promised to send me a copy so brace yourselves for publication next month, dear readers!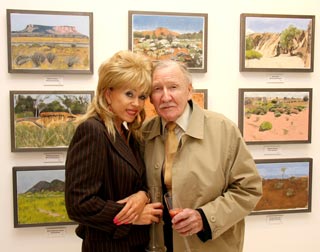 LESLIE PHILLIPS with SALLY. C.r. : GABOR SCOTT.


 
Btw, SPANISH FLY was produced by the brilliant PETER JAMES who is now a highly successful crime writer as well as a film producer – you will have read reviews of all of his famous 'DEAD' series thrillers in this column, book worms. No doubt PETER is beavering away at another Machiavellian plot line even as I write..........
 

And now for something completely different.................my HEALTH TREATMENT OF THE MONTH for November is acupuncture by the lovely SAMARA REID, BacC RCHM (020 7497 73 77 for a/ps) who practises Traditional Chinese Medecine at the world famous HALE CLINIC. SAMI is kind and soft voiced and, although I hate needles, I found the acupuncture totally painless. SAMI places needles into various points which control certain organs and leaves them in for about half an hour or so, stimulating the points from time to time. SHE will analyse YOU and tell you what needs working on, don't worry. I tried the treatment for my dodgy stomach, insomnia and tiredness and noticed an instant improvement on all levels. Fantastic!
SAMI also specialises in rejuvenating facials so I think I will treat myself to one of those when I go back for an acupuncture top up.
Highly recommended.
 

My BEAUTY TREATMENT OF THE MONTH is Xtreme Lashes by the PASHA CLINIC. This is a revolutionary new treatment where you have your own lashes extended by gluing individual lashes on to them one by one so that the result is completely natural. I tried this myself and found it very pleasant and not too long at all. I just lay down and relaxed while the delightful therapist UMAY attached my new long lashes. This girl is quite brilliant and wears the Xtreme Lashes herself so you can see what you're getting in advance. I was absolutely thrilled with the effect and will definitely be keeping up the Xtreme Lashes on a regular basis. The glue is really strong so that you can curl and mascara your lashes as per normal and the results make your lashes – and your eyes - look a million dollars. The lashes last for weeks and just fall out one at a time like natural lashes so no-one would ever guess they weren't your very own.
Plus UMAY comes to your home to apply the lashes – what more could you wish for?
Phenomenal – don't miss this one, it really is a life changer.
UMAY – 079 49 053 170.
 

Thank you for all your queries about Botox, beauty fans. The debate rages on, particularly where young patients are concerned. I discussed the subject at length with my own therapist, the famous DR ELISABETH DANCEY (Pimlico – 020 7821 8257) who is one of the top Botox doctors in London. DR ELISABETH says that it is fine for 20 somethings to start having Botox injected – by qualified doctors only, of course - to stop the early formation of nasty expression lines. (How wonderful it would be never to look bad tempered or sulky throughout one's life!) However she does NOT approve of teenagers starting such a serious treatment yet. So forget it, youngsters – DR ELISABETH is booked up enough with us middle aged mummies!
 
 
PRODUCT NEWS:
For the guys, there is a fab new range out called BULL DOG Natural Grooming which will keep you boys looking, feeling and smelling gorg. I tried this range on the chaps at the office and they all loved the products, particularly the Face Wash, Face Scrub, Moisturiser and Shower Gel. They also said that the ladies in their lives liked the fresh smell and caressing their new, softer fizzogs!
www.meetthebulldog.com
 
On the unisex front CARNATION Footcare have just brought out some new socks made with pure silver fibre called -  surprisingly enough! – Silversock. These completely normal looking socks keep you cool in summer, warm in winter, stop chilblains and blisters forming and eliminate odour. Brill or what? Our trialler CHRIS said " they feel very comfortable and are the only socks which I don't get blisters in when I am playing sport. Excellent."
www.silversock.co.uk
 
If you are an expectant or new mum, try the MAMBINO ORGANICS range on both your bump and your stretched skin after the birth. MAMBINO do a whole range especially for mums but our trialler CINDY particularly favours their award winning Oh Baby! Belly Butter which promises to soften old stretch marks and stop new ones forming with its unique combination of shea butter, mango butter, cocoa butter, calendua infused oil and rosehip oil. CINDY said "this Belly Butter feels great - I'll use if for every pregnancy now."(Slow down, gel, you don't want to start a population explosion!)
www.mambinoorganics.co.uk
 
Do you suffer from aches and pains from hunching over a hot computer all day? Or stress from the demands of an irate boss or big family? Help is at hand in the 'small but perfectly formed' shape of TRIBOD's Handheld Mini Mobile Massager. This is a really nifty little battery powered gadget that is so small and light that you can easily carry it in your handbag. Our trialler JODIE said " Now I can massage my neck and shoulders which really ache after a long day at the office. Or I get one of my colleagues to do it which is even better. Now I don't need to have expensive massages any more. I expect SAMANTHA from SEX AND THE CITY would find naughty things to do with it too!"
I expect SAMANTHA would but I am not sure what the manufacturers would say about that!
A funky looking gadget which makes a cool gift.
www.johnmills.co.uk/ 0800 781 7831.
 

Talking of gifts, SIENNA have brought out a gorg gift pack called Tan & Glam which contains Tan in Can tanning mist, Moisturiser, Exfoliant and Gold and Silver Shimmer – in other words everything you need to look smooth, golden and sparkly at this season's parties. My staff had a go with these products and found that the tanning mist lasted really well and the shimmer washes out easily which is all important where clothes and hair are concerned – shimmer is perfect for parties but doesn't go down so well in the office!
www.sienna-x.co.uk / 01905 27070.
 

On the make-up front, you don't have to spend a lot to look fab this season. ALDI's Lacura range is really cheap with some items under £2 but the products are excellent and long lasting. My girls and I had great fun testing these products and particularly liked the Lacura Duo Eyeshadow, Concealer Pen (brill for under eye shadows after too much partying), Waterproof Mascara (lots more rain and even some snow are, sadly, on the way, ladies) and lovely shiny Lip Gloss.
Terrific bargains: www.aldi-stores.co.uk / 08705 134 262.
 
Sometimes the oldies are the goldies – LIPCOTE Lipstick Sealer has been around for yonks but it really works. You can use any lippy or gloss underneath the Sealer and it will hold the colour for hours. I tried this product myself and noted that the new improved version of LIPCOTE doesn't dull the colour of the lipstick underneath or dry the lips at all.
A necessary addition to the make-up bag.
Available from good chemists and department stores.
 
Talking of handbags, you need to guard yours at all times – and your laptop, especially when in restaurants, bars, cinemas, etc where you might want to put it / them down. SAVANNAH have come up with a wonderfully handy little gadget called a Handbag Hook which attaches to any surface with a magnet – then you just hook on your bag or laptop, or both, and they are instantly kept safe and clean (not all floors in public places are clean enough for our designer bags, laydeez!)
A great idea:www.savannahuk.com/ 07074 444 111.
 

BOOK NEWS:
There are lots of  fun books out there this month, great for curling up with now the clocks have changed and the nights grown dark.....(oo er!!)
 
TRACY QUAN's hilarious page turner, DIARY OF A JETSETTING CALL GIRL (HARPER PERENNIAL / £6.99) is utterly riveting. The gorg TRACY, whom I 've met personally over the Net, is a former 'flower girl' herself so she knows what she's writing about. Ever since PRETTY WOMAN, we all want to know what those gals really get up to! TRACY's heroine is called NANCY CHAN and she's a married call girl from Manhattan. In this installment (I must track down the previous two: DIARY OF A MANHATTAN CALL GIRL and DIARY OF A MARRIED CALL GIRL) the intrepid NANCY has gone down (oops - getting into the call girl vernacular already!) to the sexy, sultry South of France to service one of her fave, er, 'tricks' and is busy avoiding her hubby back home and getting on rather too well with her client's maybe gaybe cook................it's all good, dirty fun and you'll love it, dear readers.
You can catch up with clever TRACY at:
www.tracyquan.net
She is quite a Net star, as you will see.
 
If you're a teenager, you will love GRACE DENT's SHIRAZ: THE FAME DIARIES (HODDER / £5.99), another type of diary for younger gals. It's written in teenage speak and my girls, who never usually read anything, loved it. Apparently many of GRACE DENT's loyal readers  believe that her heroine SHIRAZ BAILEY WOOD is real and write to her all the time. Looks like we'll soon be tracking down the brill MS. DENT's other books too.
 
If you're slightly older, you will definitely appreciate MRS MILLS SOLVES ALL YOUR PROBLEMS: Wit and Wisdom from the Sunday Times Agony Diva ( MAINSTREAM / £6.99) 'MRS MILLS' has been dispensing her particular brand of Agony Answers for over 10 years and it's all there in this little book – forget 'Disgusted of Reading', this is all about 'Mrs W of Crewe' who is advised to 'get a shorter husband'!
Trust me, this book is a hoot and makes a great pressie too.
 

Finally whoever said "men don't make passes at girls wearing glasses" should have gone to SPECSAVERS! Spectacles can cover a multitude of sins, improve the look of your face big time and make you look younger. And SPECSAVERS certainly have the biggest and best choice of frames in the business.
The company's Celebrity Specs Wearer of the Year Award party at THE WALDORF last month was a blast, hosted by BEN SHEPHERD and JENNI FALCONER and judged by, amongst others, GOK WAN in his trademark specs. The lively GOK also conducted an amazing auction in aid of KIDSCAPE and lots of gorg celebs turned up in their SPECSAVERS specs, including the always adorable CHRISTOPHER BIGGINS.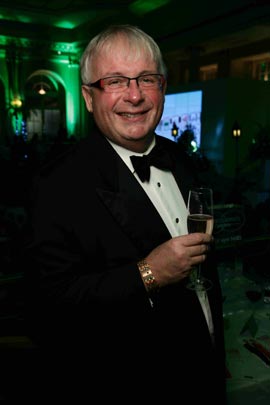 CHRISTOPHER BIGGINS. C.r.: ADRIAN BROOKS.


 
Other famous specs wearers included JENNY ECLAIR and GLORIA HUNNIFORD wearing their glasses whilst PENNY LANCASTER-STEWART and SIAN JAMES sported 'nude' eyes. My lovely publicist CHARLOTTE ELLIS and I sat with the beauteous NANCY SORELL (in specs) and equally beauteous CLEO ROCAS (out of specs) and had a right old giggle.
The Celeb Specs Wearer of the Year Award went to gorg singer and former ALL SAINTS band member, MELANIE BLATT and here she is.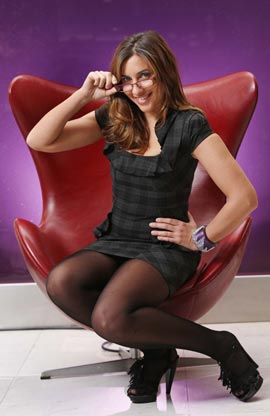 MELANIE BLATT. C. r.: ADRIAN BROOKS.


 
 
 
Thank you for reading my page. Do contact me at:
Sally@hotgossip.co.uk
 
and check out my personal website at:
www.sallyfarmiloe.com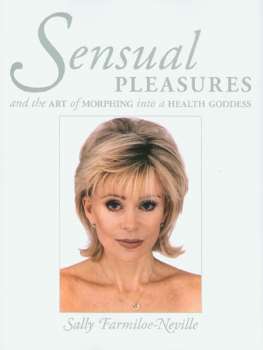 SENSUAL PLEASURES AND THE ART OF MORPHING INTO A HEALTH GODDESS (£16.99) is available from the following outlets:

Delancey Press - orders@centralbooks.com or 0845 4589911
ISBN: 0780953911998


LOO TIME VIDEO available from:

farminghamprods@aol.com and:

http://www.121music.com/pages/video_01/home.html