Le CLUB at Hush, 8 Lancashire Ct. Brook St. London. Tel: 020 7659 1500


Le Club



Hidden behind bustling Bond Street are an idyllic little village of twisting cobblestone Lanes, haute couture Boutiques and a variety of bars, pubs and Clubs. 'Hush' is in a picturesque Square where you can sit outside and enjoy their food and wines. On the first floor is a buzzy Bar, which leads to their newly opened Restaurant Le Club. I was warmly welcomed by the Restaurant Manager Alex Moreschini, his Staff and a complimentary glass of Taittinger Comtes de Champagne Brus Rose 1997, which all diners are offered when booking for lunch or dinner.

Here I am with Alex and one of the great Chefs.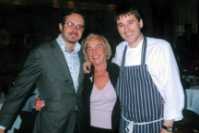 Joan at Le Club with Alex Moreschini and Chef



My Gourmet Afficinado friend and myself had a wonderful evening relaxing, sipping, tasting and gourmet chatting. The Menu specialises in simple, rustic French food such as Foie gras, native Oysters, Chateaubriand, Poulet de Bresse all of which are full of flavour and harmoniously balanced. Pure gourmet delights were the variety of warm crusty rolls from the Bagatelle Bakery.

For an lst course I chose Seared Foie gras with artichoke rosti and glazed apples, followed with Herb crusted rack of lamb with a rosemary sauce with cream potatoes flavoured with exotic perigoed truffles. Exceptionally gorgeous.

Gourmet Afficiando had glazed native Lobster and baby spinach tart, followed with breast of roasted barbary duck with baked sweet potatoes and blueberry sauce.

Although le Club has only been open 3 weeks it is already attracting famous people, apart from The Slender Gourmet who wrote Champagne Exercises, Sir Roger Moore celebrated his?? Birthday here. So hurry along and have a wonderful time.

2 Courses set Menu £23.50 3 Courses set Menu £26.50


My holiday visit to SORRENTO was a washout – it rained the whole time. The food was not much better either, I have e had better Italian cuisine in London.

Nearby Naples is the home of the Pizza, Pasta comes in all shapes and sizes and Spaghetti with Pomodoro sauce are regarded as culinary raves. I found them dreary and glutinous. As The Slender Gourmet I was horrified to see a man pushing long ribbons of Spaghetti into his mouth with a large chunk of white bread. He will soon become a fatty.

Vineyards cling to the slopes of volcanic hills producing nondescript wines. One pleasant sipping liquor is Limon cello made from the rind of lemon, alcohol and sugar.

Fantastic views over Sorrento Harbour, one of the best can be enjoyed from the Terrace of the Grand Hotel Excelsior Vittoria, their cuisine might live up to its beautiful views.

HAPPY BUBBLES

- Joan - The Slender Gourmet.

Email: Joaninfo@snappysnaps-mayfair.co.uk