The collections are over at last and it seems that we will all be wearing shorter skirts and lots of black and white this year. JULIEN MACDONALD was the king of LONDON FASHION WEEK for shapes rather than colours this season and I predict his pencil skirts will be seen everywhere and widely copied.


There was also a lot of black and white on the red carpet at the film BAFTAS this year with HGUK favourite PENELOPE CRUZ sporting a particularly gorgeous strapless bw number.
The 07 BAFTAS should actually have been named the 007 BAFTAS due to the fans' excitement at the presence of the brand new Mr Bond himself, DANIEL CRAIG. The blue eyed, tight assed (I mean that in the nicest possible way!) HGUK cover boy wowed them all on the longest ever red carpet at THE ROYAL OPERA HOUSE even if he did later lose the Best Actor award to FOREST WHITAKER (a mean and manic IDI AMIN.) I was thrilled to see THE QUEEN, UNITED 93 director PAUL GREENGRASS and DAME HELEN MIRREN triumph as I had voted for them all. And special congrats to lovely EVA GREEN, our last month's cover girl, for her Best Newcomer award. Chic French gal EVA wore a stunning bejewelled red ball gown and a wild CLEO ROCOS hair do on the night but here she is as we know her better.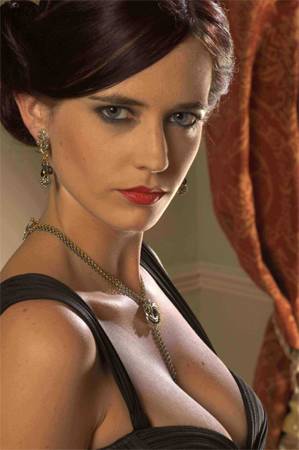 EVA GREEN. C.r.: JAY MAIDMENT / CASINO ROYALE 06.




Other stunning frox on the red carpet included HELEN MIRREN, EMILY WATSON and THANDIE NEWTON's strapless ball gowns, JOELY RICHARDSON's diamante trimmed black and TONI COLETTE's silver sequinned slinkies, KYLIE MINOGUE's short multi coloured sequinned number and (my personal fave for the Best Not Supporting Anything Frock) SIENNA MILLER's exquisite backless silver green mermaid dress.
I chose an amazing orange VALENTINO for RACHEL dress from my current fave shop RACHEL COUTURE (65 Knightsbridge / 020 7235 3979) which was slashed down to the navel and up to the thighs and featured ruffles at the back. Here it is in all its glory clashing gently with the red carpet, snapped by our very own Celebrity Editor, the supremely talented JOE ALVAREZ.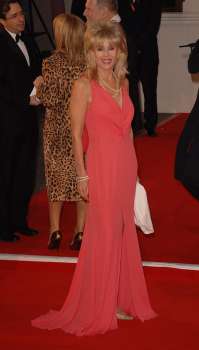 SALLY in VALENTINO / RACHEL at BAFTAS. C.r.: JOE ALVAREZ.



My tan, btw, is by MIST-AIR, a new and exciting spray tanning technique which has just launched in the UK. The MIST-AIR tanning experience combines the best elements of booth tanning, including an extractor to fan the spray tan gently around and avoid blobbing, with personal application, i.e. a real live human being aiming the mist exactly where you want it. Delightful MIST-AIR expert SHARON sprayed me with Bronze, which is the ideal level for fair skinned peeps and it only took 10 mins. Then you lurk about with a nice fan heater and gossip mag for another 10 mins or so and you are ready to go. My tan was perfect and my skin felt great afterwards, possibly because MIST-AIR is aloe vera based. Plus the colour lasted for a good 10 days then gently faded without any patchiness. Excellent. I got MIST-AIRed by the super-quick, efficient and cheerful SHARON at BEAUTY SECRETS, 110 –112, King's Road / 020 7581 0455.
Go to:
www.mist-air.com
to "read all about it".


My new and exciting Product of the Month for March is Face Oil No. 1 for Sensitive Skin from the EVE TAYLOR Institute of Aromatherapy
(01733 260 161 / www.eve-taylor.com)
This light spray-on oil makes your skin feel soft as a baby's after just a few days' use and smells absolutely divine, as you would expect from an aromatherapist. I have been using the oil day and night during the cold windy weather and it absolutely does not bring one out in teenage pimples, as some rich products do. EVE TAYLOR is a wonderful discovery: she has quite a big product range, all reasonably priced. My teenagers also love her amazing Facial Cleansing Brush which is excellent for cleaning the face, getting into the crevices, improving the circulation and getting rid of the dreaded zits! Plus our gals in the HGUK Beauty Dept really like the EVE TAYLOR Refining Eye Gel, Exfoliating Scrub Kit and Solar Shield. The whole range is a welcome addition to the beauty business: congratulations, MS. TAYLOR.


Thank you for your emails about Brazilian Waxing: I never knew you cared so much about this ticklish subject! Once you have your "landing strip" (which can be created in London by marvellous MAGI at TYRONE AND CO / 020723 48 43) you may like to try dying your "Betty Hairs" with BETTY DYE, a new natural dye especially created for the "hairs down there" (I am not kidding, laydeez, I am quoting from the press release here!) Apparently you cannot put normal hair dye "down there" (now I've caught the language!) for obvious reasons so New York based business woman NANCY JANECKI invented a natural, safe dye for the Betty hairs so that one can now match one's collar and cuffs! So why didn't she call it "Nancy Hairs" and "Nancy Dye"? I am not sure how all the famous BETTIES in the world, such as TAYLOR, FORD, HURLEY and HRH THE QUEEN, are going to take this but obviously it is a brill idea whether you want to pretend you are a natural blonde or redhead or whether you want to jazz up your love life with the FUNbetty (Hot Pink) look. Our guinea pig, AMANDA said the BLONDEbetty was easy to mix and apply with the special little curly brush, only took about an hour for both the base colour and the toner to "take" and that she is now blonder below than above! Maybe you could use it on eyebrows too, another sensitive area, being close to the eyes. At any rate, as a natural blonde myself, I rather fancy the FUNbetty (Hot Pink) so watch this space!
BETTY DYE is cheap, cheerful and available from:
www.indigohealth.co.uk / 0871 871 8192.
Personally I love the idea and, with so many allergies to hair dyes around these days (which was recently pointed out to me by our brill Crime, Safety and Protection Ed. JACQUIELINE DAVIS), anything natural is a huge bonus.


Surprisingly enough no celebrities have admitted to using BETTY DYE yet but gals are not so coy about admitting to other treatments. Glamorous CHERYL COLE (TWEEDY) from GIRLS ALOUD recently told the world that she had got rid of her cellulite with a fab new treatment called HYPOXI. Apparently HYPOXI combines vacuum suction with gentle exercise, which doesn't sound too uncomfortable, and CHERYL is certainly looking great these days. For further details about HYPOXI's full range of treatments visit
www.hypoxitraining.com
or ring
0800 731 13 23.
Now here's a nice pic of CHERYL, not showing any naughty cellulite prone areas!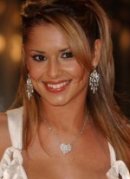 CHERYL COLE. C.r.: HYPOXI.



Thank you too for your interest in KAMINI, the Eyebrow Queen (020 7937 2411). KAMINI's technique for quick and painless hair removal is actually unique and much better than mere threading; my brows are now a totally different shape after just 3 sessions. KAMINI reckons she can make everyone look better with perfect eyebrows: she would even like to get her hands, or rather threads, on the brows of gorg beauties like LIZ HURLEY and SHILPA SHETTY who are both HGUK cover girls. There you are, girls, KAMINI's private celebrities' back door awaits you. Now let's take a look at SHILPA who is absolutely stunning even pre KAMINI. This pic was snapped outside the BB house by our very own Celeb Ed, the one and only JOE ALVAREZ.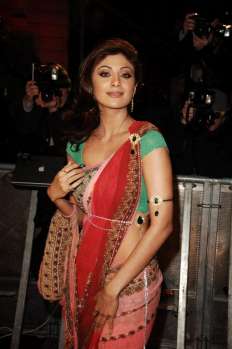 SHILPA SHETTY.C.r.: JOE ALVAREZ.




KAMINI's elegant salon in Kensington offers all sorts of other treatments besides threading and I recently enjoyed a wonderfully relaxing pedicure with lovely therapist MARTA. MARTA filed and buffed my feet to perfection, massaged both my feet and legs for several mins and painted my toenails a fab dark cherry shade, CETUEM No. 145. Then she applied drying polish and wrapped my little footsies in protective polythene so that I was able to whizz out of the salon after just 10 mins without splodging the varnish, instead of the usual half hour wait. Brilliant!


Many of you have asked for more details about Semi-Permanent Make-Up. You really need to contact DAWN CRAGG (144 Harley St. / 0207224 2001 / 07875 498145), the first and foremost exponent of this useful and time saving technique. You can have your brows, eyes and mouth outlined in your choice of colour so that you don't need much make-up, have a pretty tattoo anywhere you like and even have scars coloured in so that they disappear. I recently had a nasty little scar attended to by the brill DAWN and it is now totally invisible: amazing. Plus my girlfriend had a delightful fleur de lys tattooed onto a very interesting place! The S-P M-U is pretty painless and lasts for a good year at least before you will need topping up.
Check it out.




I am delighted to report that my dear friend, film producer and thriller writer extraordinaire PETER JAMES has just been awarded the coveted PRIX COEUR NOIR for his unusual and exciting novel DEAD SIMPLE at the Saint Quentin festival in France. I reviewed DEAD SIMPLE, a dark and deadly tale featuring PETER's sympathetic character Detective Roy Grace in 05, its equally excellent follow up LOOKING GOOD DEAD last year and can't wait to read the next Det. Grace novel which is promised soon.
PETER's latest award is one of many and he is now acknowledged as one of the UK's most successful crime writers. Best congrats, PETER.


One of my fave US crime writers is the equally excellent TESS GERRITSEN whose pet characters, queen of the morgue Dr Maura Isles and feisty lady cop Jane Rizzoli, are also endearing, human and flawed. MS. GERRITSEN's latest hardback THE MEPHISTO CLUB (BANTAM PRESS / £14.99), a grisly story of satanism and dismemberment during a freezing winter is totally terrifying, absolutely gruesome and better than ever. The writing and editing are perfect and you will definitely want to read it in one go so put the time aside.


All at HGUK were sad to hear of the untimely death of larger than life blonde bombshell ANNA NICOLE SMITH and send heartfelt condolences to her family. ANNA NICOLE's sister DONNA HOGAN is currently writing a biography of her famous sister with fellow writer, HENRIETTA THIEFENTHALER, an enterprising young Brit who is the daughter of iconic 70s model ERICA BERGMAN. The book, TRAIN WRECK promises to be fascinating and will be published in June when I will of course review it for you, dear readers.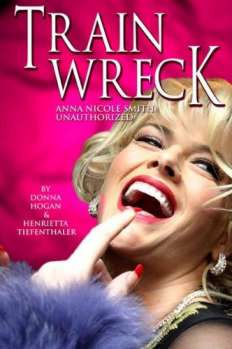 ANNA NICOLE SMITH: TRAIN WRECK cover. C.r.: DONNA HOGAN and HENRIETTA THIEFENTHALER.




On a happier note I am glad to say that the lovely ANGIE BEST is currently on our shores and planning to stay for a while. The gorg blonde ex wife of GEORGE and mother of CALUM will shortly be touring the country with her own health and fitness road show so everyone will have a chance to see her. ANGIE hosted a Valentine's charity fundraiser for REACT children's charity at THE DEPOT (020 8878 9462), Mortlake's trendiest restaurant managed by the charming and efficient STEVE OLDROYD, last month and was on sparkling form. The entertainment was provided by amazing opera singer JEFFREY BLACK and cute chanteuse HAYLEY EVETTS and here they are with ANGIE, all looking very kissy kissy!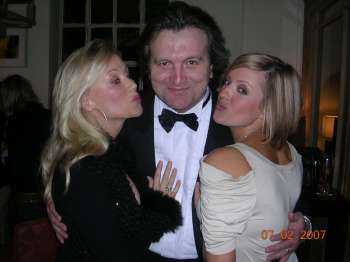 ANGIE BEST, JEFFREY BLACK and HAYLEY EVETTS. C.r.: REACT.




REACT is a wonderful charity which works to improve the quality of life for financially deprived children with life limiting illnesses. If you would like to find out more or donate to the cause please ring 020 8940 25 75 or go to:
www.reactcharity.org


Another truly worthy charity is MARIE CURIE CANCER CARE whose dedicated nurses take care of terminally ill cancer patients in their own homes. I am currently on the committee for the BADA Antiques and Fine Art Fair Charity Gala in aid of MC on Thursday March 22nd at Duke of York's Square, Chelsea and would like to invite all my readers to join me for champagne and canapes from 6.30 pm. This is an absolutely unmissable celeb event: tickets are £45.00 from super efficient SHANA at: 0800 716 146. See you there.


Next month I will be writing about Interior Design and a fab new designer, JANE ARTE WATT of JAG CONTEMORARY DESIGN LTD. (020 8776 9165 if you need a desiner urgently!)

Finally I must inform you that my wonderful publishers, THE BOOK GUILD have finally convinced me to write my autobiography, a monumental undertaking as I have led such a full life so far and intend to continue doing so. If any of you out there have had a starring, featured or even walk on role in my life and would like a mention, please let me know. On the other hand, if you would rather not be mentioned, please also let me know. (Or you could do a DUKE OF WELLINGTON and say "publish and be damned!")


Thank you for reading my page. You can email me at:
sally@hotgossip.co.uk

and do check out my personal web site at:
www.sallyfarmiloe.com