Payment in Gold Bars!
I decided to check out the 'bush' when I visited my son in Australia, probably because I had the rare opportunity to explore the gigantic gold mines and see a real gold bar. I was staying just outside Perth with the weather at 44 degrees - very hot but surprisingly manageable. I expected to see lots of insects and bugs as my son lives on acres of land on the outskirts of the city but thankfully there were very few. I did have to slip into my shoes as soon as I got out of bed for fear of stepping on a scorpion and I religiously kept one eye out for snakes and large poisonous spiders the size of a plate! I had been warned that if I was bitten by a snake I should remember what it looks like so that I could tell the hospital who would give me the correct life-saving serum. So here I was in the flattest land in the world with the most poisonous varieties of life.

Perth was officially proclaimed a city by Queen Victoria in 1856
My son's home is situated among several acres of thick bush so it's very peaceful and private. It felt very unusual to be so private and not to see any houses or buildings nearby, just beautiful views with kangaroos playing in the garden and even the odd possum running by. The morning started with a swim in my son's Olympic-sized indoor pool, then a trip round Perth in one of his helicopters. The warm evenings were filled with barbeques or visits to the lovely fresh fish restaurants in the harbour. After a couple of days we embarked on a seven hour drive from Perth to Kalgoorlie, which is literally at the end of the road before you head into the 'outback'. Once you reach the 'outback' there are no proper roads but just dirt tracks. Every hour or so there would be a petrol station, maybe a shop and sometimes a pub. Otherwise it's just deserted roads and we drove hundreds of miles without seeing a single car. At the side of the road, a mere 563 kilometres long, is a large pipe line carrying water from Perth to Kalgoorlie. At one time water was more precious than gold and in 1903 the designer and visionary chief Charles Yelverton O'Connor built this water pipe. He faced a lot of opposition and ridicule from people who said it wouldn't work and after several years of obstacles it all got too much for him and he committed suicide. He sadly never saw his design, which turned out to be one of the greatest hydraulic engineering feats the world had ever seen, completed. All that way and I only found junk food to eat. Whatever happened to that good old smell of food that made your mouth water? You used to smell it in restaurants and food shops but nowadays the bread shops don't smell of bread anymore even when they bake on the premises.

Kalgoorlie is a mining town which is quite extraordinary. The miners are paid up to $AUS 1,000 a day (equivalent to £1,000 a day in terms of what you could buy with the money) and many also receive free food and accommodation. They can be totally unskilled workers but they earn stacks of money with nothing to spend it on. A tradition there is to have 'skimpy' bars. A 'skimpy' is a barmaid who is working topless, in lingerie or in a bikini. Some of the girls can earn up to $5,000 working in these places to maybe finance a business or buy a house. There are 6 skimpy bars in Kalgoorlie and one of the miners told me that if they were banned the brothels would have more business!

In this town goods can be paid for with gold bars that can then be exchanged at the banks for cash. I was only there for a few days which was not enough time to get some gold but at least I had time to go down the mines. It was quite strange going down in this small metal cage with my tin hat on. Fortunately the lift was slow and not as threatening as it looked, but I was about to find out why the miners are so highly paid.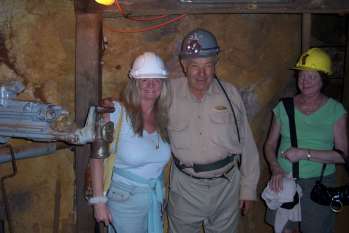 Down the mine in my tin hat.



The miners work 7-hour shifts and some have to stand in mud up to their knees the majority of the time whilst using machinery that is absolutely deafening. The guide, a miner himself, demonstrated the horrendous noise of the machinery while we all covered our ears. He said that he had previously worked for 25 years in the mines and hated everything about his job except the money. Some of the skimpies said the same!

Now I have a pesticide pouch
Three days travelling each way by air from Florida with food that was little more than a chemical mix and an 8 day trip to Australia eating mostly processed food (especially on the trip to the bush) was all that it took to gain a midriff roll and 6 lbs. I thought it would be really healthy down-under and expected to eat well and see some strapping Aussies. How wrong I was! What I did see were many victims of our conventional processed food: misshapen and pot bellied men and massively overweight women, just like in the UK and the US now. It has become so bad that there were Australian TV programs warning parents about the epidemics of diabetes and obesity. No one mentioned organic food and the Aussies just didn't seem to understand why they had this problem. The food producers have obviously covered the globe with their poisons - I suppose I shouldn't have been surprised.

Lear Jets, Ferraris, Champagne and Truffles
Before I left for Australia I was invited by my friend Louise Stahly to a fabulous Ferrari rally she was taking part in. She owns three of these fun cars, plus a Lamborghini and a Bentley just for starters. We started the day with a lunch at the majestic Breakers Hotel in Palm Beach then joined the 30 Ferraris for a rally around the island ending up at one of the large hangars at the airport for a spectacular party.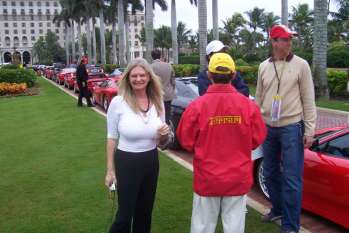 outside the famous BREAKERS hotel..




The party was really something and reminded me of my Hollywood days with the lush do's at the huge film studios. There were Lear jets open for viewing and all the Ferraris lined up in their glory on the airstrip outside the hangar. One of the new Ferraris is so sought after that you had to have bought three new Ferraris in the past before you could join the four year waiting list for a new one. I thought it best not to ask the price!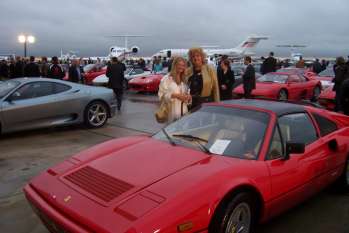 with LOUISE STAHLY at FERRARI party.

Upon returning from Australia I went to the fabulous Unicorn Ball at Mar-a-Lago - Donald Trump's private club which is a mere £75,000 to join. It is really sumptuous and plush with fantastic décor that is just extraordinary. The 200,000 square foot, £21 million ballroom looks like it is from a fairytale and on this occasion disco diva Gloria Gaynor was the entertainment. I stayed over at the club to wallow in luxury just a little longer. The room was exquisite and I was able to have a bath in the large Jacuzzi-styled tub with masses of bubbles that didn't dissolve, just like in the old Hollywood films. In the morning I opened one eye to see a half-full champagne glass on the side table. Just a slight turn of the head and the gorgeous crystal chandelier appeared. Opening my other eye the large mirrored wall came into view, making the room look huge with panoramic views of the ocean and manicured gardens from the windows that surrounded the room. Yes, this was the height of luxury - another triumph for Trump.

I had breakfast with a lady who had successfully bought a Mercedes in the auction at a previous year's ball. She had bought it for her daughter only to immediately exchange it for the more expensive model - lucky daughter!

The Unicorn is an American charity for autistic children and one I support wholeheartedly. I was very successful using hypnosis on an autistic fellow on one of my training courses; he was cleared of both his stutter and the anxiety he felt in public. The charity puts on incredible functions and trips. There is a terrific 6-day trip to Monte Carlo in early July which includes a five night stay at the beautiful Hotel Hermitage, a concert in the Palace and a celebrity Ball at the legendary Hotel de Paris for only $2,950 (approx £1,500). I went to Monte Carlo with the charity before and it was one of the best holidays I have ever had. If you would like more details just email me. It is truly a worthwhile charity with some wonderfully glamorous people involved.


Readers Feedback
One reader pointed out that a study on plastic in bottles mentioned in one of my articles had some negative press on the Internet because it had not been satisfactorily proven by the said professor. With this in mind, I decided to dig a little deeper into the dangers of drinking out of plastic water bottles and I discovered some even more disturbing news:
Polyvinyl chloride, or PVC - a danger to our lives?
CBS channel 4 news in Miami showed a program warning of the dangers that a type of plastic called "Plastic 3" pose to the environment and to us. It is everywhere – in refrigerators, bottles and shower curtains to name just a few. It has already been banned in children's toys in case they put them in their mouth. It also causes a big problem to the environment as it cannot be recycled; it just sits in landfills releasing toxic chemicals into the soil, air and water.
If you turn over your plastic bottle you can check to see if it is stamped "Plastic 3". Many environmental groups like the Centres for Health and Environmental Justice are now warning consumers that Plastic 3 is more dangerous that any other plastic. The very chemicals that make the plastic more flexible for convenience are those that are seeping into the air and making the air toxic. Dr Janier Gasana, an FIU professor of environmental studies who has studied toxins for 11 years, said "several years ago, researchers found out it (this plastic) caused cancer. One of the proofs was that it caused angiosarcoma of the liver. It's the only known cancer that is caused by that product. It is not caused by any other product." (sic). Nowadays PVC (only just 70 years old) is the second thermoplastic resin around, with a worldwide capacity of 31 million tons.


You won't catch fire if you eat farmed Salmon?
Ronal Hites, professor of environment and analytical chemistry at Indiana University, found higher levels of PCB's, dioxins and some long-banned pesticides in farmed salmon, especially from European farms. Now they have found higher levers of a flame-retardant called PBDE (which is a mainstay in the furniture industry) in them. These chemicals are organic pollutants (called POPs) that dissolve in fat and become more concentrated every time the prey is eaten. These pollutants can last for decades in the environment. Hites says, "The concentration is doubling in all parts of the environment: every three to five years in people, fish, birds and seals. It's primarily because concentrations have been increased everywhere in the environment for the last 20 years. It certainly seems to be growing, as are the cancer rates."


Hot Tips
For people who are trying to lose weight: you have to eat organic because if you are eating conventional meat, fish or chicken you are ingesting steroids or growth-enhancing chemicals that are making you fat.


Smoke at your peril
A BBC investigation found that councils have been granted £29.5m to pay staff who will be able to give on-the-spot £50 fines and take action against premises found breaking the new no-smoking law. These new officers will be able to go undercover to photograph and film people smoking. They will be patrolling bars, restaurants and shops to police the smoking ban that comes into force in July. In the next few months a government funded course will be training 1,200 council officers with more courses to follow. And people thought the government made too much money out of taxes to ban smoking! Are you thinking about stopping smoking? Are you ready for the ban? Give me a call - that is my speciality.


Fat Fred
Fat Fred is an extremely fat dummy made for first-aiders to practice on to enable them to cope with increasingly obese heart-attack patients. They are shown how to find the breastbone under all that flab and how to tilt the fleshy neck to clear airways. These "fatties" are the sad victims of conventional supermarket food.


You Can't Blame Age Now!
Chronological age is no longer a valid excuse for mental decline. Research shows that this is not the case. Mental decline is in fact a result of inactivity and lack of mental exercise and stimulation.


Allergies in food are soaring
If you have developed allergies to certain foods try this website: www.alert4allergy.org It is free and will alert people to which foods they should avoid. It gives warnings of product recalls and other incidents where packaged food has been wrongly labeled or contaminated with nuts or other allergies.


Thank you for reading my page. Please ring me on: 020 7702 4900 if you are interested in hypnosis to treat addictions and other problems or in training to be a hypnotherapist.




Eds Note: VALERIE AUSTIN is an author of six successful self-help books including SELF HYPNOSIS (Thorsons), journalist and trainer with an international reputation in the field of hypnosis. Her best-selling books and training help people achieve their full potential. She founded the Austin Corporate Stress Management Company focusing on reducing stress and anxiety amongst executives and CEO's. She is also founder of UKRAH (1992) The UK Register of Advanced Hypnotherapy. Valerie has also worked as a consultant in hypnosis at the Priory Hospital, the UK's equivalent to The Betty Ford Clinic, which specialises in food addiction and alcohol abuse. Her work in the film industry (Hollywood) interviewing movers and shakers, producing TV news segments and publishing celebrity magazines in London gave her invaluable experience for her current Harley Street practice.