Welcome to the award season, peeps. This month is totally bonkers regarding events. Kicking off the warm up for the BAFTAS was the pre-BAFTAS party which took place at the Natural History Museum in London. It was therefore a home from home for designer NICKY HASLAM who was one of the first to arrive at the party accompanied by his -less scaly and far younger- boyfriend. Other guests included fellow 'dino' TONY ROBINSON and the lovely PENELOPE CRUZ -in town to promote her flick VOLVER- with director PEDRO ALMODOVAR.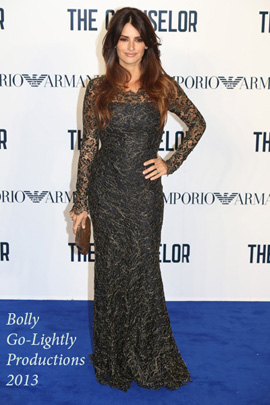 PENELOPE CRUZ..



Then there was TARA PALMER-TOMKINSON, -in a great mood, having forgiven me for a picture I put out a while back....- Duran Duran's NICK RHODES with girlfriend MEREDITH OLSTRUM, LINZI STOPPARD, -very cute but no one knows what she does (note from The Editor: LINZI is a violinist who performs all ovet the world = our very own VANESSA MAE!)- MICHAEL SHEEN, child actor ABIGAIL BRESLIN, CAROLINE STANBURY and CLAUDIA WINKLEMAN. As you can see, by my standards, it was a bit of a c--p list for pictures apart from a couple of names! Another Saturday night ruined!

The following Sunday it was time for the main event. The British 'Oscars', A.K.A. BAFTAs -The British Academy of Film and Television Arts -are the biggest film awards on our rickety island. This event should be renamed the 'BAFAs' as the TV part is not represented as it has its own awards later in the year. Call me picky! At least it looks like a real film awards ceremony. It now has a far longer red carpet, bigger press/ TV areas and all the press are under a clear roof. So when it rains we won't get drenched. Having been moved from the ODEON in Leicester Square, London to the newer, bigger and better Royal Opera House in Covent Garden, London it looks much more like its big cousin The Oscars, A.K.A. The American Academy of Motion Picture Awards.The first stream of people on the red carpet were the hoards of badly attired industry folks who wouldn't walk quickly enough and get out of our way. I say this, as a lot of the time we have to shout to these people to "get out of our bloody way" -its usually a lot stronger than this- as they tend to linger and 'pollute' the red carpet. So when a decent celeb -not that many around- turns up we don't get these baboons in our shots. A lot of them just stand on the red carpet taking pictures of themselves. How embarrassing. Jeez, get a life! Be dignified about it. Why don't they enjoy the event with self respect? Anyhow, -zoo aside- the first 'decent' name to arrive eventually was the lovely SIENNA MILLER with a cool though unspectacular green dress with a low cut back right down to her bum. Sienna suddenly had all the time in the world for us without complaint; we couldn't get rid of her! Normally photographers stress her out completely, she says.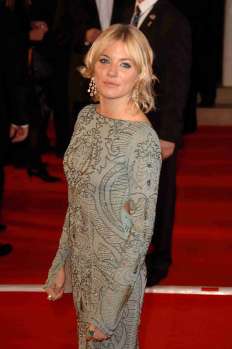 Sienna Miller



Sienna was obviously plugging her latest flick 'Interview'. In the new film with STEVE BUSCEMI she plays, get this; a famous actress! Expect her out smiling and unstressed very soon when the film premieres in London.

Other celebs in attendance were: the great HELEN MIRREN who won a BAFTA for Best Actress in The Queen.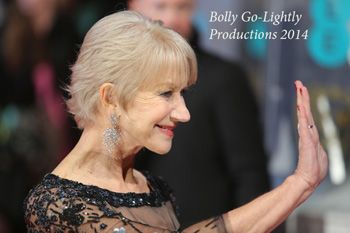 DAME HELEN MIRREN



Then there were PENELOPE CRUZ, JUDI DENCH, LAURA BAILEY, DAVID PUTTNAM, EVA GREEN, EMILY WATSON, JOELY RICHARDSON, IAN MCKELLEN, KATE WINSLETT and KYLIE MINOGUE -who didn't do the red carpet but I got her backstage just for you dear readers!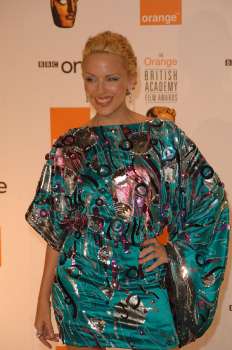 KYLIE MONOGUE.



Kylie Minogue followed by JAKE GYLLENHAAL,JAMIE BELL, DANIEL CRAIG, FOREST WHITAKER, -who rightly won a BAFTA for Best Actor for his role in 'The Last King Of Scotland'- our own SALLY FARMILOE in a fab red gown, EMILY BLUNT and loads more. Needless to say I was working till late. By the time I had finished editing 800 odd pics and sending them, it was 3 am. Later that day, dear peeps, I had the ELLE STYLE AWARDS. No rest for the insane.

The ELLE magazine Style awards is normally a good do for good names. This year it didn't disappoint either, with names attending including NAOMI CAMPBELL, PENELOPE CRUZ -again- SOPHIE ELLIS-BEXTOR, STELLA McCARTNEY, PEACHES GELDOF, -who now turns up to anything. She recently turned up to the opening of Poundstretcher's winter half price sale, it is alleged, in Kentish Town. Guess how much she was paid.....- MYLEEN KLASS, JOELY RICHARDSON, porky KELLY OSBOURNE, EDITH BOWMAN, THANDIE NEWTON, EMILIA FOX, JODIE KIDD, AMY WINEHOUSE, SARAH COX and FEARNE COTTON amongst others. This is another quality awards ceremony though at times they get a bit carried away and disappear up their own rectums. For example: Best Actor award : JUDE LAW. I thought he was allegedly laughed out of Hollywood not long ago! Here's another blinder: Best Model: NAOMI CAMPBELL! That recently -at last-convicted, violent, aggressive, reportedly drugged up woman!. OK she may have overcome this? Stop giggling! The word is that proven coke head KATE MOSS was the chosen one -real winner- but couldn't attend. Thus theaward went to la Campbell. Why not ERIN O'CONNOR? What's that you say? She's not a proven coke head or violent? Perhaps that's the real reason. I'll mention this to her next time I see her!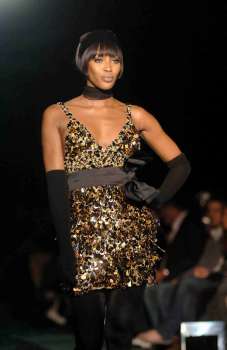 Naomi Campbell



London Fashion Week was also held in town this month and for me, peeps, the best show for the fash was MANISH ARORA. What a fantastic designer. His show was very colourful and fantastic. JULIEN MACDONALD is also a great designer but this season his show was a bit lacklustre. He had a black catwalk, black background and lots of black clothing. C**p for photos. At least Julien guarantees names and he got the afore mentioned NAOMI CAMPBELL to model for him. Show reception and party was good but no champagne! Only vodka and fruit juices:yuk. Anyway I am featuring a Manish Arora model here.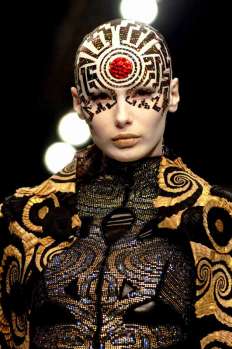 Manish Arora model.



Well peeps, that's it for now. Over and out, see ya next month.


JOE ALVAREZ

joealvarez@verycool.co.uk

Check out my website at: www.myspace.com/redcarpetspecialist

WORDS AND ALL PICTURES COPYRIGHT JOE ALVAREZ 2007.