Thank you for your e-mails about "getting your colours" done: it certainly is all important to know which colours really suit you before spending loadsamoney on both make-up and clothes. The good news is that COLOUR ME BEAUTIFUL, the UK's top colour consultants have just brought out a fab new book called COLOUR ME CONFIDENT, published by Hamlyn and available in good bookshops. This handy tome will tell you everything you need to know about looking your best, make-up and clothes wise and is particularly useful if you do not have the time, money or are not in a convenient geographical location to visit a CMB consultant personally. CMB tells us that there are half a dozen basic colour types and that everyone falls into one of those categories. For instance in COLOUR ME CONFIDENT we learn that CATHERINE ZETA-JONES, with her dark hair and eyes and "burnished colouring" is a "deep" type who can wear at least 30 basic colours confidently, including soft white, ivory, black, chocolate, blush pink, scarlet and emerald green. So, if you think you have ZETA's colouring (lucky you!) you will know where to start. Or you could be a "light" type like CLAUDIA SCHIFFER or a "soft" type like KYLIE MINOGUE. Buy this must-have book and check it all out: you will be totally fascinated. Now here is the delectable, previously mentioned MS. ZETA-JONES.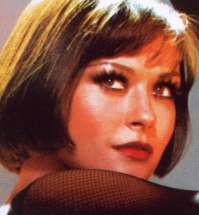 CATHERINE ZETA-JONES.



Thank you also, dear readers, for your kind comments about my new book, SENSUAL PLEASURES AND THE ART OF MORPHING INTO A HEALTH GODDESS (scroll down to the bottom of the page for all the details of this magnificent "oevre"!) I have been signing copies right, left and centre all over the country and am planning forays into Holland, France and Monaco, not to mention our very own STAR BAZAAR on channel 698 on satellite tv. Watch this space, ladies and gentlemen. In the meantime here is a delightful pic of moi with my lovely and dynamic publicist, CHARLOTTE ELLIS at last month's signing at HARRODS' book department, WATERSTONES. HARRODS' WATERSTONES, managed by the charming and efficient JANE PRICE, is quite the most fun book department in London where you meet "la creme de la creme" of readers and all sorts of amazing books are on display, not least the fulsome JORDAN's latest which JANE reports is selling extremely well!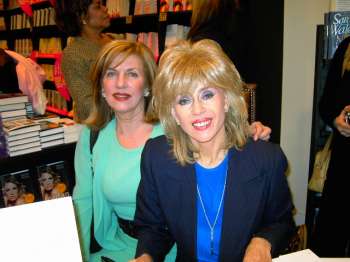 SALLY with CHARLOTTE ELLIS. C.r.: GENE WETHERLEY.



APOLOGY: I would like to apologise most profusely to the manufacturers of VITA LIBERATA, the company who make the totally brill new Silken Self Tanning Gel and Silken Facial Self Tan which I use myself, for printing their telephone number incorrectly in a previous issue. In fact the correct number for ordering/stockists of these excellent products is: 028 9334 4411.

Talking of phone numbers, we now have one for LUCIA GOLDSTEIN, manufacturers of the truly luxurious and beautifully packaged Body Cream I reviewed last month. It is : 0845 230 7330 This product makes a fab present and is very popular with those celebs who care about the feel as well as the look of their flesh, including the lovely CAPRICE.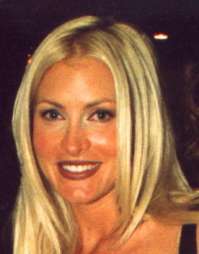 CAPRICE. TRENDS LAUNCH



And talking of great creams, eagle eyed reader JANEY has just tracked down MADONNA's anti-cellulite cream! MADONNA's thighs and bum always look perfect even though she is officially "middle –aged" (ghastly expression!) so something must be working and not everyone has the time for MADGE's punishing 3 hour daily workouts in the gym and on the yoga mat. Let's try the "new miracle cream" first, ladies. JANEY is on the case and will report back to us after using it for the required 8 weeks, just in time for a bit of thigh flashing for spring! If you simply cannot wait, you can order it immediately at:
www.physonics.com


Getting back to faces, here is my SKINCARE PRODUCT OF THE MONTH for March. That brill US company DR DENESE have brought out a wonderful new product called Perfect Pucker to make us look fab when we pucker up. Perfect Pucker is a dual-action needle-free filler which plumps up the area just above the lips which can develop fine lines and wrinkles if you either smoke (surely not!) or kiss a lot, or both. It provides an instant plumping effect and goes on working by stimulating the growth of collagen and hyaluronic acid beneath the skin. Apply above the lips daily and see your pout improve long term! Perfect Pucker also contains botanical extracts, vitamins and Retinol for additional anti-ageing benefits. As I am a very kissy-kissy, mwah-mwah person, I road tested this product myself and can report that it does not sting at all (as some of the lip plumpers out there do) and my lips are looking and feeling super luscious these days. Available from DR DENESE at:0870 1900 003 or: www.drdenese.co.uk Now you too can have lips like CAMERON DIAZ and here she is, guys n gals!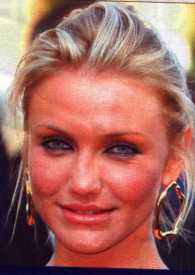 CAMERON DIAZ.



My March MAKE-UP PRODUCT OF THE MONTH is LANCOME's excellent Colour Focus Exceptional Wear Smooth Eye Colour Quad which is self explanatory. The shadows brush on really smoothly, last for ages and there are 4 colours in each palette. There are greens (very "in" this season), browns (which go with everything) and my personal fave, no. 203 which contains soft pink, ivory, silver and bronze. LANCOME products are always very high quality and these palettes are conveniently handbag sized with 3 brushes and a mirror: ideal.

If you love jewellery, now is your time. Jewellery was bold, colourful and seriously in evidence at all the collections this season. I have just found the most fab new online company called J AND T JEWELLERY at: www.jandtjewellery.com
You can purchase direct from the site and your jewellery arrives within days. There is a great selection including the high fashion Absolute Crystal range, made with SWAROVSKI crystals and the Absolute Greek range which also features crystals and is very feminine and goddess like. The colours are divine and here is a quick snap of me at fashionable Sloane Street niterie M1NT sporting my fave J AND T piece, a ruby red choker necklace with a starburst pendant from J AND T 's Absolute Crystal range.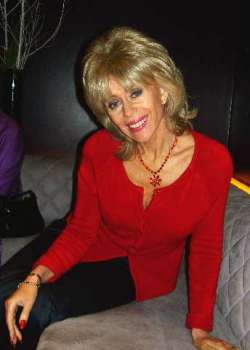 SALLY wearing J AND T JEWELLERY at M1NT. C.r.: GABOR SCOTT.



Thank you for reading my page. You can write to me at:
sally@hotgossip.co.uk

www.sallyfarmiloe.co.uk
Get my new book to keep you fit, healthy and gorgeous for 2006
SENSUAL PLEASURES AND THE ART OF MORPHING INTO A HEALTH GODDESS
just published by THE BOOK GUILD and DELANCEY PRESS
ISBN 1 85776 989 9 978 1 85776 9890
"The Ultimate Health And Beauty Directory" (NICKY CLARKE)
at Foyles, Hatchards, Waterstones, Harrods (signed copies), your local book shop or from:
www.delanceypress.co.uk / www.amazon.co.uk

Do check out my new book and classic video below.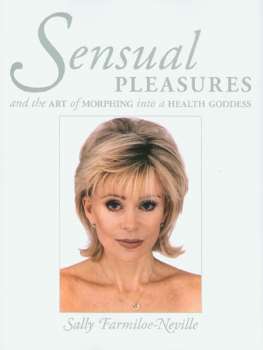 SENSUAL PLEASURES AND THE ART OF MORPHING INTO A HEALTH GODDESS (£16.99) is available from the following outlets:

Delancey Press - orders@centralbooks.com or 0845 4589911
ISBN: 0780953911998

LOO TIME VIDEO available from:

farminghamprods@aol.com and:

http://www.121music.com/pages/video_01/home.html