THE ORANGE BAFTA FILM AWARDS were fantastically glam this year with loads of HOLLYWOOD stars turning out for the British Academy's big night. Huge congrats to BAFTA winners THE AVIATOR, MIKE LEIGH, IMELDA STAUNTON, JAMIE FOXX, KATE BLANCHETT and CLIVE OWEN and all the other winners, as well as all the nominees. And for the Best Supporting Dresses I would like to nominate MISCHA BARTON, KATE BLANCHETT and GOLDIE HAWN who all sparkled and stunned like the screen goddesses they are. Super slim OC star MISCHA looked divine in a slinky black cut out DIOR dress. We had a delightful chatette and MISCHA said she adored working on the OC (which you can view on E4 on SKY, Tuesdays at 9pm: I know this as I have to tape it for JADE every week now that I have mastered the intricacies of the video machine!) Best Supporting Actress KATE BLANCHETT looked regal and PRINCESS GRACE - like in cream ARMANI and the evergreen MS HAWN was sexier than ever in a white VALENTINO sheath. Heeeeeeeeeeeeeeeeeeere's GOLDIE.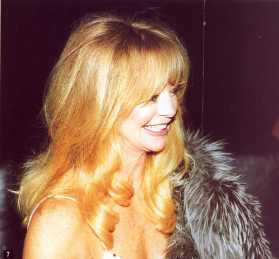 GOLDIE HAWN



My mate JOAN HOOLEY and I decked ourselves out in equally gorg frocks by the newest and most exciting evening gown designer on the block, SAINT-HILL and we sat with Lady In Red ESTHER RANTZEN who looked more amazing than ever. How does she do it? Did you see her in fishnets in teen mag CLOSER last month? I will interview her soon, dear readers and reveal ALL her secrets! Sadly THE GROSVENOR HOUSE in the presence of her charming gentleman companion was neither the time nor the place!

On the guy front, the room was awash with la creme de la creme of male pulchritude including LEONARDO DI CAPRIO, our cover boy last month, RICHARD GERE and PIERCE BROSNAN. JOANIE let me down badly by telling our NBF RICHARD that I thought PIERCE BROSNAN was better looking than him to which he modestly answered "well, PIERCE is better looking than me." What a man! How charming, how diffident; do all go to his new film DANCE WITH ME in which the gorg silver haired one stars with JENNIFER LOPEZ (the star formerly known as J-LO formerly known as JENNIFER LOPEZ!) In fact at this juncture I would just like to set the record straight: PIERCE BROSNAN is the best looking BRITISH male fillum star and RICHARD is the best looking AMERICAN male fillum star. (And CHRIS NOTH, SEX AND THE CITY's "MR BIG " whom we met at last year's TV Awards is the best looking male TV star.) Goddit? Good. The suave MR BROSNAN's latest pic is called MATADOR and yes, he still looks like this: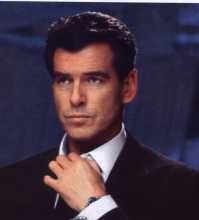 PIERCE BROSNAN




The morning after the BAFTA night before I was up (even though I had hardly been down!) and off skiing to VAL THORENS in the Trois Vallees region of the French Alps. The snow was terrific and I am happy to report that, fashion wise, anything goes on the slopes this year: the madder your hat, the better and bright, clashing pinks and purples are totally accepted for gents as well as ladies in the snow. Sadly I am currently in mid-barney with our Tour Operator who sold us a chalet with a bath that did not have one and whose showers were constantly blocked. It could have all got a bit stinky but one must always look on the bright side: if our facilities had not been inferior I would not have toddled over to the apartment block next door and met 5 hunky 29 year old Dutchmen, ERIC, BART, ROLAND, YURI and DJORK who DID have a bath in their chalet and with whom I shared a sauna every night after skiing. Hi, guys, looking forward to seeing you again when my esteemed agent MEECH gets me another commercial in AMSTERDAM (hint, hint!)


Sadly the alpine glow does not last long when one returns to the dirty old city but one must still protect one's skin from the elements. Since JADE has banned me from having Botox after that famous "it's the Boooooooooooooooooootox" scene in chick - flick THE CINDERELLA STORY, I have been using RELAXADERM, the new miracle "Botox in a jar" cream from the excellent SKIN DOCTORS . RELAXADERM is certainly working well for me: my "expression lines", as MEECH fondly calls them, have definitely softened and I do not need to wear foundation any more. RELAXADERM costs under £30 and can be found in all the big stores and pharmacies or ring SKIN DOCTOR's marv PR, JACKIE CURRAN at: 020 7841 87 80 for a stockist near you.

Another big RELAXADERM fan is allegedly our very own English rose in Tinseltown, JOELY RICHARDSON and isn't she great in NIP/TUCK? Yes, it's back, folks on SKY ONE on Sundays at 10pm and it's ruder, raunchier and more riveting than ever: check it out.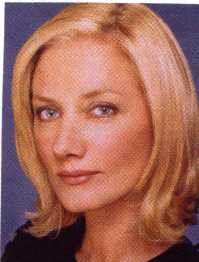 JOELY RICHARDSON



And what do you think of DESPERATE HOUSEWIVES (C4, Wed.s at 10pm), dear readers? I reckon this fab new show gives a new lease of life to all we middle-aged mummies....not to mention some interesting ideas. Anyone got a hunky young gardener yet?


Now here's a date for your diaries, ladies and gents: this year's ASIAN LIFESTYLE SHOW 2005 will be even bigger and better than last year's. It's at OLYMPIA again on the 8th, 9th and 10th of July and if you like all things BOLLYWOOD, you will love it: celeb chefs, Ayurvedic massages, astrology readings, beauty make - overs, to name but a few of the attractions. You can find out more at: 020 7801 00 77.


If you like Balls, do please join me at THE BOB CHAMPION CANCER TRUST WINNING POST BALL at THE PARK LANE HOTEL on Thursday, 21st April for Black Tie dining, dancing, auctions, raffles and celeb guests. You can contact KATE at the Charity on : 020 7924 35 53 for more info or to book tickets (£100 each.) One of the more interesting auction lots on offer at this swish event is "an evening at a posh nosherie with NEIL AND CHRISTINE HAMILTON". PR guru MAX CLIFFORD, who will also be attending, the Ball, has already expressed a keen interest in this lot, as THE HAMILTONS recently relieved him of a cool quarter of a mil in a libel action, so there should be fireworks on the night! No doubt former HGUK cover girl CHRISTINE will be wearing a stunning designer frockette and beaucoup de bling after her recent windfall!


CHRISTINE HAMILTON




My Celeb book of the month is ERICA JONG's SAPPHO'S LEAP (ARCADIA: £11.95.) Ever since the brill MS JONG first assailed our literary senses with FEAR OF FLYING, I have had a healthy respect for her talent and SAPPHO'S LEAP is a wonderful read. The novel is, of course, about SAPPHO herself, the Greek heroine who lived on the isle of LESBOS in around 600 BC. Yes, that SAPPHO, the one of "sapphic" fame. But, although SAPPHO lived on LESBOS (of "lesbian" fame!) she was apparently into boys, and indeed men, as well as girls and she was a great poet to boot. Her life, as told by ERICA JONG, is absolutely fascinating and eminently readable so don't be put off by the fact that SAPPHO lived a wee while ago in Ancient Greece. This is the best Greek-based book I have read since I was enchanted by THE BULL FROM THE SEA as a little girl. Highly recommended.

And if you fancy something contemporary, my new fave paperback author is JANE GREEN, the stunning lady who was recently photographed with MR GEORGE DUBYA BUSH, leader of the Free World, in WASHINGTON. MS. GREEN has written 5 best - selling novels, STRAIGHT TALKING, JEMIMA J, MR MAYBE, BOOKENDS and BABYVILLE (all published by PENGUIN at around £6.99.) They are all chick - lit about 30 somethings living and loving in the great metropolis and they are all a great mix of funny, sad and blushingly true. Needless to say I have read them all and am hooked. Let's have a new book soon, please, JANE! Also all highly recommended.


And now for something completely different........has anyone had a sighting of ROD STEWART recently? Well, I have, driving down High St Ken in his Range Rover with his distinctive SONG number plate. How gorg MR STEWART is looking these days and what a stunning smile he gave me (or was it aimed at VIOLET, my beautiful convertible?!) He is blonder than ever and rumour has it that he was allegedly spotted in the chi-chi HAIR VARIATIONS hair "saloon" at FORTNUMS recently, although HV's charming and discreet boss NEIL would not confirm this. Watch this space.


The eagerly awaited new members' shareholders' club MINT opened last month with great fanfare and no less than 5 opening parties! The principle of MINT is a brilliant one: the club's members are also its shareholders and thus receive dividends, so the more they eat, drink and dance in their own club, the more they earn! Now why didn't I think of that? Phone MINT on 020 7245 0896 if you fancy becoming a member/investor with all the perks MINT offers, including hiring a jet and buying a new Lamborghini (or "lamb bikini" as my 13 year old non-driving JADE calls it!) in an instant. Not surprisingly I am thinking of my wealthier readers here: BILL in Canada and STEVE in Africa, is this for you, guys? MINT is on the old MONTE'S site in the CARLTON TOWERS HOTEL on Sloane Street and its decor is dazzlingly white and bright. I toddled along to the first night party where I met MINT's charming owners ALISTAIR PATON and JONATHAN SAINSBURY and rubbed shoulders with the great, the good and the seriously wealthy. I was particularly pleased to see old friends JONATHAN SHALIT, the dynamic pop entrepreneur who launched a thousand stars including CHARLOTTE CHURCH and JAMELIA and TV producer (and now TV star after his recent highly rated appearance in TROUBLE AT THE TOP) DAVID WEST who is also the esteemed sponsor of HGUK. My photo shows moi frolicking at MINT with gorg glamour model DENIZE HEWITT who added some female pulchritude to the evening.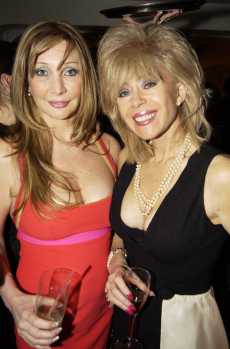 SALLY with DENIZE HEWITT at MINT. C.r.: ALAN DAVIDSON



After the fab MINT party we toddled upstairs to check out GORDON RAMSAY's chic new restaurant, PENDELLIS which, needless to say was really humming and yes, the great man was there himself. PENDELLIS is on the first floor of the building above MINT and is open to the public.


Thank you for reading my page. Do check out my personal website at: www.sallyfarmiloe.co.uk


And don't forget to buy my fave vid, LOO TIME

Sally.

sallyfarmiloe@aol.com

LOO TIME VIDEO available from:

farminghamprods@aol.com and:

http://www.121music.com/pages/video_01/home.html