STOP PRESS!!! Great news: my health and beauty book, SENSUAL PLEASURES AND THE ART OF MORPHING INTO A HEALTH GODDESS (see ad at bottom of page) has got into the final of THE PEOPLE'S BOOK PRIZE / NON-FICTION section.
Please VOTE for it, dear readers at:
www.peoplesbookprize.com
Thanks so much.


Talking of books, best congrats to HG's fave thriller writer, the great PETER JAMES whose current super exciting novel DEAD LIKE YOU, which I reviewed last month, has just become the UK's Number One Bestseller! Justly deserved - it's a scorcher. Full report - with pix - of PETER's fun book launch on the world famous Brighton Pier next month, PJ fans.


Well, summer's here at last - sort of! - and it's time to get our ourselves looking hot-hot, girls.

First stop is our hair - now's the time for some highlights to capture that sun kissed look.
The best highlighter I have found recently is the delightful BRETT WALKER, manager and chief colourist at the famous MICHAEL BARNES' fab salon at 224 Shaftesbury Avenue, WC2 (020 7836 7152), just next door to The Shaftesbury Theatre.
Charming Aussie BRETT has just highlighted my whole head of dirty blonde hair and it looks great, sensationally blonde with the wow factor so I keep wanting to fling my hair around, "because I'm worth it"! But yet it's so natural looking that none of my family realised I'd had it done = perfect. What's more BRETT is great fun to talk to as well as being really fast and efficient with the old silver foil so the time just flew by. Then BRETT passed me over to the man himself, the elegant MICHAEL for a fantastic cut n blow dry. MICHAEL, who is also very amusing and interesting, gave me a great IVANA pony tail which I love - it's ideal for sporty summer activities and really easy to look after. Even though MICHAEL's a big telly star, etc, he listens to his clients and does NOT cut too much of one's precious locks off, which is really important for us long hair gals.
The salon is light and airy, the herbal teas are truly exotic and the whole MICHAEL BARNES experience is a delight.You have to try these boys, girls. I am returning this month for an 'up do', one of MICHAEL'S specialities. Watch this space.
Now here's a moody pic of BRETT and one of MICHAEL in action doing one of his tellies: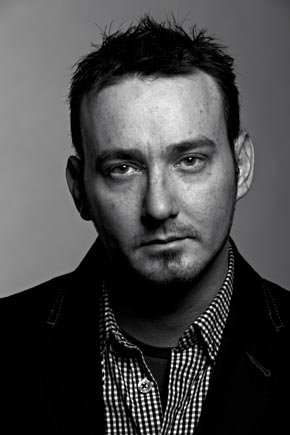 BRETT WALKER . Copyright: JACK EAMES.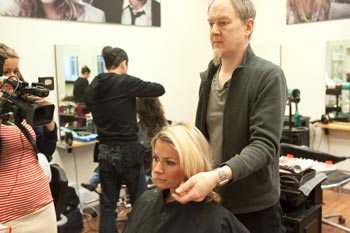 MICHAEL BARNES. Copyright: MICHAEL BARNES SALON.




The boys also supplied me with some great KMS products to deal with my perennial summer 'itchy head': HEAD REMEDY Scalp Treatment and Sensitive Shampoo which defo sorted out the problem, plus COLORVITALITY Conditioner, which is perfect for highlighted hair and makes it smooth and silky.

The gal who intro'd me to MICHAEL BARNES was their charming p.r. SALLY from GLOSS who has just had the most divine baby called MILO and here he is, a star of the future, with the one and only GOK WAN: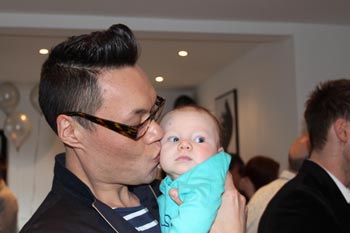 MILO and GOK: private collection.




Summer is the ideal time to go blonder so, if you dare, go for it. Anybody can do it as THE CHEEKY GIRLS recently proved when they donned MARILYN MONROE-platinum wigs for a gig.: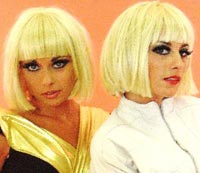 THE CHEEKY GIRLS: private collection.



BTW if you would like to book THE CHEEKY GIRLS yourselves, I have seen them several times and can highly recommend them. They may have started as a novelty act but have now established themselves as professional performers and they are certainly lookers! Their manager is the dynamic TINA at:
tinarees9@aol.com


A glowing, golden tan is a must for summer but a real one is not always a possibility in Blighty and is bad for the skin anyway. So get faking, laydeez. My guinea pigs and I have tried them all and our current fave is the stunning SIENNA X Spray Tan, available at URBAN RETREAT in HARRODS (020 7893 83 33). I was lucky enough to pull this superb treatment myself and was delighted with it. I was SIENNA X'd by TAYLOR, a gorgeous gal who sprayed me back, front and sides, just like a car, and made the tan look entirely natural by spraying more in the places where the sun would naturally hit you, like the shoulders, for instance. The spray tan only takes about 20 minutes, top to toe, then TAYLOR spray dried me with nice warm air and I was 'good to go'. You shower the following day, then moisturise daily, exfoliate from the third day and especially before your next session. The colour is perfect (I had 'medium') and it gives you 'freckles', just like the real sun. Extraordinary but true and, at just £40 a session and lasting for 2 weeks, this is a bargain. Plus URBAN RETREAT at HARRODS has a lovely calming, relaxing atmosphere and lots of gorg products. Check it out.


The next summertime step on the beauty front is a pedicure so that you can wear this season's pretty jewelled sandals. As you really need to leave varnish to dry for an hour after a pedi, a house call is a must.
The best home beautician I have found is the lovely GINTARE from BLOSSOM AND JASMINE (07813 214 937) who does various treatments, including manis and pedis and is also a fab make-up artiste. GINTARE is simply the best pedicurist I have ever, ever, ever found! Not only will your tootsies look and feel sleek and smooth but also the varnish will last for weeks. I don't know how GINTARE does it but she does it - you will save a small fortune in time and money by only having to have your pedis every 6 weeks instead of every 2!
BLOSSOM AND JASMINE have also just started doing make-up in TOP SHOP and are about to become even more popular so 'book up early to avoid disappointment!


Next we need to banish any 'unsightly' (dreadful word!) cellulite, girls, before hitting the beach. My guinea pigs have been busy trying all the creams and lotions and potions on the market and here are the 2 that worked = BEST CELLULITE PRODUCTS:

WELEDA's BIRCH CELLULITE OIL.
Trialler JULIE said "smells amazing and goes on like silk. I noticed a difference after using for 1 month. My skin is definitely smoother and less lumpy and it seems to have got rid of my stretch marks too."
WELEDA has a great range of products, including healthcare, skin care, hair care and men's and babies' products - check out their catalogue.
www.weleda.co.uk / 0115 944 8222.

ALVA's INTENSIVE REFINING-CREAM For Cellulite and Slack Cellular Tissue.
Trialler AMANDA said "the cream feels thick and serious but rubs in quite easily. My skin actually looked tighter and firmer after just 3 weeks which is amazing. It smells quite pleasant and has a pump dispenser which makes it easy to apply. I tried it on my knees as well, where the skin is just saggy rather than cellulite and I think it's working there too."
ALVA also manufacture a great anti acne product called RHASSOUL MINERAL WASHCREME containing the famous Rhassoul clay. Trialler AMANDA said, " I used this twice a day and my spots improved after 2 weeks. They have nearly gone now and my face feels really clean after washing with it. "
ALVA's hand cream and skin oil are also excellent and they have a great make-up range. Look at their catalogue too.
www.alva.co.uk / 0800 043 3284.


It's very important to protect your face from the sun and wear products with a high SPF every day in the summer. I am delighted to report that ELIZABETH ARDEN have brought out their famous EIGHT HOUR CREAM with an SPF of 50. It's called EIGHT HOUR CREAM SUN DEFENCE FOR FACE and my triallers and I all loved it. It's very lightweight, goes on easily and is a must for keeping summer skin dewy and protected all day.
Available from all ELIZABETH ARDEN outlets.
One celeb who favours EIGHT HOUR CREAM is allegedly MADONNA. Well, she's certainly looking glowing these days: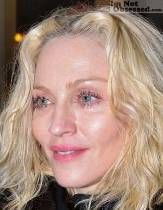 MADONNA. Copyright: EXPRESS NEWSPAPERS.





If you don't have much time for spray tanning, you can easily create the illusion of a summer glow with bronzing make-up. My eager beaver team and I tried loads of face bronzers and here are our 2 faves =
BEST BRONZERS:

At the top end, SUSAN POSNICK's COLORFLO BRONZER, in a brush which dispenses just the right amount of 'glow' at a time, is superb. It's a mineral make-up which nourishes the skin and protects it from the sun. The soft fluffy brush can be made bigger or smaller by adjusting the clear plastic sleeve, so you can swirl it over your shoulders and decollete or use it very precisely for nose and cheekbones. Great packaging and easy to carry around for a quick touch up any time any place.
Stocked in premium salons and spas and from www.skinbrands.co.uk / 020 8997 8541.

On the cheap and cheerful front, MINER's have just launched their BRONZER BLEND which is a bronzer and highlighter/blusher blend in a compact. There are 2 tonal mixes: the highlighter, SUNKISSED = gold and the blusher, SUNBLUSHED = pink and you can apply the product easily with a brush. It feels very luxurious and goes on smoothly and evenly every time. Again perfect for giving a natural sunny glow to cheekbones, nose, shoulders and any other place the sun might catch!
www.miners.co.uk


You won't be able to wear lash extensions or use so much mascara, if any, on the beach and in the pool/sea so it's time to give the old eyelashes some attention. There is a brill new American product that really works for growing lashes and is completely safe: PROLASH 8 EYELASH GROWTH SERUM. It's been clinically proven to work in 100% of cases which is quite extraordinary and it's now available without prescription. My trialler ELAINE said "you apply the PROLASH 8 to the skin just above the lashes, I suppose where the roots are, every night, upper and lower. I didn't expect it to work but it really has. My lashes are certainly longer and thicker as well. this is a wonderful product and I will keep using it now."
Extraordinary - must try it at once!
www.prolash8uk.com / 020 3300 789.



On the fashion front there are some great SUNGLASSES around this season. I particularly like the DIOR GLOSSY which seems to suit all face shapes. They certainly suit the gorg PARIS HILTON and here she is in them - girls, you can admire the sunnies and boys, you can admire PARIS!


PARIS HILTON. Copyright: DIOR.




Jewellery this season is big, bold and colourful. I would like to congratulate my lovely American pal, ANNABEL' OCEAN LADY' CURTIS whose stunning and unique pieces are currently up for an award. ANNABEL's hand made necklaces and bracelets are always beautifully made with sensible fastenings which makes all the difference. Here is one of my ANNABEL faves, a stunning necklace with turquoise pieces in the middle and featuring her own unique stitch using crystals.



ANNABEL CURTIS necklace. Copyright: PATRICK CURTIS.



If YOU would like to order an exclusive handmade piece by the lovely ANNABEL, please email me and I will forward it on to her. (This designer is seriously exclusive!)



Are you fed up with your summer wardrobe and don't have the dosh to update it? a SWISH is the answer.
'Swishing' means swapping and it's the latest way to beat the credit crunch. The best swishes in the UK are organised by
www.bigwardrobe.com
who give the entrance fee profits and left over garments to charity so you can feel virtuous about getting a whole new wardrobe!
The next London swish, for instance, is on the 10th of July from 2-4pm at PLATFORM RESTAURANT AND BAR, 56-58 Tooley St, SE1 2SZ.
You can bring up to 15 garments to swish and unlimited accessories and will be able to swap the same amount as you bring in. Entrance is just £6.50 online and £7.50 on the door or £20 for VIP tickets including food and drink.
Check out the site for the next swish in YOUR town and, Londoners, I'll see you on the 10th of July at PLATFORM where I'll be swishing all my too bigs, too smalls and outright mistakes with my friends and family!



Once you've beautified yourself from top to toe and stocked up on sunnies, jewellery and clothes, you'll be good to go on your hols and have a good one - or 2!
I've just discovered the answer to locking my suitcase without getting it ripped open by Security: THE ILA WORDLOCK. This is a really neat and pretty little combination padlock for suitcases, et al, which uses words not numbers (much easier to remember!) and has a universal key at the bottom so that Security can unlock it safely if they mistake your face powder for coke or your hairdryer for a bomb! Seriously, we all approve of Security in today's world but we want to be able to lock our goodies up safely as well. THE ILA WORDLOCK is a travel friendly must and makes a nice little pressie for jet setting pals too.
Check out ILA's fab catalogue for all sorts of pretty and feminine keyrings, alarms and other cool gadgets.
www.ilasecurity.com


And now for something truly glamorous: best congrats to lovely HOT GOSSIP cover girl LIZ FULLER who has revived the always popular MISS GREAT BRITAIN CONTEST. LIZ, a former MISS GB herself, has taken over the contest single handedly and is working hard on making IT the best ever, along with our mutual publicist, the dynamic CHARLOTTE ELLIS. I attended the recent London heat with my TV partner, KAZZY at LES AMBASSADEURS' glam RED ROOM. The event was covered by the delightful EDWARD LLOYD and his charming assistant DIANA AUSTIN for OK! MAGAZINE and all the girls were gorgeous, bright and sweet natured. Eventually a winner and 2 runners up were chosen from the huge array of female pulchritude and here they are with LIZ herself and sponsors RACHEL ELBAZ of RACHEL COUTURE, WIAAM MATI of BELLEFONTAINE Beauty Products and ANDRIA VASSILIOU of CETUEM Skincare.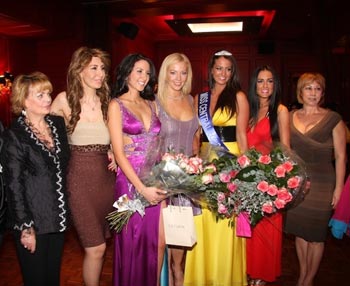 MISS GREAT BRITAIN / LONDON heat. Copyright: GABOR SCOTT.




Talking of ladies who have been featured in HOT GOSSIP, I was pleased to hear that TRICIA WALSH-SMITH, 'THE YOUTUBE WIFE' and one of the hilarious stars of hit TV show, PINEAPPLE DANCE STUDIOS, has found love at last. The 'Internet Sensation' who is probably the most famous divorcee on the planet at present has linked up with delightful DJ Extraordinaire MIKE READ. The blonde bombshell said "we met on the showbiz circuit. He's hot - I really like him." My pic shows the happy couple snapped at MADAME JO JO'S when TRICIA who has now turned singer/songwriter was performing there recently.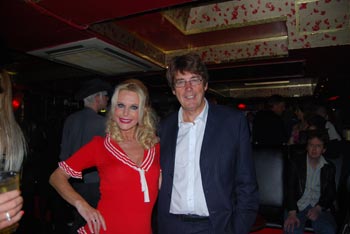 TRICIA WALSH-SMITH and MIKE READ. Copyright: DAN CASSEN.




Finally, have you seen SATC 2 yet, gals and guys? If not you must - it's a hoot with terrific lines, gorgeous guys, stunning locations and the frox are to die for. And, oh yes, the actresses are looking and sounding pretty darn hot for 40 plussers - gives us all hope, eh, laydeez?


Thank you for reading my page. You can write to me at:
sally@hotgossip.co.uk

and do check out my other websites:
www.sallyfarmiloe.com
www.kazzyandsally.tv