The good, the bad and the ugly... The dead, the injured and the just plain crazy

We start June with bad news. Slipknot, the rambunctious band original from Des Moines, Iowa, mourns over the untimely passing of its bass player, Paul Dedrick Gray. The corpse of the 38 year old was found by an employee at the Town Plaza Hotel in Urbandale on Monday 24th of May and his autopsy shows no signs of foul play or significant trauma. Between four and six weeks will have to pass before the toxicology results may throw some light on the causes of his death. The band's HYPERLINK "http://www.slipknot1.com/" official website shows a photo of Paul wearing the customary scary mask that has been Slipknot's trademark attire since they first erupted into the scene with their 1999 self-titled album which had sold over 1 million copies. The nine-member group appeared without their masks at a press conference where their front man, Corey Taylor, said: "We lost our brother and the world seems a little smaller because of it. He had the biggest heart of anyone I've ever known. The only way I can sum up Paul Gray is love". Gray's pregnant widow, Breena added that he was "an amazing person".

On a more celebratory note, I am pretty sure that the Rolling Stones are still pinching themselves after their re-release of "Exile in Mainstream" reached number one in the charts. Now, and yes, I am ranting again, this album was originally released almost four decades ago to mixed reviews and it has now beaten Faithless to the top spot by a mere 1,386 copies. What is going on? I have two very distinctive perspectives over this:

The music world is so crammed with meaningless records of questionable quality and high commercial impact that bringing a piece of music produced in the much different world of the 70's is the magic formula for success as its sincerity shines through all the marketing produced tunes of these days.

The Rolling Stones have succumbed to the magic formula of good marketing and instead of bringing relevant music to the world of today they've decided to impress their audiences with extra features rather than new music. The album comes with two new tracks "Plundered my Soul" and "Dancing in the Light" and a whole bunch of alternative versions of the original songs. Plus, they presented "Imagine, the Stones in Exile" at the Cannes Film Festival last week, a documentary on the making of the album.

I could pick either option and feel equally depressed... I feel that the music business these days has more business than it has music! Someone that is depressed is Bono. After his recent and sudden spine operation he is no longer fit to perform onstage for at least another 6 weeks which leaves U2 with no option but pulling out of this year's Glastonbury festival. The British audiences were just getting over the fact that David Beckham is not playing this world cup and now this! The irony! I guess that it won't be as hard to get over U2's absence given that Damon Albarn's band, Gorillaz, has taken on the challenge instead. Michael Eavis, the man behind the festival, is threatening us with "a massive audio visual spectacle which will really ignite the Pyramid Stage". There, there, Bono, it will be ok.

And speaking of U2 and the Rolling Stones, their producer, Steve Lillywhite is now working with the Beady Eye. Who are they? Liam Gallagher's new band, no less. His brother Noel had quitted Oasis last August leaving Liam, Ger Archer, Andy Bell and Chris Sharrock contemplating an apparently bleak future in music. Contrary to at least my expectations, they are getting their act together and may just surprise us... maybe the talented one wasn't Noel after all.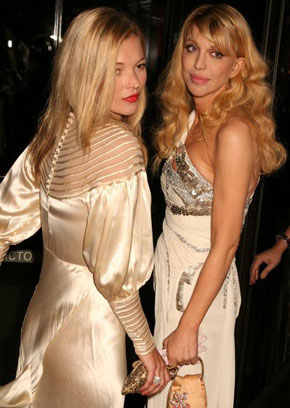 Kate Moss & Courtney Love



If the subject is volatile people then we should continue with the queen of crazy world, the magnificent Courtney Love. The lead singer of Hole is rumoured to have just sold 25% of the Nirvana catalogue to the upset of the surviving members of such band and their army of fans. It's been said that the punk widow claims that Kurt Cobain's music legacy brings too many memories and that the money that she received after Cobain's suicide in 1994 is actually "cursed". Is hard to see the truth through all the gossip but my money is on Courtney's world being as messed up as usual. In the same week, tabloids were telling us about her sexual lesbian encounters with Kate Moss and a tycoon boyfriend dumping the rocker over the scandal... which is rich considering how demure Love has been in the past... mmmh, not.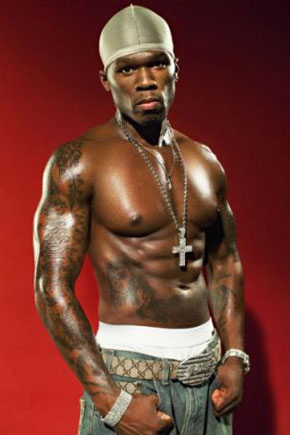 50 Cent



Another singer become actor that has been on the news is Curtis James Jackson III, commonly known as 50 Cent. The rapper is apparently a fan of method acting and has lost a whooping 25kg by sticking to a liquid diet and obscene amounts of cardio exercise in order to portray a football player that battles cancer in his upcoming movie "Things Fall Apart". Famous for his toned and bulky body, this is not the first time that the 34 year old loses weight for a role; he's done the same in 2008 for his part in "Microwave Park". To eat or not to eat... that is the question!

Before I leave you I would like to flag a new band from New York City that is rocking my world at the moment: Jonathan Pierce in vocals, Connor Hanwick in drums, and Jacob Graham and Adam Kessler in guitars...aka The Drums. They introduce themselves by saying: "We only write about two feelings: one is the first day of summer when you and all of your friends are standing on the edge of a cliff watching the sun set and being overcome with all of your hopes and dreams at once. The other is when you're walking alone in the rain and realise you will be alone forever." Have a listen to their EP "Summertime" and you will see that they are not lying. You can also catch them at this summer's Reading and Leeds festivals. Their brand new album is coming out on 7th of June.