Welcome to flaming June, dear readers! This is National Smile Month and the gorg JAMELIA has become the face of LISTERINE to promote their New Softmint Sensation – "a milder tasting antibacterial mouthwash but with the same LISTERINE strength against plaque". It tastes great and leaves your mouth really fresh:
In chemists nationwide.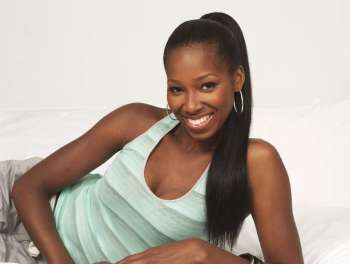 JAMELIA. C.r.: LISTERINE.




Thank you for all your letters about facials. It is really important to have regular facials, at least once monthly if you can, especially if you live in a big, dirty city like London. I recently had a facial which left my skin so glowing that I received compliments from another woman – and that's usually an honest assessment, is it not, ladies? (Because other women don't have an agenda when issuing compliments!) So who was the therapist who made me "stunning" and "breathtaking"? (I kid you not!) It was none other than KAMINI, The Eyebrow Queen who is herself a bit of a stunner and an excellent advert. for her lovely salon at 14 – 16, Lancer Square, Kensington, W.8 (020 7937 2411). Although KAMINI is best known for her unique 'threading' hair removal technique, beloved of so many A - listers, she offers all sorts of super treatments at her salon and her facials are a not to be missed experience. Firstly, with a new client, she likes to hydrate the skin, so that it can accept all the nourishing SOTHYS products she uses in her facials. The hydrating facial is called Hydroptimale and it really plumps up your skin, leaving it smooth and not at all red, as with some facials. Before KAMINI massaged the SOTHYS products into my thirsty skin with her wonderful hands, her lovely therapist LAURA gave me a relaxing neck and back massage and then a nice foot massage while the boss was working on my face. KAMINI then completed the whole blissful experience with an Indian head massage so that I left the salon feeling totally relaxed all over, having forgotten all my troubles as well as having peachy skin. KAMINI suggests having a different type of facial each month to get the skin into tip-top condition, so watch this space as I report back to you, beauty lovers.



Another product manufacturer whose products KAMINI uses is the new and exciting CETUEM. The CETUEM range is spot on - or spot 'off' actually if you want to get rid of sun damage spots, like our guinea pig LUCY. LUCY used CETUEM's Active Hand Scrub and Antiseptic Soap Cleanser, followed by Gold Creme De Lite to fade unsightly brown sun blemishes on her hands and decollete in just a few weeks. She said "I used the soap daily, the scrub twice a week and the Creme De Lite twice daily. Now all my horrid brown marks have completely disappeared. I also tried the CETUEM Exfoliating Gel Mask and Mask Aperitif on my face. Both masks have a special brush for easy application and make your skin all fresh and new looking." Excellent news, LUCY!
My lovely publicist, CHARLOTTE (020 7610 5370 if you need a really good PR for yourself or your products and services) and I are both hooked on CETUEM's Gold Serum which is super nourishing and anti - ageing, glides on like a dream and gives you dewy fresh skin within weeks: an absolutely superb product.
www.cetuem.com



The sun can really damage the skin badly, as LUCY discovered. SKIN SHOP have developed a fab new product called Super Food Anti Oxidant Masque to help minimise the free radical damage and inflammation caused by too much sun exposure, which lead to premature ageing of the skin and increase the risk of skin cancer (LUCY's brown sun spots can be the first signs of this.) The Masque is made with blueberries and pomegranates and feels nice and cool on the skin as well as nourishing it.You can safely use it every day during 'holidays in the sun'.
www.skinshop.co.uk
0871 871 9975.



There are also some excellent new make-up products around this month. Check out:

NYC 's Smooth Skin Liquid Makeup in 5 practical colours which is amazingly cheap at under £4.00 per bottle, goes on smoothly, covers brilliantly and lasts all day.
At SUPERDRUG.

BARE ESCENTUALS' ID Bare Minerals Faux Tan All-Over Face Colour which you swirl, tap and buff all over your face and neck, (and other areas if you want to!) for a really natural looking sun kissed glow. This mineral make - up is healthy on the skin and has a naturally derived SPF 15 to protect you once you venture forth into the real sun.
0870 850 6655 for stockists.

The REVLON counter: their products are always reliable and long lasting. Try their Sugar Sugar Lip Topping, Pinch Me Sheer Gel Blush and Molten Metal Liquid Eye Shadow for a sizzling hot summer look for sizzling hot summer evenings. Stunning.
In stores and good chemists.



The latest poor celeb to be caught with her cellulite showing is dishy PAMELA ANDERSON. I am not in the business of publishing horrid pix of peeps, so here is a nice head shot of the always gorg - cellulite or no cellulite - PAMMY.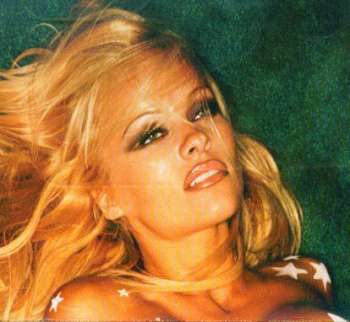 PAMELA ANDERSON. C.r.: STAR.



Looking at the recent photos of MS. ANDERSON in a swimsuit, I would in fact say that part of her problem is from sun damage and I will be addressing this next month when I review a brill new treatment called Titan which tightens mature, loose and sun damaged skin. But PAMMY does appear to have cellulite on her legs and butt, as do most of us nowadays including young girls, so here is the low down on the old orange peel effect. The only treatment which really gets rid of cellulite is Mesotherapy (injections) and now there is a brand new form of Meso called Homeopathic Mesotherapy where only natural products are used, so it is completely safe and you cannot be allergic to the treatment. The doctor who practises this treatment in London is DR ELIZABETH DANCEY who is based at 28, Winchester Street, Pimlico, SW1 / 020 7821 8257). DR DANCEY is herself slim, gorg and cellulite free and a wonderful example to her patients. You can have all sorts of excellent treatments at her clinic including the new Titan, Botox, fillers, peels, semi-permanent make-up, et al with either the doctor herself or her excellent therapist, FAYE. However DR DANCEY says that Homeopathic Meso is particularly popular at the moment with everyone thinking about wearing this season's mini and micro skirts, not to mention shorts and swimwear.
DR DANCEY explained that cellulite is a degenerative disease of subcutaneous fatty tissue and the Homeopathic Meso treats the condition by dissolving the fat, draining the lymph and stimulating the circulation. Yes, it does involve needles but is not too uncomfortable and DR D. is the fastest injector in town: she can treat the whole bum and thigh area in just 15 minutes! She says most patients need about 10 treatments and you can have one or 2 a week. So there you go, ladies, there's just time to get cellulite - free skin for the summer hols. More on this ticklish matter next month - and probably every month, as my postbag usually contains more enquiries about cellulite than any other subject.



Once you have perfect skin, you can indeed think about 'what to wear'. The new flavour of the month on the fashion front is gorg blond designer CHARLES SVINGHOLM (www.charlessvingholm.com)
who was a successful fashion model before going over to designing, working for JOHN GALLIANO, J.TODD, PRADA and PAUL SMITH before starting his own label. CHARLES's atelier is conveniently situated in South Ken at 28 Bina Gardens, SW5 (07909 518 338) and he also sells through ANCA C in Draycott Avenue near Knightsbridge. CHARLES's designs are supremely floaty and feminine and he uses the lightest, prettiest materials to create perfect little day and cocktail dresses, ponchos and tops. The fabrics he uses are so light and crushproof that they are perfect for weekends, summer hols, cruises and 'hand luggage only' situations.
CHARLES's celeb clients include JENNIFER LOPEZ, NANCY DELL'OLIO, SIENNA MILLER, MADONNA and TAMARA MELLON and here is popular Footballer's Fiancee, COLEEN MCCLOUGHLIN sporting a stunning CHARLES SVINGHOLM short kaftan for HELLO! magazine.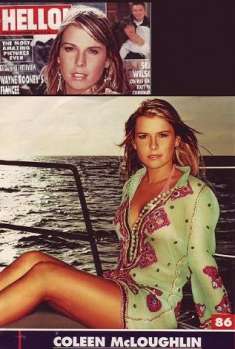 COLEEN wears CHARLES SVINGHOLM. C.r.: HELLO!




Lovely female designer LUCINDA GOODHEW (020 7978 5894) recently returned to the fashion fray with an amazing show at SEARCY'S (30 Pavilion Road, Knightsbridge, SW1 – 020 7585 05 05). The champagne flowed, the canapes and buffet were well up to SEARCY's usual excellent standard and the Beautiful People were out in force to celebrate LUCINDA's long awaited comeback. LUCINDA and her models all looked stunning in her trademark jewel - bright coats, kaftans and dresses and here she is wearing a beautiful coatdress: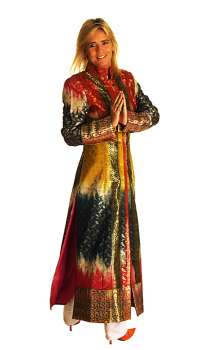 LUCINDA GOODHEW in one of her own designs. C.r.: OLI MAX.





If you are a casual dresser looking for some nice T - shirts for summer, why not support BREAKTHROUGH BREAST CANCER and buy a FASHION TARGETS BREAST CANCER tee, as modelled by the beauteous SOPHIE DAHL:


SOPHIE DAHL for FTBC. C.R.: GILLES BENSIMMON.



The range also includes men's tees and is available from www.fashiontargets.org.uk
M AND S, RIVER ISLAND and other High Street stores.



CELEBRITY BOOK NEWS:

I am happy to report that my fave celeb books this month are all by personal friends of mine: how convenient!

The multi award winning PETER JAMES is now arguably England's best crime thriller writer and his latest book, NOT DEAD ENOUGH (MACMILLAN, £12.99) is better than ever. This is the third in PETER's Detective Roy Grace series of books, set in his home town, Brighton and I am sure it won't be long before the sympathetic detective will find his way onto the teevee.You read it here first, folks!
NOT DEAD ENOUGH, like PETER's previous (award winning) Detective Grace stories, DEAD SIMPLE and LOOKING GOOD DEAD, is an absolutely 'unputdownable' read with totally believable characters, red herrings and dead bodies galore, twists and more twists and a completely satisfying ending. Excellent.


Iconic photographer and cinematographer WILLIAM CARTER, who directed me in HOW TO MARRY A MILLIONAIRE, has written his first book – and cor, wotta scorcher! FOR PITY'S SAKE (Chipmunk Publishing, £9.99) is the raunchy story of a young girl and her lovers and admirers, both on and off the Internet. Much of the story takes place via email and it is in the end a salutary tale about the twin evils of the Net and not closing your bedroom curtains, with some interesting twists along the way. Sexy as all hell, though: don't let your hubbies see it, girls!

Self - help expert LEON NORELL's new book, CHANGE YOUR MIND, CHANGE YOUR LIFE will do just that. LEON teaches you how to curb your anger, not to have unrealistic expectations and how to be a nicer, calmer and less stressed human being, with a better quality of life. LEON is himself a wonderfully calm, philosophical and kind natured individual and I am working hard to achieve his level after being inspired by the book. LEON is also very spiritual and the spiritual aspects of CHANGE YOUR MIND, CHANGE YOUR LIFE are absolutely riveting and extremely comforting to anyone who has been bereaved or fears death (don't we all?)
CHANGE YOUR MIND, CHANGE YOUR LIFE will not be published till the autumn but HGUK readers can buy advance copies at the special price of £8.50 from:
leonNorell@btconnect.com



If you have never had a personal trainer, you haven't lived, fitness - wise! There is simply no comparison between working out by yourself in the boring old gym and having someone coaching you one to one. Unfortunately you don't usually find the best personal trainers in gyms, either, so you may have to shop around. I road tested a few chaps before I found the excellent REED DOMINGO (07957 801 395) who was training my old friend, JAMES BOND baddie STEFAN GRYFF. REED trained all sorts of A - listers in L.A. before coming back here to rejoin his family. CHER's loss is my gain!
REED has got me lifting weights I had only ever dreamed of and my muscles are looking and feeling all the better for it, without bulking up. Plus he is helping me to build up the muscles around areas that have been weakened through injury. Another bonus is that REED, who is young, gorg and extremely well muscled himself as you would expect, makes house calls - which keeps one's hubby on his toes!
Highly recommended.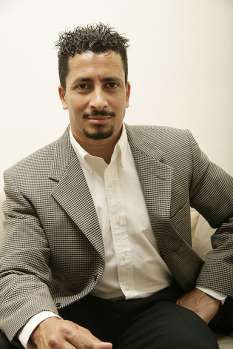 REED DOMINGO. C.r.: Private Collection.





The BAFTA TV Awards at THE LONDON PALLADIUM was certainly a star - studded event this year and the after party at THE NATURAL HISTORY MUSEUM was fab: great venue.
Many congrats to all the nominees and winners, including JONATHAN ROSS, RICKY GERVAIS, VICTORIA WOOD, JIM BROADBENT and RICHARD CURTIS.
There were some amazing frox around of course. Lovely MELINDA MESSENGER said she had turned down a ROBERTO CAVALLI dress in favour of her £120 white M AND S number which made her look very goddessy, while Awards host GRAHAM NORTON looked rather whizzy in a cream suit. ESTHER RANTZEN shimmered in turquoise and there were some flashes of silver and red with RUBY WAX sporting a pink plaster cast, a first at the BAFTAS. But black was the new black with TARA P-T, who was presenting, looking her best ever in a slinky coal black mermaid dress and JOAN RIVERS, also presenting, in a cowl - necked charcoal black gown which showed off her beautiful shoulders. MS. RIVERS is really nice, btw, and you will be reading more about her in this column in the future.
However the best dress I saw all night was on my own back, from the popular RACHEL COUTURE (65, Knightsbridge, SW1 / 020 7235 39 79). Even JOAN RIVERS loved my stunning red chiffon and crepe RACHEL frock and here it is in all its glory with suitably sparkly RACHEL jewellery. (Please note my nicely toned arms, courtesy of my new and exciting personal trainer REED DOMINGO!)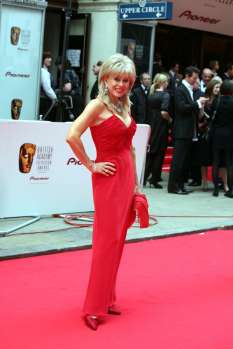 SAL wears RACHEL at the BAFTA TV Awards. C.r.: ROWENA CHOWDREY.
Thank you for reading my page. Please write to me at:
sally@hotgossip.co.uk
and check out my personal website at:
www.sallyfarmiloe.com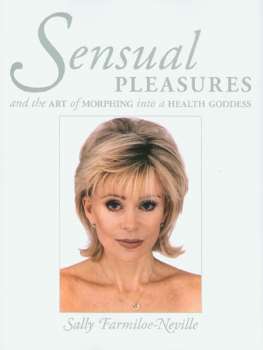 SENSUAL PLEASURES AND THE ART OF MORPHING INTO A HEALTH GODDESS (£16.99) is available from the following outlets:

Delancey Press - orders@centralbooks.com or 0845 4589911
ISBN: 0780953911998

LOO TIME VIDEO available from:

farminghamprods@aol.com and:

http://www.121music.com/pages/video_01/home.html