The Cannes film festival lived up to its reputation for attracting good names to the annual fest. this year. Celebrating 60 years, it organized a wonderfully lavish two weeks in the sun. I, dear readers, had to suffer the stifling heat, the relatively good food, the free champagne and sandy beaches to bring you this reportage. Don't EVER say I don't do anything for you!

JUDE LAW and NORAH JONES were in Cannes promoting 'My Blueberry Nights'. It's JUDE LAW'S new flick directed by the great Kar Wai Wong and co-starring singer NORAH JONES. For a change Jude seemed relatively pleased to be there. NORAH JONES said that the highlight of the film for her was rehearsing the 'kiss' scene with Jude for three days! At least Nora knows that when her film career fails she'll have a nanny job with the wayward actor at the drop of a hat. Although we know she won't be just doing the nannying!! Perhaps Jude should interview JESSICA SIMPSON who was also in Cannes and seemed very close to him. Rumour has it that he is already having an affair - nanny interview- with her. They both happened to be at two of the soirees I attended looking very much together. So who knows?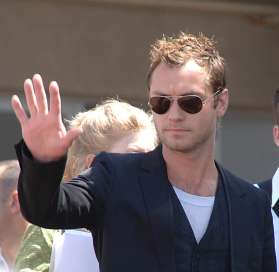 JUDE LAW
JESSICA SIMPSON



One of the things I love about Cannes is that many of my friends and colleagues are there too, either working or enjoying the festival. So in a way it's a home from home. Every job ends up in a bar, restaurant, or party and we always over do it and end up having very late nights. The end result is very little sleep and total exhaustion. This year I had an excellent team of photographers and we had the whole of Cannes really well covered.The main attraction, it has to be said, was golden couple BRAD PITT AND ANGELINA JOLIE. There was a huge media scrum when the couple arrived at the Palais and the fans went wild. Brad and Angie are both promoting their individual films -Brad's 'Ocean 13' and Angie's 'A Mighty Heart'- and seemed very close throughout, except of course when they attended the main press photocall and DID NOT POSE TOGETHER! The main picture we/the press wanted was Brad and Angie together. Of course I suspected just such a spoiler and so waited for them as they arrived inside the Palais grounds BEFORE the press call. Thus I was the only press photographer to shoot them together before the press conference and thus my pics hit the newspapers' picture desks first. I have to say that LA JOLIE is looking very thin with bony legs and arms. She could do with putting on a couple of pounds.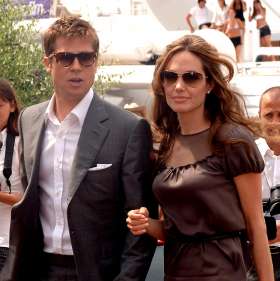 BRAD PITT AND ANGELINA JOLIE



Apart from the gorgeous girls, complimentary champagne, food and the red carpet parties all over town, there's an underlying problem with the Cannes Film Festival. It's so far up its own a--e that if it had eyes they would be popping out. Behind the lovely glitz -mmmm champagne and canapés- there are big problems with the organisation of the fest. For instance, the multilingual press conferences that take forever, with many journalists having to PAY to cover some press conferences with well known names -what an insult and sheer robbery. When a journalist asked QUENTIN TARANTINO what he thought aboutsome of the press being charged to cover the press conference, one of the organisers quickly rushed over to Quentin and asked him not to answer the question! And on live TV!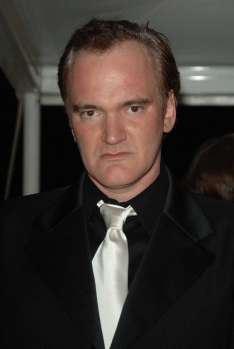 QUENTIN TARANTINO



And then there are the hopeless winners in most categories from year to year.We all know that the best actors, directors, et al don't win anything often enough and there's such a sick politically correct list of winners that in reality are pathetic choices. In essence, if it's British or American -or English Speaking- it will not win anything. Not a bean. OK, so the brilliant QUENTIN TARANTINO won Best Director in 1994 but it's still not rewarding the best. This is despite these British and American actors/celebs attracting all the fans and press with their attendance. Without the big name actors Cannes would just be a cinematographic village fest. The only way to win anything if you're Anglo-American/English speaking is to be anti- establishment. Your film has to heavily criticise the UK/US. You'll get 8 Palme d'Ors for doing this. Hypocrites. For example this year the winners -try to not laugh uncontrollably- were: Best Actor: KONSTANTIN LAVRONENKO for 'Izgnanie', Best Actress: JEON DO YEON for 'Secret Sunshine' and Best Director: JULIAN SCHNABEL for 'Le Scaphandre Et Le Papillon'. This is just a tiny example of the nonsense I'm on about. If you've ever heard or seen any work from these people do let me know. You will not hear of these people again in mainstream media.

The biggest party of them all in Cannes was the AMFAR party. It's in aid of the 'lovey' -apart from Africa- illness which is AIDS. It was a massive do with around 300 guests and it raised over 11 million dollars for AIDS research. You see? You can achieve great things with free champers, I've always maintained that. Guests included: KYLIE MINOGUE, ELLE MCPHERSON, ROBERTO CAVALLI, NAOMI CAMPBELL, SHARON STONE, MICHELLE RODRIGUEZ, JEAN PAUL GAULTIER, CLAUDIA SCHIFFER and loads more.


KYLIE MINOGUE



Surprise of the night was how well SHARON STONE looked. She looked fab sporting a new hair do.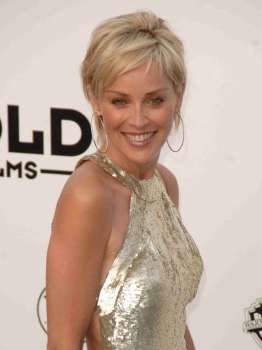 SHARON STONE



In the end, despite all it's (the fest's) politicking, I had a fantastic time in Cannes. I caught up with KURT RUSSELL and GOLDIE HAWN at yet another huge motor cruiser boat party with endless champagne and got great pics of the couple. Must say though that GOLDIE is showing -finally- her age, although she oozed personality. Kurt was great fun and had a laugh touring the massive ocean cruiser.

We also hired a boat to go for lunch at Eden Roc - a hotel and restaurant where lots of celebs hang out- and en route saw NAOMI CAMPBELL on another boat, looking happy and waving at me. Bless. Good job there were no mobile phones close by as it could have tempted her to chuck one at moi!


NAOMI CAMPBELL on the boat



At the Eden Roc I spotted JUDE LAW with JAKE GYLLENHALL, and MICHELLE RODRIGUEZ jumping from the rocks. The pics I took of her from our speedboat made various papers. Another excuse to pop the cork.

Over and out, see ya next month.


JOE ALVAREZ

joealvarez@verycool.co.uk

Check out my website at www.myspace.com/redcarpetspecialist

WORDS AND ALL PICTURES COPYRIGHT JOE ALVAREZ 2007